Predicted Worst Airport Over the Holidays
Last updated on 11/15/2022
With traveler numbers returning to pre-pandemic levels, airports are navigating their way through an increasing surge of eager travelers. While the return to travel is a sigh of relief for many, travel over the holidays remains a stressful thought for some. To help travelers prepare for a busy holiday season, we identified the worst performing airports in the U.S. by looking at data collected from 2019-2021 encompassing various negative factors.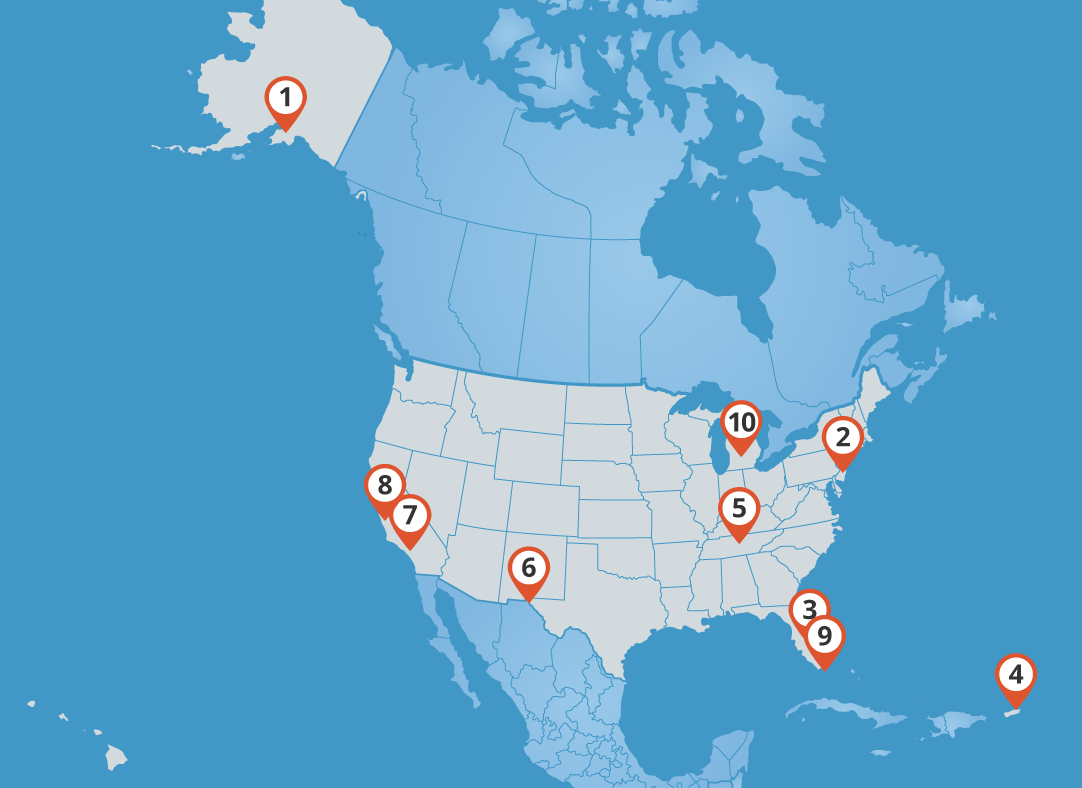 #
City
Overall Average
1

Ted Stevens Anchorage International

Anchorage

Anchorage

27.2%
2

Newark Liberty International

Newark

Newark

23.6%
3

Palm Beach International

West Palm Beach

West Palm Beach

21.7%
4

Luis Munoz Marin International

San Juan

San Juan

21.1%
5

Nashville International

Nashville

Nashville

19.8%
6

El Paso International

El Paso

El Paso

19.7%
7

Burbank

19.5%
8

San Francisco International

San Francisco

San Francisco

19.3%
9

Fort Laurderdale-Hollywood International

Fort Lauderdale

Fort Lauderdale

19.2%
10

Gerald R. Ford International

Grand Rapids

Grand Rapids

18.7%
The Worst Performing Airports Overall
Statistically, these are America's worst airports for delays, cancellations, and diversions.
Ted Stevens Anchorage International in Alaska performed the worst overall, with a 27.15% chance of delay. System delays, with an 8.32% chance of causing delay, and late aircraft arrivals with a 7.06% chance of causing delay, appear to be this airport's downfall.
Newark Liberty International in New Jersey grasped 2nd place, with an overall average of 23.55% chance of delay. It has a 12% chance of a system delay which is around 4% more likely to hold you up in comparison to Anchorage International, which has an average system delay of 8%.
Air carrier delays present a challenge for all airports, as this may cause a hold-up when preparing for boarding. Luis Munoz Marin International in Puerto Rico and El Paso International in Texas led this category, with 10.27% and 9.05% respectively, potentially signifying issues regarding staff.
The Best Performing Airports Overall
For travelers looking for the top performers, these airports can be considered the best as a result of less delayed, cancelled, or diverted flights.
Atlanta's Hartsfield-Jackson International in Georgia has been crowned the best or most efficient airport with a 14.39% chance of experiencing any issues. They boast a tiny 0.04% possibility of being diverted or delayed due to security problems on average.
BWI Marshall in Maryland is awarded least likely to sustain weather difficulties, recording just a 0.12% chance of weather-related delays on average. Narrowly beating Chicago Midway International in Illinois and George Bush Intercontinental in Texas, which both had an average weather delay of 0.14%.
Alternatively, Hawaii's Kahului International, at 2.8% and Daniel K Inouye International, at 3.4%, held 2 of the 3 lowest percentages for late aircraft arrivals, proving to be well organized despite high levels of tourist traffic.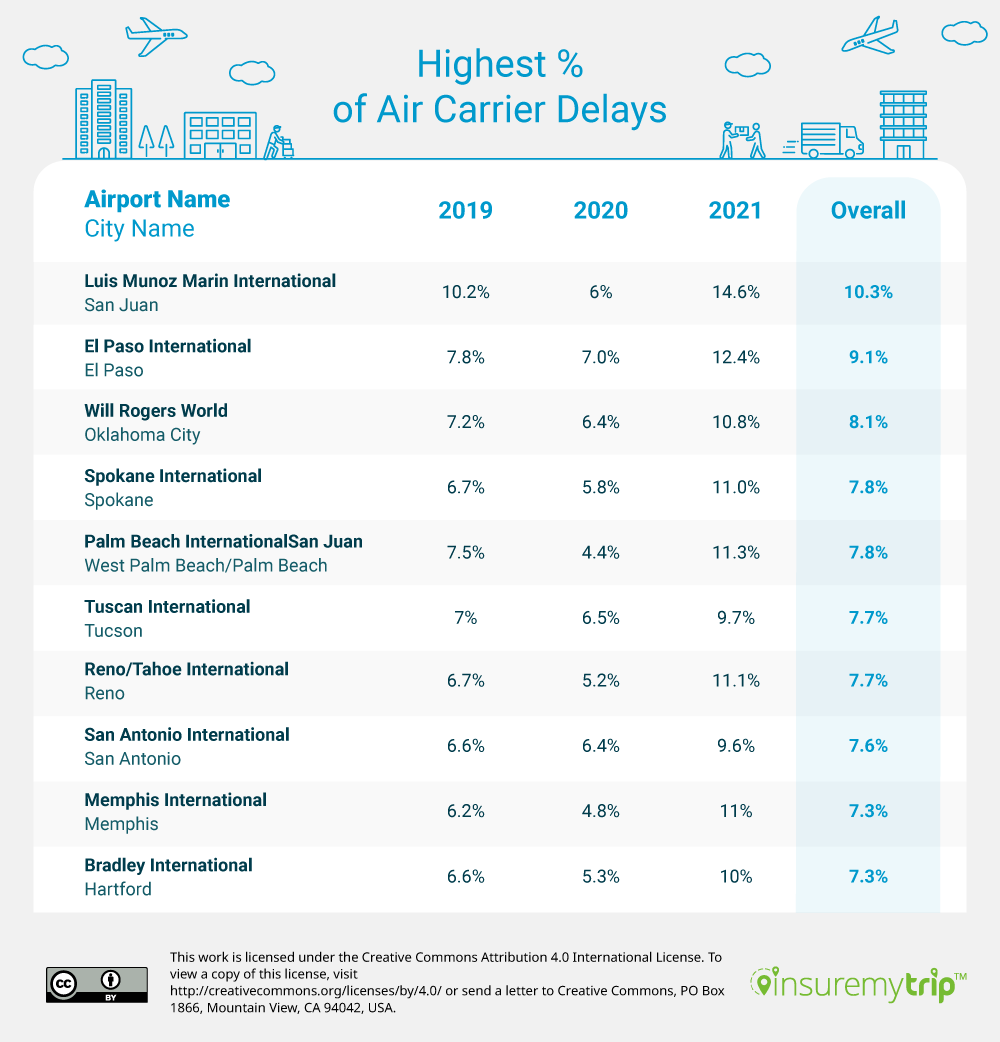 Worst Air Carrier Delays
These airports average the most delays due to the operating airline preparations.
Across the three years presented it is clear to see a contrast in results, best explained by the COVID-19 pandemic. 2020 presents a decrease in delays, potentially due to the decrease in overall flights. However, 2021's influx of holidays and business travel has pushed these airports to the brink.
Puerto Rico's Luis Munoz Marin International endured the most air carrier delays across the three years, recently jumping from 6% in 2020 to a whopping 14.6% last year. This airport also sustained the largest decrease from 2019-2020, suggesting the pandemic severely halted Puerto Rico's tourism industry.
Despite this, Tucson International in Arizona appeared to take pride in delivering consistently poor service, fluctuating the least of all the airports on this list throughout the three-year period with an overall average of 7.7%.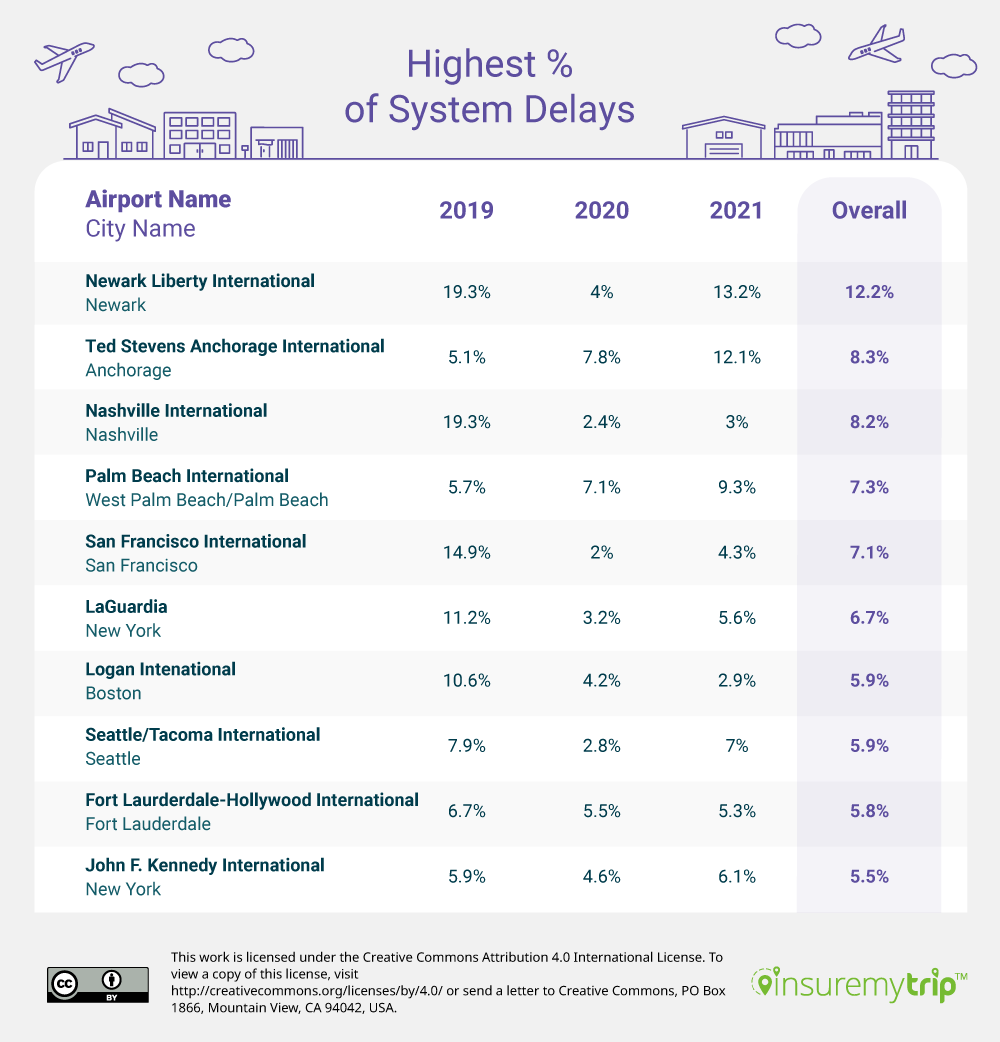 System Delays between 2019-2021
System delays are identified by being within the control of the National Airspace System (NAS), this includes operations, traffic volume, and traffic control. The airports listed show an overall percentage alongside another three-year comparison.
Newark Liberty International dominates this sector, with 12.2%. However, the real standout lies in 3rd place. In 2021 Nashville International held 19.3% (2019) but has since dropped to 2.96% (2021) despite all flights reopening. This indicates huge improvements as the number of flights put on was just 230 less in 2021 with 11,192, than in 2019 with 11,422.
Both New York airports; John F. Kennedy International, with 5.53%, and LaGuardia, with 6.65%, appear in this list, possibly due to the heavy amounts of traffic the city receives. Nevertheless, an area for improvement.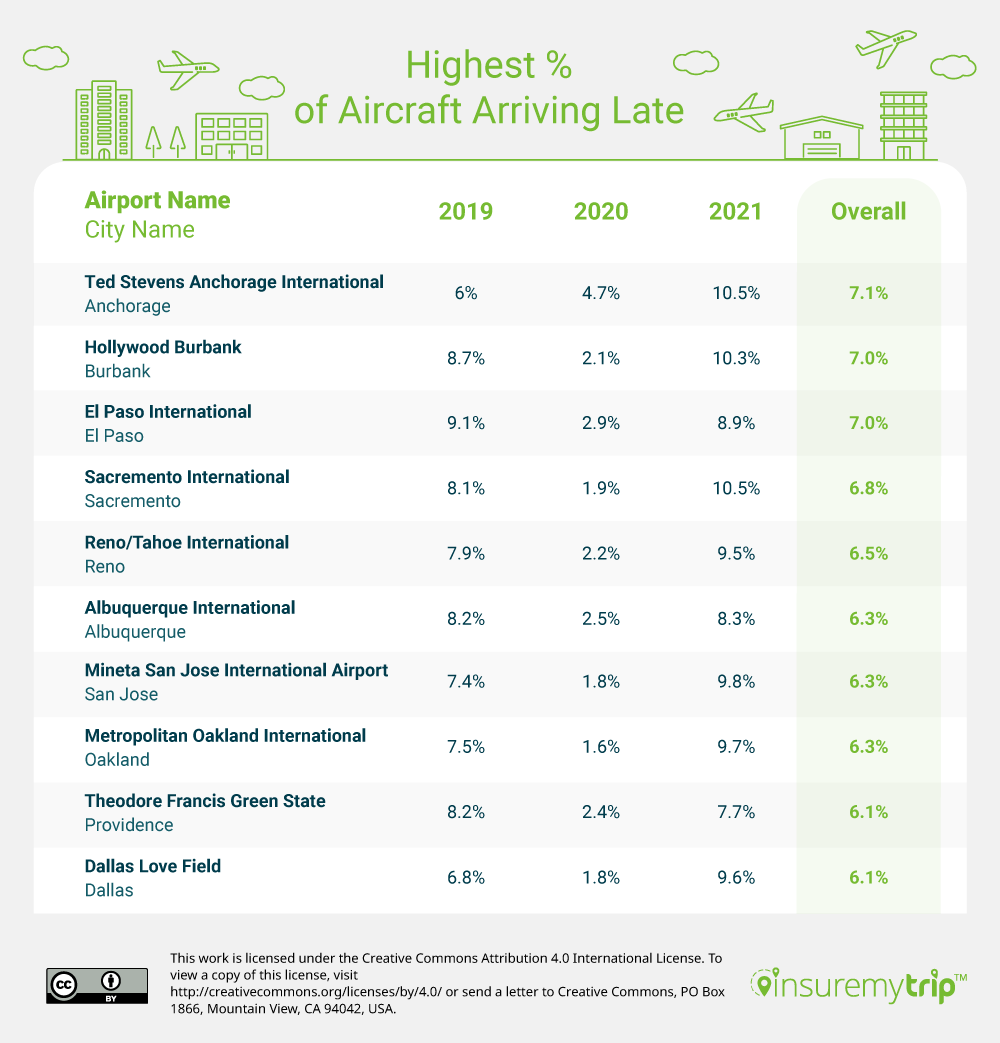 Late Aircraft Arrivals
This list identifies the airports with the most frequent number of previous flights arriving late, causing the present flight to depart late.
The top 10 list only differentiates 1.01%, with a 4.3% difference across all data gathered, the tightest of all the data sets.
As previously mentioned, Anchorage performed the worst in this category with 7.06% of delays caused by late aircraft arrivals. Next is Hollywood Burbank with 7.02% and El Paso International with 6.96%.
What do Hollywood Burbank (7.02%), Sacramento International (6.96%), Mineta San Jose International Airport (6.33%) and Metropolitan Oakland International (6.27%) all have in common? They are all in California, with 4 out of the 10 worst performing airports, California, is the worst state for aircraft arriving late.
Overall
Ted Steven's Anchorage International was named the worst performing airport overall. System delays and late aircraft arrivals were identified as the airport's weakest aspects.
Atlanta's Hartsfield-Jackson International was crowned the best performing, scoring as low as 0.04% in diversions and security delays.
Whilst acknowledging the pandemics' influence the data still presented valuable insights, as already this year we've seen major issues with airports struggling to return to pre-pandemic levels of travelers.
The first is how the contextual impacts on tourism have potentially led to difficulties surrounding delays. Specifically, Puerto Rico's Luis Munoz Marin International is enduring a large increase in air carrier delays. Though it can be noted Tucson International remained consistently poor across the three-year period.
Nashville International in Tennessee seized the spotlight regarding system delays, having decreased by 16.3% throughout 2019-2021. Signifying either major improvements or a decrease in tourism.
Lastly, the late aircraft arrival list presents a minimal differentiation across 1st to 10th place, with airports within California standing out with some of the highest delays.
Methodology
InsureMyTrip gathered data from the Bureau of Transportation Statistics over November and December for 2019, 2020 and 2021. An overall percentage was then gathered, taking the overall percentage from each year and dividing it by the number of years.
An average was also created from the three biggest reasons for flights to be delayed or canceled.
Sources
Bureau of Transportion Statistics
The percentage of flights delayed or canceled for each of the reasons given by the Bureau of Transport Statistics.