Travel Delay Coverage for Thanksgiving Flights
Last updated on 03/27/2023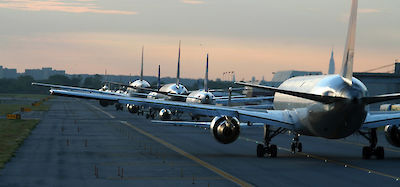 No one enjoys the stress of last-minute flight delays, but this is especially true during the holidays. While the right trip delay coverage cannot prevent travel hiccups, it can alleviate a lot of that undue stress from unexpected expenses and rescheduling flight connections.
If you are a regular holiday traveler, you are well versed in the craziness that is travel around the Thanksgiving holiday. It is well known to be the most congested travel time throughout the year. The lines at the airports are longer, the frustration of travelers is greater and the cost of travel is much higher. Amongst all this, you do not want to want to worry about how to pay for extra expenses due to a flight delay.
You may be wondering: How is this different from the flight insurance offered by the airline? Great question: How we measure up is in the details. You get so much more with a travel insurance plan with travel delay coverage from a third party, like InsureMyTrip. If your flight is delayed for any covered reason (these are listed in the plan's certificate and vary by plan), you are eligible for reimbursement for covered expenses due to that delay. So even if the airline does not provide flight delay compensation, you may not be on your own.
Big picture? If your flight delay is due to a technical issue or a weather concern for the minimum time allotted by the plan, you really do not need to sleep on the floor in the terminal! You can call the travel insurance company's 24-hour assistance phone number to help find a hotel that is close and within the coverage limit of your plan. Also, you can put in a claim to be reimbursed for the hotel, food and necessary toiletries needed. Just remember to save all your receipts!
Every plan could have a different coverage amount available to the travelers. Don't worry, that amount is generally per traveler - not per plan. This means that if the plan has a $500 coverage limit, a family of four could be eligible for reimbursement up to $2,000 (a maximum of $500 per person). There may also be a per day limit shown; hose details should be listed on the plan certificate as well.
So while having travel delay coverage can't part the lines at the security checkpoint, it can help to alleviate the burden of unplanned expenses and all for reimbursement in the case of flight delay this holiday season.
Disclaimer: The information contained in this article serves as a general overview of benefits and should only be used for informational purposes. Refer to your individual certificate of insurance for specific coverages, exclusions and benefits. When in doubt, please contact one of our licensed agents for additional assistance.