Trip Insurance for Weekends Away
Last updated on 03/27/2023
As we always say, trip insurance is not the right choice for every traveler. Most of you may not consider a weekend travel insurance plan for a short trip or vacation, which can make sense if your investment in the trip is on the smaller side. In other cases, the details of your weekend trip may make finding the right plan very beneficial.
A Quick Guide to Needing Weekend Trip Insurance
Are you traveling 100-150 miles from home?
Are you renting a house or a car?
Is your hotel room non-refundable?
Are you attending an event with prepaid tickets?
Are you taking part in an activity that may cause an injury?
A 'yes' to any of these questions means you'll want to consider trip insurance for your getaway. Below we are going to dive in a little deeper to why.
How Far are You Traveling?
Most trip insurance will have a minimum number of miles that you must be traveling away from your home. While some plans have minimums as low as 50 miles, more often the plans will require you to travel more than 100 miles away from your home. And although it is rare, some plans do require you to travel more than 150 miles from your home to be insured.
Many people travel close to home for weekend trips, so a travel insurance plan may not even cover their trip. All of the plans will state this minimum in the full certificate. Your weekend away may be further than you think - so double check those miles. For instance, if you are traveling from Boston, MA to Stowe, VT, you'd qualify for 3 day travel insurance under this provision. With expanding airline offerings, it's easy to travel abroad during a long weekend! If you have to pack your passport, you should always bring travel insurance with you too!
Are You Renting a Car?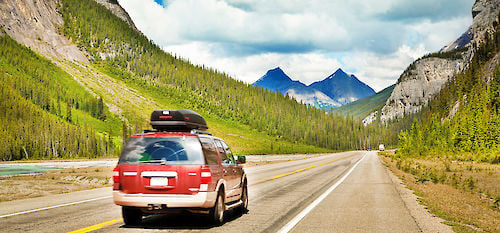 If you are driving to your destination and are worried about the wear and tear on your vehicle, renting a car may be the best way to arrive at your destination safe and sound. Several travel insurance plans have an optional benefit for rental car collision coverage.
We always recommend contacting the rental car company to verify that they will allow a third party insurance to cover any mishaps with the car. Cover your bases and do this prior to purchasing the travel insurance plan in order to avoid under or overpaying for insurance coverage.
Are Your Accommodations Refundable?
These days hotel accommodations come in all shapes and sizes. Are you staying at a traditional hotel? An Airbnb? A vacation rental? Most importantly, is this accommodation refundable? A weekend trip insurance plan will only cover any pre-paid, non-refundable costs associated with your trip. If you have opted for accommodations without refund options, you can cover the cost of your accommodations to a temporary travel insurance plan.
Did You Purchase Event Tickets for Your Weekend Trip?
More often than not, any event tickets that you purchase will be non-refundable. If you are traveling for the weekend to cheer on your favorite sports team, run a road race, or see your favorite musician at an amphitheater; you should consider finding a plan that will cover those costs. Some short term travel insurance plans will allow you to include the cost of the event tickets in the trip cost. This may help you be reimbursed for the cost in the event that your trip is canceled or interrupted due to a covered reason.
Not all plans have this option, however, so be sure to read the plan details fully. Also, you can call our Customer Care center. Our licensed representatives can help you choose the plan that best fits your needs.
Are You Taking Part in a Once-in-a-lifetime Event?
If you are taking a weekend trip to the mountains for winter skiing, playing nine holes at an exclusive golf course, or for your once-in-a-lifetime skydiving experience, you may want to consider travel insurance with optional adventure sports benefits. Although not available with all plans, your plan could include specific add-on coverage for sports equipment, like golf clubs or skis. Other plans have riders and waivers that extend reasons for emergency medical care to include injuries due to adventure sports.
Disclaimer: The information contained in this article serves as a general overview of benefits and should only be used for informational purposes. Refer to your individual certificate of insurance for specific coverages, exclusions and benefits. When in doubt, please contact one of our licensed agents for additional assistance.