2017 Cruise Report Reveals Travel Trends
Last updated on 03/28/2023
WARWICK, R.I., April 24, 2017 -- InsureMyTrip, the travel insurance authority, today announced the results of its travel survey of 568 U.S. respondents. The poll reveals that a vast majority of cruisers have experienced some kind of travel itinerary disruption during a trip. Twenty-five percent polled had filed a travel insurance claim for a cruise-related issue. Health reasons also led the majority of those claims with travelers.
Summary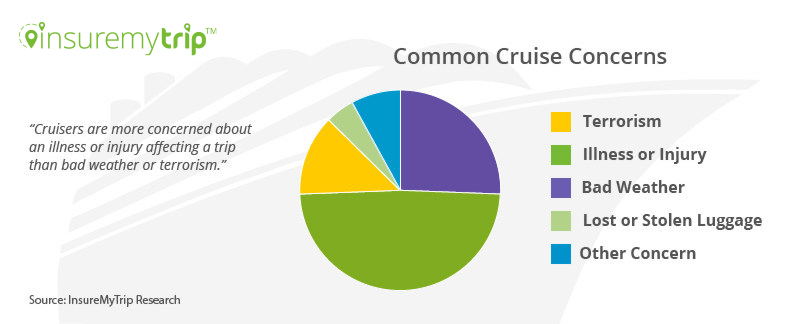 According to a survey from travel insurance authority InsureMyTrip, cruisers are more concerned about an illness or injury affecting a trip than bad weather or terrorism.
Cruisers are very concerned about an illness or injury affecting a trip
Medical issues are a top reason for filing a travel insurance claim
Cruise itinerary is a key deciding factor during the booking process
The Caribbean and Europe are preferred destinations for cruisers
Getting sick or injured tops concerns
Cruisers are more concerned about an illness or injury affecting a trip than bad weather or terrorism. Nearly half polled (49%) worry most about a family member or themselves getting sick or injured. Twenty-six percent worry most about bad weather affecting a cruise. Twenty-six percent also experienced seasickness or a stomach illness during a voyage.
Tip: When comparing travel insurance, look for a comprehensive travel insurance plan that includes emergency medical coverage and trip interruption.
Unexpected schedule change is common
During a voyage, 46 percent experienced an unexpected itinerary change. Despite these types of disruptions, cruisers are generally pleased with their overall experience, with 62 percent stating a cruise always met their expectations.
Tip: When comparing travel insurance, look for a comprehensive travel insurance plan geared for cruisers. Some offer itinerary change coverage.
Itinerary, reputation is deciding factor when choosing a cruise
The cruise itinerary is the top reason why travelers choose to book a particular cruise. Other top factors included reputation or reviews (59%) followed by price (14%).
Trip cancellations, medical issues top claims
Travelers, who voluntarily participated in this survey, had all researched or purchased travel insurance within the past 24 months. Out of those polled, 25 percent had filed a travel insurance claim for a cruise-related issue. Here are common reasons for filing a claim:
Medical care required during a cruise
Medical issue forced a trip cancellation
Bad weather forced a delay or cancellation of cruise
Missed flight led to a delay or cancellation of cruise
Items stolen or lost during a trip
Tip: Comprehensive travel insurance provides a variety of benefits including emergency medical coverage, emergency travel services, baggage protection, and trip cancellation and interruption coverage.
Many unclear on domestic health insurance abroad
A surprising number of travelers are unclear whether their health insurance works outside the U.S. Over 36 percent polled were not sure whether their domestic health insurance plan would cover any doctor or hospital visits while traveling out of the country.
Thirty-five percent said their domestic health insurance would provide coverage, while 28 percent believed their insurance plan would offer no coverage.
Tip: It is important for travelers to know about any limitations of domestic health insurance for emergency medical coverage while out of the country. In most cases, there are gaps in coverage. Some gaps are significant. Travel insurance is recommended because it can act as supplemental or primary coverage and also provide emergency medical evacuation coverage.
River cruising gains more speed
Eighty-two percent of those polled have either been on a river cruise or would like to go on a river cruise. Seven percent have no desire to go, while 11 percent prefer larger cruise ships.
The Caribbean and Europe are hot spots
The Caribbean and Europe are tied as favorite cruise destination while 11 percent chose Alaska as a top place to visit.
35% Caribbean
35% Europe
11% Alaska
19% Other
Carnival tops cruise lines
Based on travel insurance purchases so far in 2017, Carnival Cruise Line is the most popular cruise line.
Carnival Cruise Lines
Royal Caribbean International
Norwegian Cruise Line
Celebrity Cruises
Holland America Line
Princess Cruises
Disney Cruise Line
MSC Cruises
Methodology: The data presented in this analysis comes from internal data and customer survey results. For more information on the methodology or to request additional research, contact the IMT Research team.
Contact:
[email protected]
About InsureMyTrip
It's simple. InsureMyTrip finds you the right travel insurance plan, every time. InsureMyTrip is the authority on travel insurance. We are committed to empowering travelers to make the best possible insurance decisions by leveraging our technology, data intelligence, and expertise.
SOURCE InsureMyTrip