"Meet Your Cruise" Coverage
Last updated on 03/28/2023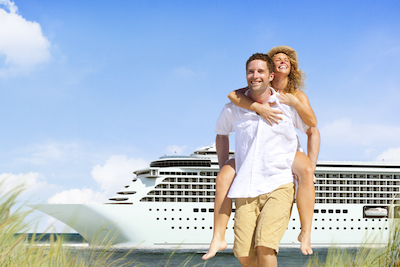 Okay – technically this coverage is called missed connection coverage, but honestly "Meet Your Cruise" coverage sounds so much cooler. Essentially, if you choose a travel insurance plan with missed connection coverage, you may be eligible for reimbursement up to the stated amount and help reaching your cruise.
The reason for missing the launch of the cruise ship must be due to a covered reason, such as inclement weather that delays your flight for a certain number of hours (usually 3 hours). Each travel insurance plan varies the covered reasons so you'll want to read the plan details to understand if you'll qualify for reimbursement.
What is Covered for Missed Cruise Connections?
Sometimes other factors contribute to whether or not a travel insurance plan covers your missed connection for a cruise. You'll want to make sure you factored in enough time to reach your cruise when scheduling your itinerary.
If your cruise launches at 4:00pm from the shores of Florida, you most likely want to be landing sometime early morning the same day. We always recommend giving yourself a day (or even two!) as extra cushion if you are traveling during a weather stricken season, like the winter or hurricane season.
Did You Exhaust Your Options?
The travel insurance company may want to have proof you tried your hardest to get to the cruise another way. Did you look into renting a car to drive there? Could the airline rebook you immediately? These things factor into reimbursement if you do need to file a claim for a missed connection. Also, most plans will ask if you have been reimbursed at all by the travel supplier, and this may factor into the reimbursement amount.
So worst case scenario: you've tried everything. All the flights are booked and you even gave yourself an extra day to meet the cruise on time, but you are still going to miss the launch. Contact your travel insurance company. They will be able to direct you through the best next steps. Some may allow you to choose how to reach your cruise, but others may book accommodations and connections for you to reach the next port of call. This all depends on your travel insurance plan and company.
Disclaimer: The information contained in this article serves as a general overview of benefits and should only be used for informational purposes. Refer to your individual certificate of insurance for specific coverages, exclusions and benefits. When in doubt, please contact one of our licensed agents for additional assistance.