Most Popular Fall Destinations According to TikTok
Last updated on 10/11/2022
With picturesque foliage, crisp cooler temperatures, and the magical scent of autumn spices in the air, fall is a popular time to travel. The iconic image of sipping a pumpkin spice latte in a cozy oversized sweater is a daydream for many who are tired of the summer heat.
But with so many beautiful fall destinations to choose from, you may be wondering which will look the best shared on your social media page? To understand which destinations are the trendiest, we searched autumn-inspired hashtags on the popular social platform TikTok. Our goal was to identify the top global cities and states in the U.S. that spark fall destination inspiration.
Most Popular Destination for Fall (According to TikTok)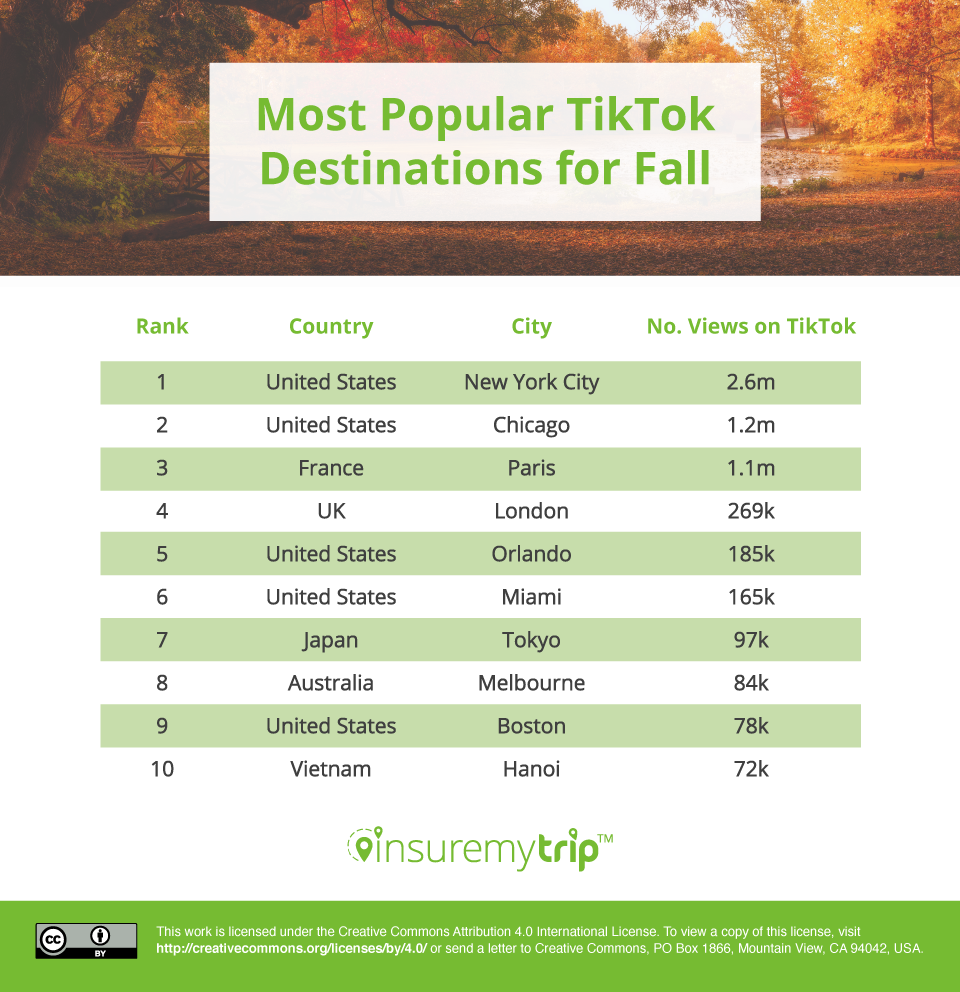 Five of the top 10 destinations are in the United States, with New York City, New York having the most views on TikTok at 2.6 million. With an average temperature ranging between 47°F – 70°F, New York is ideal for those who crave sweater weather.
In second place is Chicago, Illinois with 1.2 million TikTok views. With temperature ranges similar to those of New York, Chicago offers beautiful views of colorful foliage in the popular Millennium Park.
The third most viewed city is the international destination Paris, France with 1.1 million views. For those looking to travel abroad, Paris is a beautiful city in the fall, with temperatures only slightly cooler than New York City.
Most Popular States for Fall (According to TikTok)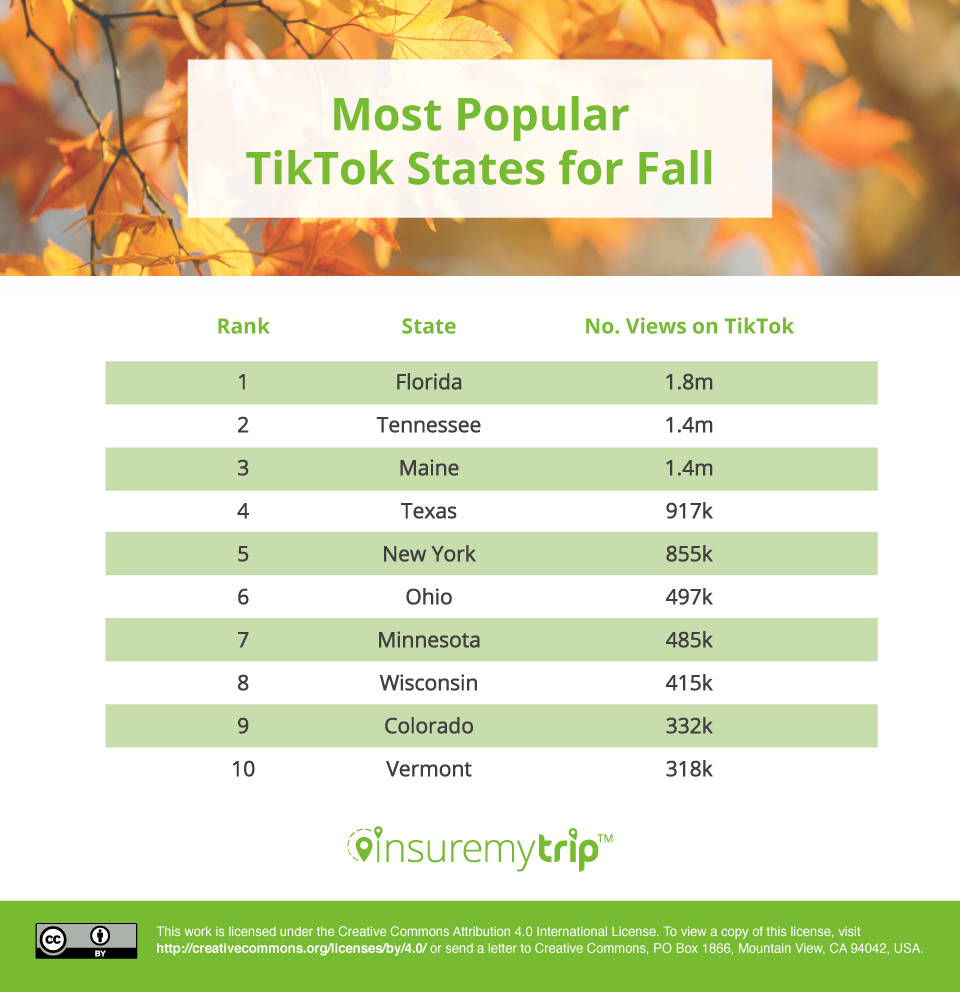 As somewhat of a surprise, Florida is the most popular state in the U.S. for fall travel with 1.8 million TikTok views. Average temperatures typically range between 64°F – 84°F in October, which is a break from the balmy summer temperatures often associated with the Sunshine State. While Florida may not offer the typical scenes of falling leaves and pumpkin patches associated with the season, there are many unique autumn offerings in this southern state. For example, the world-famous theme parks in the Orlando area – which include Walt Disney World, Universal Studies, Sea World, and others – get into the spirit of the season with Halloween parties and haunted happenings on select nights. But for those visiting, keep in mind that some are more family-friendly than others.
The second most viewed city for fall is Tennessee. With fall temperatures between 45°F – 79°F, Tennessee has vast golden forests throughout the season.
The third most viewed state in fall is Maine. The coldest state in our top three, Maine between 33°F – 63°F in October. For those searching for deeper red hues in their fall photos Maine is a great destination. Just make sure to pack a warm scarf for the chilly weather!
Conclusion
TikTok has become an influential tool for many travelers looking for vacation inspiration. Short, accessible content allows users to quickly scroll through relevant content around travel and inspirational destinations. According to the data from this platform, the top global fall destination is New York City, with iconic autumn scenery of colorful foliage and cooler temperatures. The top state to visit is Florida, a warmer state than users may expect but one with unique offerings for this special season.
Methodology
We searched hashtags on TikTok to see which had the most views. The hashtags included were #autumninX and #fallinX. For the 'Most Popular TikTok Destination for Fall' we searched 160 of the most popular tourist cities, making a list of the top 10. For 'Most Popular TikTok States for Fall' we searched these hashtags for every state in the United States.