Most Popular Fall Destinations According to TikTok
Last updated on 09/06/2022
With the beauty of changing leaves and smaller crowds, fall is great time to travel. Who doesn't enjoy walking through a beautiful forest? Or what about sipping on a pumpkin spice latte in a cozy sweater But which city is the most trendy At InsureMyTrip we searched TikTok hashtags for both global cities and American states to find the most popular destinations.
Most Popular Destination for Fall (According to TikTok)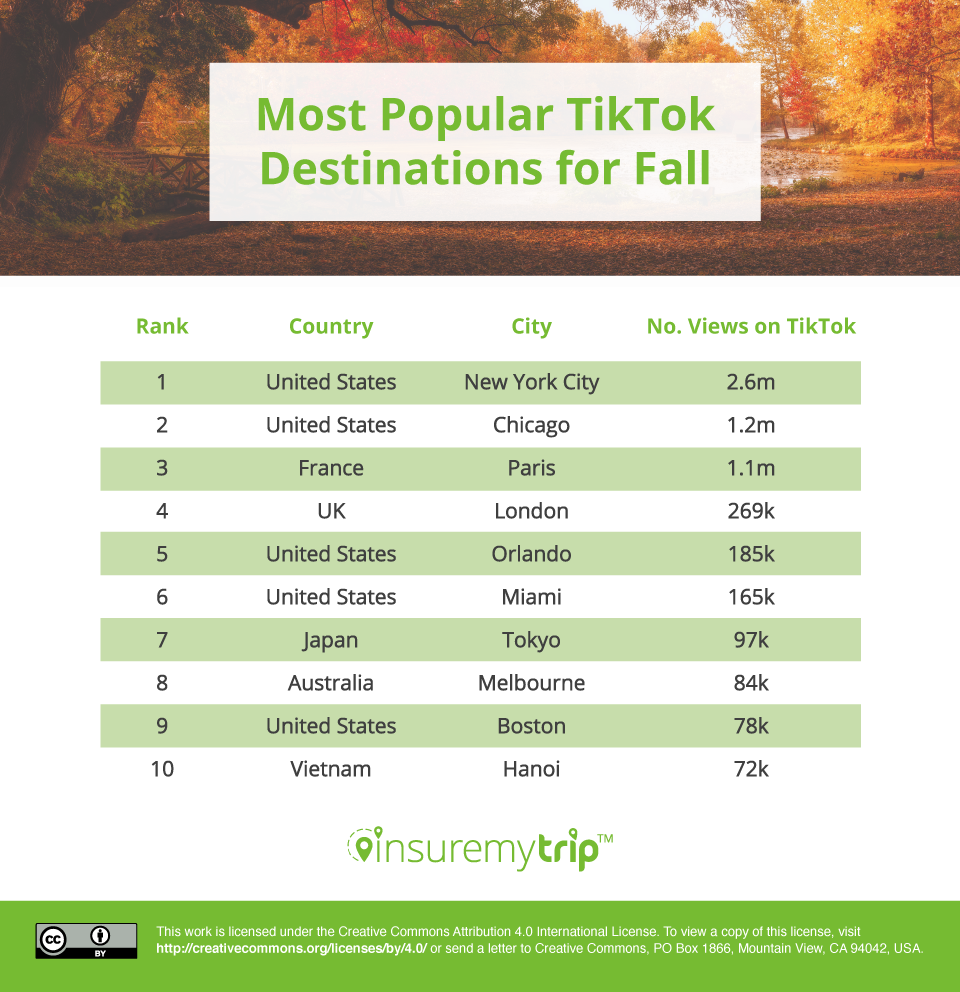 Five of the top 10 destinations were in the U.S., with New York City having the most views at 2.6 million. With an average temperature between 47°F – 70°F, New York City is great for those who love sweater weather.
Next is Chicago with 1.2 million views. With a similar temperature to New York, Chicago offers beautiful views of the leaves changing color in Millennium Park.
The third most viewed city is Paris with 1.1 million views. For those looking to travel abroad, Paris is a great city for fall, with temperatures only slightly colder than New York City.
Most Popular States for Fall (According to TikTok)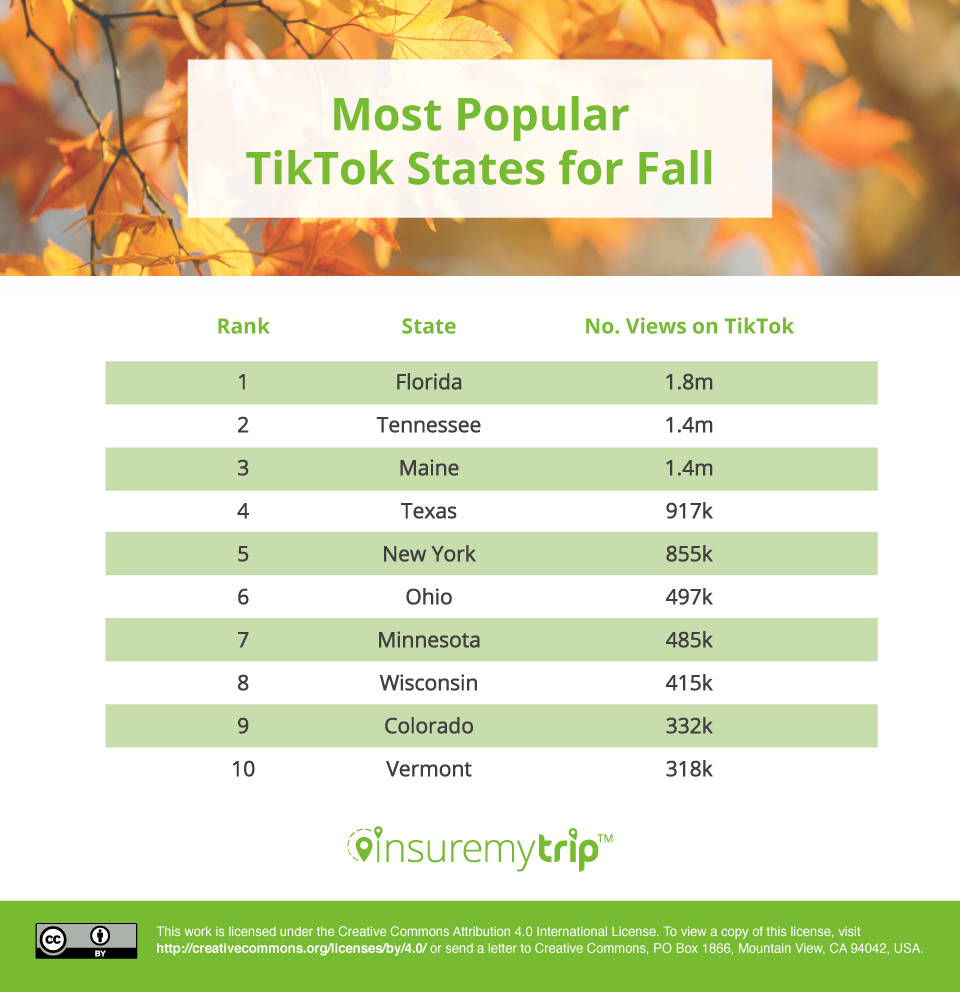 Interestingly, the most popular state in the U.S. for fall travel is Florida with 1.8 million views. With a balmy average temperature between 64°F – 84°F in October, Florida may not be the state travelers think of when considering a fall vacation. Maybe Floridians love pumpkin spice lattes and Halloween.
The second most viewed city for fall is Tennessee. With fall temperatures between 45°F – 79°F, Tennessee has vast golden forests throughout the season.
The third most viewed state in fall is Maine. The coldest state in our top three, Maine between 33°F – 63°F in October. For those searching for deeper red hues in their fall photos Maine is a great destination. Just make sure to pack a warm scarf for the chilly weather!
Conclusion
TikTok is becoming an important factor when choosing travel plans. Short, accessible content allows people to quickly and easily scroll through content relating to travel destinations. The top global fall destination is New York City, with Central Park turning bright red and burnt orange. The top fall state is Florida, a great destination for those who aren't ready for summer to be over just yet.
Methodology
We searched hashtags on TikTok to see which had the most views. The hashtags included were #autumninX and #fallinX. For the 'Most Popular TikTok Destination for Fall' we searched 160 of the most popular tourist cities, making a list of the top 10. For 'Most Popular TikTok States for Fall' we searched these hashtags for every state in the United States.