Best Summer Vacation Playlists According to Spotify
Last updated on 03/27/2023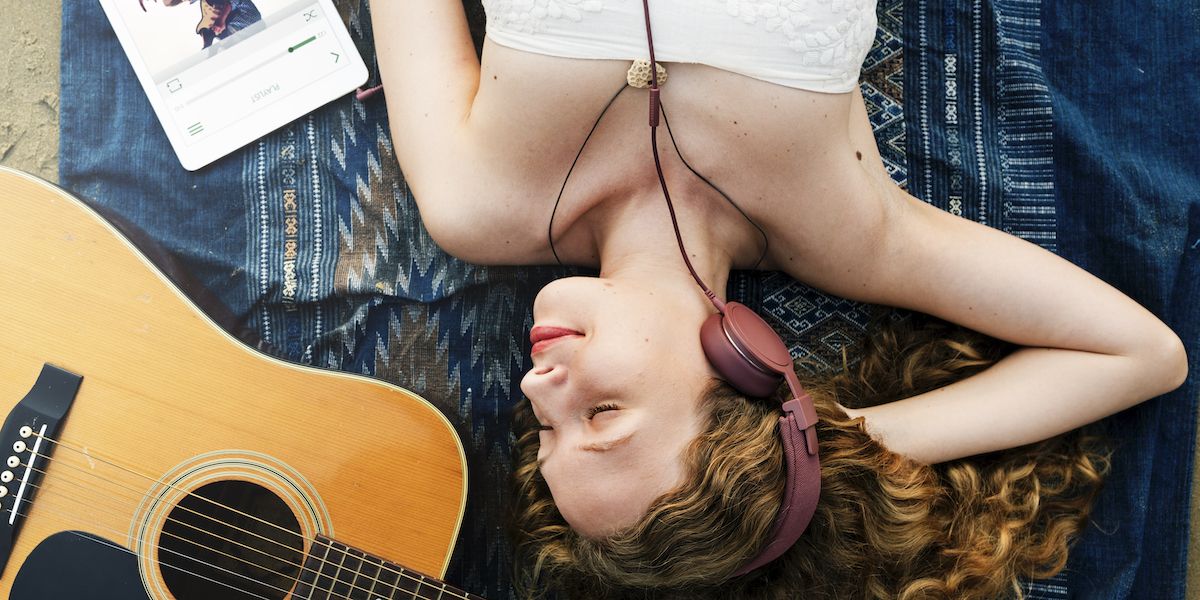 Creating the Ultimate Vacation Playlists
Traveling is increasingly diverse, we are spoilt for choice with vacation options. Every vacation, however, needs a playlist of songs to enhance our mood and capture our unique experiences. To cater for all needs we decided to compile a variety of playlists using data analysis techniques.
Using Spotify Playlist Miner the InsureMyTrip Research Team has found the most popular songs for: road trip playlists, surf playlists, beach playlists and sailing playlists. Spotify is the largest streaming platform in the world, with more than 100 million free subscribers actively listening each month. Use these links to jump to a playlist:
Data-Driven Curation
We were intrigued to find out exactly what links a song so specific to a travel activity. Therefore, we decided to analyze the common factors across each playlist, indicating what is necessary for an anthem in each category. We have looked at the valence, acousticness, and energy of each playlist as analyzed by Spotify's algorithm.
Valence describes the musical positivity conveyed by a song. Songs with high valence sound more positive (e.g. happy, cheerful, euphoric), conversely songs with a low valence sound more negative (e.g. sad, depressed, angry). Acousticness detects whether a song has been electrically amplified. High scores in acousticness indicate there is little to no electrical interference while low scores indicate a song has been produced with electrical equipment. Finally, energy is a measure of song intensity and activity. Energetic songs are fast, loud and noisy.
We took an average of all songs in each playlist to give us an overall score in each category.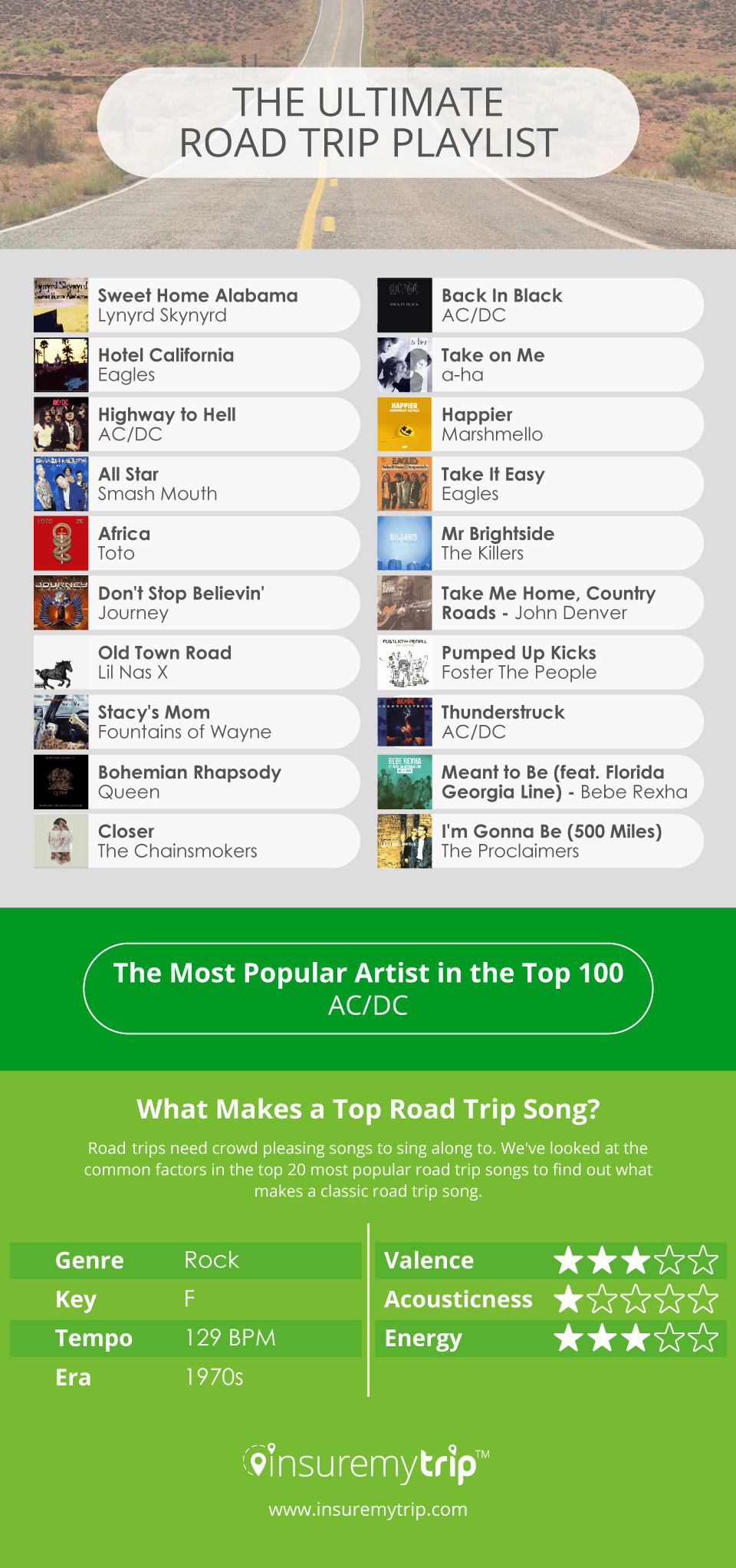 From 'Sweet Home Alabama' to 'I'm Gonna Be (500 Miles)' no one can be disappointed with this list of karaoke gems.
To make a road trip classic just ensure positive energy and catchy lyrics!
For the top two tracks, no introduction is needed. 15.3% of playlists selected Lynyrd Skynyrd's Sweet Home Alabama. Eagles's Hotel California comes in at second with 9.8%. Finally, evidence to show these are the go-to crowd pleasers.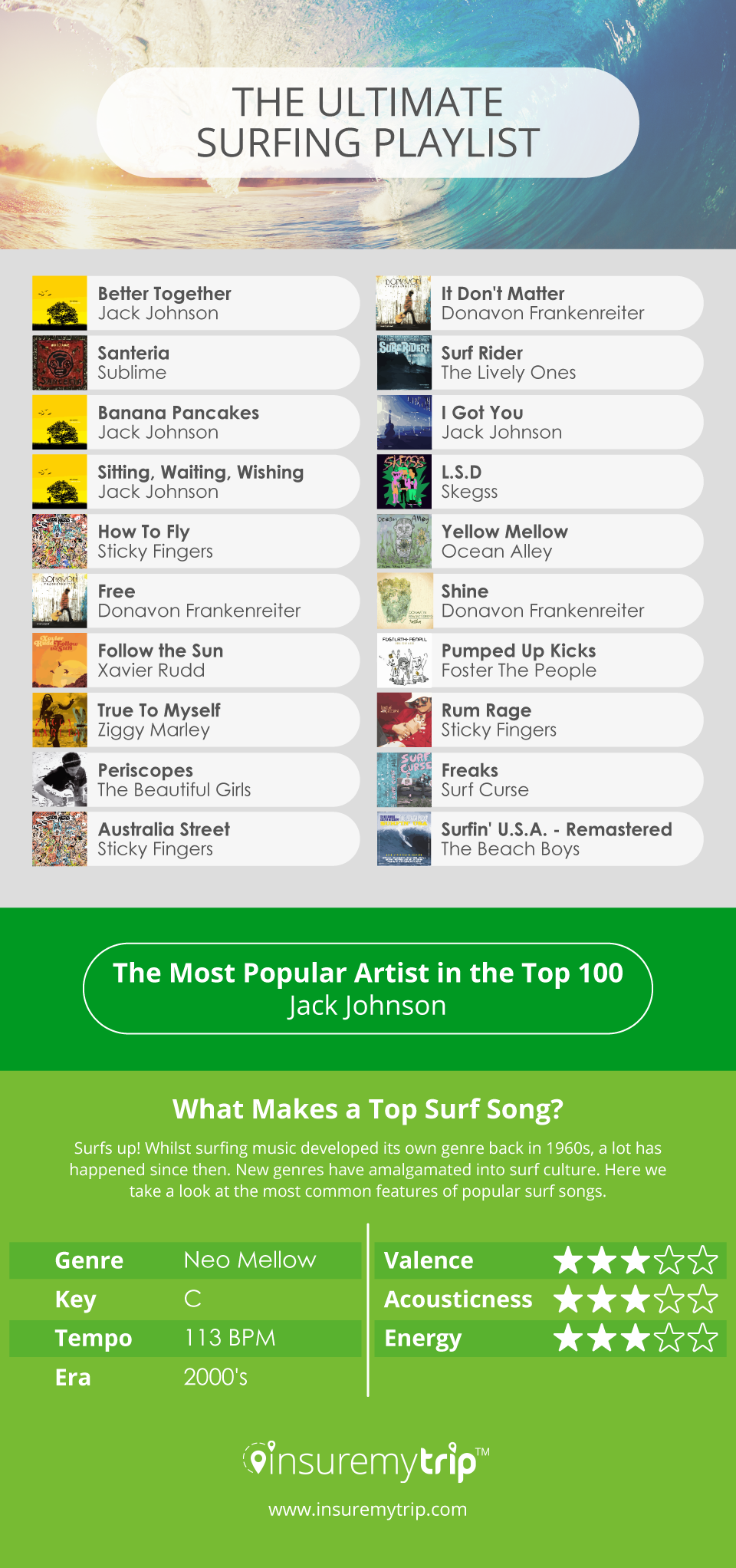 Born in the sixties, made in the noughties. Thanks to Jack Johnson and co. surf music has reached new acoustic heights. But the emergence of reggae is expanding the culture's horizon.
10.1% of playlists selected ex-surfer Jack Johnson with his simple but relaxing song 'Better Together'. The next most popular was reggae band Sublime with Santeria receiving appearances in 8.2% in all playlists.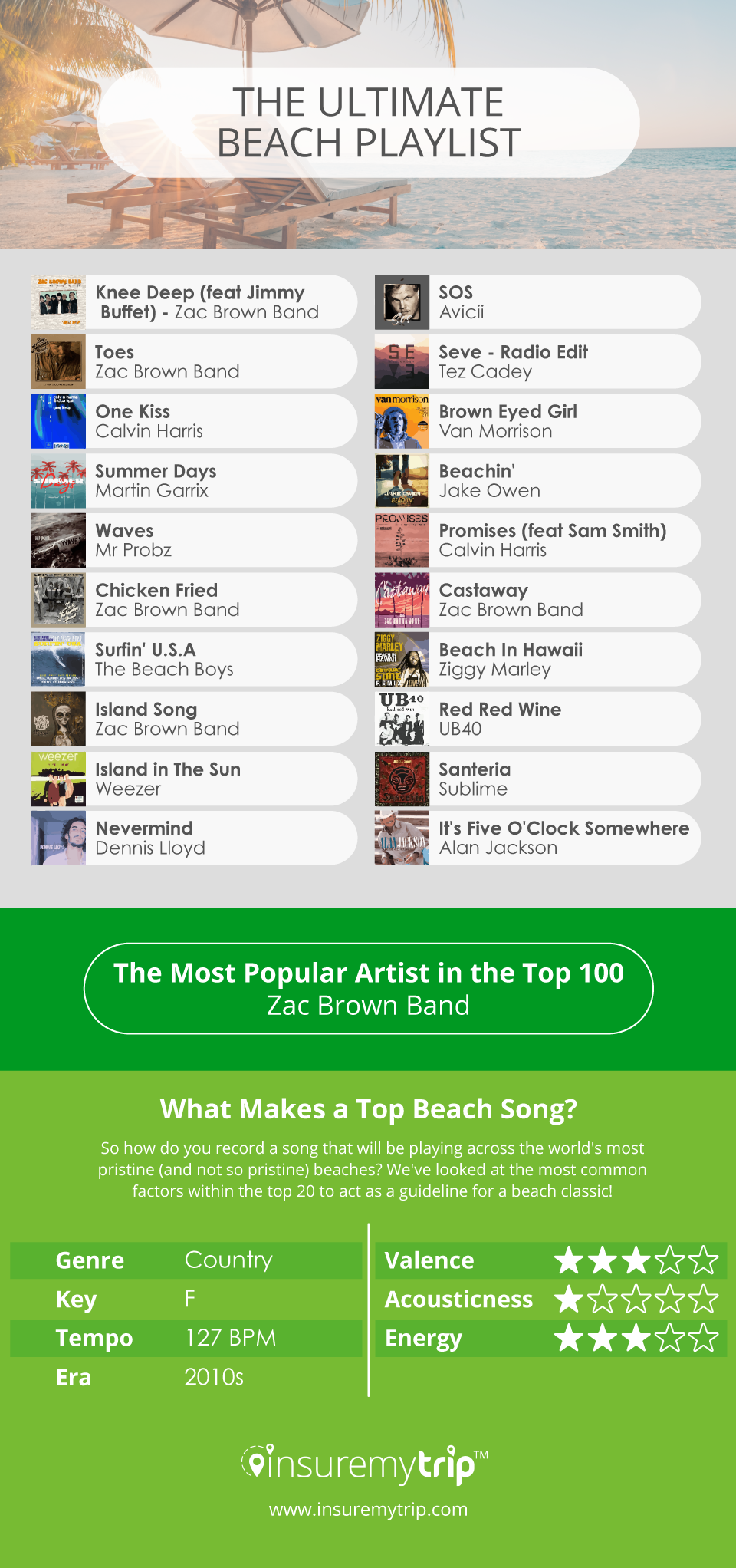 Beach vacations are the preferred option by most of us across the globe. Whether you are into topping up the tan, making sandcastles or keeping cool in the ocean, a good beach playlist will always make you want to keep hanging out in the heat.
When creating your next beach playlist be sure to include songs with a high valence and energy to ensure a carefree atmosphere!
8.3% of playlists selected Zac Brown Band's Knee Deep (feat. Jimmy Buffet). Zac Brown Band's country tracks are obviously very common with beach goers, they have also taken the second spot with Toes. It must be the southern twinge with hints of Caribbean rock.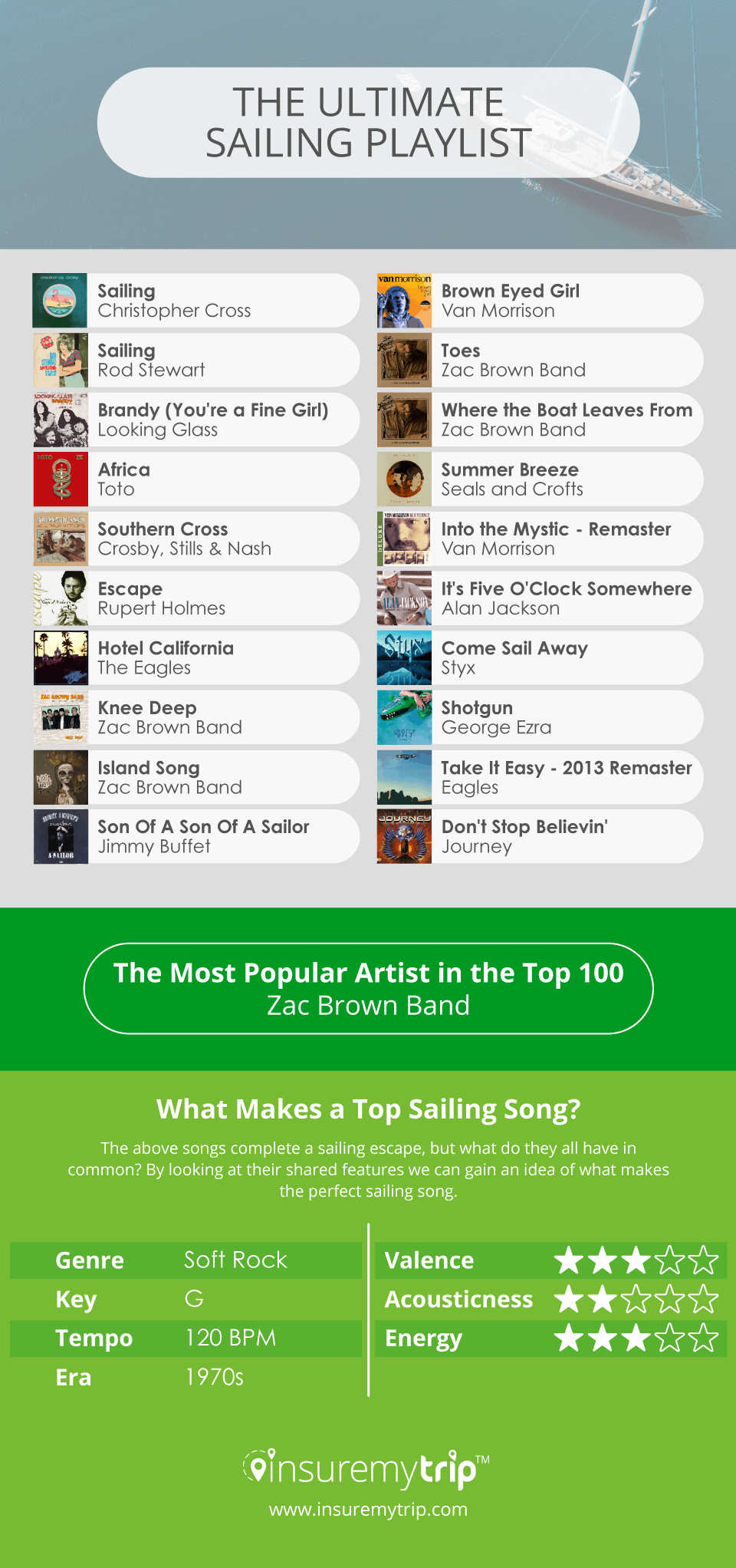 Sailing and music are the perfect pairing. The wind, water and rocking motion begs for one final addition. Music.
Old school rock is the way to go, just make sure it's not too heavy and ruins everyone's soothing sail!
23.8% of playlists selected Christopher Cross's Sailing. Rod Stewart lags significantly with 9.7% but remains popular. Why? The clue is in their title.