Road Trip Safety Tips
Last updated on 03/27/2023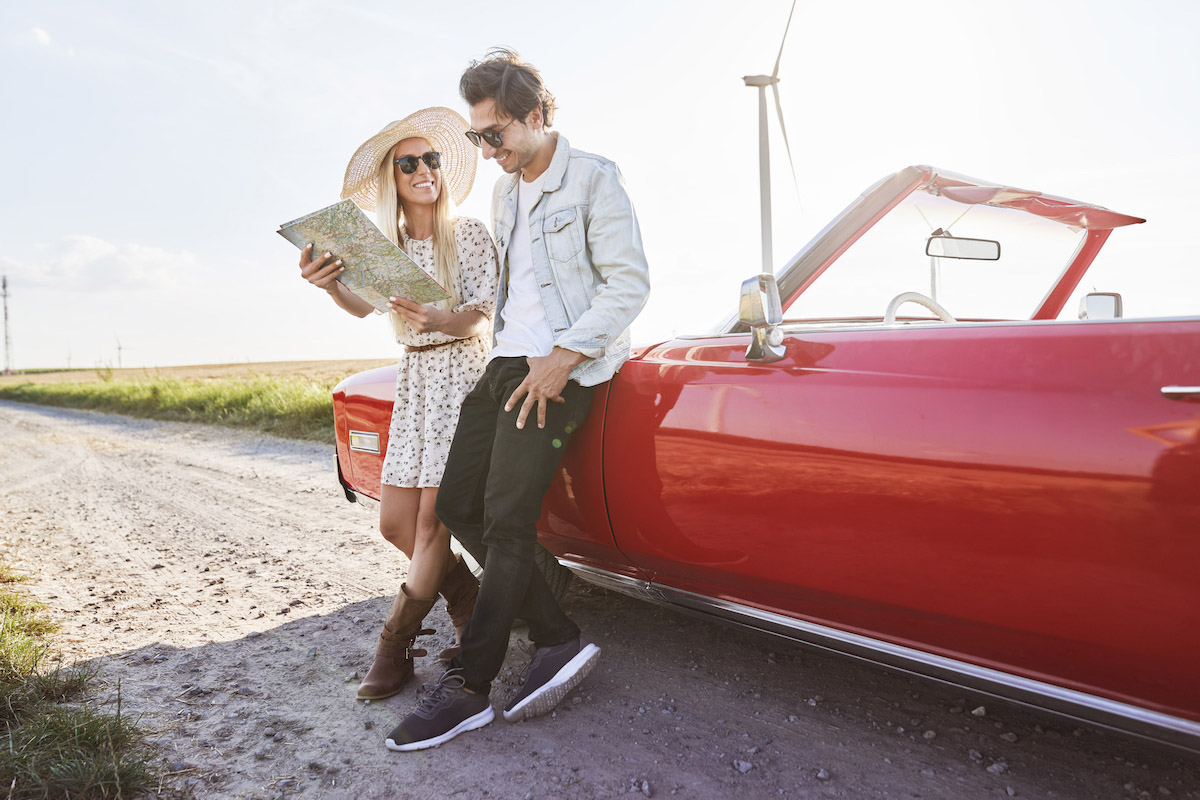 A family road trip is as American as apple pie and baseball, summers on the shore and Thanksgiving with grandma. Prior planning of your itinerary can make a big difference to how enjoyable a road trip is while still making room for spur-of-the-moment choices. Spontaneity makes some of the most memorable experiences. Getting off the highway and mapping out a long meandering route is one of the joys of summer driving. Maximize your fun with these helpful road trip planning and safety tips.
Pack a Road Trip Safety Kit
It's a no-brainer yet often overlooked, a roadside safety kit should be in your vehicle at all times but is especially important for long drives and road trips. Most road trip safety kits include jumper cables, roadside flairs, simple bandages and ointments, flashlights and wrenches. Be sure to add a blanket and poncho too, which could really save you headaches when needed. Speaking of headaches, be sure you include Tylenol or ibuprofen.
Make Sure Your Car Maintenance is Up To Date
Before you depart on your road trip, do any needed maintenance on your vehicle. It will not be a fun journey if you go fifty miles and have an engine problem.
Check the Tires for Damage or Too Much Tread Wear
Tires keep your car on the road, or in some cases are the reason your car left the road. Check your tires for damage before you head out. Look for gouges, rips, and nails that could cause havoc on the road. Also, check your tire tread depth. One easy way is the old-fashioned penny test. Place a penny into your tire's tread groove with Abe's head upside down and facing you. If you see all of Lincoln's head, your tread depth is too thin and it's time to replace your tires.
Get an Oil Change
Depending on the distance of your trip, you may want to get an oil change before you leave. If you're close to the time to change, or your mileage will dictate the need to stop by the shop during the trip, it may be wise to get it done before you hit the road. If your trip includes any changes in terrain, altitude or temperature, having a car with a clean air filter and a recent oil change can make the difference.
Test the Air Conditioning & Heating Systems
Making sure your air conditioner is in working order and has a full charge is critical for hot summer days. Likewise, working heat can be crucial if you're traveling during the cooler months and get stuck on the side of the road. If you're not worried because you have roadside assistance, think again. Cell phone coverage can be spotty in rural areas, and it may take several hours for help to arrive. It's best to plan ahead, especially if you'll be driving through remote areas.
Pack (Spare) Smart
Your spare tire may be located inside the floor of your trunk. This is always a problem for packing! In the event you need to access the spare, everything inside may need to be relocated, which could mean your bags are curbside while you swap the tires. Keep this in mind when deciding which bags go where. Also, know where your jack is located. You don't want to lose valuable travel time fumbling through your car looking for the right tools. It's also a good idea to empty out any extra stuff you've been keeping in your trunk to improve gas mileage.
Pack for a Variety of Weather Conditions
Thanks to modern meteorology, you'll probably have a good idea of what to expect on your road trip concerning weather. There are always surprises, however, so make sure to pack an extra rain jacket, boots, or any other gear you might need while exploring the local areas along your route. Since you don't have to worry about checked baggage fees, it's better to have an item of clothing with you rather than have to purchase a replacement while on the road.
Make Sure Your License, Insurance & Other Documents are in Order
Take a look at your car registration, your driver's license, and insurance documents. Make sure they are up to date and not due to expire while you're away. These are common sense preparations, but in the excitement of planning a trip, it might not be the first thing you think of. If you are going to be traveling more than 150-200 miles away from home, consider insuring your road trip by purchasing a comprehensive travel insurance policy. Bring copies of all your plan documents if you choose a travel insurance plan.
Use Technology to Improve Your Trip – But Make Sure to Unplug
Whether it's a navigation app that will reroute you if there is unexpected traffic or construction, a virtual travel guide, or even entertainment, your smartphone can be a tremendous resource while on the road. Keep an eye on your data usage and consider temporarily bumping up your plan, so you don't end up with an overage. Be intentional about using your smartphone – the best memories are made when you're fully present in the moment.
Map Your Route and Make Room for Adventure
Whether you've always wanted to drive the Blue Ridge Parkway in North Carolina or Highway 1 in California, or any other classic road trip, you will want to research the basics of how many days the trip generally takes, and any road conditions that may affect your route. If you're traveling with a group, keep in mind that your companions may have different tolerances. Keep that in mind when planning stops and total hours in the car per day.
Doing research beforehand will keep you from having to drive more than you want just to reach the next stop. It sounds counterintuitive, but if you're on a long route with plenty of hotels, you may want to hold off on making reservations. Instead, stop along the way when you feel done for the day. It's good to have a few big stops planned. Just make sure to leave it up to chance to find local restaurants, for example. Having the flexibility to stop and explore when you want to is one of the best advantages of a road trip.
Domestic Travel Insurance
When people think travel insurance, they think big-budget trips or international destinations. Truth is, most trips that take you 100 miles from your home are insurable in some way shape or form. This may include roadside services, cancellations, or medical options. You can learn more about domestic travel insurance here.