Tech + Travel: Planning Your Next Trip Using ChatGPT
Last updated on 09/11/2023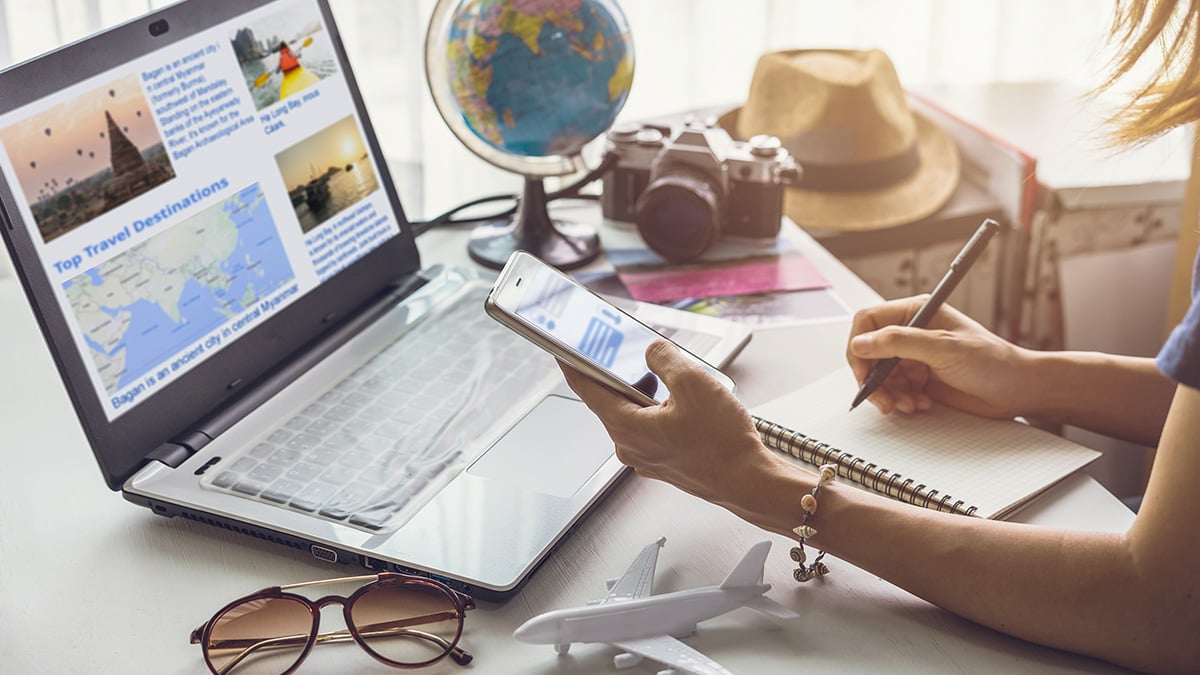 With all the work you've been doing, you deserve a break—better yet, a vacation. Planning a trip, however, can be less than relaxing. Searching for deals, making calls, maybe finding a travel agent you can trust…it can feel like a whole other job in addition to your other obligations.
But what about planning a trip using AI? Having a helping hand from ChatGPT could make the process of coordinating a vacation a whole lot easier.
With that in mind, we've outlined a small primer on how ChatGPT works and how to plan the perfect vacation by helping you become a bona fide ChatGPT travel planner.
What Is ChatGPT?
ChatGPT is a chatbot designed by the company OpenAI to generate human-like responses to its users' questions. It can understand what you type and respond according to your needs (i.e. if you need a bulleted list, you can ask it to give you information that way, as a table or in another format).
There are two versions of ChatGPT, one unpaid and one paid, that you can take advantage of. The main difference between these versions is that in the paid version users have access to the GPT-4 model, which is much more capable compared to the GPT-3.5 one. Also, in some limited scenarios, the paid version can pull resources from the internet. As of the time of publication of this article, it won't do this on it's own and it won't necessarily be able to do so if you give it a link for reference.
Regardless of which you use, when you start planning a trip using AI – specifically ChatGPT in this case - you should always verify its results through other means.
Becoming a ChatGPT Travel Planner
Now that you're ready to learn how to plan the perfect vacation using ChatGPT, here is how you can get started as a ChatGPT travel planner:
First, log into the platform. When you do, click on a text field at the bottom of the page that says, "Send a message." This is where you type your request, also known as a prompt (for more information on prompting, here is an extensive site to teach you what you need).
As for what to request, the sky is the limit. Because ChatGPT has access to so much information, however, it's best to start simple, with a broad subject that you can narrow down with more specific questions later. For example, typing "what to do in Paris" could give you a list that includes the Eiffel Tower, the Catacombs and the Musée D'Orsay. Following up with requests for more detail on each could help you eliminate the attractions that least interest you in the City of Lights.
For reference, here are some more general questions you can use as you begin your travel planning:
Which destination should I choose? When choosing where to go, you can ask ChatGPT to recommend a destination, or you can have some already in mind. If you're asking ChatGPT for a recommendation, you might ask, "I want to go on vacation, and I'm interested in both long hikes and warm weather. Where should I go if I want to travel in October?" Meanwhile, if you already have options in mind, you could say, "I'm thinking of visiting Greece, Bermuda or Montreal. I like swimming, but also milder weather. Can you help me plan my trip for the option that best suits my interests, based on what you know?"
When should I go on my trip? Every destination has a better time to be there. For instance, New England is a perfect Fall trip because of the beautiful colors of the autumn leaves everywhere you look. If you know the time of year you want to go, you can ask ChatGPT to recommend arrival and departure dates based on cultural events happening, when a destination may be less crowded and more. If you don't know when you want to go, simply ask ChatGPT what the best time of year is to go on your trip. In addition, any request for travel date recommendations should include both dates you can't be away and times when you can be more flexible.
How can I have an authentic experience? It's natural to want to feel like a local when you travel somewhere new. ChatGPT makes that goal easier to achieve than ever. When planning your trip, you can ask it what foods are specific to the region, learn local customs and brush up on etiquette it may help to know, especially if you're traveling in a foreign country. When planning a trip using AI, ChatGPT can be your own personal tour guide preparing you before get there so you can fully immerse yourself while on vacation.
Finding the Best Travel Insurance Plans
When learning how to plan the perfect vacation using AI, another important question you may ask is "Should I get travel insurance for my trip?" ChatGPT and other platforms like Bard will likely tell you that the right travel insurance can be an important purchase for your trip. However, there's more to travel insurance than just checking the box.
The best travel insurance plans are unique to each traveler. Depending on your concerns, you can find plans that cover a variety of coverages include trip delay, trip cancellation, travel medical, and more.
When searching for the best travel insurance plans, AI isn't necessarily equipped to help you explore and compare all your coverage options. We recommend that you go to the experts at InsureMyTrip. As the world's first major travel insurance comparison website, we help you compare and find the best policies for your unique travel plans. Our live agents are fully licensed and can help you understand your different plans options, as well as explaining the fine print and exclusions.
To learn more about our team and how we help travelers like you find the right plan for our trip, read our customers' reviews. Or, you can start a travel insurance quote and see firsthand how we can help you find the coverage you need for your well-deserved vacation.
Disclaimer: This article is for educational and entertainment purposes only. InsureMyTrip does not recommend acting solely on advice received from artificial intelligence as the system may occasionally generate incorrect or misleading information and produce offensive or biased content, as according to the disclaimer. We recommend fully researching all aspects of your travel plans by using a reputable source.