Must-Have Travel Apps for Trip Planning
Last updated on 10/06/2021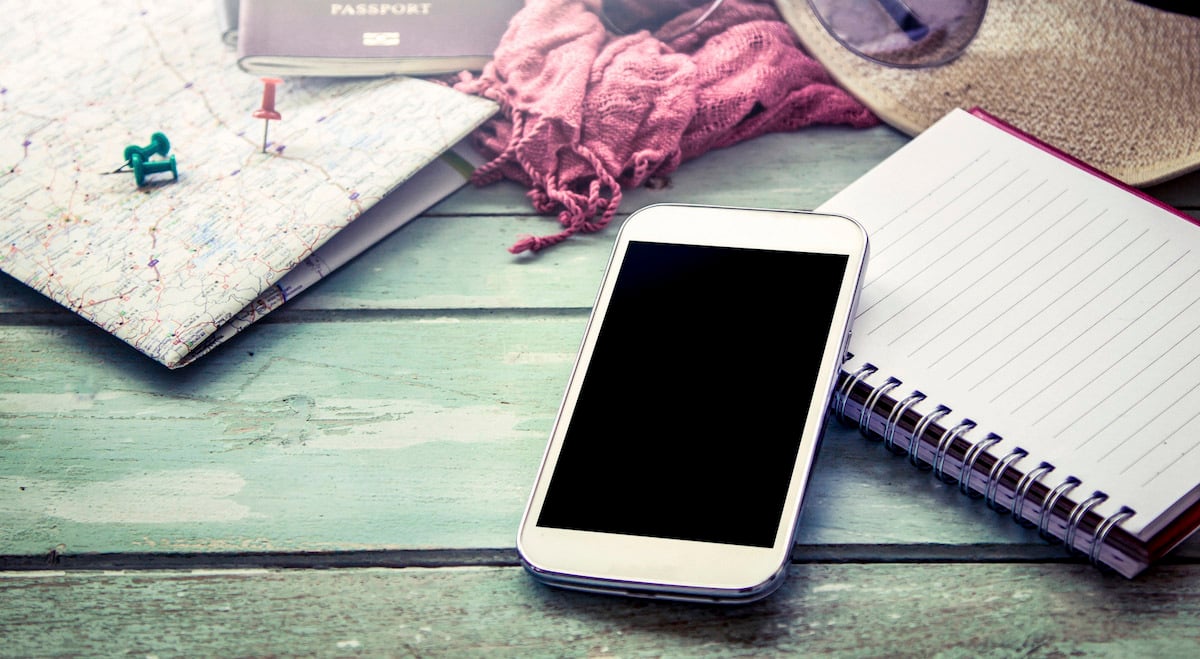 Best Mobile Travel Apps for Mapping, Expenses & Planning
Savvy travelers think of their phones as toolboxes. They load them with the best travel apps to make everything from navigating back roads to booking rooms and even saving on flights easier than ever. Because you would need an app to sort through all the thousands of vacation planning apps on the market, we did the homework for you. The following are must-have travel apps that make traveling less stressful and more seamless. All of these travel apps are available for both Google/Android and Apple users and many are free of charge. That's right, free travel apps! Don't leave home without them.
Trip Mapping Apps
Google Maps – Navigating around a new place can be complicated. But Google takes away some of the complications with its popular Google Maps app. This free travel app eliminates the need to pay for GPS with a rental car. The voice-guided navigation is usually reliable and defaults to take you on the fastest route, even accounting for traffic accidents, congestion, and road construction. It will also tell you how fast, and when, you can get from point A to point B on public transportation in most major cities. The 360-degree street view is helpful for scoping out potential hotels and restaurants. There are too many quality features to highlight, but it's worth noting they've earned the app 4 stars out of five in the Play store. Favorite Feature – Reviews are included in search results so you can see how other travelers rated things like accommodations, activities and food along your route.
Waze – No one wants to spend their vacation or business trip stuck in traffic. Similar to Google Maps, Waze offers the perfect solution to gridlock by using real-time traffic information to provide personalized directions. This way, you can avoid construction zones, accidents, and other slow-downs. Travelers can also get estimated arrival times, which is especially helpful for maximizing your travel schedule. Choose from a variety of voice settings and let the travel app guide you. Favorite Feature – Real-time directions make it easy to avoid hazards, accidents, and slow-downs in new or unfamiliar cities.
Offline Travel Map Apps
Just Ahead – Road tripping is a fun, educational experience with this 4-star-rated app. The app uses GPS to act as an automatic audio guide for some of the most popular tourist destinations. From major national parks to scenic drives and historical landmarks, if it's worth knowing about, Just Ahead offers commentary so you can listen and learn, hands-free. Unlike a lot of apps, Just Ahead doesn't rely on crowdsourcing for its information. Each audio tour is written by a vetted guide and read by a skilled narrator. This must-have travel app is well worth the cost, between $7.99 – $9.99. Favorite Feature – Since many national parks lack strong cell phone signals and WiFi connectivity, being able to access Just Ahead's audio guides and internal maps offline is a huge plus.
Trip Planning & Itinerary Apps
TripIt – The days of relying on printed itineraries and shuffling papers are behind us. TripIt stores all of your travel plans in one place, so you can conveniently access your master itinerary. Instead of manually inputting travel plans, users just have to forward confirmation emails to [email protected]. The travel app can also be synced with other calendars. That way your friends and family can see where you'll be and when. It's free and the latest version has a 5-star rating in iTunes. Favorite Feature – Users who link their email accounts to the app don't have to worry about forwarding confirmation emails. The app recognizes those emails and automatically imports them.
Kayak Trips – This travel app works similarly and is a solid alternative choice to TripIt. Not only does Kayak Trips store all of your travel plans and receipts in a single app but it also provides real-time travel information like flight status and gate change alerts. The streamlined process of saving and compiling travel plans is very popular among adventurers, especially because the app supports "offline" use as well. Favorite Feature – The intuitive interface, real-time updates, and "offline mode" really set this travel app apart from other options.
Travel Apps for Staying Connected
WiFi Map – You don't realize how much you rely on your phone's cellular data plan to connect to the internet until you travel to remote regions or abroad. For those trips when you're seeking out a WiFi connection to avoid roaming charges, use WiFi Map. The app's community of users anonymously contributes the locations, passwords and reviews of WiFi hotspots around the world. Currently there are more than 5 million hotspots, and the app has a 4.5 star rating in the Google Play store. Favorite Feature – The full version will find and load WiFi hotspots at your intended destination before you even depart.
WhatsApp – Staying in touch with family and communicating with friends you meet on your travels is free, and easy, with WhatsApp. As long as you have an internet data plan, you can send messages, photos, and even videocall your contacts without incurring charges. With over 2 billion users in more than 180 countries, the app is one of the most widely used among travelers. This must-have travel app is free and has a rating of 4.1 stars. Favorite Feature – Sometimes you just want to hear the voice of a loved one. With WhatsApp Calling, you can ring or videocall your contacts over an internet connection instead of a costly roaming bill.
Travel Currency & Expenses Apps
XE Currency – There are almost 200 currencies in the world, so keeping track of conversion rates on international trips can be quite challenging. Unless you have the XE Currency app which does the math for you. Featuring live rates for every country's currency, the app's calculator is the best on the market, pun intended. The latest version even supports sending funds internationally with a single seamless interface. Favorite Feature – No WiFi? No problem. XE Currency stores rates, and the calculator can be used offline.
Flight Booking Apps
Skyscanner – This app is a metasearch engine that queries many different booking sites to help find the most competitive rates. What started with finding flights now also supports additional booking options, including hotel reservations and rental cars. Skyscanner makes it easy to compare not only domestic but also international bookings. Over 30 languages are supported and the company reports over 100 million monthly users. Favorite Feature – The "Explore Everywhere" feature lets users view all the destinations they can fly to from their origin location, which is very popular with travelers in the earlier stages of trip planning.
Hopper – After you save up to 40 percent on a flight on Hopper, you'll see why this app is so popular among travelers. Hopper features a suite of tools for not only flights but also hotels and rental cars. Users can set up notifications, so they are alerted when the best deals are released. Hopper differs from other flight apps in that it uses your destination and travel dates to predict the best time to buy. This free must-have travel app uses its database of historical flight prices and claims 95 percent accuracy. Favorite Feature – Hopper not only notifies you when ticket prices are at their lowest, but also allows you to purchase your seat within seconds in the app. The "freeze prices" is also great when it comes to planning a trip.
Specialty Travel Apps
Google Translate – This translation app is perfect for those traveling internationally. The free app supports text translation between over one hundred different languages but also offers an offline mode that supports over fifty languages, making it ideal for travel. Additional features, which include tap to translate, conversations, handwriting, phrasebook, and cross-device functionality make Google Translate stand apart from other translation alternatives. Favorite Feature – The "instant camera translation" allows travelers to use their phone cameras to get instantaneous translations in over 90 languages, which is perfect for reading signs and navigating in new places.
PackPoint – Packing for a trip can be a challenge and making smart decisions about what to bring with you is easier than ever with Packpoint. Travelers simply enter their trip details including destinations and travel dates, and the app recommends what to pack based on the length of the trip, weather at your destination, and more. The app is a favorite among forgetful types who always leave home without something. Now you can travel confidently knowing that you've packed everything you need. Favorite Feature – PackPoint customizes your packing list based on real trip information, including your planned activities.
Bring Fido – User-friendly and dog-approved, Bring Fido is the best app for making travel with pets less of a hassle. This 4.5-star-rated app connects travelers with dogs to a like-minded community of pet-friendly hotels, beaches, restaurants and more. Search filters allow users to look for hotels that waive pet fees, accept large breeds and welcome multiple pets. Favorite Feature – Bring Fido also has a substantial database of pet service providers. Without having to go to Google, users can quickly pull up their destination's best dog walkers, veterinarians, trainers, and groomers.