Most Affordable Way to Book a Hotel
Last updated on 08/30/2022
Everyone wants to make sure they get the best deal possible when booking a vacation. With several comparison websites to choose from it's important to use the one which will offer the best deal possible. At InsureMyTrip, we analyzed 1,000 hotels across twenty cities, within the U.S. and internationally to find which comparison site is the best.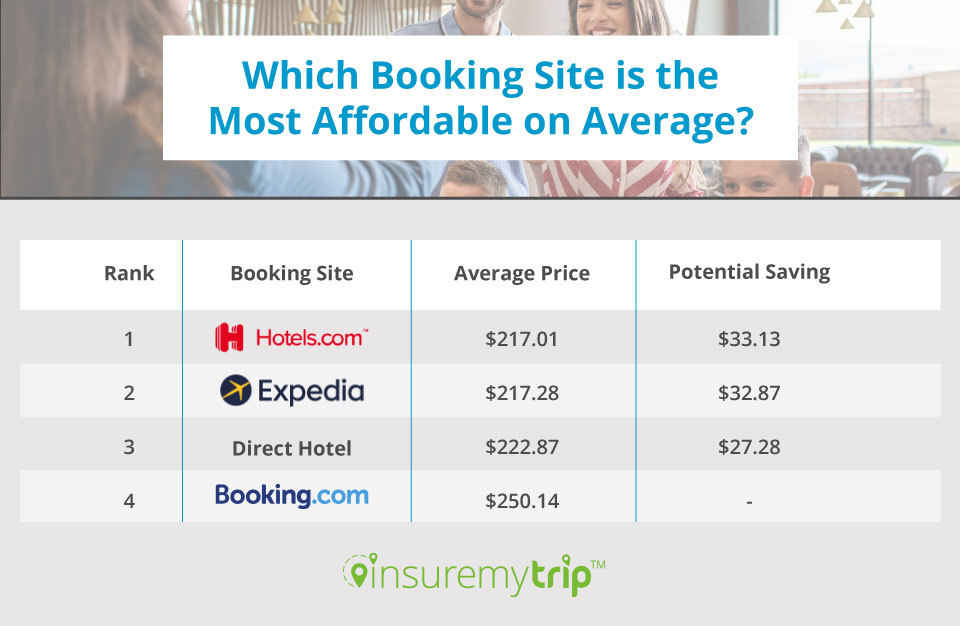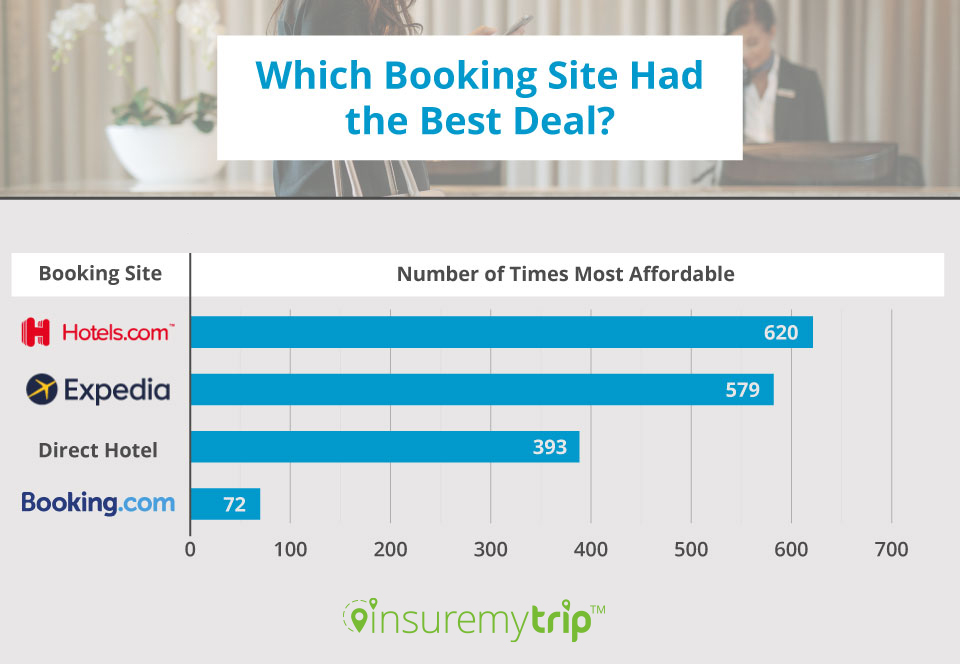 Shockingly, our general finding was Booking.com was the least affordable site. Hotels were assessed for the number of times they were they most affordable. Booking.com was only the most affordable site 72 times - that's just 7% of the hotels analyzed.
Not only was it rarely the most affordable, but it was also the most expensive option the majority of the time. On average, using Expedia instead of Booking.com and save you $33.13. On Hotels.com the potential saving is $32.87, and if you book directly with the hotel, you can save $27.28.
The site with 69% of the best hotel deals was Hotels.com, which is the least expensive a whopping 620 times. Closely following was Expedia with 579 of the best deals. The average price of a hotel on Hotels.com is $217.01. Expedia had an average price of 217.28, just 27 cents more, on average, than Hotels.com. Just $5.86 more than using Hotels.com is booking directly through the hotel website at just $222.87 on average. If you book through Booking.com, on average, you would be paying $33.13 more than if you book through Hotels.com.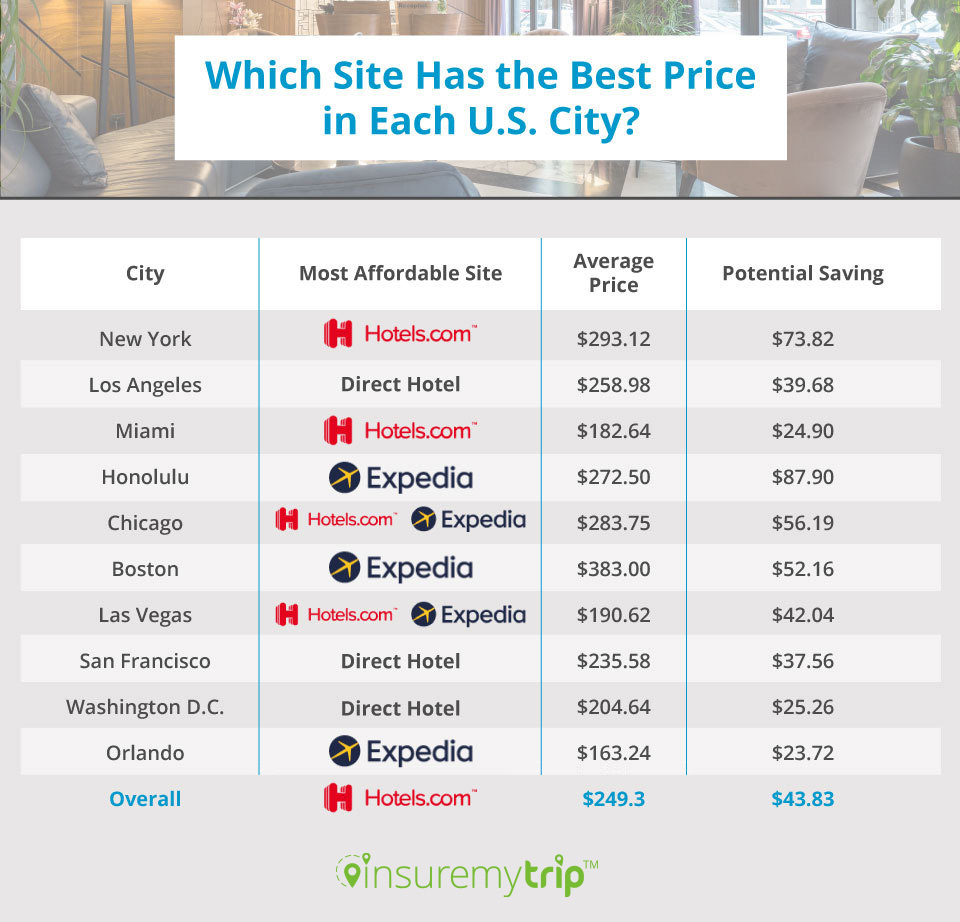 The U.S. city with the best saving was New York when booked through Hotels.com, it can save you $73.82. The city with the least amount of savings was Orlando. When booking through Expedia, you will save, on average, $23.82.
When traveling to Los Angeles, San Francisco, and Washington DC we recommend booking directly through the hotel website. In New York and Miami, we would recommend Hotels.com. In Honolulu, Boston, and Orlando we would recommend using Expedia.com. Chicago and Las Vegas had the same price on both Hotels.com and Expedia.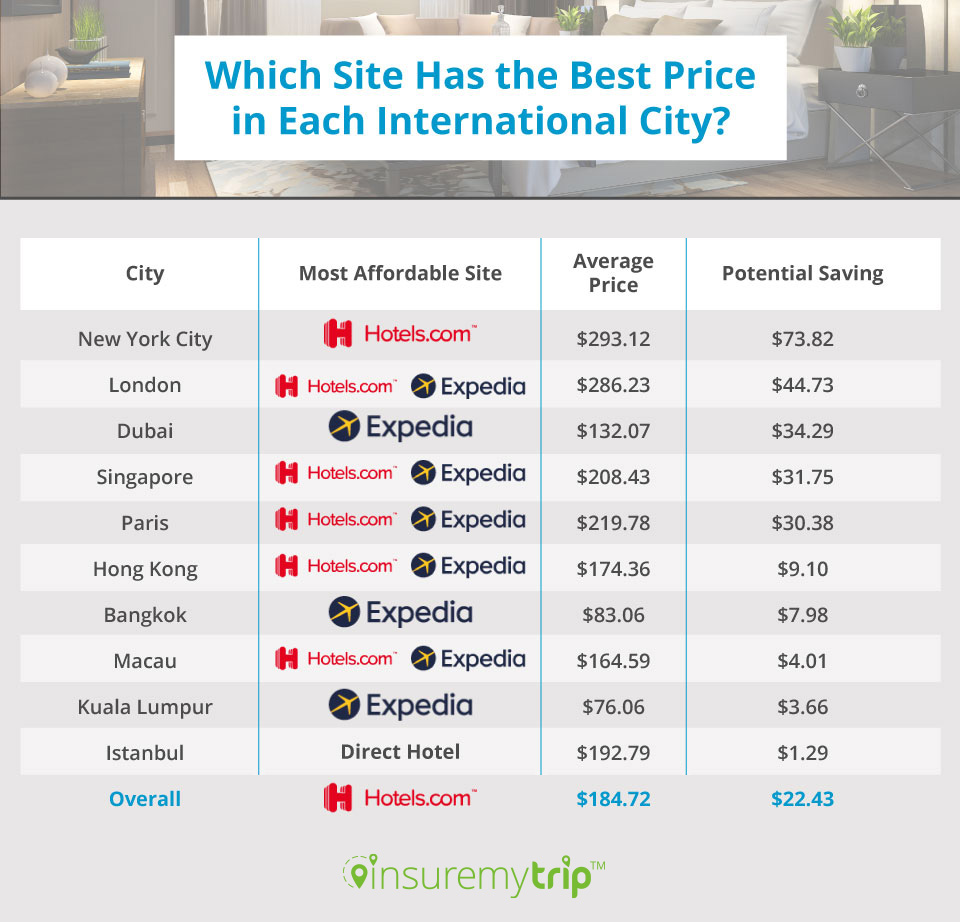 New York was once again the city with the biggest potential saving of $73.82 on Hotels.com. The city with the smallest saving was Istanbul, Turkey - with only $1.29 potential savings when booking directly with the hotel.
We would recommend booking through Expedia.com when travelling to Dubai, U.A.E, Bangkok, Thailand, and Kuala Lumpur, Malaysia. You would have the same saving on Hotels.com and Expedia in London, U.K, Singapore, Paris, France, Hong Kong and Macau, China. When traveling to Istanbul, Turkey we would recommend booking directly through the hotel.
Conclusion
When booking your next vacation be sure to shop around. The majority of comparison sites offer deals, however, depending on which site you use, the offer could be better. We found that the site with the best price, generally, was Hotels.com. Booking through Expedia costs only slightly more. Of the 20 cities analyzed, we found seven were the same price on Hotels.com and Expedia. This shows that either site can be used to find a great deal, especially traveling to capital cities around the globe.
Methodology
We chose fifty hotels in twenty cities, ten in the U.S. and ten international cities, based on the cities with the most international arrivals. We searched for a double room for two people for one night between 27th-28th August 2022. We used these parameters to search on Booking.com, Expedia, Hotels.com, and directly on the hotel website. All searches were done on the same day to avoid price fluctuations.
Sources