InsureMyTrip vs Squaremouth
Last updated on 08/23/2023
If you're shopping for travel insurance online using a comparison website, you might be wondering which site is right for you. Sometimes InsureMyTrip is compared to Squaremouth, but how similar are these two sites really?
Which Comparison Site is Best for You?
While the sites offer some similar functionality, InsureMyTrip features:
More years in business
Unbiased comparison of plans from only our trusted partners
Highly responsive and award-winning customer service, which includes licensed travel insurance agents and a one-of-a-kind Anytime Advocates® program that can provide claims assistance
Strong 3rd Party Ratings
InsureMyTrip puts customers first, and the quality of service and responsiveness of the company sets it apart from others comparison sites. After all, how helpful are customer reviews if a company doesn't respond and resolve customer issues?
Both InsureMyTrip and Squaremouth have over 30k reviews on the 3rd party review site, ResellerRatings. Both companies have excellent overall scores above 4.5 stars.
While Squaremouth has a higher overall rating, InsureMyTrip is proud to rate higher in the specific categories of Customer Service, Reply Back Rate, and Resolution outreach.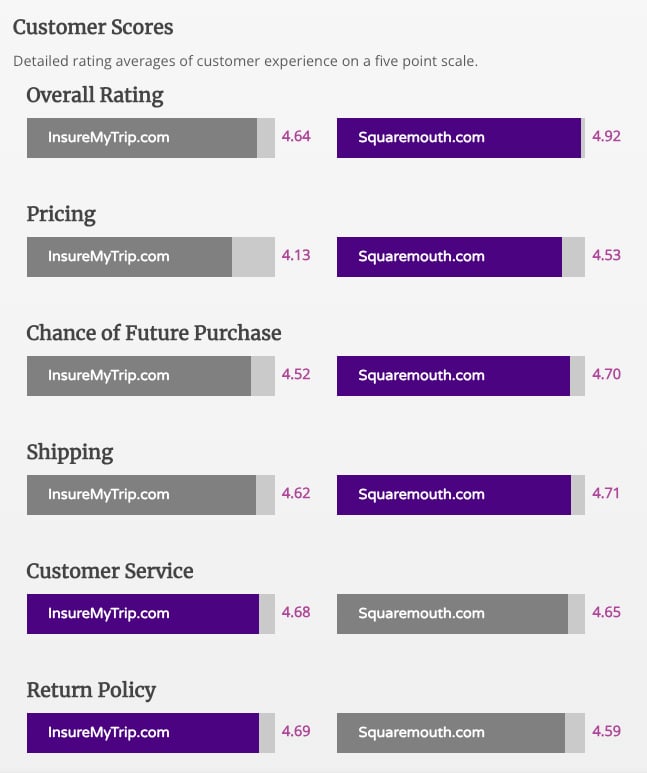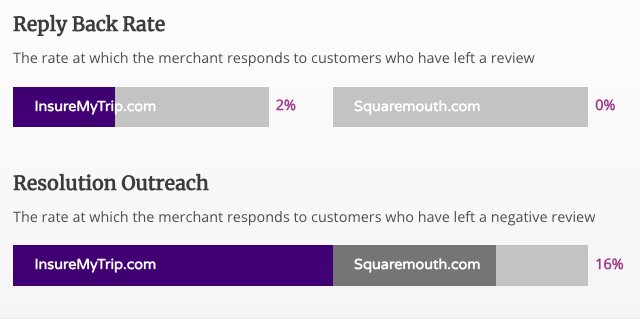 (These ratings are based on data from user reviews and are accurate as of the time of publication. Be sure to check ResellerRatings.com for the current comparison between the two sites.)
While we don't want travelers to run into any issues, we do want them to feel secure in knowing our Customer Care team is available for them seven days a week. Our specialized Anytime Advocates® are in constant communication with the insurance providers and happy to help in the event you need to file a claim. This means you can rest assured that you will have our support before, during, and after your trip.
Accredited by the Better Business Bureau
InsureMyTrip is proud to be accredited by the Better Business Bureau (BBB) and has received an A+ rating.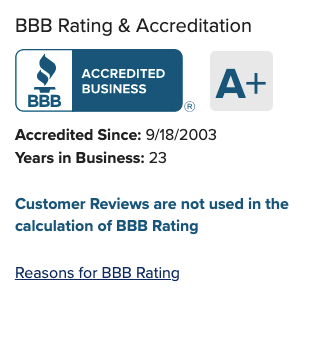 Squaremouth is also listed on the BBB listings but is not BBB accredited.
Their headquarters in Saint Petersburg, Florida received a rating of B+. Their Fort Wayne, Indiana based operation received an A+ rating.
We Won't Sell You a Plan You Don't Need
While some comparison sites return results for the plans that will make them the most money, the licensed agents at InsureMyTrip only provide recommendations that meet the customer's needs. To put it another way, InsureMyTrip won't sell you a plan you don't need – even if the "best" plan for them is "no plan at all."
Squaremouth features several of their own comprehensive plans that often appear first when customers search for a plan. On the other hand, InsureMyTrip only shows comprehensive travel plans from our trusted providers.
While it's true that InsureMyTrip does offer its own IMT Travel Accident Plan, this plan is used as an add-on for travelers looking to supplement gaps in accidental death and dismemberment coverage. Additionally, we will not recommend this plan over other providers' plans.
This "customer first" approach is not just some arbitrary tagline. Rather, it's a philosophy that has been part of the InsureMyTrip mission since its founding in June 2000.
Disclaimer: The information contained in this article serves as a general overview of benefits and should only be used for informational purposes. Refer to your individual certificate of insurance for specific coverages, exclusions and benefits. Please contact one of our licensed agents for additional assistance if you have questions. Please note that InsureMyTrip is not affiliated, associated, authorized, endorsed by, or in any way officially connected with Squaremouth or their products. The information presented in this article is true and accurate as of the time of publication.