Travel Insurance for Aruba
Last updated on 09/26/2022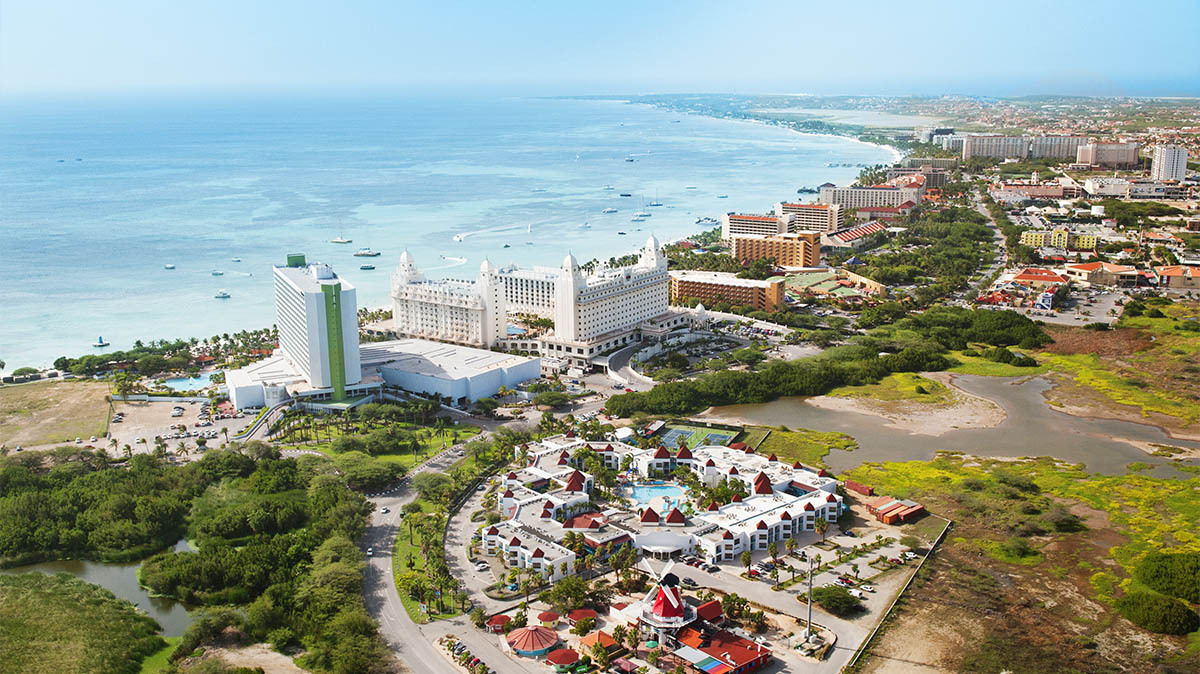 Do I Need Travel Insurance for Aruba?
A charming and picturesque destination, Aruba offers visitors soft white sand beaches, a laid-back Caribbean atmosphere, and plenty of opportunity for adventure. While travel insurance for a trip to Aruba is optional, having coverage for a variety of unforeseen situations is highly recommended. International travel may open the door to unexpected situations like problems with transportation services, illness, disruptions due to weather, and more. However, there is an Aruba travel insurance plan to fit many types of budgets, concerns, or personal needs.
Travelers may encounter interruptions in scheduled transportation at any point – whether flying in by air, arriving by sea, or anything in between. Delays or cancellations can happen for a variety of unforeseen reasons including sudden harsh weather conditions or transportation mechanical issues. In such cases, a travel insurance plan that may include coverage for delays can help bridge the gap between the problem and the solution. In some cases, travel insurance providers may even cover costs associated with situations like childcare or pet boarding fees that come up as the result of a missed connection.
Coverage for illness or injury while overseas is typically provided by a travel medical plan, which may offer assistance with unexpected medical costs abroad. More on Aruba travel health insurance.
Seasoned travelers usually opt for a comprehensive plan which includes coverage for medical events as well as delays, lost baggage, and other travel disruptions.
Overall, the only mandatory travel insurance coverage required to enter Aruba is the Aruba Visitor Insurance, but this will only offer assistance to a traveler with expenses relating to contracting COVID-19 during their stay on the island. For all other travel related concerns, a comprehensive travel insurance policy may offer travelers the most robust coverage for the trip to Aruba. Every traveler is different so be sure to compare different providers, plans, and coverage levels to find what works best for your Aruba trip.
What Does Aruba Travel Health Insurance Cover?
Many providers of travel medical insurance for Aruba may offer the following options for coverage including, but not limited to:
Emergency Medical Evacuation
Dental Coverage
Medical Coverage for Illness or Injury
Some short term travel health insurance plans may offer limited trip protection benefits such as Trip Interruption and Baggage Loss.
Most domestic healthcare insurers don't extend their coverage abroad, so travel medical plans are the best solution for protection against sudden illness, injury, and more while in another country. International insurance for Aruba trips can fill in the gaps where your domestic healthcare plan cannot. Before purchasing a travel health insurance plan, it is strongly recommended to contact your current health insurance provider to ask about any global benefits that may apply to your stay abroad.
The mandatory Aruba Visitor Insurance will only help cover costs relating to contracting COVID-19, leaving most aspects of an Aruba trip to be the responsibility of the traveler. For this reason, it's highly recommended to compare coverage for Aruba travel health insurance to find the best plan for your needs and budget and get covered for the duration of your trip.
How Much Does Aruba Travel Insurance Cost?
With no one-size-fits-all travel insurance plan and quite a few variables, rates can fluctuate for everyone. The price of travel insurance for Aruba mostly depends on:
Number of travelers
Age of travelers
Trip's duration
Type of coverage
As risk increases, price increases. This means that different rates will be offered for the same travel coverage for large groups as opposed to smaller groups. The duration of the trip also plays a big role in the quote, as more risk and cost is involved with a 6-month trip compared to a weekend getaway. Though a higher coverage limit will raise the price of your insurance plan, if you find yourself in an emergency situation where you really need help, you may end up paying less out of pocket with higher coverage limits.
What is the Best Travel Insurance for Aruba?
Ultimately, the best Aruba travel insurance is a plan that suits a trip's duration, budget, and each traveler's individual needs. With so many different providers and types of coverage available, there is likely a suitable plan out there for your next Aruba trip. Enter your trip and traveler details into the quote form to see what's available for your upcoming travels to Aruba.
InsureMyTrip's unbiased quote process automatically filters through thousands of plans to find coverage applicable to your party's situation, making it easy for you to find plans that best meet your travel needs.
Where Can I Buy Travel Insurance for an Aruba Trip?
InsureMyTrip offers a quick, easy, and free way to compare travel insurance for Aruba from many different providers – all in one place.
For a personalized Aruba travel insurance quote, simply enter your trip details in the 'Get a Travel Insurance Quote' form. This is where you'll see the best plans available now and be able to modify coverage selections as you like.
---
Travel Tips & Safety for Aruba
Money & Currency Exchange
Aruba's official currency is the Aruban florin (currency code: AWG). When shopping, travelers can expect the symbols Afl or ƒ to represent prices in Aruban florin. Like the U.S. dollar, one Aruban florin can be divided into 100 cents. Money in Aruba includes color-coded banknotes in denominations of ƒ10, ƒ25, ƒ50, ƒ100, and ƒ200, and coins in denominations of 5¢, 10¢, 25¢, 50¢, ƒ1, ƒ2½, and ƒ5. Aruba's 50¢ coin, commonly referred to as a "yotin" by locals, boasts a unique square shape — thus, this coin is featured in a number of Aruban souvenirs and makes a great gift for coin collectors on its own.
It's not always necessary to exchange your money for Aruban florin — the U.S. dollar is widely accepted in Aruba at a rate of 1 USD = 1.75 Aruban florin. However, you might still get your change back in Aruban florin. If you pay in USD, be advised that some businesses may reject $50 or $100 bills due to the risk of counterfeits. Other currencies can be exchanged to Aruban florin at banks. All major credit cards are accepted in Aruba, though occasionally you'll also be asked to show your ID as you pay with card. Cirrus, MasterCard, Maestro, and Visa cardholders should have no problem using ATMs and banks in Aruba.
Transportation
Getting around Aruba is made easy by public transportation, taxis, and a selection of rentals. In fact, Aruba's capital, Oranjestad, even offers a free trolley from cruise ship docks to shopping districts – just hop right on! Buses from Aruba's local bus company, Arubus, are affordable and run between major locations. For a more private or custom ride, taxis are usually easy to find and operate on fixed rates so you won't have to worry about scams or negotiating prices. Aruba lets qualified travelers rent cars to drive themselves, a great option for exploring locations off the beaten path. If you want your own car but don't want to drive it yourself, hire a private chauffeur or limousine for your travel party.
Risk & Crime
Aruba is widely considered a very safe destination to visit. Although this island nation is one of the safest in the Caribbean, no destination can be 100% risk-free. Petty theft, like bag snatching, does exist in Aruba, so keep your belongings close to your body and hidden from public view whenever possible. In general, it's best to dress modestly and remain in well-lit, public places during your trip. As for weather, natural disasters like hurricanes sometimes show up in the Caribbean, but most of them bypass Aruba. However, Aruba has been known to experience tropical storms, usually between the months of June to November. Travelers are encouraged to monitor reports from the National Hurricane Center for the most updated weather information prior to traveling to Aruba.
---
Top 15 Travel Destinations & Tourist Attractions in Aruba
Baby Beach
California Lighthouse
Alto Vista Chapel
Arikok National Park
Palm Beach
Antilla Wreck
The Butterfly Farm
De Palm Island
Ayo & Casibari Rock Formations
Aruba Aloe Factory & Museum
Philip's Animal Garden
Eagle Beach
Natural Pool
Oranjestad
Mount Hooiberg
---
U.S. / Dutch Embassy and Consulate Locations
U.S. Embassy and Consulate in the Netherlands & Aruba
U.S. Embassy The Hague
John Adams Park 1
2244 BZ Wassenaar
Phone: 31.70.310.2209
U.S. Consulate General Amsterdam
Museumplein 19, 1071 DJ
Amsterdam, Netherlands
Phone: 31.70.310.9209
The Netherlands & Aruba Embassy and Consulate in USA
Washington DC — Embassy of Embassy Of The Kingdom Of The Netherlands
4200 Linnean Ave. NW
Washington, D.C. 20008 United States
Phone from USA: 1.202.244.5300
Phone from the Netherlands: 31.247.247.247
San Francisco, California — Netherlands Consulate General
120 Kearny Street, Suite 3100
San Francisco, CA 94104 United States
Phone: 1.415.291.2033
Miami, Florida — Netherlands Consulate General
701 Brickell Ave., Suite 1600
Miami, FL 33131 United States
Phone: 1.786.866.0480
Atlanta, Georgia — Netherlands Consulate General
1075 Peachtree Street NE, Suite 1550
Atlanta, GA 30309 United States
Phone: 1.404.879.6760
Chicago, Illinois — Netherlands Consulate General
303 E. Wacker Drive Suite 2900
Chicago, IL 60601 United States
Phone: 1.312.780.1314
New York, New York — Netherlands Consulate General
666 Third Avenue, 19th Floor
New York, NY 10017 United States
Phone: 1.646.557.2200
Disclaimer: The information contained in this article serves as a general overview of benefits and should only be used for informational purposes. Refer to your individual certificate of insurance for specific coverages, exclusions, and benefits. When in doubt, please contact one of our licensed agents for additional assistance.