Travel Insurance for Turks and Caicos
Last updated on 06/07/2023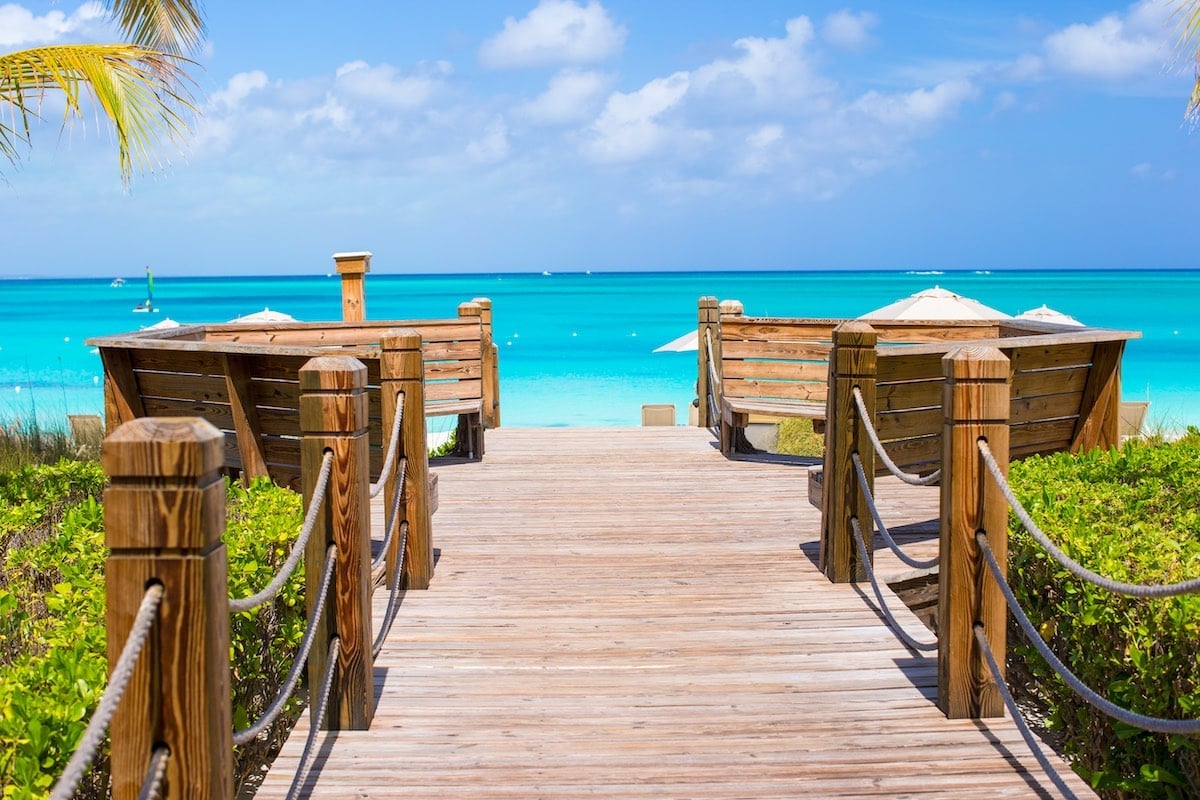 ---
---
Do I Need Travel Insurance for Turks and Caicos Islands?
As of May 1, 2022, travelers heading to Turks and Caicos are not required to have travel insurance. While insurance coverage is optional, all visitors who are 18 years old and over must show proof of being fully vaccinated for COVID-19 to be granted entry into the Turks and Caicos Islands.
Health and the COVID-19 pandemic may be a top concern for many travelers when it comes to evaluating travel insurance for Turks and Caicos. However, only buying coverage for medical events may leave you unprotected against other travel mishaps. If you are concerned about flight delays, baggage loss, unforeseen inclement weather, or other surprises, you'll want to purchase a plan that provides adequate coverage. A comprehensive travel insurance plan allows travelers to address many concerns with a single plan. Be sure to read the specific language of the policy to ensure you're covered. If you have questions, our customer care team is available to help.
Sometimes travelers need to end their trips early or cancel them entirely before leaving, perhaps due to an ailing family member or another emergency situation at home. In these situations, you might consider trip cancellation or cancel for any reason (CFAR) benefits. Trip cancellation and Cancel for Any Reason (CFAR) can be useful coverage options, especially during uncertain times. Still, you'll want to be sure to read the fine print carefully as there are special requirements, limits, and restrictions that apply.
How Much is Travel Insurance for Turks and Caicos?
Oftentimes, travelers are wondering how much travel insurance for Turks and Caicos will cost. The cost of a plan can vary based on several factors. The number of travelers in your party and traveler age affects the price of a policy. Similarly, the duration of the trip plays a role in overall cost. Additionally, the type of coverage will influence the price. As a general rule, travelers can expect that premium increases as the risk increases. For example, coverage for a trip lasting a month or more will cost more than coverage for a quick weekend getaway. Elderly travelers and those with medical issues, especially if they are pre-existing conditions, may pay higher rates for coverage. In some cases, travelers can also choose to insure their trip cost, which also influences the final price of the travel assistance plan.
Which Travel Insurance is Best for a Trip to Turks and Caicos?
While the question might seem simple, the "best" travel insurance for Turks and Caicos depends on the traveler(s) and their needs. Travelers typically have varying worries when heading overseas, and with optional coverage available for many plans, the "best" travel insurance may look different from traveler to traveler. Since comprehensive plans include benefits related to medical and travel events, one could argue that the plans with the most robust coverage would be comprehensive travel insurance plans.
Enter your trip details into the quote form to find plans that may be suitable for your next trip to Turks and Caicos and compare coverage. When comparing and choosing the proper coverage for your island getaway, consider all concerns that you and your traveling companions may have to make sure you are adequately covered.
---
Travel Tips & Safety for Turks and Caicos Islands
When is the Best Time to Go to Turks and Caicos?
Although Turks and Caicos is not technically located in the Caribbean, the islands have a climate similar to nearby Cuba, The Bahamas, and the Dominican Republic. The beautiful weather and even temperatures nearly year-round make Turks and Caicos Islands a popular travel destination any time of the year. With that said, the best time to visit Turks and Caicos is typically from February through April, which is ideal for spring break vacations. Many travelers also head to the islands during May, June, and July, but hurricane season runs from June to November each year, so be sure to consider how storms could affect your travel plans. The busiest time to go to Turks and Caicos is during December. If you're planning a holiday trip, make sure to book well in advance as accommodations at hotels and resorts go quickly.
How Many Islands Make Up Turks and Caicos?
Turks and Caicos consists of a chain of 40 islets and cays. The most populated island is Providenciales, which is where most international visitors arrive. Grand Turk, Middle Caicos, and South Caicos, are also popular destinations in the territory.
Transportation
Most tourists who fly to Turks and Caicos arrive at Providenciales International Airport, which is the main entry point for the islands. Some travelers opt for JAGS McCartney International Airport, which serves Cockburn Town (the capital) on Grand Turk Island, depending on their itineraries or intended destinations. There are seven airports in total, but the remaining are regional and do not offer the same services as the international hubs. Rather, these airports are ideal for travelers heading to more remote areas or taking inter-island flights.
Those who don't fly tend to arrive via cruise ship. Depending on the cruise line, there may be one or multiple stops at ports throughout the islands. Once travelers arrive in Turks and Caicos, they can choose from a variety of ferry and charter boat options to continue on to their planned destinations.
Unlike some destinations, Turks and Caicos does not have a public transportation system. Despite this, there are taxi services and rental cars that allow tourists to choose the price point and mode of transportation that best suits their trip. If you plan to rent a car, be sure to find out whether your domestic driver's license meets the requirements of the rental agency. Additionally, you'll want to make sure your travel insurance covers a rental car adequately. Perhaps most importantly, those renting cars must remember that automobiles drive on the left side of the road (just like in the United Kingdom).
Money & Currency Exchange
Many first-time visitors to Turks and Caicos wonder what the country's official currency is. Despite being a British territory, the official currency of Turks and Caicos is actually the United States dollar. One thing to keep in mind is that there are no foreign exchange services in the airport or elsewhere on the islands apart from local banks, so we recommend exchanging your domestic currency prior to departing. You may find more favorable exchange rates in your home country than at local Turks and Caicos banks. Additionally, ATMs on the islands are often broken and out of service. International travelers should also note that some banks may put a hold on overseas transactions unless you alert them of your travel plans first, so make sure to check in with your bank or credit institution before you go.
Culture
The combination of indigenous and European influences means that Turks and Caicos has a rich and varied culture. Predominant ethnicities include African, which makes up about 87% of the total population, European, which makes up about 8%, and East Indian, which makes up about 1.5%. There is also a small Haitian community. 86% of citizens identify as Christian while 14% identify with other faiths.
The islands are well known for ripsaw, which is a local music genre that uses an actual handsaw as well as other traditional instruments to create a very unique sound. Music has long been a part of life in Turks and Caicos, so it's no surprise that the annual Music and Cultural Festival continues to gain popularity and draws significant attendance.
Like many Caribbean travel destinations, seafood is a big part of the local cuisine. Some of the most popular foods include conch salad and conch fritters. Other staples are boiled fish and grits, crab and rice, lionfish, lobster, and Johnny cakes.
Some of the more popular sports on the islands include football (soccer) and cricket, which is Turks and Caicos' national sport. Island life and beautiful sandy beaches also influence the popularity of sports, which is part of the reason sailing and fishing are very common pastimes among locals.
Speaking the Language
The official language of Turks and Caicos is English. Some of the population also speaks a Creole dialect similar to that of Bahamian Creole. Since the islands are also located near Hispaniola, Cuba, and the Dominican Republic, Haitian Creole and Spanish are also spoken by residents. The fact that Turks and Caicos is a British territory and a very popular international tourist destination means that English-speakers will generally have an easy time communicating and finding their way around the islands.
Risk & Crime
If you're planning a trip to Turks and Caicos, you may be wondering, "is it safe to visit?" Generally speaking, Turks and Caicos is a safe vacation destination, especially as compared to other countries and territories in the Caribbean. The crime rates typically trend lower than neighboring island destinations and are comparative to that of New York City or Miami. While crime does occur, the majority takes place on the island of Providenciales simply due to the larger population. Most tourists don't experience any trouble during their visits, but common sense can go a long way to keep you and your traveling companions safe. Some general guidelines include avoiding isolated or remote areas on Providenciales (especially at night), avoiding rental villas and instead choosing a resort or hotel, keeping valuables locked up and out of sight, and watching out for poorly driven taxis and jitneys. If you're concerned about your valuables, consider a travel protection plan that covers theft. Be sure to find out if any travel advisories have been issued for Turks and Caicos and whether they'll affect your plans.
Risk and travel safety are also influenced by other factors, including inclement weather and natural disasters. By far, hurricanes pose the largest risk of natural disasters in the area. Powerful storms have been known to batter the islands occasionally, so it's important to plan ahead and pay attention to weather patterns in the days leading up to the trip. If you plan to spend time at the beaches, you'll want to make sure to stay hydrated and use sunscreen as heat exhaustion is possible. In addition, pay attention to any signs alerting swimmers and beach goers of strong currents and riptides, dangerous wildlife, and other natural threats.
---
Popular Destinations in Turks and Caicos
The stunning beaches, vibrant sea life, rich culture, and tropical climate make Turks and Caicos a very popular vacation destination among tourists. There is no shortage of activities for adventurers or those looking to relax. The islands are home to some of the best snorkeling and diving. The beaches, including Grace Bay Beach, are consistently ranked among the best in the world. The cuisine features locally sourced seafood and staples, which is ideal for food tourists. The fact that the official currency is USD and the primary spoken language is English makes Turks and Caicos very accessible to westerners and international visitors. While it's difficult to see and do everything on the islands in a single trip, we've put together a list of some of the top attractions and travel destinations for Turks and Caicos to help you plan your next vacation.
Top 15 Travel Destinations for Turks and Caicos Islands
Grace Bay
Little Water Cay
Turks and Caicos National Museum
Cheshire Hall
Conch Bar Caves National Park
Long Bay Beach
Governor's Beach
Salt Cay
Bight Reef
Gibbs Cay
Chalk Sound
Half Moon Bay
Mudjin Harbour
Leeward Beach
Pillory Beach
Disclaimer: The information contained in this article serves as a general overview of benefits and should only be used for informational purposes. Refer to your individual certificate of insurance for specific coverages, exclusions, and benefits. When in doubt, please contact one of our licensed agents for additional assistance.