Post-Pandemic Planning: Which Destinations are Americans Searching Most?
Last updated on 09/12/2022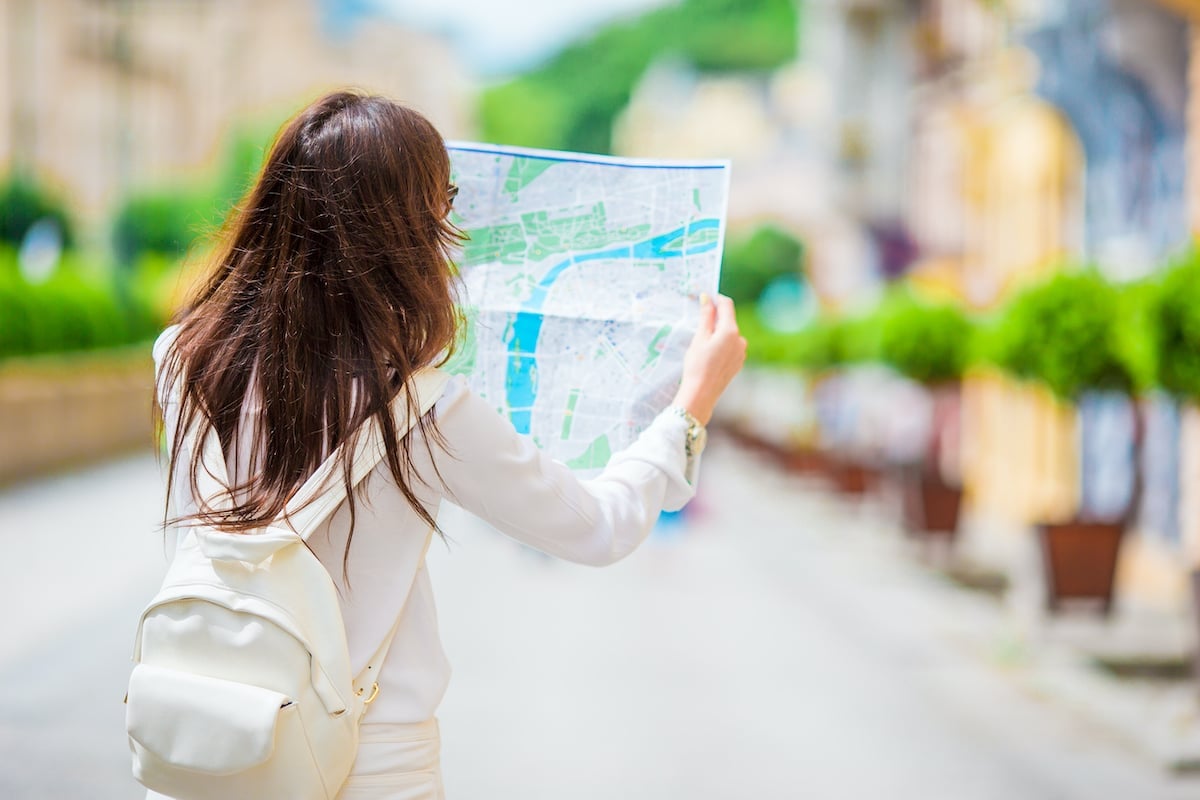 As we practice social distancing, our sense of wanderlust has remained. The experts at InsureMyTrip have reviewed data to find out which destinations U.S. citizens are planning to visit once restrictions have been lifted. The data is broken down by state. The data also explores which states are likely to embrace staycation culture, opting to vacation within their own state.
Interest in International Destinations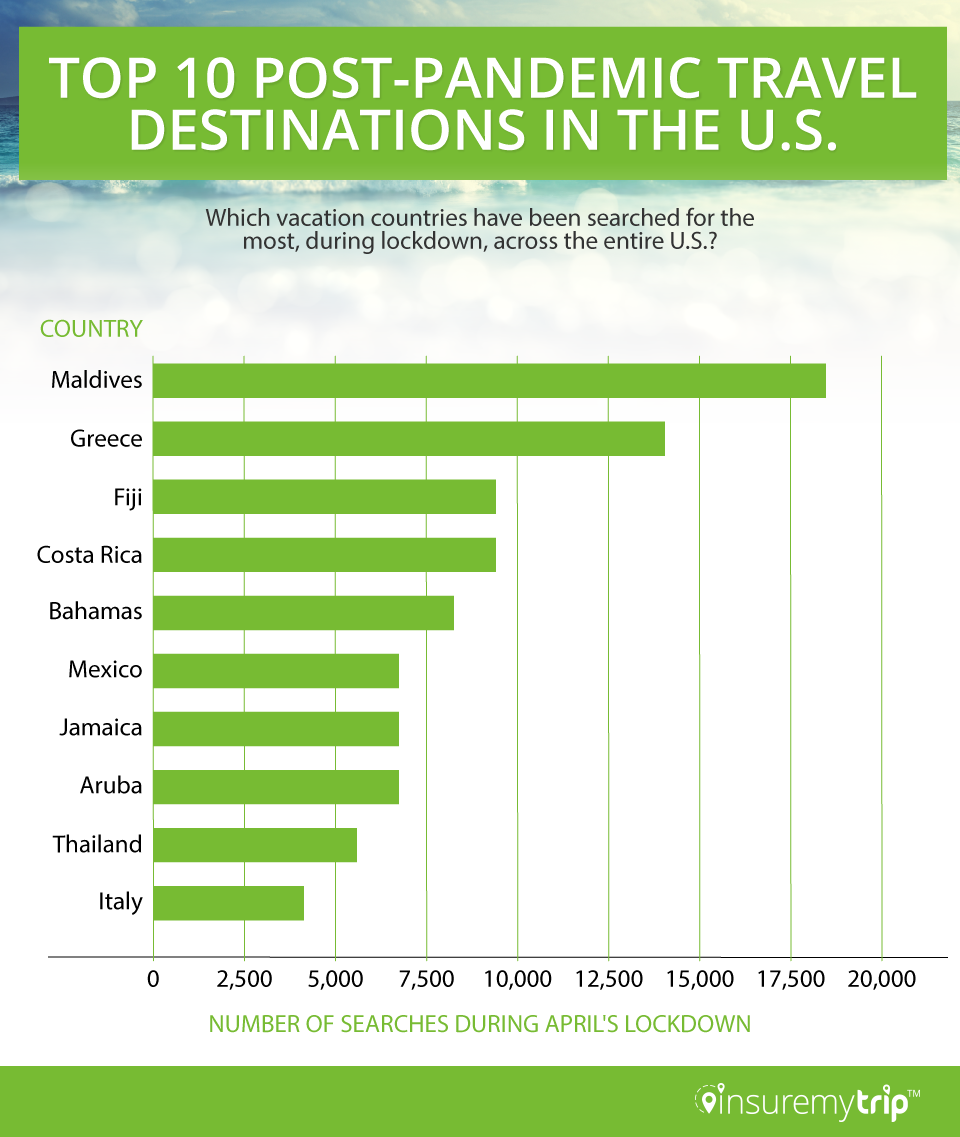 Post-Pandemic Travel Destinations in The U.S. – Data
The interest is overwhelming, with the Maldives (a small island nation in South Asia) being the most common destination searched for. The tropical paradise received 18,100 searches during the month of April when many states were under stay-at-home orders. While it remains an expensive option, it makes sense that many people are dreaming of tropical islands with pristine beaches and crystal-clear waters.
Compared to March, when social distance guidelines were first implemented, we see some interesting data. The Maldives had just 12,100 searches during this time, whereas a typical U.S. favorite, Greece, had 14,800 searches.
Where is the Interest Coming From?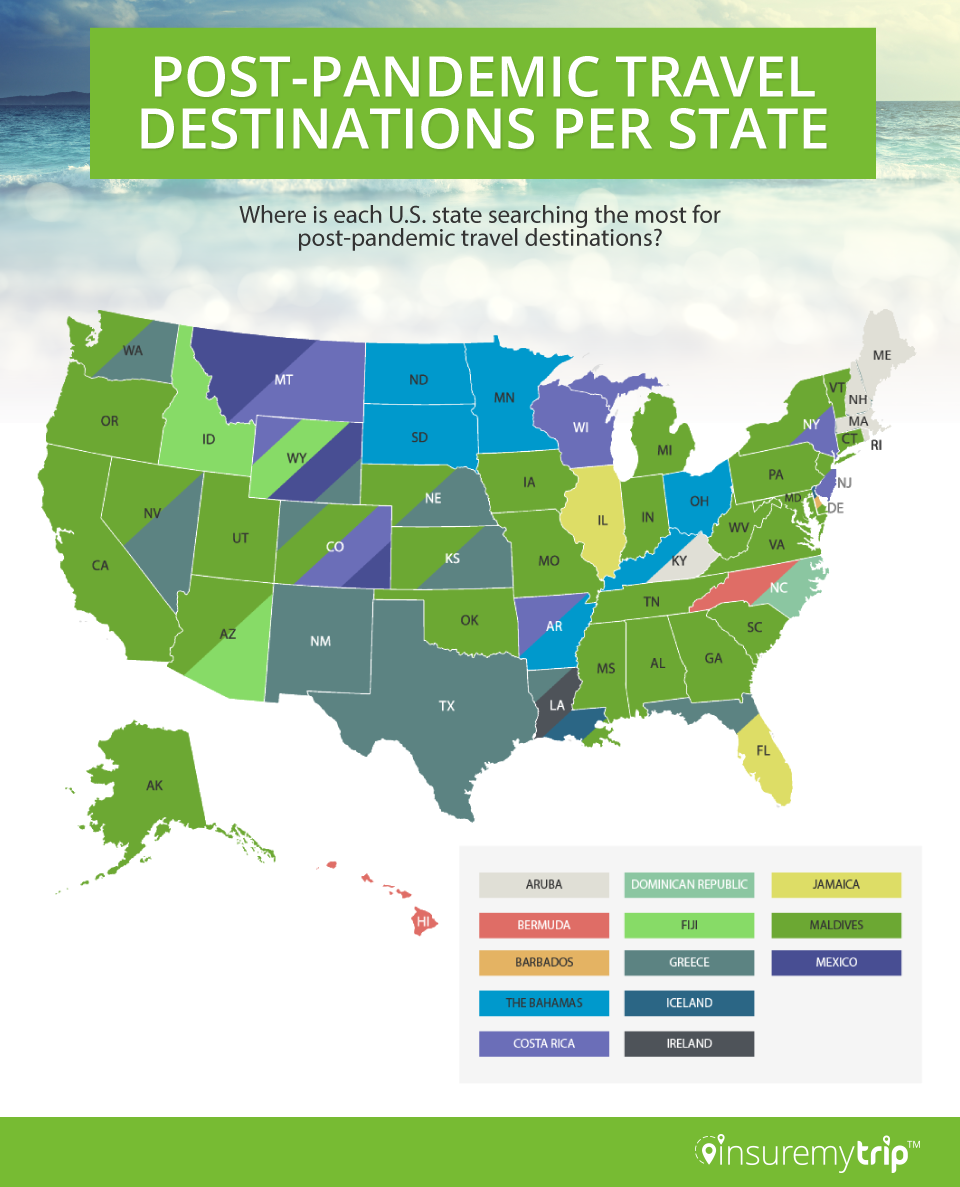 Post-Pandemic Travel Destinations Per State - Data
While the interest in the Maldives unsurprisingly dominated in most states, it interesting to see that some states' dream destinations feature colder pastures. Perhaps Louisiana's subtropical climate is swaying residents to long for Iceland's chill. Or maybe it has something to do with Ireland's home-brewed Guinness – it does taste better across the pond after all!
Staycations: Are We Set to See a Surge?
At this time, it appears some travelers prefer to stay closer to home while still enjoying a vacation. To assess individual state interest in staycations, we looked at search volume during April for the term "vacation" within Google Keyword Planner. This process was repeated for all fifty states. You can find more information regarding this in our "Methodology" section below.
From this, it was evident there are some states which seem much keener than others when it comes to a vacation within their own state lines.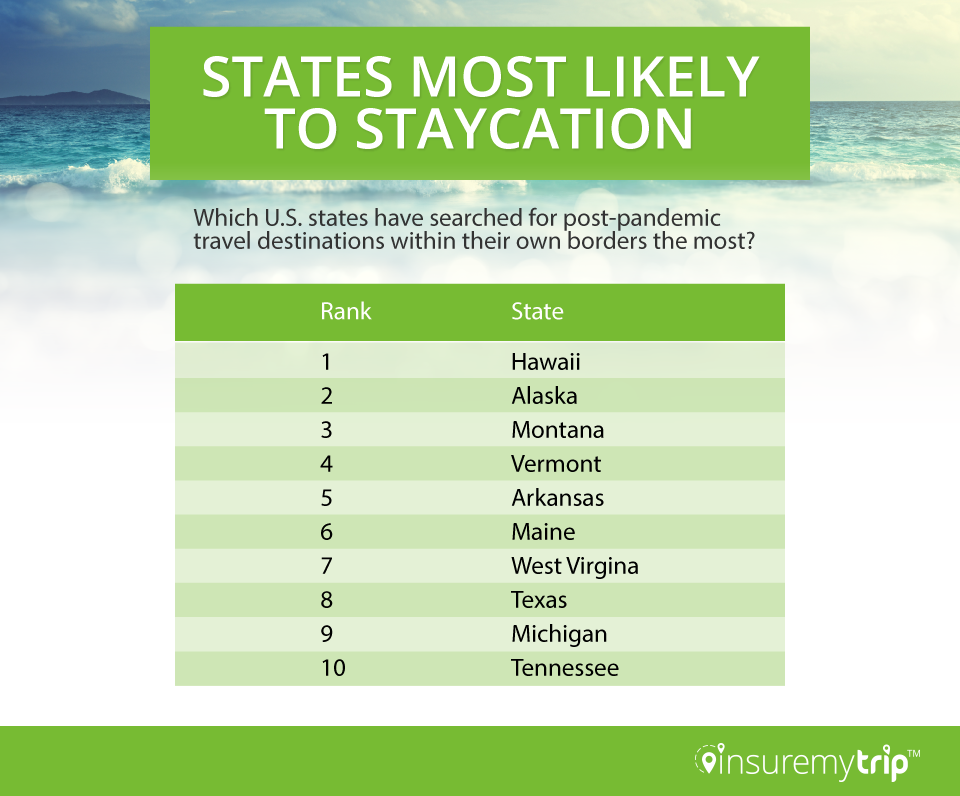 States Most Likely to Staycation – Data
Hawaii has always been a popular vacation destination for U.S. citizens and international visitors, but it is also very popular with the Hawaiian residents themselves, according to our data. The interest in a staycation there is high, particularly when compared to any other state. Hawaii had an estimated 180 searches per 100,000 people. To put this into context, Alaska was the second highest with just 14 searches per 100,0000 people.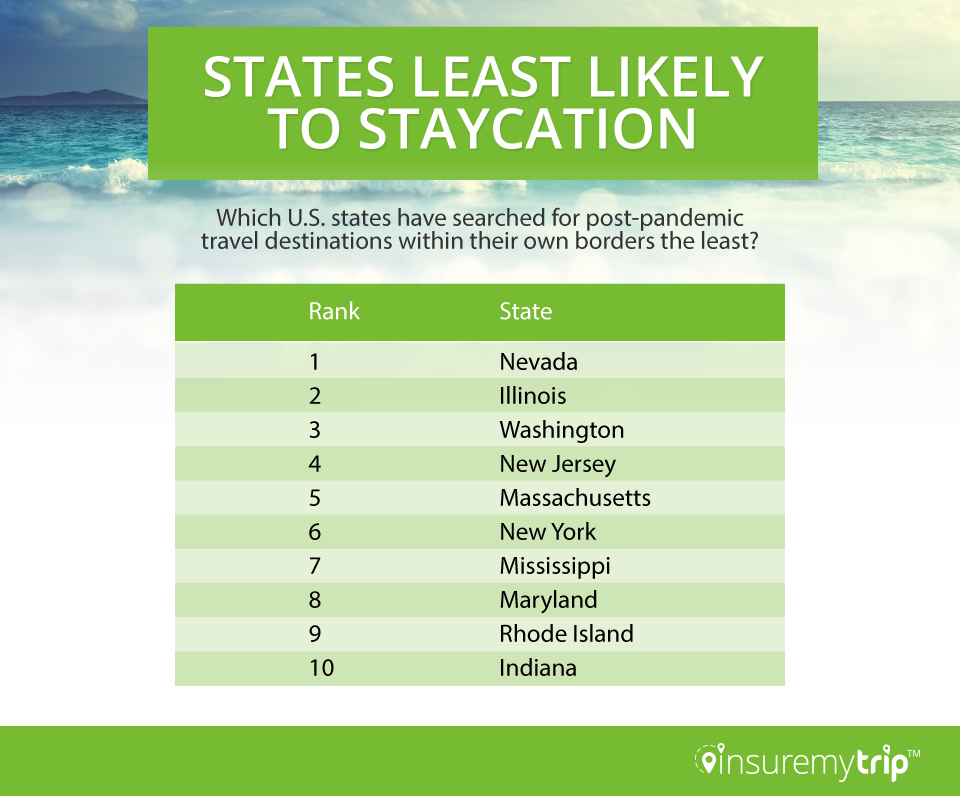 States Least Likely to Staycation - Data
On the other hand, we have some states which look uninterested in staycations. Nevada, for example, had a minuscule 0.136 searches per 100,000. Residents of Nevada are clearly looking to go as far away as possible, as the data shows, with their top international destinations, Greece and the Maldives, being a 7,735-mile and 14,688-mile journey, respectively.
Conclusion
Stay-at-home orders may have slowed travel for the time being, but it clearly doesn't stop us dreaming about our next trip. With the Maldives increasing in searches from March to April, perhaps travelers are set to make a luxurious tropical vacation their priority once restrictions are lifted. And while residents of some states are seeking to get as far away as possible, others are finding comfort in their own backyards.
Methodology
Data was collected from Google Keyword Planner for all 50 states individually and for the U.S. as an overall country.
We submitted the top 50 most visited countries in the world, according to The World Tourism Rankings, into Google Keyword Planner with "vacation" following each country. To assess "international travel" we removed the United States from this list, leaving us with 49 countries. We repeated this process for every state in the U.S. and then finally the U.S. as a whole.
To assess each state's interest in staycations, we input each state's own name followed by "vacation" into Google Keyword Planner. Furthermore, we divided the total number of searches for April by the state's population to give "searches per capita", which was then multiplied by 100,000 to give "searches per 100,000".