What is Holiday Insurance?
Last updated on 03/27/2023
For American travelers, holiday insurance becomes a topic of conversation around the winter months, November to March. Most travel during the holidays are families coming together, but that doesn't make it any less important to insure trip expenses. During this time extreme winter weather is unpredictable and bad storms can easily hit the holiday travel season. Snowstorms can ground flights and de-icing planes can cause unexpected travel delays that domino across the country's flight schedule.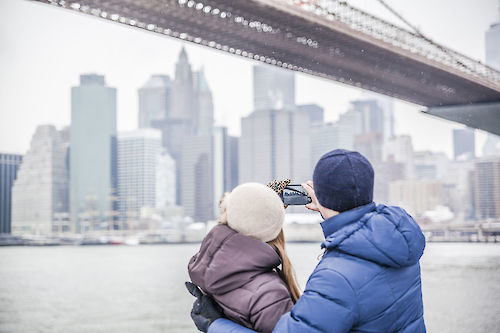 Holiday insurance can also protect winter travelers from large, unexpected medical bills if they should suffer an unforeseen illness or injury while traveling. Travelers who also enjoy winter activities and are looking for insurance for a ski holiday can find emergency medical coverage on a few plans.
Do I Need Holiday Insurance?
Whenever a traveler asks about the necessity of purchasing travel insurance, we present them with a checklist to guide their answer as it may vary for every trip and traveler, even in the winter.
Are you traveling in the winter months?
Are you expecting to travel through or out of areas of the country that see a high volume of snowstorms, like North or Northeastern United States?
Are you planning on taking part in winter adventure activities, like skiing or snowboarding?
Do you have a pre-existing medical condition?
If you answered yes to any of these questions, then holiday insurance is a good option for your trip. Whether a simple holiday insurance plan or a ski holiday insurance plan, InsureMyTrip is the best place to compare plans and find which plan is best for your specific trip.
How to Get Holiday Insurance?
Of course, there are other places to get holiday travel insurance for their trips. Typically, when you book your trip - whether with a travel agent, online travel site, or a travel supplier (like a resort or cruise line) - you'll be offered a travel insurance plan as an "add-on". However, these "add-on" plans aren't typically tailored to the travelers' needs and typically favor the travel provider. The coverage is not at robust as third-party options and the variation of benefits is very limited.
When you choose a plan with a comparison site, like InsureMyTrip, you can find holiday travel insurance that fits your specific trip needs. We have plans with Hazardous Sports and Activities Waivers, Pre-Existing Condition Waivers, emergency medical evacuation, and Cancel for Any Reason. You can find the right plan based on the coverage for your concerns and find benefit levels that meet your needs, all while finding the right price.
Can I Get Holiday Insurance for Trips to the USA?
Travelers in the UK, Ireland and Australia use "holiday insurance" as Americans use "vacation insurance" or "travel insurance". Travelers from these countries that are looking for holiday insurance need to consider their trip details to determine the coverage they will need for their trip prior to purchasing a plan. For instance, if cancelling the trip or travel delays is a concern, a comprehensive travel insurance plan may be better for the trip. However, if the trip is longer (say 30-90 days) and the main concern is any emergency medical needs while abroad, then a travel medical plan may be a better option. InsureMyTrip, however, does not currently have any comprehensive travel insurance plans for non-United States residents.
Disclaimer: The information contained in this article serves as a general overview of benefits and should only be used for informational purposes. Refer to your individual certificate of insurance for specific coverages, exclusions and benefits. When in doubt, please contact one of our licensed agents for additional assistance.