Remote Work & Travel Go Hand in Hand
Last updated on 08/22/2023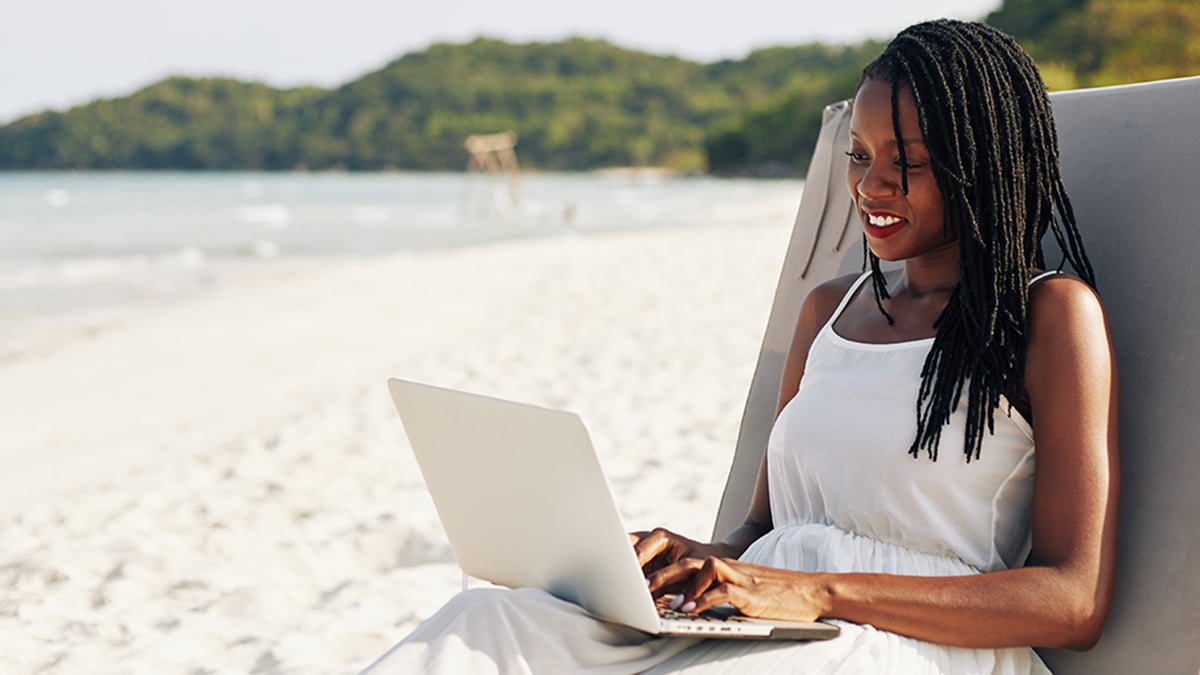 Remote Work and Travel Go Hand in Hand—Here's How You Can Keep up with the Trends
Remote work became the way to work in 2020, and while professionals couldn't take many trips in that time, travel made a comeback in 2022, with leisure travel contributing $837 billion to the U.S. economy. Now, as more workers get both the flexibility of remote work and the ability to check out their dream destinations, they're packing their laptops and hitting the road.
There isn't just one approach to working remote and traveling, however. To help you understand the different ways your clients plan travel, we've outlined the top travel trends for remote workers, along with tips for how travel agents can help create a great experience for any remote professional with wanderlust.
Travel Trends for Remote Workers
While we call them "trends," they can also seem like different ways of life—ones in which professionals can blur the lines between their nine-to-five obligations and their adventurous spirits. Here are the most popular, travel-centric lifestyles agents should know about:
Bleisure Travel: "Business" plus "leisure" equals "bleisure", the thing professionals do when they lump business and pleasure together in one trip. For example, one of your clients could be traveling for a conference in the UK but want to add on a few extra days in London to explore when the event is over.
Digital Nomading: When working remote and traveling are one in the same. Workers who live the life of a digital nomad have jobs they can do from anywhere in the world, so long as they have an internet connection.
Remote Work Retreats: This is when remote workers travel to a single location to meet others with a similar work-from-home (or abroad) lifestyle. While these workers don't have to be from the same organization, there could be remote team members gathering to align on goals for the coming quarter, or to simply build stronger interpersonal connections between professionals who rarely meet.
Working from Home Bases: You may encounter a professional who doesn't want the constant thrill that digital nomading provides. In that case, they'll travel frequently to work in new locations or among different cultures, but they'll also have a permanent home they can always return to. This is a lifestyle of both adventure and stability for those who plan on working remote and traveling year-round.
Taking Working Vacations: Whereas bleisure maintains a separation between work time and fun, this is one of the travel trends for remote workers that blurs the lines most. Here, professionals have both business and pleasure, but they're not adding on extra days for vacation. Instead, these high achievers are taking a vacation while still working a few hours during each day of their trip.
How Travel Agents Can Impact Remote Workers' Travel
Within each of these lifestyles or travel trends for remote workers is an opportunity for travel agents to help clients have great travel experiences. When planning someone's bleisure travel, craft packages that account for the dates and times when your client needs to be working, in a meeting, or at an event. Meanwhile, the digital nomad and those working from home bases may need your assistance with resources that help them get their jobs done. Familiarizing yourself with coworking spaces your clients can lease, as well as hotels with long-term stay options, can help any travel agent become a must-have investment for professionals who will be working remote while traveling.
Working from home retreats are different from other trends because they have two facets travel agents can consider: those who attend the retreats and those who plan them. For those attending, travel agents can help them plan an itinerary. They may have a set schedule from the retreat planners but could use help finding fun ways to decompress during their free time. Planners, on the other hand, may need more logistical help. You can be able to recommend meeting spaces with breakout rooms, adequate technology, or luxurious amenities. When it comes to leisure, planners may need your assistance sourcing destinations or activities suitable for large groups.
The Value of Travel Insurance for Remote Workers
Regardless of the remote work/travel category your clients fit in, all of them can benefit from knowing their travel insurance options.
Travel insurance for remote workers can be a game changer when obstacles arise. Depending on the coverage plan that clients choose, travel insurance options could help cover medical expenses, baggage loss or damage, trip cancellation or interruption and more. While these are good coverage benefits for any of your clients to have, these can be especially important to remote workers whose livelihoods, as well as their leisure time, could be impacted by a difficult travel experience.
When discussing coverage for remote workers, make informed recommendations on their travel insurance options using InsureMyTrip. Our team of fully licensed travel insurance agents can help you find the coverage that best meets your clients' needs so they can work and play stress-free. Contact us today to learn more about the resources and support available to travel industry professionals from the expert team at InsureMyTrip.