National Cherry Blossom Festival Travel Advice
Last updated on 12/18/2020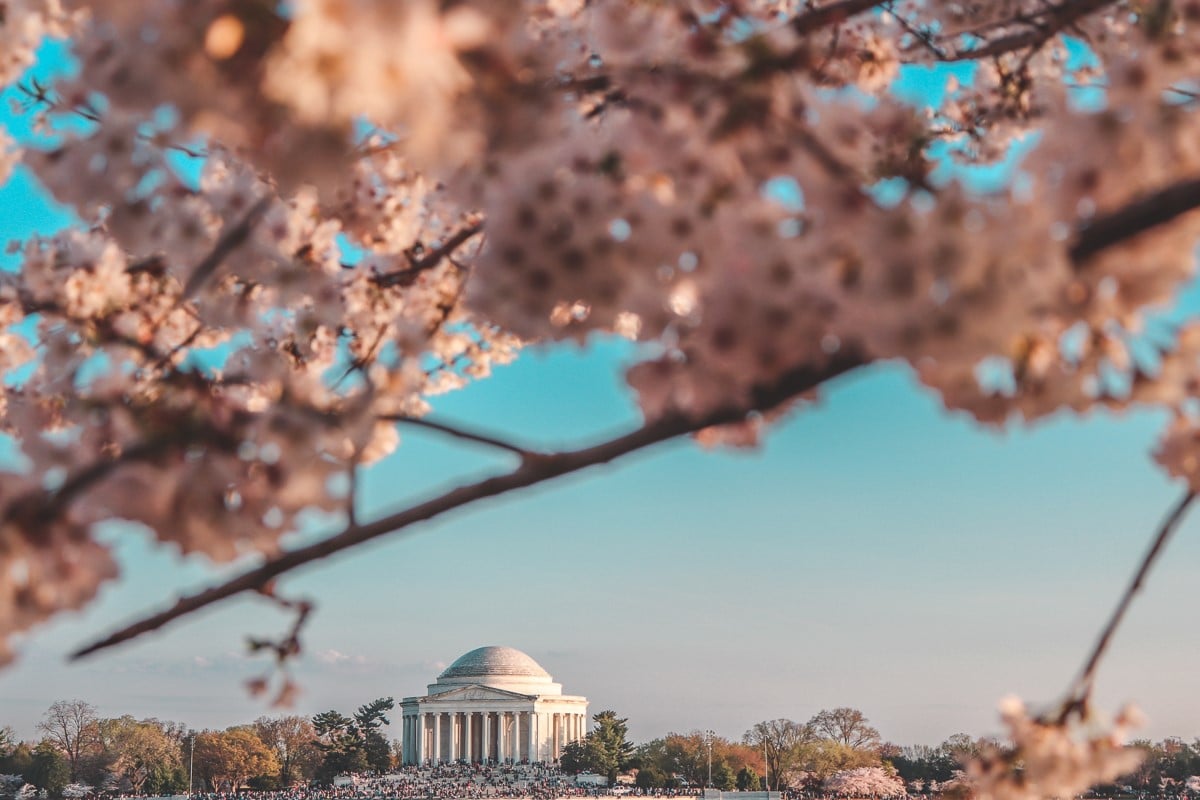 In 1912, the Nation's Capital received a unique and special gift of over 3,000 cherry blossom tree saplings from Japan. Planted around the Washington, DC Tidal Basin, they light up every spring with silky pink-and-white petals and drawn over 1.5 million visitors annually. Ever since 1927, the city has bloomed with an exciting festival to celebrate the coming of spring, our country's relationship with Japan, and – of course – the trees!
If you're planning a visit to see the incredible blooms and participate in the citywide festival, a little planning can go a long way to make for a safe and enjoyable trip.
What is the Washington DC Cherry Blossom Festival?
The Cherry Blossom Festival is a citywide festival held annually in Washington, DC to celebrate the gift of 3,000 cherry blossom trees from Japan. The first cherry blossom festival was held in 1927, and expanded into a two-week event in 1994; now it is a four-weekend celebration. There are only approximately 100 of the original blossom trees still standing around the basin, but they've been supplemented with thousands more, so there are now approximately 4,000 trees pinking up the area.
When is the National Cherry Blossom Festival?
The festival begins in mid-March and continues for approximately four weeks to mid-April. During this time, the Tidal Basin will be alive with live music events, family days, a kite festival, a Japanese street festival, and fireworks. Specific event dates and information can be found on the festival web page.
Where is the Best Place to View the Cherry Blossom Trees?
The Tidal Basin is a reservoir between the Potomac River and the Washington Channel, just south of the Lincoln Memorial and Washington Monument, and slightly east of the Martin Luther King Jr. Memorial. The closest Metro stop is Smithsonian on the Blue/Orange/Silver lines. Cars are not recommended, as parking is notoriously tough in this downtown area.
When is the Best Time to Visit the Cherry Blossom Festival?
The official festival dates are from mid-March to mid-April, and the National Park Service is in charge of reporting peak bloom times (that's when 70 percent of the blossoms are in bloom). The festival website is continuously updated with exact dates, schedules of events, and peak bloom estimates.
Where Should I Stay?
The Nation's Capital has any number of places to stay, but the festival has teamed up with many participating hotels that offer discounted rates and package deals.
Can I Pick the Cherry Blossoms?
It may seem that with so many trees they could spare a branch or two but really – don't pick any for yourself. While a fine for an attempt to take a branch is possible, it is more likely a junior ranger will ask you not to do that. "We try to engage in a teachable moment," says National Park Service representative Mike Litterst. "It's the age-old notion that one person can't do much damage, but when you consider how many people we'll see around the Tidal Basin when the blossoms are out, if every one of those people took a branch our gift would be gone in short order."
Safety Tips for the Cherry Blossom Festival
The DC Cherry Blossom Festival is a fun event for the whole family. But like all large events, street fairs, and festivals, attendees should remember that large crowds of people can also increase the possibility of accidents and petty crimes.
There is no railing around most of the Tidal Basin. Parents traveling with young children should take extra care to keep an eye on their mobile children as this area is not toddler-proof.
The festival is heavily attended and this can lead to separation from your group. One piece of advice is to take a photo of your children the morning of the event. This way, if you are separated from them, you will have an up-to-date photo of what they are wearing so a Ranger or Festival Officer can help you track them down quickly.
Travel insurance is recommended for Washington DC Cherry Blossom Festival attendees to protect against the unexpected. Even with proper planning, you may find yourself having to file a travel insurance claim. Here are a few tips about the claims process to help if you need to navigate it.
Document your belongings. It's much easier to show your insurance company the value of any lost or stolen belongings if you have a record of what you've packed. One smart and simple way to do this is to photograph the contents of your suitcase before you depart. Anything that's of particular value should also be photographed separately, and if you have a receipt for it, take a photo of that, too — just in case you lose the original documentation.
Ask for records. Whether it's a police report to help you document a theft or a medical record that shows the treatment of an injury, make sure to ask for these documents upfront. Too often, travelers think they'll contact the police department or the hospital after they've returned home, and end up mired in endless red tape, phone calls, and emails, sometimes to no avail. Don't leave the premises until you have your requested documents firmly in hand or have made what you feel is a suitable arrangement to receive them.
Remember that if you need to file a claim, you should contact your travel insurance provider directly using the information provided on our Claims and Assistance page.