Travel Insurance for Japan
Last updated on 05/18/2023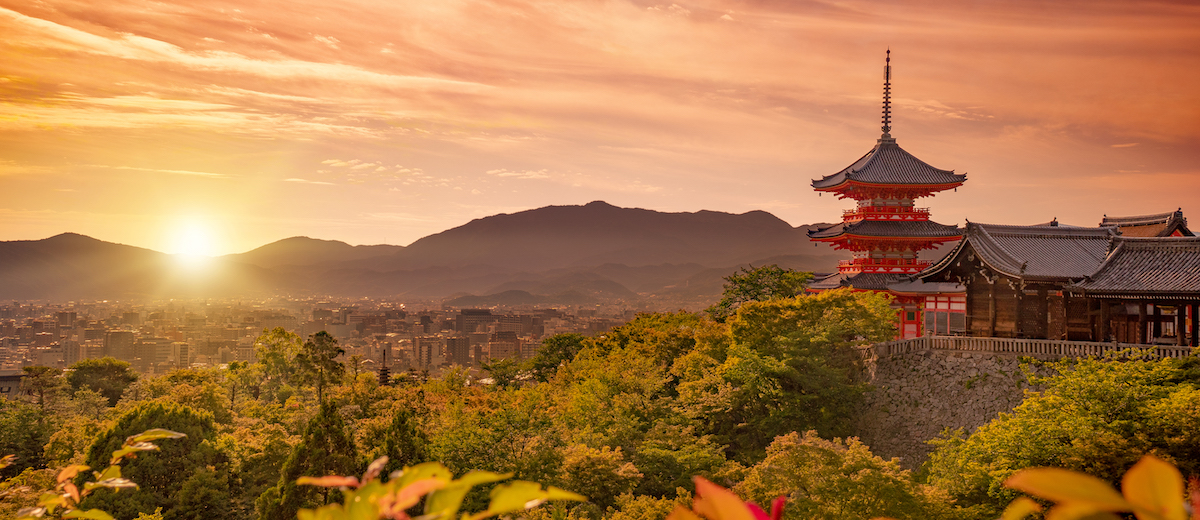 ---
---
Do I Need Travel Insurance for Japan?
People traveling to Japan for business trips and vacations often wonder whether travel insurance is mandatory. Japan requires travelers from other countries to have a visa for entry, for which medical travel insurance is required. While there is not a specific amount required, the coverage must last the duration of their entire trip. Meeting the minimum requirements for entry is mandatory, but we recommend that travelers to Japan purchase a travel insurance plan that offers more robust coverage beyond COVID-19 concerns.
Many of our customers who have traveled to Japan would tell you that purchasing travel protection provided peace of mind and, in rarer cases, coverage when things went awry. Anyone who has flown before knows the perils of catching connecting flights or locating lost baggage. For many travelers getting to Japan isn't a short flight so you can imagine how much more detrimental even a slight delay or inconvenience can be to your trip. For this reason, we recommend buying trip insurance for Japan. Protecting your investment, your health, and your belongings from the unexpected is a great way to minimize hassle and maximize fun.
While missed flights, lost luggage, and other inconveniences may cause disruption to your trip, one of the best reasons to get travel insurance is to be able to prove that you have health coverage in case you are sick or injured while in Japan. Japan's national health care system primarily serves its citizens, and many hospitals are not used to providing care for foreign tourists, especially when they are unsure how they will be paid. As a result, tourists have been refused treatment in some cases. Consequently, we recommend that anyone traveling to Japan should purchase adequate travel health coverage.
What is the Best Travel Insurance for Japan?
Our customers frequently want to know which travel insurance plan is best for Japan trips. No single plan is "best" for everyone, so our goal is to find the right plan for each customer based on their specific needs. Determining the right plan depends on several factors, including the length of the trip, types of coverage, how many travelers are in your party, and the ages of the travelers. Additional considerations might be made for any travelers with pre-existing health conditions. To get an idea of the available options, simply enter your details in the quote form to start comparing. You'll be able to look at coverages side by side while weighing the cost. Additionally, our collection of impartial travel insurance reviews can be filtered by destination and offers customers another useful resource when determining which plan is optimal for their needs.
How Much is Travel Insurance to Japan?
Like finding the right plan, the cost of Japan travel insurance will also be specific to each customer's details. Age, number of travelers, trip length, health history, and type of coverage all influence the cost of the plans, but there are some additional factors as well. For example, some travelers may opt to insure their trip cost. However, it is important to note the difference between total trip cost and insurable trip cost when getting a quote. Cost is also dependent on the provider since each company will have different coverage options.
Japan Travel Tips & Safety
Money & Currency Exchange
The official currency of Japan is the yen. Most visitors will find themselves exchanging their currency for yen before departure. During their travels, there are several locations where this can be done, including post offices, banks, international airports, and some large-scale hotels. Some travelers choose to access cash through ATMs, but many ATMs do not accept cards issued outside the country. However, ATMs found in post offices or 7-eleven convenience stores usually do accept cards issued from foreign banks. Whether you choose to get cash from an exchange or through an ATM, it's important to pay attention to the fees assessed. Travelers should also note that ATMs can be out of service at night and during weekends, so it pays to plan accordingly. Generally speaking, cash is king but more and more businesses, especially large chains, are accepting international credit cards. The savviest travelers typically research exchange rates and find out where to access cash before departing.
Transportation
Japan's transportation network is among the most advanced in the world, especially in metropolitan areas. High-speed rail service, including the Shinkansen, offers punctual service and cleanliness. Japan Rail Passes are offered exclusively for foreign tourists and can be very economical depending on where you're going. Just be sure to purchase your Japan Rail Pass before you travel because they are not available once you're in the country. If you only need a single train ride, you can purchase as needed. Pre-paid IC cards, like Suica/Pasmo, provide a convenient way to buy transportation tickets and can also be used at participating shops. Several major airports are designed to allow tourists and business travelers to get to and from large cities with ease. Buses are also an option and include highway buses, private coaches, and express buses. Private taxis and car rental provide additional options for those traveling locally. If you plan to tour any of Japan's islands, you'll probably find yourself aboard a ferry. With so many options, you'll be able to pick the most economical mode of transportation for your destinations.
Culture
Japan is a favorite travel destination among our customers, and it's no surprise why when you consider how friendly the Japanese people are. Still, it's essential for foreign visitors to be respectful of the country's traditions. For example, bowing is quite common so expect to politely bow when meeting someone, thanking them, or saying "goodbye." Another great way to say "thanks" is with a small gift, so be sure to pack a few trinkets or treats from your home country to share with those you meet along the way. Gifts are especially important for showing your gratitude when staying with locals; just don't go overboard with expensive or elaborate items. In some places, especially temples and shrines, removal of footwear is required before entering. Look for rows of shoes near the entrance or other cues to make sure you're following the custom. This is non-negotiable, so consider packing shoes that are easily removed and get some new socks before you go.
Visitors should make similar considerations for tattoos. Exposed tattoos should be covered as they are not widely accepted by Japanese culture. While an increasing number of young people in the country do have them, they are typically kept covered. This is particularly important when visiting sacred sites, pools, bath houses, and some inns. Choosing not to follow the rules may get you banned from these locations.
Food Etiquette
Dining out is one of the most popular activities among travelers to Japan. Japanese cuisine features a wide array of options, but the staples consist of seafood and noodles, like ramen and soba. For this reason, you will likely find yourself with a pair of chopsticks in your hand. Proper etiquette for handling chopsticks mostly goes without saying (no air drum solos...), but you should also avoid placing your chopsticks standing upright in a bowl of rice or passing food to another person's chopsticks. Both of these actions bare similarities to acts commonly associated with funerals and the passing of the dead. If you've never used a pair of chopsticks before, pick some up to practice in the weeks leading up to your trip. Chopstick etiquette is not terribly surprising, but the proper way to eat noodles may surprise you: slurping! Yes, that's right. It's common to slurp noodles when dining out, so get ready to enjoy your noodles alongside fellow slurpers. When you've finished, there's no need to worry about tipping as it is not a common practice among the Japanese.
Speaking the Language
While many travelers worry about the language barrier when visiting Japan, the reality is that many Japanese people speak at least a small amount of English. As a result, it's relatively easy for English-speakers to make their way around the country without speaking fluent Japanese. However, it never hurts to know some common words and phrases, especially when traveling to the rural areas of Japan. There are a variety of apps to help travelers learn Japanese. Some apps even offer the ability to translate written language in real time using the phone's camera. While this is a great feature, tourists often find that signage is written in both Japanese and English.
Crime Risk & Traveler Safety
Japan ranks among the top 25 safest countries in the world according to safearound.com. While no country is ever completely free of criminal activity, tourists can expect their trips to go smoothly. That said, it's always a good idea to research areas with unusually high crime rates and avoid them. Additionally, travelers should still exercise situational awareness, especially in large crowds. Tourist destinations can attract pickpockets and scammers, so stay vigilant and consider traveling with a tour group to minimize these types of threats. Be sure to check the latest travel advisories for Japan before you go.
Environmental threats account for another type of risk to travelers. Japan is positioned along what is known as the "Ring of Fire," which means it has a higher risk of seismic activity, like volcanic eruptions, earthquakes, and the tsunamis that can result. Japan has had several earthquakes in recent years, but the vast majority struck unpopulated areas with minimal to no effect on residents. One exception is the 2011 Fukushima earthquake that resulted in serious damage to several of the country's nuclear power stations. In fact, Fukushima Daiichi Nuclear Power Station is one of the only locations in the country visitors are advised not to travel. Every country faces some risk of natural disasters, so don't let seismic activity dissuade you from taking your trip. When in doubt, check the Japan Meteorological Agency for information.
Popular Destinations & Tourist Attractions in Japan
Looking for ideas on what to do and where to visit on your trip to Japan? Check out our "best-of" list of popular destinations to get some ideas for your itinerary. Japan is widely known for its modern, technologically-advanced cities, but the country also features breathtaking mountain ranges, sandy beaches, old growth forests, and more. Whether you plan to hit the hiking trails, ski the mountains, soak up the sun on the beaches, or enjoy the city nightlife, you can rest assured there is no shortage of fun activities to try and places to visit.
Top 10 Travel Destinations in Japan
Kyoto
Tokyo
Nara
Hiroshima
Hokkaido
Osaka
Kanazawa
Mount Fuji
Hakone
Fukuoka
U.S. / Japan Embassy and Consulate Locations
U.S. Embassy and Consulate in Japan
Tokyo — U.S. Embassy Tokyo
1-10-5 Akasaka
Minato-ku, Tokyo 107-8420 Japan
Phone: 03.3224.5000
Fukuoka — U.S. Consulate
5-26 Ohori 2-chome
Chuo-ku, Fukuoka 810-0052 Japan
Phone: 092.751.9331
Naha — U.S. Consulate
2-1-1 Toyama
Urasoe City, Okinawa 901-2104 Japan
Phone: 098.876.4211
Osaka — U.S. Consulate
2-11-5, Nishitenma
Kita-ku, Osaka 530-8543 Japan
Phone: 06.6315.5900
Sapporo — U.S. Consulate
Kita 1-jo Nishi 28-chome
Chuo-ku, Sapporo 064-0821 Japan
Phone: 011.641.1115
Nagoya — U.S. Consulate
Nagoya International Center Bldg. 6F
1-47-1 Nagono, Nakamura-ku, Nagoya 450-0001 Japan
Phone: 052.581.4501
Japanese Embassy and Consulate in USA
Washington DC — Embassy of Japan
2520 Massachusetts Avenue, N.W.
Washington DC 20008 United States
Phone: 1.202.238.6700
Anchorage, Alaska — Consular Office of Japan
3601 C Street, Suite 1300
Anchorage, AK 99503 United States
Phone: 1.907.562.8424
Los Angeles, California — Consular Office of Japan
350 South Grand Ave., Suite 1700
Los Angeles, CA 90071 United States
Phone: 1.213.617.6700
San Francisco, California — Consular Office of Japan
275 Battery Street, Suite 2100
San Francisco, CA 94111 United States
Phone: 1.415.780.6000
Denver, Colorado — Consular Office of Japan
1225 17th Street, Suite 3000
Denver, CO 80202 United States
Phone: 1.303.534.1151
Miami, Florida — Consular Office of Japan
80 SW 8th St. Suite 3200
Miami, FL 33130 United States
Phone: 1.305.530.9090
Atlanta, Georgia — Consular Office of Japan
8Phipps Tower, Suite 850
3438 Peachtree Road
Atlanta, GA 30326 United States
Phone: 1.404.240.4300
Honolulu, Hawaii — Consular Office of Japan
1742 Nuuanu Avenue
Honolulu, HI 96817 United States
Phone: 1.808.543.3111
Chicago, Illinois — Consular Office of Japan
Olympia Centre, Suite 1100
737 North Michigan Ave.
Chicago, IL 60611 United States
Phone: 1.312.280.0430
Boston, Massachusetts — Consular Office of Japan
100 High Street, 6th Floor
Boston, MA 02110 United States
Phone: 1.617.973.9772
Detroit, Michigan — Consular Office of Japan
400 Renaissance Center, Suite 1600
Detroit, MI 48243 United States
Phone: 1.313.567.0120
New York, New York — Consular Office of Japan
299 Park Ave, 18th Floor
New York, NY 10171 United States
Phone: 1.212.371.8222
Visa Line: 1.212.888.0889
Portland, Oregon — Consular Office of Japan
Wells Fargo Center Suite 2700
1300 SW 5th Ave.
Portland, OR 97201 United States
Phone: 1.503.221.1811
Nashville, Tennessee — Consular Office of Japan
1801 West End Avenue, Suite 900
Nashville, TN 37203 United States
Phone: 1.615.340.4300
Houston, Texas — Consular Office of Japan
2 Houston Center Building, Suite 3000
909 Fannin Street
Houston, TX 77010 United States
Phone: 1.713.652.2977
Seattle, Washington — Consular Office of Japan
701 Pike Street, Suite 1000
Seattle, WA 98101 United States
Phone: 1.206.682.9107
Guam — Consular Office of Japan
Suite 604, Guam International Trade Center Bldg
590 South Marine Drive
Tamuning, Guam 96913 United States
Phone: 1.670.323.7201
Saipan — Consular Office of Japan
P.O. Box 500407
Saipan, MP 96950 United States
Phone: 1.670.323.7201
Disclaimer: The information contained in this article serves as a general overview of benefits and should only be used for informational purposes. Refer to your individual certificate of insurance for specific coverages, exclusions and benefits. When in doubt, please contact one of our licensed agents for additional assistance.