20 Travel Tips for Seniors
Last updated on 03/27/2023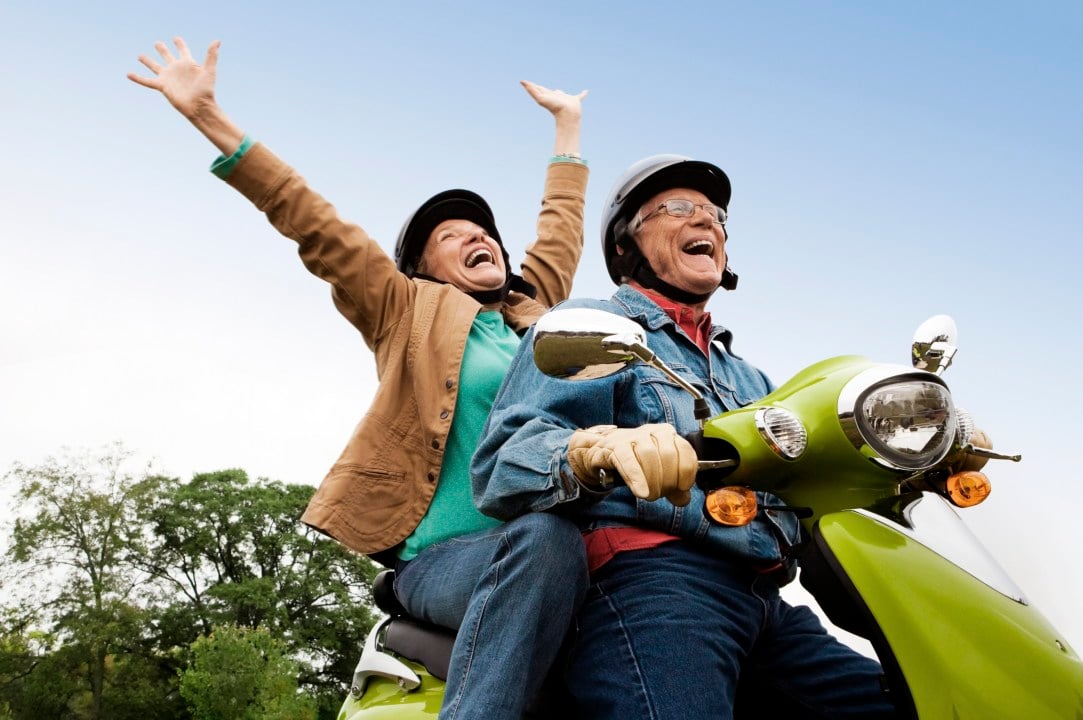 We all want a happy, memorable trip. While vacations can leave seniors feeling invigorated and energized, the planning process can be a bit stressful. The good news is with a little extra preparation, senior travelers can feel more at ease about their plans. And the 55+ crowd can also take advantage of travel perks and discounts to help make that trip go as smoothly as possible. InsureMyTrip rounded up some tips and ideas to help seniors travel more and worry less.
1. Have Luggage Delivered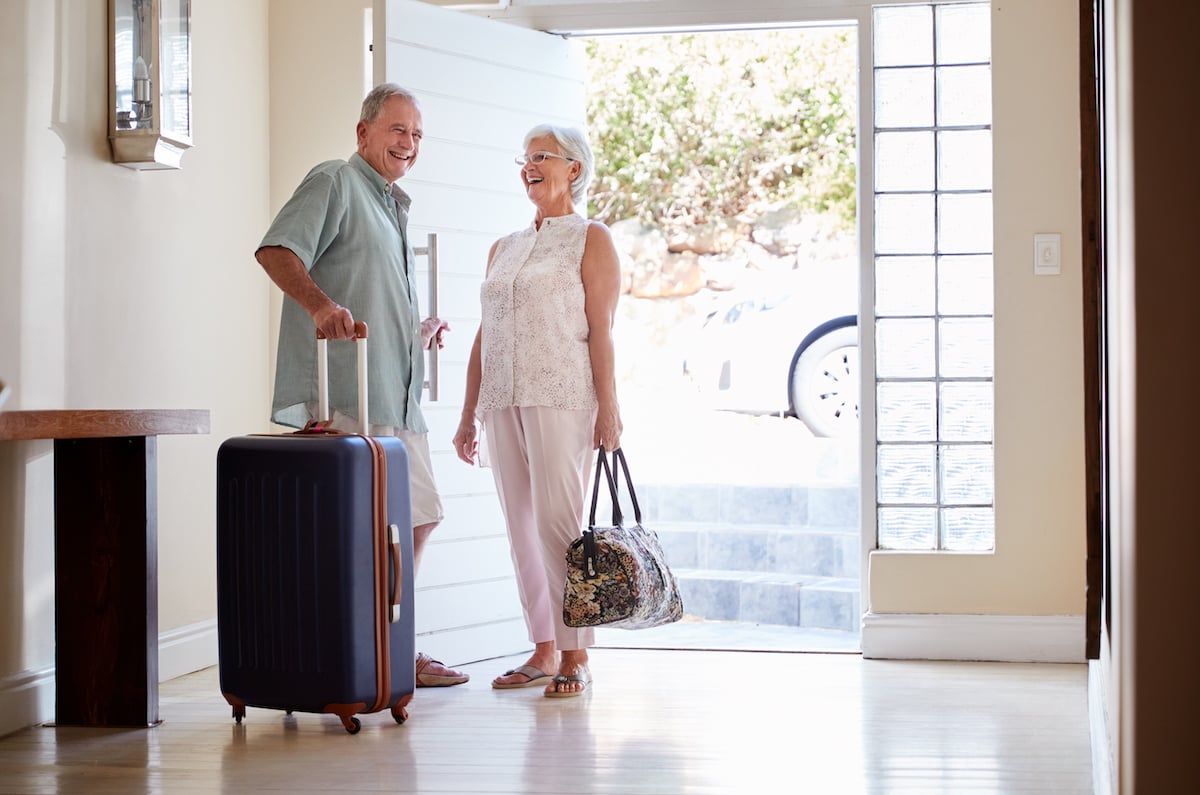 Wouldn't it be easy to arrive at your destination without having to lug all that hefty baggage around? There are new delivery services like Luggage Forward that transport gear to more than 200 countries and territories worldwide and can ship bulky items like golf clubs, skiis and snowboards, bikes, and large suitcases directly to a hotel or cruise. It allows them to walk through the airport with no excess luggage or baggage. For international travel, this could save a lot of time in customs too!
2. Don't Cut Corners
You don't have to spend extravagantly, but at this time in your life, you know what you want. If you make all your plans based on price alone, you will be disappointed, having not gotten the best value for your time or your money. Making decisions based on review and amenities will add value to your trip. (Source: Stride Travel)
3. Hire A Travel Companion
Seniors who want to travel, but may not be as mobile, can hire a travel companion. This specialized service is offered by companies like SYNERGY HomeCare. A senior can hire a caregiver to accompany them on a trip and give them whatever assistance they may need. A service like this gives the senior peace of mind.
4. Beware of Free Wi-Fi
Avoid pulling up private documents or your online banking information, when using free Wi-Fi. If you are in a coffee shop, hotel or airport, make sure you are using the legitimate, free Wi-Fi service by asking a staff member how to access it. (Source: AVG Technologies)
5. Make Document Copies
Bring extra copies of all travel documents. If a passport or wallet is stolen or lost, extra copies in hand of passport or driver's license can help speed up assistance at the consulate. We also recommend having digital copies back home or using the passport app on a smartphone. (Source: AARP)
6. Renew Passport
Some countries will deny travelers entry if their passport expires six months from arrival date. Renewing your passport dates prior to leaving can save you a big headache. (Source: AARP)
7. Contact Credit Card Company
Travelers should call their credit card companies and alert them on what countries will be visited during a trip. This way, the fraud department will not put a hold on the card when used abroad.
8. Find Senior Discounts
Always ask for senior discounts. Many places including museums, churches, train tickets and other attractions have discounted ticket prices for seniors and carrying around your passport or any ID card would enable you to claim them. Although some places do not display the discounted prices, it wouldn't hurt to ask the staff and check! (Source: Rinita, BonAppetour)
9. Take Breaks
Wear supportive shoes that cover the entire foot. Bring a trekking pole and use it when walking through city streets as well ruins. This will help consolidate your belongings so everything fits in one comfortable bag and is easily accessible. Schedule time for rest during the day and make sure to stay hydrated. (Source: Adios Adventure Travel)
10. Use Anti-Theft Bags
Consider an anti-theft handbag or fanny pack designed to cover, protect, and conceal your belongings to discourag pickpockets. Fake wallets and money belts can also help protect against theft.
11. Get International Cell Phone Plan
Some mobile phones don't have a network connection outside of the U.S., but for those that do, you're likely to be charged roaming fees for accessing data and making calls while abroad. Check with your provider to see if your current plan allows for international calling, and if they don't, see if you can activate international calling, rent an international phone, or purchase an unlocked phone (with an international SIM card) for use on your trip. (Source: Go Ahead, a division of EF Education First that provides adult tours.)
12. Find a Destination that's Aligned with Your Interests
Choosing a destination that's aligned with your interests is going to ensure that you're engaged and having fun during your travels. A nature lover might consider a safari in Tanzania or a Galapagos cruise, while someone with a love of fine wines would be thrilled with a French river cruise along the Rhine. If you have multiple interests, see if you can find one destination that highlights two or more of them. If you're a nature lover who happens to also love fine wines, for example, you can easily experience both in South Africa. (Source: Jeremy Palmer, Senior Vice President, Tauck Land Journeys)
A recent study by the InsureMyTrip Data Team rates the best cities for senior travel in several categories, including walkability, access to transport services, choice of senior tours, healthcare, and more.
13. Travel Off Season
If you are retired, and can choose to travel at any time, choose the off-peak season. Shoulder seasons (ex. Apr-mid June or Sep-Oct) would be allow you to avoid the massive tourist crowds, long lines, and the heat of the summer. (Source: BonAppetour)
14. Pack Medications
Take full supply of prescription medications and nonprescription medications, like vitamins and supplements. It may be difficult to find a pharmacy out of the country. Work with your doctor to get official prescriptions or notes of need for any liquid medication you need to travel with - especially if you plan to carry the medication on to the flight. (Source: RickSteves.com)
15. Request Ground-Floor Room
Stairs a problem? Request a first floor room. Also, consider what easy transportation options are available nearby when choosing a hotel. (Source: RickSteves.com)
16. Choose The Right Disability Option
Some airlines, like Southwest, enable travelers to select disability options when booking a flight. For example, requesting assistance to and from the gate. (Source: ThePointsGuy)
17. Be Comfortable
There are a slew of clothes and accessories to help seniors travel easier. Compression socks, walking shoes, fanny packs and more. (Source: AARP)
18. Pack Light
Packing your suitcase so it's lightweight and portable will make it easier for you to get around. Watch the video for insights and read our guide to packing for flights and keeping carry-ons light for even more helpful packing tips.
19. Consider Vacation Rental
Going on a trip with the grandkids? About 40% of U.S. leisure travelers surveyed by Preferred Hotels in 2011 said they had taken a multi-generational trip within the past year. You may have to bring more things, but a more home-like atmosphere can be a less stressful way to travel. (Source: Senior Living Magazine)
20. Compare Travel Insurance
Travel insurance can provide coverage for trip cancellation, trip interruption, travel delay, baggage, emergency medical care and emergency evacuation.
Do you have a travel tips? Share them in the comments section below.