Emergency Medical Coverage for Cruises
Last updated on 03/28/2023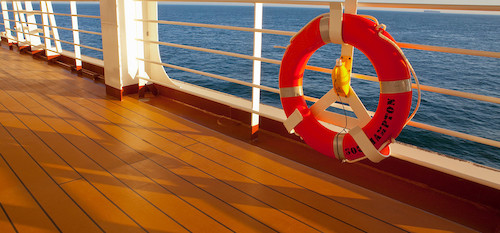 When you are booking a cruise, the last thing you want to think about is the possibility of needing emergency medical insurance. But let's get real for second: it may be one of the most important trips to purchase emergency travel medical insurance. Travel medical benefits can either be part of a comprehensive insurance plan, or for those traveling abroad, as part of a cruise insurance plan with medical coverage.
When you are on a cruise, there is a substantial amount of time that you will be on the open water – with no direct access to top-notch medical facilities. While the medical facilities on cruises are great for what they are, they are, just simply, not equipped with the tools or experience necessary to take care of serious illnesses or injuries.
For this reason, the medical staff on the ship will do their best to care for a traveler in their facilities, while making arrangements to get them to a hospital as soon as they dock. This means your care – and bills – will be coming from the hospital at port. This could be an island or a landlocked city, but the odds are it is not near your home.
If you're injured or become ill while traveling abroad, a travel medical plan can help to reimburse you for costly medical bills. Keep in mind, travel medical plans do have exclusions from coverages, like adventure sports activities and sometimes pre-existing conditions. For the most part this medical coverage will act as secondary insurance to your primary health care and require that you do have a separate health insurance plan. Of course, some plans built specifically for travel medical coverage do not require you to have a primary health insurance plan for travel medical coverage.
Also, with most comprehensive travel insurance plans, emergency medical evacuation coverage is available. This will ensure that you will be transported, if the travel insurance company and the attending physician decide that a different medical facility would give more specific care for your illness or injury.
So while we hope none of our travelers ever need to use the emergency medical or emergency evacuation coverage on their plan, it can fill the gaps of your primary health insurance while traveling abroad. It will give you peace of mind that a covered medical incident during your trip won't leave you with a financial hardship.
Disclaimer: The information contained in this article serves as a general overview of benefits and should only be used for informational purposes. Refer to your individual certificate of insurance for specific coverages, exclusions and benefits. When in doubt, please contact one of our licensed agents for additional assistance.