Adventure Travel Over 50
Last updated on 03/27/2023
We know you can't put an age limit on the desire to travel. When travel lives in your heart, you can't just cut it out of your life cold turkey! With the right trip insurance plan, you can travel worry-free at any age. From emergency medical coverage to trip interruption benefits, with trip insurance, you can feel confident in your travel plans. We'll review some of the key points to be aware of when choosing trip insurance for an adventure-type vacation.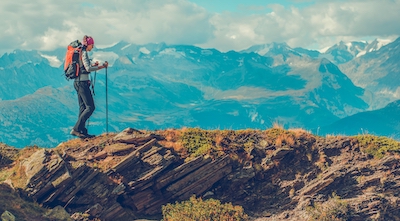 Travel Medical Coverage
By now, you probably know if your health insurance company will cover you while traveling to another state or outside of the country. If you don't, we highly recommend you call them to get that question answered. In our experience, most do not cover medical emergencies when traveling out of the country. Some plans may have limited out-of-country benefits.
For travelers that do not have health insurance that extends abroad, you'll want to look closely at the travel medical coverage on any plan you are considering. Most plans will have a pre-existing conditions exclusion, meaning that you won't be covered for medical services related to a previous illness or known medical condition. Each plan will have something called a "lookback period" that defines how far back into your medical history the provider will look when determining coverage. This can be anywhere from 60 to 180 days prior to purchasing your plan. Many comprehensive plans offer a waiver that removes the pre-existing exclusion provided you meet the eligibility requirements. You don't have to be perfectly healthy to get a pre-existing condition waiver, but you do need to be medically able to travel on the date you purchase your plan.
Expert tip: When traveling for an extended period, we recommend being prepared with extra prescription medications on hand in case of a travel delay or lost luggage. Sometimes, we can't be 100% prepared and purchasing prescription medications while traveling is the only option. Some plans may offer assistance services to help you locate necessary prescription medications needed while traveling.
Hazardous Sports Rider
For all the adventure travelers out there, be sure to read the travel medical exclusions outlined in the plan certificate. Many plans don't cover activities that carry extra risk without a hazardous sports rider. For example, snowboarding, rock climbing, or waterskiing are all activities that would commonly be excluded from medical coverage. If you are taking part in a sports activity that is excluded from your benefits, look for the option to add a hazardous sports rider to your policy. If you are eligible for the rider and pay the additional premium, it may amend the list of general exclusions in the plan to include some typically excluded activities.
Keep in mind; even riders can have limits and exclusions. Read all of it very carefully. If you are injured while participating in an activity that the rider does not cover, you will not be eligible for reimbursement.
Lost or Delayed Baggage
When you were younger, wearing the same clothes for a couple of days while waiting for your luggage to arrive was probably okay. Now that you're an adult, why suffer through it?
Many travel insurance plans provide what's known as a baggage delay coverage. This coverage will reimburse you up to the plan limit for "reasonable" purchases made to replace luggage that was delayed past the limit set by the plan. Usually 12 or 24 hours must pass before your delay qualifies. Remember to save your receipts, as they will be necessary during the claims process.
If your luggage cannot be located at all, your plan also has a reimbursable limit to replace the contents of your suitcase. This coverage is usually secondary to any other coverage that you may have, such as a homeowners or renters insurance. Receipts for items in your luggage may be required at the time of a claim to receive full benefits as well.
One more note about baggage: if you are checking an item like a surfboard or another high-value item, make sure that your policy will cover this type of item. Most baggage coverage is only meant to cover incidentals and clothing, not specialized equipment or high-value items.
Trip Cancellation and Trip Interruption
Some of you may be empty nesters, but some may still have teenagers or college kids at home. You may want to travel without them, but still need to return home if something happens. Comprehensive plans offer trip cancellation and interruption benefits which reimburse trip cost if you have to cancel or interrupt your trip due to a covered reason. The benefits and limits for cancellation and interruption may vary by company and sometimes by plan.
Traveling with children at home might be one reason you would be interested in trip cancellation or interruption benefits. Weather-related concerns are something that apply to parents or non-parents alike. Read on for some examples of situations that would be less stressful with trip insurance coverage.
A storm just hit the Caribbean island you are visiting and they are ordering an evacuation? Travel insurance may reimburse you for the costs. A hurricane hit the east coast and your connection to London was canceled and rescheduled for tomorrow? Travel insurance can help to reimburse you for the cost of a hotel stay as long as you are delayed long enough for coverage to go into effect.
On comprehensive plans, the number one covered reason for trip cancellation or trip interruption is an unforeseen illness or injury. Dealing with an unforeseen illness or injury is stressful enough, you shouldn't have to worry about losing your travel investments also.
How Age Plays into Cost
Yes, it's true what you heard. Age is a factor in the cost of travel insurance premium. As a person grows older, the cost of travel insurance will most likely increase as well. There are some good reasons that we've outlined above to consider purchasing trip insurance despite the possibility of a higher premium cost.
With InsureMyTrip, you can compare hundreds of plans to find the right one, at the right price for your trip. Above all else, we are in the business of preparing you for the unexpected so that you can travel worry-free. If you are concerned about paying too much for a plan, give our licensed insurance representatives a call to talk it through.
Disclaimer: The information contained in this article serves as a general overview of benefits and should only be used for informational purposes. Refer to your individual certificate of insurance for specific coverages, exclusions and benefits. When in doubt, please contact one of our licensed agents for additional assistance.