Music Festival Survival Guide
Last updated on 07/13/2021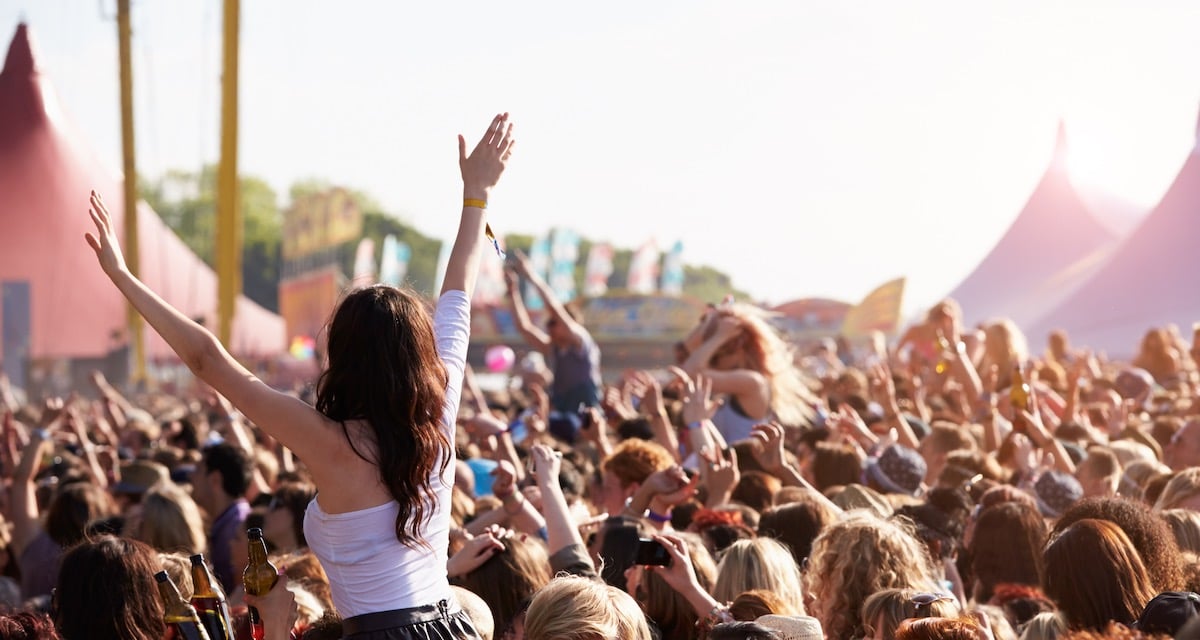 Survival Tips for Music Festivals & Multi-Day Concerts
From Coachella to Bonnaroo, Electric Forest to Lollapalooza and Pitchfork, music festivals offer a chance to commune with fellow fans and also enjoy a giant weekend-long party (or longer). But while it is possible to just show up at the front gate and hope everything will fall into place, planning ahead may help you have a much more enjoyable time.
Book a Hotel
There is something to be said for pitching your tent alongside dozens of others, but sanitary conditions quickly go downhill over the course of 72 hours – and if it rains, everything else may start sliding downhill, too. Our recommendation is to find some accommodations within walking distance of the festival. This way, you'll know your valuables are safe, you don't have to fret about parking, and you can escape whenever you feel like it – including for an afternoon nap that'll leave you ready to tackle the all-night outdoor festivities. If cost is a factor, consider splitting a room with friends.
Deck Out Your Site
While booking a hotel is great for some music festival attendees, most still opt to bring their own tent and camp onsite. Festival camping is a bit different than regular camping though. There will be rules and regulations on what you're allowed to bring, and your tent will be no more than 6 inches from the tent next to you-howdy, neighbor. Obviously, if you've camped before and are staying on site for more than a day, you know you'll want to bring a tent, sleeping bag, a camping chair and a cooler (or two). However, you may not have thought of some of the other things that make your festival campsite into a glampsite.
Pop Up Canopy Tents
If you haven't packed one already, you'll want to grab a pop up canopy tent (often called an EZ-Up). This will help you gain some much-needed shade, and will act as an extension of your tent. If you want a bit of privacy in your tent, you'll want to bring some tapestries (and a way to hang them) as well. This not only gives you a wall between you and the campsites next door, but it also adds some style to your site. Once your canopy tent is set up, you'll want to roll out a tarp and/or a carpet. This helps your site feel more comfortable, and gives you the ability to kick off your shoes and lounge around without being covered in dirt and bugs. It's usually a good idea to set up a tarp under your tent, and a carpet inside of your tent, too. Just keep in mind, after a long day of standing and walking, you'll probably want to just drop everything when you return to camp, so a few extra minutes of setup can make a huge difference when you want to sit down.
Totems & Site Markers
If you're going to be rocking out with a group of friends, or just want to have something to wave around, you'll probably want to think ahead and create a totem. A totem is a great way to find the rest of your party. Once you know that you're looking for the 12 foot tall "Where's Waldo" figure or the giant flashing stop light, it makes navigating the large crowds a little more manageable. Besides being functional, totems can be a fun and unique way to make new friends.
Costumes & Funwear
Festivals are an excellent way to express your weird, fun, and/or creative side. Most people like to pack some sort of costume for at least one of the days that you will be attending. Your "costume" could be as simple as some face paint or as extravagant as dressing to match your totem. No matter how you dress, try to remember that you'll be doing a lot of standing, so you'll want to be comfortable, especially if you're going to be attending a multi-day event.
Prepare to be Hot
Outdoor festivals are almost always held during the warmer months, so it's important to plan ahead and dress appropriately for the heat. More lightly-colored clothing absorbs less heat than darker attire. Long pants and long sleeves might keep your skin covered to avoid sunburns, but this isn't an ideal solution unless the weather is unseasonably cool. Instead, pack proper sunscreen and reapply often, even when it's cloudy. UV rays can penetrate clouds so sunburns are still possible, especially if you have fair skin. It's also a good idea to wear a hat to keep your scalp, ears, and neck protected. The most savvy festival goers bring aloe vera gel or spray just in case they catch too many rays.
Hydrate, Hydrate, Hydrate
Whether you are camping for the week or just attending for a few hours, one of the most important things to bring is water. The days can be long, the weather can be warm, and you may find yourself eating and drinking things that are not part of your normal diet. All of these factors can easily lead to dehydration. Most festivals happen in the summer, and attendees are often surrounded by large crowds of people who may or may not have opted for a shower. Luckily, most festivals have water refill stations, meaning that if you keep your empty water bottle, you'll be able to refill without paying $5 a bottle. The same high prices also affect food options. Vendors at festivals are often outrageously overpriced, so think about bringing your own snacks.
Speaking of Alcohol...
Alcohol is not uncommon at festivals, and if you are going to partake, but it is best to remember to enjoy in moderation. Alcohol is a major contributor to dehydration. Also, as is the case any time you are in a large group of unfamiliar people, it is recommended to stay in control and stay safe. Never accept drinks or food items from strangers. It's also important to note that if you've purchased travel insurance for the festival, alcohol consumption could impact your coverage.
No Bars!
Not the drinking kind, the Wi-Fi kind. Many festivals have poor to no cell phone reception, as by their very nature they're out in the middle of nowhere. If you carry your smartphone with you, put it in something that can provide protection and is waterproof. You also may want to invest in a personal solar charger, since charging stations, if they exist, may have long lines.
What to Bring to a Music Festival
There are a few guidelines to keep in mind when deciding what to bring to a music festival. If you intend to camp, you'll want to pack light since you'll likely be carrying everything into your site. If the weather is hot (like it is for most music festivals), heavy equipment or gear will feel even heavier. Stick to the essentials but pack extra where it makes sense. For example, a few extra pairs of socks and underwear or extra headache medicine doesn't take up much space but will help ensure you fully enjoy the festival. Leave valuables at home. It's tempting to bring all your gadgets or stylish jewelry but the risk of losing these items is not worth it. Take a look at each of the following sections to help make your own festival checklist.
The Basics
Now, the following are pretty obvious, but sometimes the basics - like deodorant and a toothbrush - can be easily forgotten. Just because you're (likely) camping, does not mean that you should forget basic hygiene. For your own well-being, it's also a good idea to bring bug spray and sunblock.
Sleeping Arrangements
If you're in need of some Zzzs, but your fellow party people are not, you'll probably want to whip out some earplugs and an eye mask so that you can at least catch a few hours before your next jam. Sleep is the hardest thing to come by during a festival, and while it's OK to decide you won't want much of it for the duration, don't fear the nap. If you miss a band or two you aren't fond of, recharging with some sleep will mean you'll enjoy the rest of the fest even more. If you brought a cot or inflatable mattress, your body will thank you. Sleeping on the ground in a sleeping bag for multiple nights gets old fast.
Clothing & Footwear
It's more than likely hot out, so sandals and flip-flops might seem to be an excellent choice. Wrong! If you're caught in a throng of happy music fans pogoing and thrashing around, your toes are going to take a beating. And if something has broken on the ground, like a glass bottle, you're less likely to end up bloody if you accidentally step on it. As for clothing, bring layers. Nighttime may prove to be much colder than the heat of the day, and you'll want to be able to bundle up.
Odds & Ends
Overall, you'll want to travel as light as possible. However, investing in a small backpack you can wear from campsite to campsite is the way to go. In addition to filling it with the spare snacks and sunscreen and hat we suggested earlier, here's what else you'll want to pack: hand sanitizer (portable toilets, particularly after a few days, are a true test of mettle); a small pack of tissues; a spray bottle (for cooling your hot self down); a bandanna (wetting one down and wearing it around your neck is a sure-fire way to cool off, and the cloth has many other uses); aspirin (never hurts to have some, particularly if drinking is part of your plan); a headlamp (if you'll be wandering around at night, or camping); bug spray (obvious); and Ziplocs (for keeping things dry).
Even if you're underprepared, you're at a music festival. Just grab some chili cheese fries and a cold drink, and make the best of your situation while you listen to some tunes. Or, barter with your neighbor for anything you've forgotten. No matter what, have fun!