European River Cruises & Third Party Travel Insurance
Last updated on 03/27/2023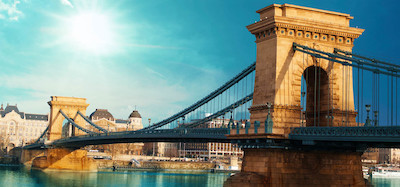 A European river cruise is a perfect vacation to outline how comprehensive a travel insurance plan can be. Taking a river cruise is a unique vacation in itself, but the added complexity of traveling to Europe gives you even more of a reason to consider investing in travel protection.
You will hear lots of people speak to the value of travel insurance for a European river cruise because of the high cost of the trip. River cruises are not typically a budget vacation. That being said, a common reason to purchase travel insurance for a European river cruise is to protect your trip cost if you should need to cancel.
You are a savvy traveler; we aren't going to explain why trip cancellation coverage for a high priced trip is important. We are, however, going to outline the less obvious reasons a travel insurance plan for your trip is an excellent thing.
If You Miss a Connecting Flight or Cruise Launch
For travelers who have one or two flights before boarding a cruise, this is a useful benefit. Not every travel insurance plan will cover missed connections. If you are taking a cruise, look for plans that feature it. The missed connection benefit can provide coverage if you miss a connecting flight or launch of a cruise due to a covered reason.
The general rule of thumb when booking your travel plans is to give yourself enough time between each leg of the trip. For instance, if you only allow for a half hour between connecting flights, you may not qualify for coverage. Being aware of the potential weather risks or commonalities for foreign airports could be key in preventing the need for missed connection coverage.
Traveling from the West Coast of the United States to Eastern Europe for a river cruise down the Danube, for instance, will open you up to several different weather patterns. Best case, you fly over all the nasty weather and never get stuck at an airport waiting for runways to be cleared or planes to be de-iced. But best case rarely happens when you are traveling across the world. Travel delays due to unforeseen weather conditions is typically a reason for coverage and could qualify you for missed connection if that occurs as well.
Unfortunately, if you miss one flight, you are open to missing another or your river cruise at the port of call. The domino effect is a tricky beast. This is why we always recommend, as said before, to plan ahead and leave enough time between all your departures and arrivals.
Generally, we recommend planning to arrive for a cruise, any cruise, 24 hours before launch. This can really limit the chance of having to catch up with it at the next port. If all things align and you pull up to the port of call but your ship isn't there, missed connection coverage could help you reach your cruise at the next port. It's a great benefit that can help turn a vacation around. Not everyone will qualify for this aspect of coverage as the reason for missing the river cruise will need to be listed under the covered reasons.
The Level of the River is Too Low to Cruise
A river is an unpredictable piece of nature. Just like ocean cruising, where you can have high waves due to offshore storms or hurricanes that divert itineraries, European river cruising comes with a level of unpredictable behavior as well.
Traveling the rivers of Europe are best at different times of the year. Typically, the cruising season starts in late March and runs through the end of the year. The peak season for European river cruising is late March through late fall. While the busy season drops into the holidays, several cruise lines will keep ships running to bring travelers to the Christmas markets at the end of the year.
What does this mean for travelers? Weather and environmental challenges that are unforeseen could change your travel plans. For instance, you could be contending with hurricane season (June 1st to November 30th in the Atlantic) as you fly out of the United States. Or, when you arrive at the port of call, you could be subject to an itinerary change or delay due to the levels of the river.
River levels affecting the cruise is not extremely common but can happen. The water level can be affected by general rainwater but typically the snowfall over the winter season in the mountains will cause rivers levels to rise too high to cruise. Regardless if the river is too high or too low, the cruise ships cannot leave port and assure a safe journey. Typically, the cruise lines will offer their travelers a few options, but that depends on the cruise line.
Either way, there are a few comprehensive travel insurance plans that offer compensation if your cruise itinerary is changed due to an unforeseen covered reason, like the weather. Very few plans have benefits that pay a certain limit if the cruise line changes the itinerary prior to departure and you choose to go on the trip, regardless. Most plans that include itinerary change benefits may only compensate you if there is a change in the itinerary that causes you not to be able to participate in a pre-paid activity or event.
It's important to note, many river cruise lines do a lot to keep the traveler satisfied regardless of the delay or change in itinerary (providing bus tours to the planned destinations or offering other options). Because of this, travel insurance may have minimal coverage for a traveler in this situation.
Insurance From the Cruise Line May Not Offer Comprehensive Coverage
This is an expensive trip, so we assume you are doing extensive research on travel insurance for your trip. It's our hope you are doing this research before you book your river cruise. We need to explain the limitations of the travel insurance product the cruise line will refer during your booking process. Read the fine print!
A travel insurance plan from the river cruise line will most likely be less comprehensive. Sure, they will all have trip cancellation coverage and trip interruption. Some may even include travel medical coverage while you're traveling. But typically you will not be able to include anything but the money you paid them in this plan. If you purchased a package with airfare, excursions, any necessary hotel stays and the cruise, you won't necessarily need a third party travel insurance plan. If you only purchased the river cruise from the cruise line, you may want to look elsewhere for a plan that would include the other pre-paid, nonrefundable costs of your trip.
The key to finding the right plan is doing your research, understanding your total investment in your trip and weighing the potential risks. A comprehensive travel insurance plan from a third party will also have added value with baggage protection, travel medical coverage and emergency evacuation. Some plans come with optional coverage if you qualify and chose to add them to the plan, such as the Cancel for Any Reason benefit and a Pre-Existing Condition Waiver. These can extend the number of covered reasons for coverage, and not every cruise line will offer these upgrades. Third party companies give you the options you need to find the right plan for your trip.
---
Best Time to Cruise Europe - When to Book
Want to hit the high seas or take a river cruise around Europe? The best time to cruise Europe depends on several factors. Here are some pros and cons to European cruising during the high or low season.
Off-Season
When to go: November, December and March
Pros: Fewer crowds, better deals, lower airfare
Cons: Cold weather, shorter days
For cruisers looking to dodge the crowds and heat, off-season trips are ideal. While many cruise lines in northern Europe will shut down during the coldest months of the year (January and February), there are some options during the late and early winter. For example, some river lines promote holiday-themed cruises during November and December. These cruises attract shoppers because they include seasonal events and stops at local Christmas Markets. These seasonal markets offer local art, crafts, and food in a street vendor setting.
Cruises can cost about $1,000 less per person in March, April, November or December and passengers save even more by not splurging on a balcony (since you won't spend much time sitting in it). During colder months, cruisers may also find better deals on cruises throughout the Mediterranean. If colder weather doesn't bother you or you really enjoy the Christmas season, the best time to cruise Europe just may be during the off-season.
Peak Season
When to go: April to October
Pros: Great weather
Cons: Crowded ports, fewer bargains, higher airfare
It's no surprise that the warmer months are the most popular time to cruise Europe. Sometimes referred to as "shoulder season," peak season is the regarded by travelers as the best time for European cruises. It is the time of year when cruisers can expect to see some gorgeous landscapes and enjoy nice weather. European cruisers prefer this time of year especially for trips to the Netherlands and Belgium, when tulips are in bloom. However, it's worth noting that some rivers can be adversely affected by either harsh rainstorms or extreme heat.
Despite peak months, travelers visiting Scandinavia (which has a brief tourist season), Britain, or Ireland may want to take advantage of longer days and weather. Many of the key cities in these countries still have low crowds throughout the whole year.
Cruises to the Mediterranean are also available year-round with peak months typically running from May through September. Heat-loving cruisers prefer this time of year, although temperatures can soar over 90 degrees and some ports can be jammed. Greek Islands and Canary Islands also see ships from March through December.
Shoulder season varies by destination, but typically it runs from April through mid-June and parts of September and October.
European Cruises by Location
Baltic Sea — Russia, Scandinavia
Eastern Mediterranean — Greece, Croatia, Italy (sometimes Turkey and Israel)
Western Mediterranean — Spain, Monaco, Italy
British Isles, Western Europe — England, Scotland, Wales, Ireland
Norwegian Fjords
Canary Islands
It's up to you to decide when the best time to cruise Europe is, but with these tips you'll be able to balance finances, crowds, and seasonal perks. No matter if you enjoy the hot weather or are comfortable in cooler weather, there is an option for you.
Disclaimer: The information contained in this article serves as a general overview of benefits and should only be used for informational purposes. Refer to your individual certificate of insurance for specific coverages, exclusions and benefits. When in doubt, please contact one of our licensed agents for additional assistance.