Travel Insurance for Cyprus
Last updated on 09/18/2023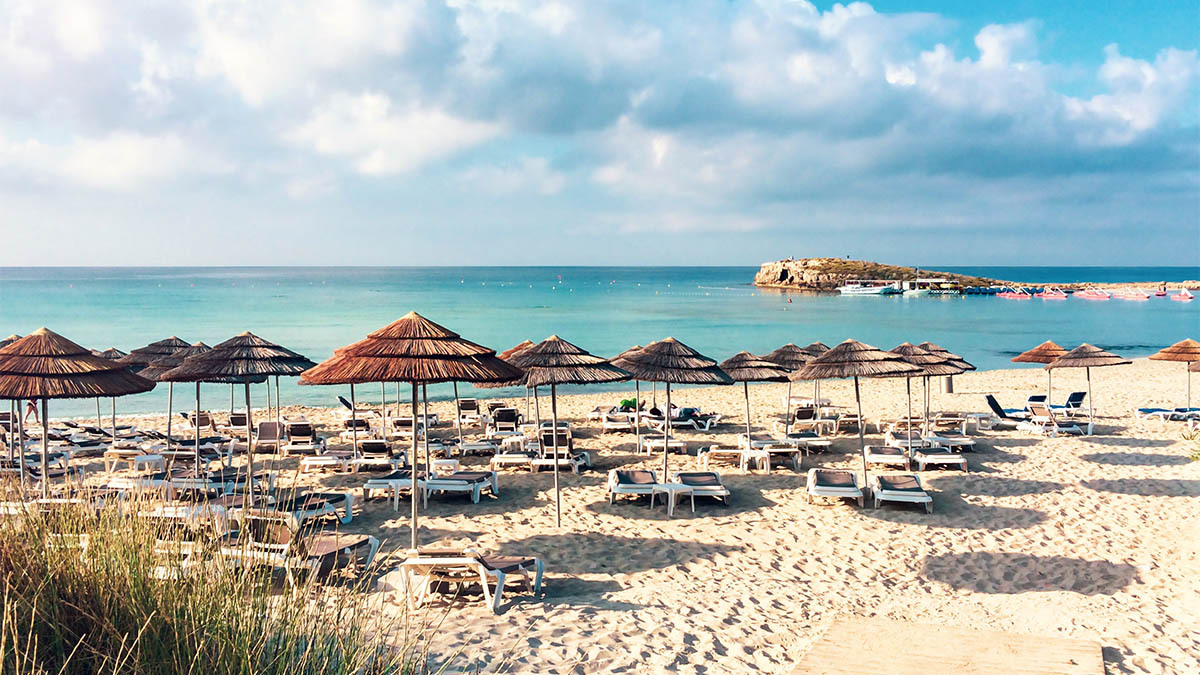 ---
---
Do I Need Travel Insurance for Cyprus?
While travel insurance is not mandatory to visit Cyprus, there are many reasons to be covered for a trip to the Mediterranean. Cyprus is an island nation surrounded by pristine beaches, so visitors generally arrive by cruise ship or plane. Flying can expose a traveler to flight delays, cancellations, and issues with luggage, all of which can often be covered by travel insurance plans. Similarly, travelers taking a cruise may consider specific travel insurance designed for cruising.
Most often, travelers choose travel medical insurance for protection against unforeseen medical expenses abroad. Health-related coverage may be purchased as a freestanding travel medical plan or as part of a comprehensive travel insurance plan for a trip to Cyprus. Comprehensive plans often include emergency medical coverage as well as assistance with situations like vacation rentals, travel delays, and more, depending on each trip's needs.
Some travel insurance companies can offer coverage for treatment of the COVID-19 virus, but this coverage will vary by plan. Travelers concerned about canceling a trip due to uncertainty about COVID-19 may consider adding the Cancel For Any Reason (CFAR) benefit to their travel insurance policy. CFAR is a time-sensitive benefit, and InsureMyTrip's CFAR eligibility questionnaire can help you identify whether the benefit is available to you for your next trip to Cyprus.
Although Cyprus does not require international visitors to obtain travel insurance, travelers may need to meet certain other entry requirements for Cyprus. All travelers must enter and exit the country from either the Larnaca and Paphos airports or the seaports of Limassol, Larnaca, and Paphos, as arrival from the northern Ercan Airport is not considered a legal entry to Cyprus. Visitors from Europe must also show proof of sufficient funds and a plane ticket to return home.
Travelers who do use the Ercan Airport to visit the northern region of Cyprus may need specific North Cyprus travel insurance. It's recommended to check the government website of North Cyprus for the most up to date entry requirements before traveling.
How Much Does Cyprus Travel Insurance Cost?
Each traveler is different and has their own list of concerns when traveling abroad. So, the price of travel insurance for Cyprus will vary with the needs of each trip. Generally, the overall cost of travel insurance is determined by the type of coverage, duration of the trip, the number of travelers in the party, and the ages of the travelers. Some travelers want to insure the total cost of their trip, which can increase the price of a plan but may prove to be worth it in a covered emergency. More risk involved in the travels typically equals a higher cost for trip insurance for Cyprus.
What is the Best Travel Insurance for Cyprus Trips?
The best travel insurance is a topic often brought up by travelers. When comparing Cyprus travel insurance online, travelers are recommended to consider their full itinerary, budget, and personal concerns. International insurance for Cyprus should aim to meet these unique trip details, so most plans are bound to be a little different.
---
Travel Tips & Safety for Cyprus
Money & Currency Exchange
Cyprus adopted the euro (€ and EUR) as its official currency in January 2008. Previously the Cypriot pound (CY£) was the official legal tender. Like other countries using the euro, banknotes are issued in denominations of 5, 10, 20, 50, 100, 200 and 500 euros. Each euro can be subdivided into 100 cents. Coins are issued in values 1, 2, 5, 10, 20, and 50 cents as well as 1 and 2 euro denominations. Travelers should note that one side of coins features a shared Eurozone design while the reverse features a design unique to the country issuing it. Despite the difference in appearance, all euro coins can be used in any of the participating Eurozone countries where the euro is used as the official currency.
While the euro is the official currency of Cyprus, Northern Cyprus actually uses the Turkish lira due to its proximity and shared economy with Turkey. If you plan to spend time in Northern Cyprus, you'll want to either exchange euros for Turkish lira while in Cyprus or exchange some of your domestic currency for Turkish lira beforehand or upon arrival. One method may yield a more favorable exchange rate, but it will depend on your individual situation.
While USD is not an official currency in Cyprus, exchanging USD (as well as most other major foreign currencies) for euros (or Turkish lira in Northern Cyprus) is straightforward. We recommend that travelers exchange their domestic currency for euros either prior to or upon arrival in Cyprus. It's a good idea to research currency exchange options to find the most competitive rates. All banks in Cyprus provide foreign currency exchange services, and many quote daily. It's also common for hotels to offer currency exchange services. ATMs offer another way to access local cash, which can be especially convenient if you make your way to Northern Cyprus but did not plan to ahead of time. As with any country, petty theft can happen, so stay vigilant when accessing and handling money in public.
---
U.S. / Cyprus Embassy and Consulate Locations
U.S. Embassy in Cyprus
U.S. Embassy Nicosia
Metochiou & Ploutarchou Street
2407, Engomi
Nicosia, Cyprus
Phone: 357.22.39.3939
Cyprus Embassy and Consulate in USA
Washington DC – Cypriot Embassy
2211 R St. NW
Washington DC 20008-4082 United States
Phone: 1.202.462.5772
New York, New York – Cypriot Consulate General
13 East 40th Street, 5th Floor
New York, NY 10016 United States
Phone: 1.212.686.6016
Los Angeles, California - Honorary Consul-General of the Republic of Cyprus
Mr. Andreas Kyprianides
4219 Coolidge, Avenue
Los Angeles, CA 90066
Phone: 1.310.397.0771
San Francisco, California - Honorary Consul of the Republic of Cyprus
Mr. Nicolaos Theophanous
75 Silverwood Drive
Lafayette, CA 94549 United States
Phone: 1.925.284.2822
Atlanta, Georgia - Honorary Consul of the Republic of Cyprus
Mrs. Polyxeni Potter
3730 Bloxham Court
Atlanta, GA 30341 United States
Phone: 1.770.934.4705
Chicago, Illinois - Honorary Consul of the Republic of Cyprus
Mr. Michael C. Dovellos
22 W. Washington, Suite 1500
Chicago IL 60602 United States
Phone: 1.312.618.2013
New Orleans, Louisiana - Honorary Consul of the Republic of Cyprus
Mrs. Joanne Mantis
One Canal Place, Suite 2720
365 Canal Street
New Orleans, LA 70130 United States
Phone: 1.504.568.9300
Houston, Texas - Honorary Consul of the Republic of Cyprus
Mr. Christos Angelides
206 Voss Road
Houston, Texas 77024 United States
Phone: 1.281.704.6779
Kirkland, Washington - Honorary Consul of the Republic of Cyprus
Mr. Vassos Demetriou
5555 Lakeview Drive, Suite 200
Kirkland, WA 98033 United States
Phone: 1.425.827.1700
New York, New York – Cypriot Permanent Mission to the UN
3 East 40th Street
New York, NY 10016 United States
Phone: 1.212.481.6023
Disclaimer: The information contained in this article serves as a general overview of benefits and should only be used for informational purposes. Refer to your individual certificate of insurance for specific coverages, exclusions, and benefits. When in doubt, please contact one of our licensed agents for additional assistance.