Travel Insurance for Egypt
Last updated on 06/13/2023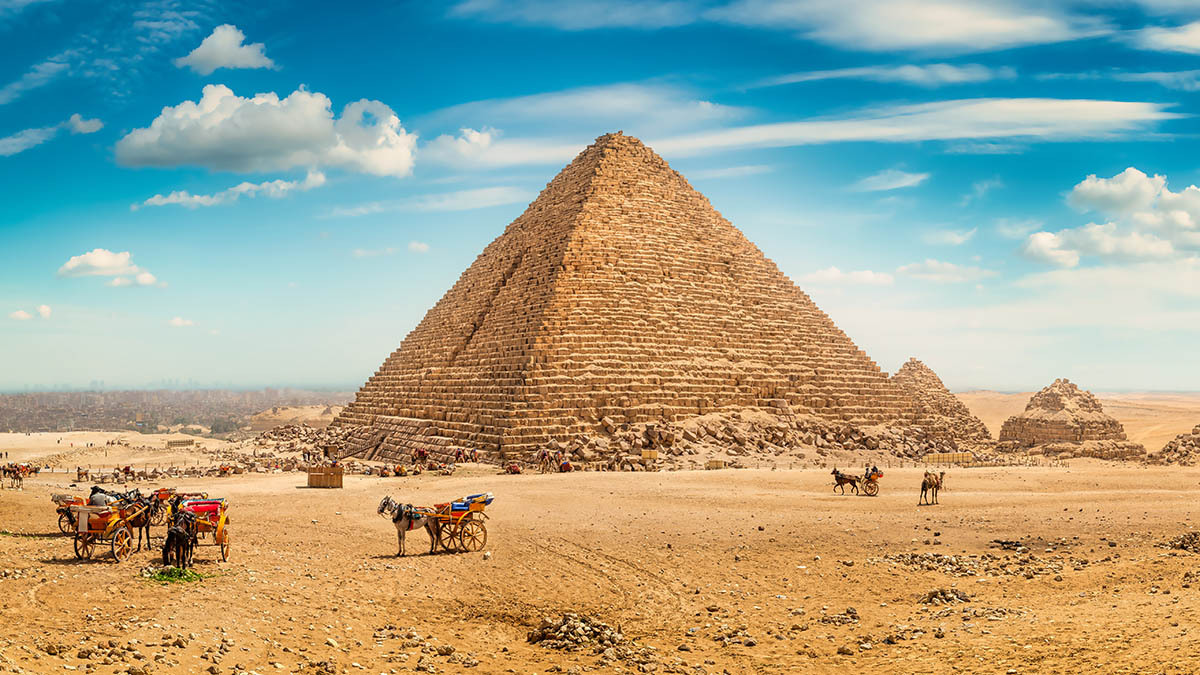 ---
---
Is Travel Insurance Mandatory for Egypt?
Travel insurance is not required for all visitors to Egypt, but it is required for some and recommended for all. As regulations sometimes change, the U.S. Embassy in Egypt advises travelers to contact their nearest Egyptian Consulate or the Egyptian Embassy in Washington D.C. for the most updated travel insurance requirements.
While coverage may be optional for some travelers, international trips can be unpredictable — and travelers are highly recommended to be protected in case of injury or illness while abroad, as well as travel-related disruptions like cancellation or delays.
How Much is Egypt Travel Insurance?
The price of travel insurance for Egypt will vary from plan to plan as every trip is different, and every traveler has different concerns and needs. However, you can count on similar factors to be responsible for the price of most travel insurance plans. Typically, travel insurance costs are influenced by:
Duration of the trip
Number of travelers
Age of travelers
Benefits included in the plan
Travelers can expect to pay more for their Egypt trip insurance as risk involved with the trip increases. For example, protecting a month-long trip is likely to cost more than protecting a shorter trip to the same destination.
Though adding more coverages may increase the price of your travel insurance policy, travelers going to Egypt may find the extra benefits to be well worth it if a medical emergency or other unexpected travel-related situation abroad is covered. Trip insurance may offer coverage for unforeseen circumstances like travel delay, flight cancellation, or baggage being damaged, delayed, or lost.
What is the Best Travel Insurance for Egypt Trips?
Overall, the right insurance policy for Egypt is the plan that covers most or all of your concerns regarding visiting this historic country. As health- and travel-related concerns look different for every traveler, there is no singular answer for what plan would offer all travelers the best travel protection.
However, a comprehensive travel insurance plan may offer the most benefits for travelers to Egypt. These plans often include travel medical coverage as well as coverage for a variety of travel-related circumstances. Delays due to mechanical issues or dangerous weather conditions, lost or damaged baggage, and 24-hour traveler assistance are some common coverages that may be included in comprehensive travel insurance for Egypt. Packaging these coverages together into one plan is an excellent way to address multiple travel-related concerns.
It is highly recommended for travelers to compare different types of benefits, providers, and prices to discover what an ideal travel insurance plan looks like for your next trip to Egypt. To get a quote, enter your trip information in InsureMyTrip's travel insurance quote form and review plans recommended for you.
---
Travel Tips & Safety for Egypt
Money & Currency Exchange
Egypt's official currency is the Egyptian pound (currency code: EGP). Though the Egyptian pound shares a common name and symbol (£) with the British "pound sterling," they are two entirely different currencies. Travelers may see prices marked by the symbols LE or £E when paying for services or shopping in Egypt. One Egyptian pound can be divided into 100 piastre, or PT. Egypt uses both banknotes and coins, with banknotes available in denominations of LE 1, LE 5, LE 10, LE 20, LE 50, LE 100, and LE 200. 25 PT and 50 PT notes also exist but are rarely used. Coins come in values of 25 PT, 50 PT, and LE 1. Credit cards are largely accepted in cities and tourist destinations, but cash is often necessary for tipping, buying from local markets, and paying for goods and services in less-traveled areas. Even hotels in rural regions may ask for payment in cash.
Some businesses will accept foreign currencies like USD, but you'll typically get the better deal by paying with Egyptian pound. Either way, you're likely to get your change back in Egyptian pound. It's best to carry small bills instead of larger bills, as tipping in Egypt is customary. Many travelers choose to bring cash from home and exchange it to the Egyptian pound after arriving in Egypt. ATMs and airports can exchange your foreign currency to Egyptian pound, but exchange offices generally offer better deals.
Transportation
Public transportation in Egypt includes air, ground, and water routes to accommodate many types of trips. Domestic flights and trains are centered around the capital, Cairo, while buses operate throughout the country to connect cities with more remote locations. Although Egypt's buses are plentiful and affordable, they're generally crowded and relatively slow. A faster and more comfortable alternative, microbuses have less room for standing so each passenger is expected to have their own seat for the duration of the ride. The ever-popular taxi is largely relied upon in cities and around beach resorts. Taxis come in two varieties: white taxi and black taxi. White taxis operate on meters, while black taxi fares can be negotiated — just be sure to double-check the price before the ride starts.
Egyptians have historically settled near the Nile, so a number of the country's beloved attractions are located along the river. To reach them, many travelers opt for scenic river bus rides. Other ways to get down the Nile include traveling by luxury cruise ships or the basic felucca, a classic Nile boat with much more modest features.
Risk & Crime
While it's best to avoid certain regions in Egypt, travelers who are vigilant and careful can typically still expect to safely visit major tourist destinations. The U.S. State Department recommends visitors to Egypt avoid the Sinai Peninsula, the Western Desert, and areas near Egypt's borders with other countries due to potential military and terrorist activity. However, when visiting cities like Alexandria and Giza, travelers may only have to be wary of things like pickpockets and tourist scams.
Pickpocketing can generally be avoided by dressing modestly and keeping your belongings hidden and accounted for. For example, always know where your wallet, cell phone, and important travel documents are, and make sure they're completely inaccessible to strangers. One common scam in Egypt involves locals befriending tourists only to gain their trust and "hold" their belongings if they need to use the restroom, ride a ride at an amusement park, etc. However, this isn't always the case, and although most Egyptians may be perfectly friendly and genuine, you still shouldn't leave your valuables with anyone.
As for weather-related risks, sandstorms usually occur for a few days every March or April and then clear up. Occasionally, sandstorms may also be triggered any time from February to June. It may be important to know how travel insurance may help you in case of weather-related events.
---
Top 15 Travel Destinations & Tourist Attractions in Egypt
Alexandria
Giza Necropolis
Cairo
Luxor (Including Valley of the Kings & Karnak Temple)
Aswan
Abu Simbel Temples
Sharm el-Sheikh
Saqqara Necropolis
Hurghada & El Gouna
Siwa Oasis
Désert blanc (White Desert National Park)
Dahshur
St. Catherine's Monastery
Dendera
Wadi Hitan National Park
---
U.S. / Egypt Embassy and Consulate Locations
U.S. Embassy in Egypt
U.S. Embassy Cairo
5 Tawfik Diab Street
Garden City, Cairo
Phone: 20.2.2797.3300
Egyptian Embassy and Consulate in USA
Washington DC — Egyptian Embassy
3521 International Ct NW
Washington DC 20008 United States
Phone: 1.202.895.5400
Los Angeles, California — Egyptian Consulate General
4929 Wilshire Blvd, Suite 300
Los Angeles, CA 90010 United States
Phone: 1.323.933.9700
Chicago, Illinois — Consulate General of Egypt
500 N Michigan Ave
Chicago, IL 60611 United States
Phone: 1.312.828.9162
New York, New York — Egyptian Consulate General
1110 2nd Ave, Suite 201
New York, NY 10022 United States
Phone: 1.212.759.7120
Houston, Texas — Consulate General of the Arab Republic of Egypt
5718 Westheimer Rd Ste 1350
Houston, TX 77057 United States
Phone: 1.713.961.4915
New York, New York — Egyptian Permanent Mission to the UN
304 East 44th Street
New York, NY 10017 United States
Phone: 1.212.503.0300
Disclaimer: The information contained in this article serves as a general overview of benefits and should only be used for informational purposes. Refer to your individual certificate of insurance for specific coverages, exclusions, and benefits. When in doubt, please contact one of our licensed agents for additional assistance.