Travel Insurance for Greece
Last updated on 05/24/2023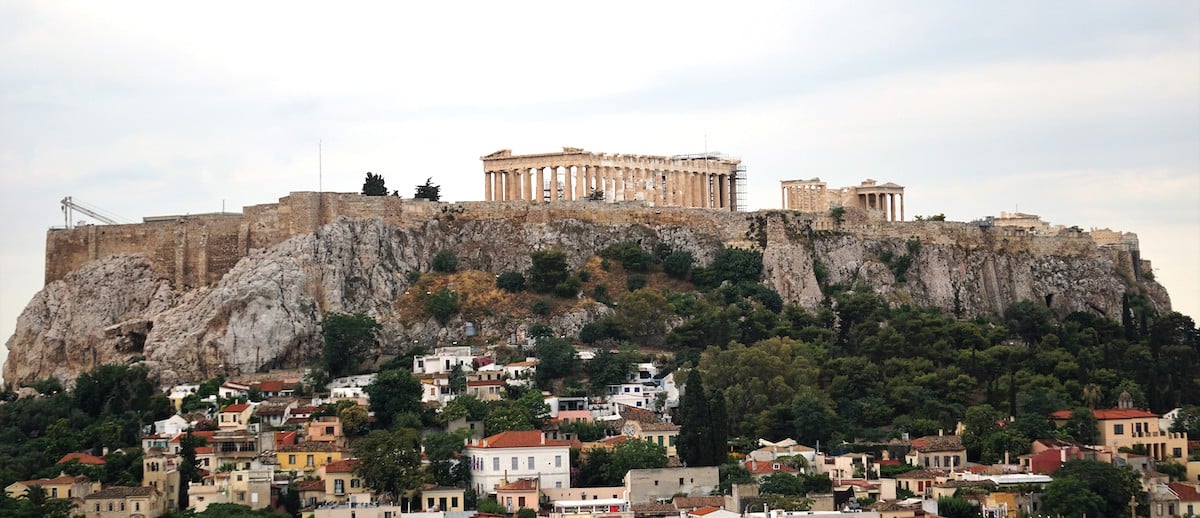 ---
---
Do I Need Travel Insurance for Greece?
Between postcard-worthy islands and fresh feta, it's no wonder why many travelers seek to experience Greece for themselves. Our travelers often say that they find themselves at home on Greece's golden beaches and vineyard-dotted mountains. Solo travelers find themselves at peace reliving Ancient Greek myths; families race laps around the first Olympic track; couples relax, clinking glasses of ouzo. Whether it be for a holiday, an informational experience, a business trip, or a repatriation trip home, Greece is an up-and-coming destination for many of our travelers.
We often get asked, "Is travel insurance mandatory for Greece?" The simple answer is that it depends. For many travelers, travel insurance for Greece is highly recommended, and most travelers opt to purchase travel protection. Keep in mind, Greece is a Schengen country, so there are specific cases in which travelers are required to have trip insurance. Even if it is not a requirement for all visitors, trip protection helps travelers plan for the unexpected while overseas. Every traveler has unique needs. Those going to Greece can select what coverage plans work best for them.
If you are embarking on a trip to Greece, you may want to consider a travel insurance plan. One reason many tourists and holiday-goers choose to purchase travel insurance is for medical coverage. Primary health insurance providers may offer some coverage, but travel medical insurance for Greece helps protect a traveler and his or her traveling companions from expensive medical bills due to unforeseen injury or illness. Additionally, travelers to Greece often choose to buy another layer of protection in case of emergencies. Emergency medical evacuation coverage provides transportation in the event of illness or injury to an appropriate medical facility when there is little to no adequate local care, all without incurring a hefty financial burden. That way, if you get injured or ill while in the Greek islands or while hiking up to the Acropolis during your stay, you're covered with the right plan.
Is Greece a Schengen Country?
Greece is one of the Schengen area countries, which means some travelers will require specific travel insurance. U.S. citizens are not required to obtain a Schengen visa to travel to Greece, but citizens of many other countries are. Note that if you are a resident of the U.S. but not a U.S. citizen, you may need to get a Schengen Visa to travel to Greece. It's essential to review the Schengen Visa travel plans before going to Greece.
How Much is Travel Insurance to Greece?
U.S. citizens often ask, "What is the best travel insurance for Greece?" Alternatively, if you live on the other side of the pond, "What's the best holiday insurance for Greece?" Travel insurance is not one size fits all, so the best plan depends on your individual needs and budget. Calculating the cost of insurance varies by traveler depending on party size, length of stay, and type of coverage. Check our cost of travel insurance page to see what variables may factor into the cost of travel insurance for Greece, or use InsureMyTrip's SMART algorithm to start the search for you. Just look to the right of this page. Fill in the information for your trip to Greece to receive a free, personalized quote on the cost of travel insurance for your trip. InsureMyTrip can help you compare different plans to identify which options work best for your Greece trip and your budget.
Do I Need a Passport to Go to Greece?
Yes, a passport is required for entry into Greece. So, when thinking about what you need to travel to Greece, don't leave your passport behind! Your passport is recommended to be within six months or more of expiration. If you bought travel insurance for Greece, also remember your insurance policy document in the case you need to file a claim.
Do I Need a Visa to Go to Greece?
If you are planning to travel to Greece, it's important to ask, "do I need a visa to go to Greece?" Typically, when traveling to Greece, you will not need a tourist, or visitor's visa unless you plan to stay for more than 90 days. Note that travelers with tourist visas are required to have travel insurance. As mentioned above, Greece is a Schengen country, so you will need to check whether or not you need a Schengen Visa before you go. Those with U.S. official or diplomatic passports must obtain a Schengen visa prior to arrival in Greece.
---
Greece Travel Tips & Safety
Money & Currency Exchange
The Euro (EUR) is the official currency of Greece. So when you arrive in Greece, you will have to exchange your native currency. You can do this in Greece at a bank, the airport, or a currency exchange office. It's a good idea to have some Euro cash when you travel to Greece. Greeks prefer to make transactions with cash, so try to have enough money on you when eating out or to shop. If you don't, no need to stress. ATMs are everywhere, especially in cities. One pro tip: when buying from shops, ask if there's a discount for paying in cash rather than with a credit card.
Travelers often ask about the tipping custom in Greece. In general, few Greeks leave tips in restaurants, and the Greeks do not expect tips. You can still tip but don't feel obligated to.
Transportation
Taxis, rental cars, buses, subways, trains, ferries – there are a plethora of transportation options available when traveling in Greece.
Taxis
Lines of taxis wait on busy streets, at ports and airports for tourists. Hotels can arrange for transportation.
Rental Cars
Greeks drive aggressively, especially in cities like Athens. If you plan to rent a car, it may be a good idea to get rental car insurance.
Buses
Buses go almost anywhere. The bus system makes traveling between main towns, and even some villages, easy.
Subways
Metro, or subway, systems are available in Greece's largest cities, Athens and Thessaloniki.
Trains
Although trains only go to popular destinations, Greece's national rail service is extremely cheap and easy to use.
Ferries
Only 250 of Greece's 6,000 islands are inhabited. Some have airports, but for those islands that don't, you'll have to use a ferry to travel to them. Ferry prices typically range from 10 to 75 EUR.
Other Means of Transportation
Renting a bike is not advised as Greek drivers often hit bicyclists. If you do decide to travel Greece via bicycle, it may be a good idea to look into travel medical insurance or an accidental death policy.
Culture
Greeks encourage you to fill yourself with feta cheese, olives, gyros, and spanakopita. When drinking in the taverna, it's best to be aware that while Greeks drink, they rarely get drunk. Greeks highly disapprove of public displays of drunkenness. Taste the traditional wines and ouzo, but don't go overboard. Not only will the locals disapprove, but if you are injured while under the influence of alcohol, your travel insurance coverage may be affected. Like anywhere you travel, be aware of your actions and surroundings.
There are a few other cultural customs you may want to be aware of before you travel to Greece.
Greeks enjoy smoking almost as much as they enjoy their wine—nearly 50 percent of Greeks smoke.
Do not throw toilet paper in the toilets. Instead, use the bin next to the toilet. As in other European countries, Greece does not have the sewage system to process toilet paper.
Similar to Spain's "siesta," Greeks enjoy closing shop for a few hours in the afternoon. Their last meal usually is eaten late, around 10 pm.
If visiting a church or monastery leave the bathing suits and short shorts at the hotel. Church-goers in Greece are expected to dress respectfully, and Greeks expect that from visitors as well.
Speaking the Language
Most Greeks understand and speak English, as English is taught in schools. As a result, they do not have any problems communicating with tourists. It is still helpful and often appreciated for visitors to learn a few words in Greek.
Γειά σου (YAH-soo): Hello/Goodbye
όχι (OH-hee): Yes
Ναί (neh): No
Tι κανείς? (tee-KAH-nis)?: How are you?
Καλημέρα (kah-lee-MER-ah): Good morning
Καλησπέρα (kah-lee-SPER-ah): Good afternoon/Good evening
Ευχαριστώ (eff-kha-ri-STOE): Thank you
Παρακαλώ (para-kah-LOE): Please/You're welcome
Στην υγειά μας! (STIN-eh YAH-mas): Cheers!
Tαξιδιωτική ασφάλιση (TAXI-dio-tiki asa-FAL-si): Travel Insurance!
Risk/Crime
After Greece experienced an economic crash ten years ago, crime rates and violence were on the rise. Our travelers often ask, "Is it safe to travel to Greece?" Over the past few years, as tourists flock to Greece, safety has been increasing. There are still some risks you may want to know about, and precautions you may want to take before traveling to Greece. For the latest information on Greece and safety, review our travel advisories resource page.
Although most of the Greek mainland and islands are safe for tourists, safety in Greece's major cities—Athens, Patra, and Thessaloniki—must be discussed separately. There are some areas travelers ought to avoid in these cities. Downtown Athens and the center of Athens are subject to drug use and political demonstrations, so if you plan to stay in a hotel in these areas or walk through them, be extra vigilant. Use caution when crossing streets in Greek cities, as cars often do not slow down for pedestrians. Pickpockets are also a problem. Pickpockets work in groups to distract passersby. Place valuables in hard-to-reach places when walking around or traveling. Pickpockets often blend into the crowd. Using common sense, you can be safe while traveling in Greece. Nevertheless, be aware of the risks associated with traveling to Greece, as that can be a factor in deciding on travel insurance.
---
Popular Destinations in Greece
What are the most popular destinations in Greece? There are so many breathtaking places to see in Greece, especially in the sites where Ancient Greece and modern Greece converge. We've compiled a list of our traveler's most popular destinations so you can lounge in front of cerulean seas, wander through olive groves, or relive the whispers of history.
Top 10 Travel Destinations for Greece
Santorini
Athens, especially the Acropolis
Nafplio
Mykonos
Ancient Olympia
Crete
Thessaloniki
Delphi
Knossos
Corfu
---
U.S. / Greece Embassy and Consulate Locations
U.S. Embassy and Consulate in Greece
U.S. Embassy Greece
91 Vasilisis Sophias Ave
10160 Athens, Greece
Phone: 30.210.721.2951
U.S. Consulate General Thessaloniki
43 Tsimiski, 7th Floor
546 23 Thessaloniki, Greece
Phone: 30.2310.242.905 / 30.2310.376.300
Greek Embassy and Consulate in USA
Washington DC — Embassy of Greece
2217 Massachusetts Avenue N.W.
Washington DC 20008 United States
Phone: 1.202.939.1300
Los Angeles, California — Consulate General of Greece
12424 Wilshire Blv. Suite 1170
Los Angeles, CA 90025 United States
Phone: 1.310.826.5555 / 1.310.826.6032
San Francisco, California — Consulate General of Greece
2441 Gough Street
San Francisco, CA 94123 United States
Phone: 1.415.775.2102
Tampa, Florida — Consulate General of Greece
400 Ν. Τampa Street, Suite 1160
Tampa, FL 33602 United States
Phone: 1.813.865.0200
Atlanta, Georgia — Consulate General of Greece
Tower Place 100, Suite 1670
3340 Peachtree Rd NE
Atlanta, GA 30326 United States
Phone: 1.404.261.3313 / 1.404.261.3391
Chicago, Illinois — Consulate of Greece
650 North St.Clair St.
Chicago, IL 60611 United States
Phone: 1.312.335.3915
Boston, Massachusetts — Consulate General of Greece
86 Beacon Street
Boston, MA 02108 94123 United States
Phone: 1.617.523.0100
New York, New York — Consulate General of Greece
69 East 79th Street
New York, NY 10075 United States
Phone: 1.212.988.5500
Houston, Texas — Consulate of Greece
2401 Fountain View Drive, Ste. 850
Houston, TX 77057 United States
Phone: 1.713.840.7522
Disclaimer: The information contained in this article serves as a general overview of benefits and should only be used for informational purposes. Refer to your individual certificate of insurance for specific coverages, exclusions and benefits. When in doubt, please contact one of our licensed agents for additional assistance.