Travel Insurance for Germany
Last updated on 06/14/2023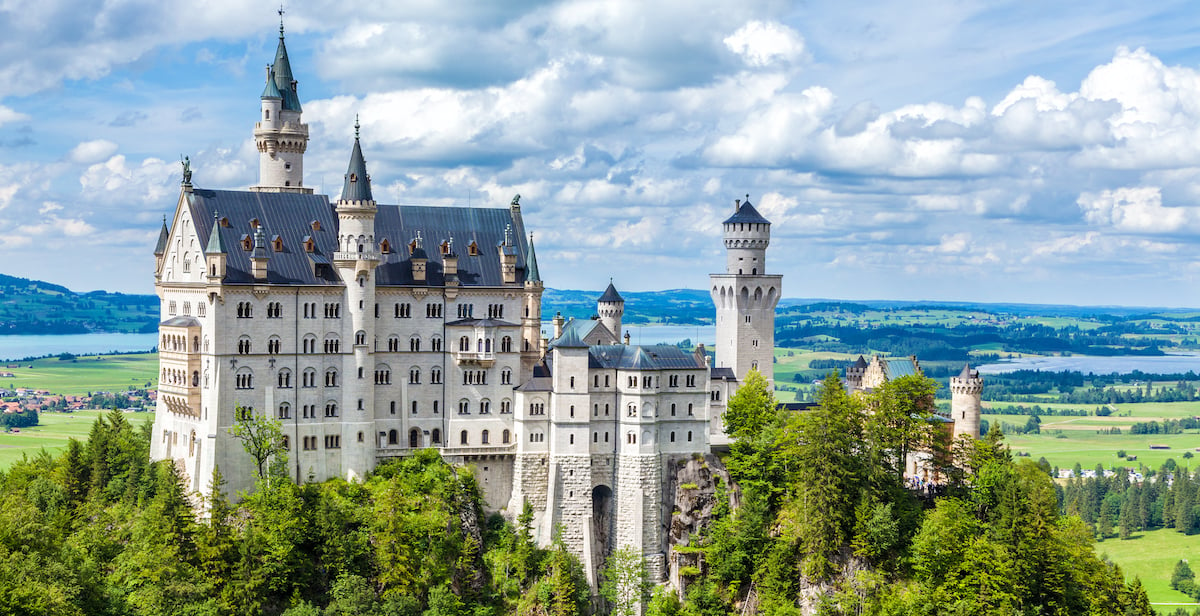 ---
---
Do I Need Travel Insurance for Germany?
Germany is a popular destination amongst our customers, and we frequently get asked: "Is travel insurance mandatory for Germany?" The most straightforward answer to that question is: it depends. Most U.S. citizens heading to Germany opt for travel insurance to protect their investment and for peace of mind, rather than because they are required to purchase it. Each traveler has their own unique needs, and there are a wide variety of plans that offer a range of coverage options.
One reason many tourists decide to purchase travel insurance is for medical coverage while on their trip. Your primary health insurance may offer some coverage while in Germany, but travel medical plans can help to fill in the gaps. For example, very few domestic health insurance companies will pay for medical evacuation back to the United States. If you are on Medicare, it will usually not cover emergency medical expenses while you are abroad. For these reasons, many strongly consider at least a travel medical plan to offer peace of mind when they are visiting Germany.
How Much is Travel Insurance to Germany?
The cost of trip protection for travels to Germany depends mainly on the type of plan and the coverage that a traveler requires. A general rule of thumb is that the richer the coverage is, the more the plan will cost. The length of your trip, the age of the travelers in your party, and health are all factors that also contribute to the cost of trip insurance. Depending on your needs and budget you can get plans ranging from comprehensive coverage (which can offer things like trip cancellation, trip interruption, and medical protection) to a leaner travel medical plan.
Is Germany a Schengen Country?
Germany is one of the countries in the Schengen Area. The Schengen countries have specific requirements regarding what insurance their embassies will accept before issuing a travel visa, so many of our customers ask "Do I need a Schengen Visa to travel to Germany?" U.S. citizens are not required to get a Schengen Visa for trips to Germany but note that if you are a U.S. resident but not a citizen this rule may apply to you.
If you do need a Schengen Visa, you will likely want to consider a Schengen Visa travel insurance plan. These plans are built specifically for travelers with unique needs who are traveling to the Schengen zone. One of the documents for a German Schengen visa application is travel health insurance confirmation that meets the minimum 30,000€ coverage. These specific travelers will need to fill out a declaration on travel health insurance when submitting their visa application showing that they understand the minimum criteria for travel health insurance in Germany and the other Schengen Countries.
Travel & Safety Tips for Germany
Money & Currency Exchange
The currency in Germany, like several other European countries, is the Euro. Travelers heading out to Germany may be surprised to learn that their cards or more advanced payment forms like Apple pay are typically not accepted. In addition to carrying paper notes, you will want to also have coins on you as well, as most bathrooms will charge a small fee. Free public restrooms are very rare, and hard to find even in restaurants. When traveling in Germany, cash is essential.
Before you head out on your trip, it is best to research exchange rates. The easiest and typically cheapest way to exchange money while abroad is to use ATMs, or as the Germans call them, Geldautomat. You will need cash on you each day but be sure not to carry all of the money you have at all times just in case. Be smart with your money by not keeping your wallet in a back pocket or place readily accessible by pickpockets.
Transportation
For travelers looking to get around the country, Germany offers a robust public transportation network with an excellent reputation. Though the car is the preferred method of transportation for many Germans, travelers can explore the larger cities and even rural areas with relative ease thanks to the network of buses, trains, trams, and subways. The U-Bahn, which is the underground train, tends to be one of the fastest options when in larger cities. For those looking the venture to the outskirts of the city centers and into the suburbs, the express train S-Bahn is a great option. Students or large families planning on traveling together would benefit from ordering their tickets in advance as there are many discounts for passengers who ride as a group. It is important to note that punctuality is a large part of German culture, and this applies to their public transportation as well. Pay close attention to bus and train scheduled and try to get to your scheduled tram a few minutes early to ensure you don't miss your ride.
If you plan on renting a car and taking on the Autobahn, keep in mind that stick-shift vehicles are the standard rental option in Germany. Tourists who prefer to drive an automatic should book ahead and reserve an automatic car online. If you are a visitor from the United States or Canada you are in luck — Germans drive on the same side of the road as motorists in North America. There are some important things to note before you head out on the Autobahn. Given its popularity, traffic jams frequently occur on the road and congestion can back up several kilometers. When the road finally clears, prepare to keep to the right when driving unless you can keep up with the fast pace of the left-hand lane. There are stretches of the Autobahn that do not have a speed limit and speeding cars appear out of nowhere. Stay aware of your surroundings, double check your mirrors and always use your signal lights to ensure you avoid any accidents on the road.
Culture
Foreigners should be prepared that Germans tend to be very frank and direct. This is not to say that Germans are rude, they just do not enjoy small talk. Even if the waitstaff is not as warm as visitors may be used to, tipping is still expected though it is much less than in North America. Usually rounding up to the nearest Euro is sufficient. That being said, Germans are relatively formal people, and when meeting new groups, you should offer a warm "Grüss Gott" or "Guten Tag." It may be easier for English speakers to remember "Hallo," but be prepared for some handshaking!
Though they are socially formal, Germans have a much more relaxed opinion towards nudity. Don't be surprised if you see some locals in the nude if you are enjoying a park or beach. There are also many spas and saunas in which nudity is mandatory. Outside of the spa, Germans are very sharp dressers. Their day-to-day outfits are more polished than the typical American casual wear. Pack activity-appropriate clothing but bring along your nicer pieces to blend in with the locals.
History
Germany as we know it is a relatively new country, though it has a rich history dating back to the Germanic tribes before the Holy Roman Empire. There was no central state for much of Germany's history. After decades of industrialization and European power struggles, the German Empire was formed in 1871 and lasted until 1945. Following the second world war, the country split into four regions known as Allied-Occupied Germany. Once Austria was established as an independent country, the remaining land formed the German Democratic Republic and the Federal Republic of Germany more commonly known as East and West Germany. A series of revolutions and the fall of the Berlin Wall in 1989 paved the way for German Reunification. The German Democratic Republic formally joined the Federal Republic of Germany on October 3, 1990.
Speaking the Language
The German language may seem daunting to travelers who are not fluent, but keep in mind that English is a Germanic language. English speakers may be surprised at how quickly they can pick up on many German word meanings. There are several apps and software that you can use to brush up on a few key phrases before your trip, and this little bit of studying will go a long way. In most cities, you will find many Germans are fluent in English, or at the least can understand what you are saying to try and assist you. As mentioned earlier, Germans are known for the avoidance of small talk, so as long as you have a few basics down, you should be able to navigate like a pro.
Risk & Crime
On the whole, Germany is a country with a relatively low crime rate, but every city and town are different. The most widespread crime throughout the country is theft. So stay vigilant especially in tourist centers where there may be pickpockets. Consider getting a cross-body bag that zips shut or keeping your wallet in a secure front pocket. While cash is king in Germany, don't have all of your money on you at all times. You will identify yourself as a quick target if someone notices how much cash you have on your person. Leave some behind in the hotel safe just in case. Make sure to check the latest travel advisories for Germany and plan accordingly as well.
Popular Destinations & Tourist Attractions in Germany
Germany offers no shortage of activities, and you may be overwhelmed with all of the options available to you as you start to plan your trip. Luckily, we've rounded up a list of some of the best destinations to add to your German itinerary. From the largest annual beer festival, preserved medieval towns with grand castles, to the foothills of the German Alps, there is bound to be something for everyone in your party.
Top 10 Travel Destinations for Germany
Berlin
Munich
Hamburg
Cologne
Frankfurt
Dresden
Nuremberg
Heidelberg
Düsseldorf
Stuttgart
U.S. / Germany Embassy and Consulate Locations
U.S. Embassy and Consulate in Germany
Berlin — U.S. Embassy Berlin
Clayallee 170
14191 Berlin, Federal Republic of Germany
Phone: 49.30.8305.0
Düsseldorf — U.S. Consulate Düsseldorf
Willi-Becker-Allee 10
40227 Düsseldorf, Federal Republic of Germany
Phone: 49.211.788.8927
Frankfurt — U.S. Consulate Frankfurt
Gießener Str. 30
60435 Frankfurt am Main, Federal Republic of Germany
Phone: 49.69.7535.0
Hamburg — U.S. Consulate Hamburg
Alsterufer 27/28
20354 Hamburg, Federal Republic of Germany
Phone: 49.40.411.71.100
Leipzig — U.S. Consulate Leipzig
Wilhelm-Seyfferth-Straße 4
04107 Leipzig, Federal Republic of Germany
Phone: 49.30.8305.0
Munich — U.S. Consulate Munich
Königinstraße 5
80539 München, Federal Republic of Germany
Phone: 49.89.2888.0
German Embassy and Consulate in USA
Washington DC — Embassy of the Federal Republic of Germany
4645 Reservoir Road, NW
Washington DC 20007 United States
Phone: 1.202.298.4000
Los Angeles, California — Consulate General of the Federal Republic of Germany
6222 Wilshire Boulevard, Suite No. 500
Los Angeles, CA 90048 United States
Phone: 1.323.930.2703
San Francisco, California — Consulate General of the Federal Republic of Germany
1960 Jackson Street
San Francisco, CA 94109 United States
Phone: 1.415.775.1061
Miami, Florida — Consulate General of the Federal Republic of Germany
100 N. Biscayne Blvd., Suite 2200
Miami, FL, 33132 United States
Phone: 1.305.358.0290
Atlanta, Georgia — Consulate General of the Federal Republic of Germany
Marquis Two Tower - Suite 901
285 Peachtree Center Avenue, N.E.
Atlanta, GA 30303 United States
Phone: 1.404.905.0000
Chicago, Illinois — Consulate General of the Federal Republic of Germany
676 North Michigan Avenue, Suite 3200
Chicago, IL 60611 United States
Phone: 1.312.202.0480
Boston, Massachusetts — Consulate General of the Federal Republic of Germany
Three Copley Place, Suite 500
Boston, MA 02116 United States
Phone: 1.617.369.4900
New York, New York — Consulate General of the Federal Republic of Germany
871 United Nations Plaza
New York, NY 10017 United States
Phone: 1.212.610.9700
Houston, Texas — Consulate General of the Federal Republic of Germany
1330 Post Oak Blvd., Suite 1850
Houston, TX 77056 United States
Phone: 1.713.627.7770
Disclaimer: The information contained in this article serves as a general overview of benefits and should only be used for informational purposes. Refer to your individual certificate of insurance for specific coverages, exclusions, and benefits. When in doubt, please contact one of our licensed agents for additional assistance.