Travel Insurance for Ghana
Last updated on 09/29/2023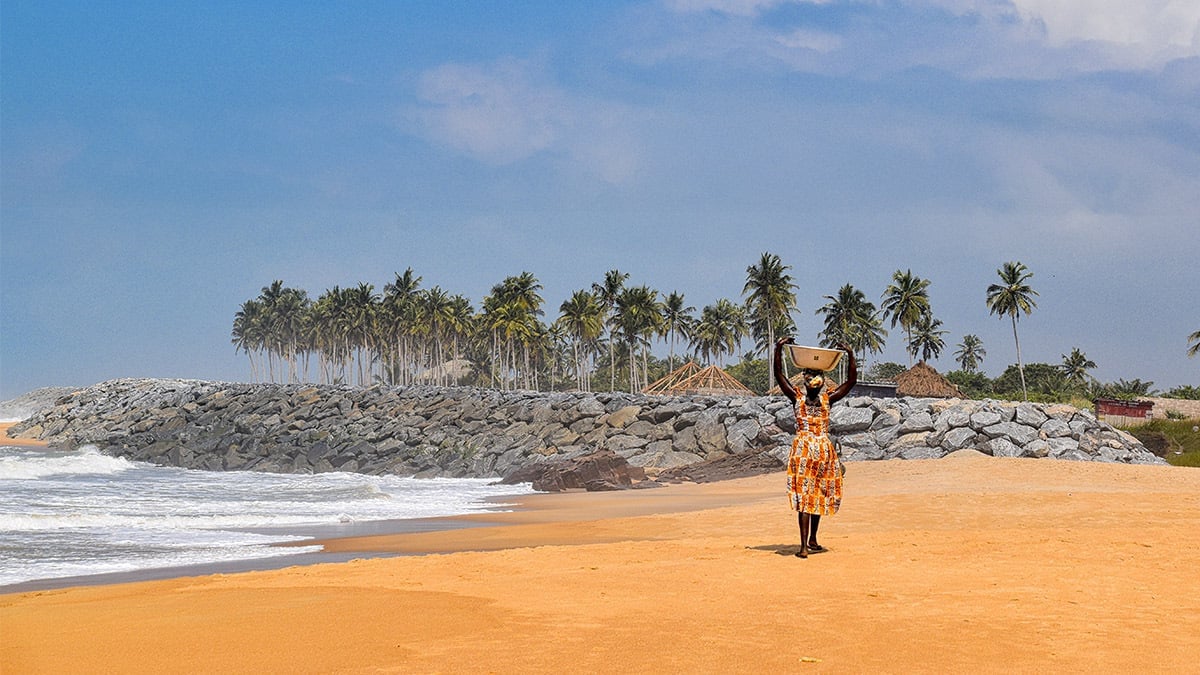 ---
---
Do I Need Travel Insurance for Ghana?
Ghana does not require travel insurance for visitors to enter the country. While not mandatory, travel insurance is recommended for international trips to Ghana to protect travelers against preventable financial burden.
Various situations like emergency medical events, transportation service disruptions, lost luggage, and more may be covered, depending on the travel insurance plan.
How Much Does Ghana Travel Insurance Cost?
Typically, travel insurance isn't one-size-fits-all, so the price of travel insurance for Ghana may vary depending on the details of the trip. Travelers can usually expect travel insurance rates to be determined by the duration of a trip, the size of the traveling party and their ages, and the coverage included in the plan.
The cost of travel insurance for Ghana is also determined by the risks involved. This would mean that covering a trip that lasts a month would usually cost more than covering a shorter trip with the same travelers and levels of coverage. Similarly, younger travelers and children sometimes cost less to cover, with some providers offering Ghana travel insurance coverage for minors at no extra cost.
What Does Travel Medical Insurance for Ghana Cover?
Every trip is different and travel medical insurance for Ghana may vary to meet a traveler's unique needs. Travel health benefits may be purchased as a freestanding plan or as part of a comprehensive plan that can also include coverage for travel-related expenses like baggage loss, delays, cancellations, and more.
Most Ghana travel health plans offer emergency medical and dental treatment, hospital fees, and medical evacuation. Additional benefits may be included with some plans as needed. Common coverages for international insurance for Ghana may include:
Trip interruption
Pre-existing health conditions
Accidental Death & Dismemberment
Most domestic health insurance companies only offer coverage for expenses in a traveler's home country. Therefore, it may be important to get information regarding your domestic health plan's international coverage — if any — before purchasing Ghana travel protection.
What is the Best Travel Insurance for Ghana Trips?
Ghana is rich in history and culturally diverse, attracting visitors for a wide array of reasons. There are no specific entry requirements regarding travel insurance for Ghana, so a travel insurance policy for this scenic African country should be designed to cover travelers' individual needs. When visitors search for the best travel insurance for Ghana, it's recommended to consider all planned activities in the country as well as personal health, safety, and travel concerns.
Travelers are encouraged to use the online travel insurance quote tool to filter Ghana travel insurance plans by their trip details. Compare various providers, prices, and reviews made by your fellow travelers to identify coverage that most suits your next trip abroad.
---
Travel Tips & Safety for Ghana
Money & Currency Exchange
The official currency of Ghana is the Ghanaian cedi (GH₵ and GHS). Each cedi is divided into one hundred subunits, called pesewas (Gp). Ghanaian cedi banknotes come in denominations of GH₵1, GH₵2, GH₵5, GH₵10, GH₵20, GH₵50, GH₵100, and GH₵200. Coins in circulation come in values of 1Gp, 5Gp, 10Gp, 20Gp, 50Gp, GH₵1, and GH₵2.
While some larger businesses and chains may accept USD, the official currency for transactions is the Ghanaian cedi. Ghana is largely a cash-based society. Bartering and bargaining are common among Ghanaians. Offering a cash tip, known locally as a dash, is also customary when receiving services from tour guides, drivers, and upscale restaurant staff although the percentage is lower than the 15-25% typical in the U.S. Another difference is that tips are oftentimes given before the service is provided.
We recommend that travelers visiting Ghana make plans to exchange some of their home currency for local cash. Keep in mind that it may be more difficult to get exact change when using larger bills for transactions, so it's best to have a variety of larger and smaller banknotes. Mobile money, sometimes called MoMo, and ATMs provide some of the most convenient ways for foreigners to exchange money. Travelers can also use exchange services, but it's important to remember that using bills larger than $50 USD tend to result in more favorable rates.
While foreign credit cards are accepted at some business, especially in the larger coastal cities, more remote areas are unlikely to support such transactions, so using ATMs is the more consistent option. It's a good idea to let your issuing bank know of your travel plans to prevent your account from being flagged or frozen. You'll also want to check if there are any fees associated with international transactions. Petty theft does occur in Ghana, so be mindful about accessing and carrying cash and valuables.
---
Top 15 Travel Destinations & Tourist Attractions in Ghana
Labadi Beach (Accra)
Kakum National Park
Kwame Nkrumah Memorial Park & Mausoleum (Accra)
Lake Bosomtwe
James Fort & James Town Lighthouse
Kokrobite Beach (near Accra)
Cape Coast including Cape Coast Castle
Aburi Botanical Garden
Mole National Park
Elmina Castle
Lake Volta
National Museum of Ghana (Accra)
Artists Alliance Gallery (Accra)
Kumasi Zoological Gardens
Okomfo Anokye Sword Site (Kumasi)
---
U.S. / Ghana Embassy and Consulate Locations
U.S. Embassy in Ghana
U.S. Embassy Ghana
No. 24, Fourth Circular Rd., Cantonments, Accra
P.O. Box GP 2288
Accra, Ghana
Phone: 233.030.274.1000
Ghanaian Embassy and Consulate in USA
Washington DC — Ghanaian Embassy
3512 International Drive NW
Washington DC 20008 United States
Phone: 1.202.686.4520
New York, New York — Ghanaian Permanent Mission to the UN
19 East 47th Street
New York, NY 10017 United States
Phone: 11.212.832.1300
Disclaimer: The information contained in this article serves as a general overview of benefits and should only be used for informational purposes. Refer to your individual certificate of insurance for specific coverages, exclusions, and benefits. When in doubt, please contact one of our licensed agents for additional assistance.