Travel Insurance for Morocco
Last updated on 09/18/2023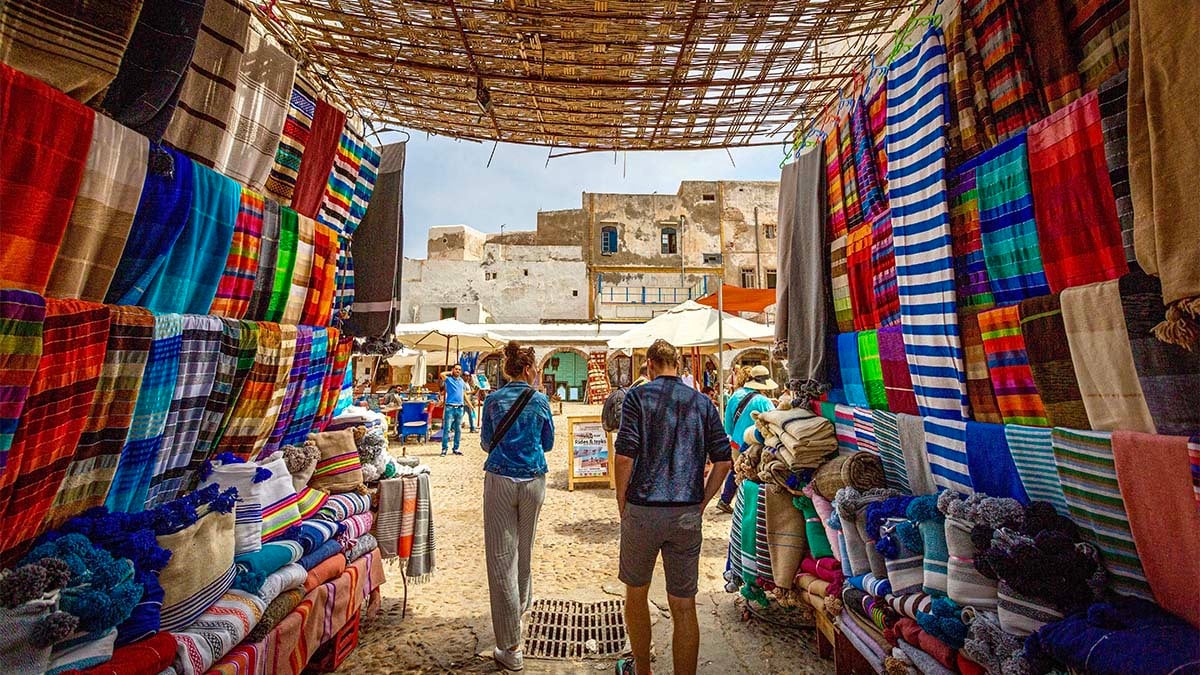 ---
---
Do I Need Travel Insurance for Morocco?
Though travel insurance is not required to enter Morocco, coverage is highly recommended for all travelers due to the unpredictability of international travel. Whether traveling for business or pleasure, visitors to Morocco often benefit from travel insurance when encountering events such as travel delays, illness, and other disturbances during a trip abroad.
One of the most common reasons travelers purchase international insurance for Morocco is for travel medical insurance, but there are many additional reasons to consider coverage when traveling overseas. For example, Morocco is a coastal nation, so many travelers cruise or fly into the country. Airport and airline personnel occasionally mishandle baggage, resulting in loss or damage to personal items. Travelers flying with an airline may consider travel insurance to cover such baggage issues, flight delays, and missed connections on their way in or out of Morocco.
Some travelers look for travel insurance coverage to protect their Moroccan trip in case a cancellation becomes necessary. Understanding the difference between benefits such as trip cancellation and Cancel For Any Reason (CFAR) can help travelers identify the coverage that most closely addresses their personal concerns when traveling to Morocco.
How Much Does Morocco Travel Insurance Cost?
Just as each trip to this vibrant country varies, so too does the price of travel insurance for Morocco. The cost of travel insurance depends on travel details like the duration of the trip, as well as the type of coverage included and the ages of the travelers. For example, older travelers may pay a higher price due to increased health risk, but children under the age of 17 can be covered by some plans at no extra cost.
What Does Travel Health Insurance for Morocco Cover?
Travel health insurance can be a great asset to travelers in emergency situations, often able to cover hospital fees and medical treatment in case of pain, illness, or injury worldwide. Most domestic health insurance companies only cover the costs of medical treatment in a patient's home country. So, travel health insurance for Morocco can play a vital role in protecting a visitor during an international trip.
Additional benefits available for many travel medical plans include, but are not limited to:
Pre-existing conditions
Trip interruption
Baggage issues
Injury from sports and excursions like surfing in Morocco are not always covered by travel health insurance, and travelers partaking in such activities may consider specific coverage designed to keep travelers protected during and after high-risk activities.
What is the Best Travel Insurance for Morocco Trips?
Just as the cost of travel insurance varies on a trip-by-trip basis, the type and amount of coverage each traveler needs to address their own needs, itinerary, and budget will vary.
To compare Morocco trip insurance providers and benefits, simply start a free travel insurance quote online. All travelers are encouraged to consider their party's health status, concerns, and plans for the trip when deciding on a travel protection plan for Morocco.
---
Travel Tips & Safety for Morocco
Money & Currency Exchange
Morocco's official currency is the Moroccan dirham. Travelers can expect to see the currency code MAD to represent the Moroccan dirham, and prices will be marked by the symbols د.م. or Dhs. Be advised that both the Moroccan dirham and the Emirati/United Arab Emirates dirham may be referred to as just "Dirhams" but are two entirely different currencies. The Moroccan dirham is what's known as a closed currency, meaning all currency from Morocco must stay within Morocco and cannot be traded outside the country. In general, the best ways to exchange your home currency for the Moroccan dirham are withdrawing from ATMs and trading with exchange bureaus in Morocco. Moroccan ATMs may only accept cards with 4-digit pin numbers. Keep all receipts from your exchanges in case you have leftover dirham at the end of your trip — you may need the receipts to change your money back to your original currency at an airport. The Moroccan dirham can be divided into 100 centimes, or santim. Morocco uses banknotes with values of 20, 50, 100, and 200 dirhams, and coins with values of 1⁄2, 1, 2, 5, and 10 dirhams. 10 and 20 centime coins also exist but are rarely used.
Transportation
Public transportation tends to be the favorite of locals and travelers in Morocco. Perhaps the most common method of public transportation in the country is the bus. Some buses run within Moroccan cities, while others travel longer distances to connect destinations to one another. There are also two types of taxis in Morocco: the petit taxi and the grand taxi. The petit taxi is affordable and can typically hold up to 3 passengers, while the grand taxi may hold up to 6 or 7 passengers and costs a little more than its counterpart or a bus. Trains are generally the faster and more comfortable mode of transportation in Morocco due to the fact they are punctual and equipped with air conditioning. Several rail networks link the country's major cities, including Marrakech, Fez, Casablanca, and more. Some tourists may choose to rent and drive a private vehicle or hire a driver or tour company to drive custom routes instead.
Risk & Crime
A trip to Morocco is generally safe if you know what to look out for. Scam artists and pickpockets in Morocco are reported often, so stay vigilant and never leave your personal belongings with people you meet during your trip. One common tourist scam in Morocco involves locals befriending tourists and gaining their trust over the course of several days, showing them different cities, etc., only to end up stealing everything they can from them. Occasionally, locals may also offer unsolicited help to tourists and then demand payment. Although this isn't always the case and many Moroccans may be genuinely friendly, travelers should be aware of these risks and always tread carefully when speaking with strangers. Additionally, keep all your belongings close to your body, hidden, and completely inaccessible to the public.
Natural risks include contact with dangerous creatures like scorpions and snakes in the Sahara Desert and mountain areas, as well as weather events like extreme heat, flooding, and earthquakes. Drink plenty of bottled, filtered, or purified water during your trip. The most up-to-date Morocco weather information can be found on the Maroc Meteo website.
---
Top 15 Travel Destinations & Tourist Attractions in Morocco
Chefchaouen
Marrakesh/Marrakech
Essaouira
Fez/Fes
Rabat
Meknes including Bab al-Mansour
Casablanca including Hassan II Mosque
High Atlas Mountains including Toubkal National Park & Jebel Toubkal
Asilah
Tangier
Merzouga
Draa Valley
Ouarzazate
Sidi Ifni
Erg Chigaga
---
U.S. / Morocco Embassy and Consulate Locations
U.S. Embassy in Morocco
U.S. Embassy Rabat
Km 5.7, Avenue Mohamed VI
Souissi, Rabat 10170 Morocco
Phone: 212.0537.637.200
Moroccan Embassy and Consulate in USA
Washington DC — Moroccan Embassy
1601 21st St NW
Washington DC 20009 United States
Phone: 1.202.462.7979
New York, New York — Consulate General of the Kingdom of Morocco
10 E 40th St, 24 Floor
New York, NY 10016 United States
Phone: 1.212.213.9644
New York, New York — Permanent Mission of Morocco to the United Nations
866 2nd Ave, 6th Floor
New York, NY 10017 United States
Phone: 1.212.421.1580
Disclaimer: The information contained in this article serves as a general overview of benefits and should only be used for informational purposes. Refer to your individual certificate of insurance for specific coverages, exclusions, and benefits. When in doubt, please contact one of our licensed agents for additional assistance.