Travel Insurance for UK
Last updated on 05/18/2023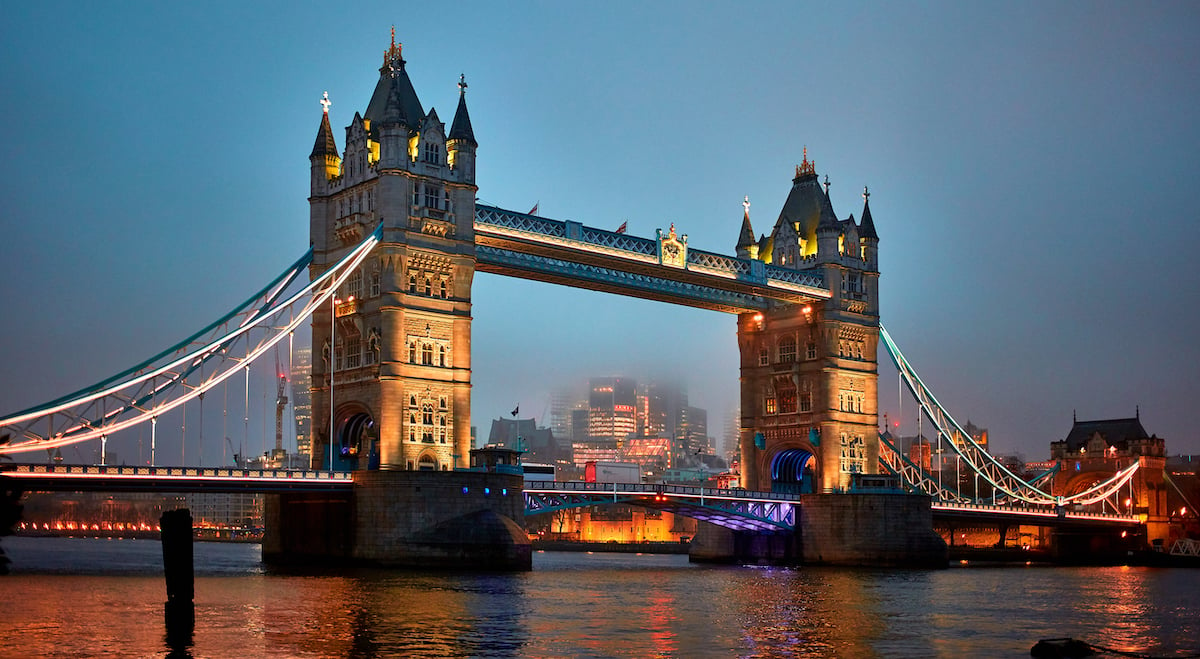 ---
---
Do I Need Travel Insurance to Visit the United Kingdom?
If you're a U.S. citizen looking to travel to the United Kingdom, you may be wondering whether travel insurance is required for your trip. While travel insurance is not a requirement for UK trips, citizens of the United States may want to consider purchasing trip coverage. Many American travelers carry health insurance through their employers or the government marketplace, but these policies typically will not cover healthcare costs when traveling abroad. For this reason, UK travel insurance is a good idea. Policies and coverages range from single medical coverage to comprehensive and can include additional benefits, like insuring trip cost, covering lost baggage, or canceling for any reason (CFAR).
The advantage of buying travel insurance for a UK trip from InsureMyTrip is that we not only offer a variety of coverages, but we also allow travelers to quote, compare and buy from 20+ providers in one convenient place. Those considering travel to Great Britain, including England, Scotland, Wales, and Northern Ireland, can also read reviews from other customers who already made the trip. Impartial reviews and the wide range of options make it easy to find the right plan for your needs.
Is Travel Insurance Required for UK Visitor Visas?
Travel insurance is not required for UK Visitor Visas for up to six-month stays, but proof of medical insurance is required for Schengen Visas. However, U.S. citizens traveling to the United Kingdom are not required to obtain a Schengen Visa. It's a good idea to view the full list of Schengen area countries as well as which countries' citizens require Schengen Visa to enter the European Union before planning your Great Britain getaway. Be sure to stay up to date on current UK travel policies as well since the politics of the EU often change over time.
How Much is Travel Insurance to the UK?
Travelers planning a trip to the UK often want to know specifically how much travel protection will cost, but the short answer is it depends. The cost of UK travel insurance varies based on several factors including the age and number of travelers, the types of coverages and benefits needed, whether the cost of the trip will be insured, and even the providers themselves. As with most insurance, getting a quote with your details as well as those for any traveling companions is the best way to determine the range of options.
Another common question we get from those traveling to the United Kingdom is: "What is the best travel insurance for the UK?" Like cost, the "best" plan is dependent on the individual needs of the travelers. For instance, a millennial without any current medical conditions would find the "best" coverage for them is very different from a Generation Xer with a pre-existing condition. Age, medical history, number of traveling companions, scheduled activities during the trip - these are all factors that could lead to different coverage for different travelers, even to the same country. Unlike other comparison sites, InsureMyTrip recommends the "best" coverage options for each traveler and trip by understanding the traveler's details. Whether you purchase a plan on the website or from one of our licensed Customer Care Representatives, you will get a plan that covers your concerns. Additionally, InsureMyTrip provides impartial reviews for every plan so customers can learn from other travelers' experiences. You can even filter plan reviews for specific destinations to get the most relevant insights.
What About Brexit?
More and more customers have been asking us questions about the impact of Brexit. While the details of the UK's exit from the EU still haven't been finalized, we are monitoring the developments closely to determine how travel insurance will be affected by Brexit.
---
Travel & Safety Tips for the United Kingdom
Money & Currency Exchange
Seasoned travelers to Britain are pretty familiar with the difference in currency, but it can be a bit daunting for first-timers. The UK uses the pound, or more officially "pound sterling". Sometimes abbreviated as GBP, the pound is similar to the dollar in that it is divided into 100 units, or pence. One big difference though is that the U.S. one-dollar bill is the smallest paper note, but the UK's smallest note currently in circulation is the 5-pound note. British coins include 1 penny, 2 pence, 5 pence, 20 pence, 50 pence, 1 pound, and 2 pounds. British notes include the aforementioned 5-pound as well as 10, 20, 50, and 100-pound denominations. However, travelers to Scotland may encounter Scottish one-pound notes and other older currencies as well so it's important to always pay attention, especially when receiving change. In addition to knowing the money system, it's a good idea to understand any slang terms that may apply. "Quid" is commonly used interchangeably with "pound"; or you might hear the word as "nicker". Here's a great resource that goes into depth about the history of the currency and additional colloquial terms that apply.
Many travelers would argue that what's even more important than the currency used is the exchange rate for it. The exchange rate between the pound and U.S. dollar often fluctuates, so it's a great idea to check rates before heading to the currency exchange either domestically or once you arrive. ATMs provide a convenient way to exchange money if your bank doesn't charge an international fee. Pay attention to the fees charged by the ATMs and banks, so you're not losing more money than necessary on those transactions. There are a variety of programs and apps that can help convert and track currency when traveling abroad.
Additionally, well-established businesses often accept credit card payments and some will even accept U.S. dollars so be sure to leverage that where possible. In short, do your research and be prepared. Also, pick ATMs that are inside businesses or shopping malls and avoid machines found on the street or in open public areas.
Crime Risk
One of the most popular reasons U.S. travelers frequent Great Britain is that crime risk is relatively low as compared to many other European destinations. This may be due to the fact that the UK does not permit private citizens to own firearms. Furthermore, English is the primary language in the UK, so communication is often easier between Americans and Britons and lessens the likelihood of being taken advantage. Still, many other languages are spoken, and the several dialects and accents of Britons can be difficult for foreigners to distinguish. Welsh, Scottish, and Northern Irish accents vary quite a bit from English accents and even English accents vary from places like Liverpool to the West Country.
As with traveling anywhere, staying vigilant in crowded places and having situational awareness is the best way to steer clear of safety risks. However, there are bad actors in every part of the world, so protecting yourself from theft and especially identity theft is a great idea. There are precautions travelers can take themselves as well like using a money belt instead of a wallet and keeping valuables in the safe at your hotel.
Be sure to stay up to date on any travel advisories issued for the United Kingdom and plan accordingly.
Transportation
While avoiding high crime areas is an obvious way to travel safely in the UK, many visitors don't realize that the laws governing the roads can be one of the most significant safety hazards. The UK is unique from most of the rest of the world in that cars and other automobiles travel on the opposite side of the road. Not only does this pose a risk to drivers but also pedestrians because they sometimes cross streets without looking the proper direction. If you plan to rent a car while traveling in the UK, make sure you're aware that the rules of the road are different, cars (and parking spaces) are typically smaller, and many automobiles have manual transmissions.
The UK has a well-regarded transportation system, which includes several major airports, train stations, and subway systems. The variety of transportation options makes it easy to get around the UK. You can even take cruises between the mainland and Northern Ireland, so think about cruise travel insurance or getting flight protection if your travels will include those modes of transportation.
Electricity
The standard voltage for the UK is 230V AC as opposed to 120V in the United States. Power outlets usually consist of three rectangular prongs rather than the two flat and one round in the states. Universal travel adaptors are great for not only the United Kingdom but also other locations with varying voltages. Pack one for your trip so you can avoid issues when using your electronic devices.
---
Top UK Travel Destinations
The United Kingdom consists of four different countries, so it's no surprise there are so many great travel destinations and tourist attractions. This "best-of" list breaks down some of each country's most popular destinations among UK travelers. Your travel itinerary will depend on the types of activities you enjoy, who you'll be traveling with, and of course budget, but this list is the perfect way to start planning your United Kingdom "holiday".
Popular England Travel Destinations
Cambridge
London
Bath
Manchester
Brighton
Oxford
Bristol
The Lake District
York
Stonehenge
Popular Scotland Travel Destinations
Edinburgh
Glasgow
Glencoe
Hebrides
Isle of Arran
Loch Lomond and the Trossachs
Loch Ness
Isle of Skye
Cairngorms National Park
Orkney
Popular Wales Travel Destinations
Snowdonia National Park
Conwy
Pembrokeshire Coast
Brecon Beacons National Park
Cardiff
Llandudno
St David's Cathedral
Portmeirion
Anglesey
Aberystwyth
Popular Northern Ireland Travel Destinations
Giant's Causeway
Carrick-a-Rede
Londonderry
Titanic Belfast
Bushmills
Lough Erne
The Dark Hedges
Carrickfergus Castle
Crumlin Road Gaol
Rathlin Island
---
U.S. / U.K. Embassy and Consulate Locations
U.S. Embassy and Consulate in the United Kingdom
U.S. Embassy London
33 Nine Elms Lane
London, SW11 7US, United Kingdom
Phone: 44.020.7499.9000
Belfast, United Kingdom — U.S. Consulate General
223 Stranmillis Rd
Belfast BT9 5GR, United Kingdom
Phone: 44.028.9038.6100
U.S. Consulate General Edinburgh
3 Regent Terrace
Edinburgh EH7 5BW, United Kingdom
Phone: 44.0131.556.8315
U.S. Consulate General Hamilton (Island of Bermuda)
16 Middle Road
Devonshire, DV 03, Bermuda
Phone: 441.295.1342
United Kingdom Embassy and Consulate in USA
Washington DC — British Embassy Washington
3100 Massachusetts Avenue, NW
Washington DC 20008 United States
Phone: 0207.008.5000
Los Angeles, California — British Consulate General
2029 Century Park East, Suite 1350
Los Angeles, CA 90067 United States
Phone: 1.310.789.0031
San Francisco, California — British Consulate General
1 Sansome Street, Suite 850
San Francisco, CA 94104 United States
Phone: 1.415.617.1300
Miami, Florida — British Consulate General
1001 Brickell Bay Drive
Miami, FL 33131 United States
Phone: 1.305.400.6400
Atlanta, Georgia — British Consulate General
133 Peachtree Street NE, Suite 3400
Atlanta, GA 30303 United States
Phone: 1.404.954.7700
Chicago, Illinois — British Consulate General
625 N Michigan Avenue, Suite 2200
Chicago, IL 60611 United States
Phone: 1.312.970.3800
Boston, Massachusetts — British Consulate General
One Broadway
Cambridge, MA 02142 United States
Phone: 1.617.245.4500
New York, New York — British Consulate General
1 Dag Hammarskjold Plaza
885 Second Avenue
New York City, NY 10017-6927 United States
Phone: 1.212.745.0200
Houston, Texas — British Consulate General
1301 Fannin Street, Suite 2400
Houston, TX 77002 United States
Phone: 1.713.210.4000
Disclaimer: The information contained in this article serves as a general overview of benefits and should only be used for informational purposes. Refer to your individual certificate of insurance for specific coverages, exclusions and benefits. When in doubt, please contact one of our licensed agents for additional assistance.