Travel Insurance for Maldives
Last updated on 09/18/2023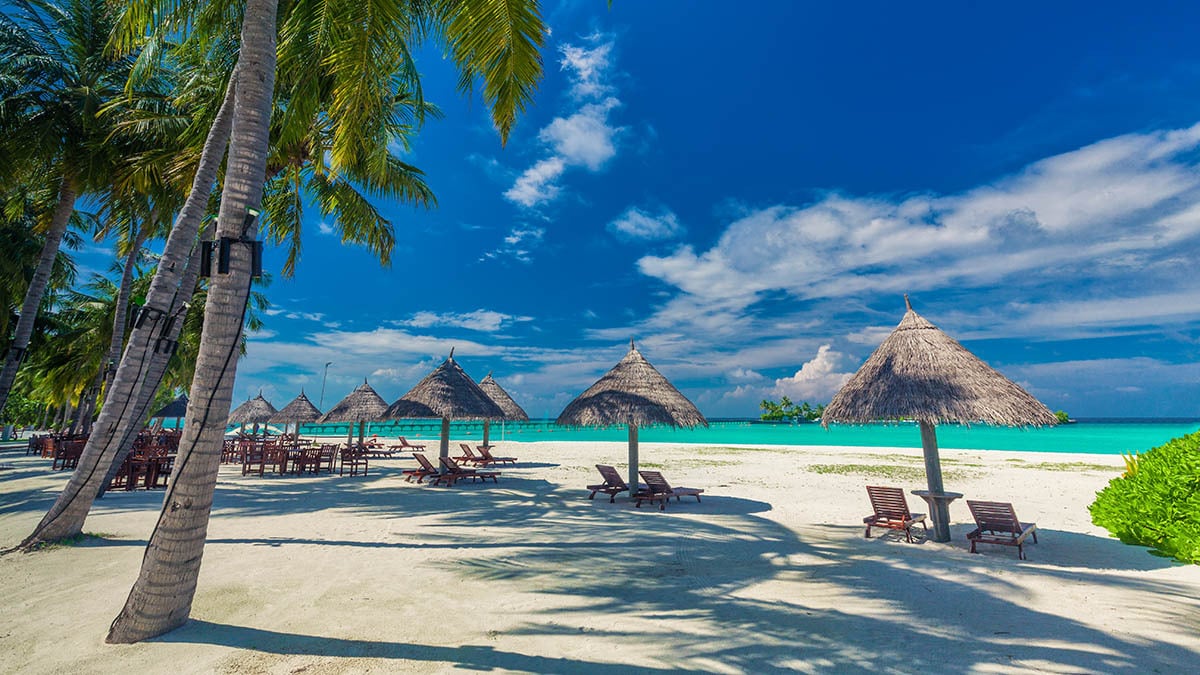 ---
---
Is Travel Insurance Mandatory for Maldives?
The Maldives is a nation made up of a scenic string of tropical islands, attracting visitors from all over the world. Travelers planning a trip to this archipelago often want to know, "Do I need travel insurance for a trip to the Maldives?" Although Maldives does not require travel insurance, coverage is recommended to protect travelers in unforeseen situations. Assistance with emergency medical treatment, lost baggage, delays due to weather or mechanical issues, and more are offered in many travel insurance plans for the Maldives.
How Much Does Maldives Travel Insurance Cost?
The price of travel insurance for the Maldives can vary depending on a trip's details, including the duration of the stay, number of travelers being covered, and the type of coverage. Additional factors sometimes influence the price of a travel insurance policy on a case-by-case basis.
In general, you can expect the Maldives travel insurance rates to be determined by the risk potential involved with the trip. For example, travelers may see an increased price when covering a longer stay overseas or a greater number of travelers, due to the higher likelihood of encountering disturbances during the trip. In some cases, travelers may want to insure the total cost of a trip, which can also influence the final price of a policy.
What Does Travel Medical Insurance for Maldives Cover?
Travel medical insurance for the Maldives can include coverage for hospital fees, emergency medical treatment, medical evacuation, and dental care. In many cases, visitors to the Maldives consider additional benefits to address certain health concerns, such as coverage for a pre-existing condition or for testing and treatment related to COVID-19. Please be advised that some benefits, such as coverage for pre-existing conditions, are time-sensitive or have certain eligibility requirements.
Adventure-seeking travelers may add specific travel insurance coverage in case of an accident during activities considered high-risk. For example, an injury sustained while skydiving or surfing in the Maldives may be covered with a hazardous sports rider. Some plans would otherwise exclude paying for injuries from these adventure sports.
Emergency medical coverage may be purchased in a stand-alone travel insurance plan or as part of a comprehensive plan which may also cover other elements of travel, such as vacation rentals, delays, and lost, delayed, or damaged luggage.
Most domestic health insurance companies will not pay for medical treatment in another country, so travelers concerned about illness or injury abroad are recommended to contact their domestic health insurance provider for details on international coverage limits. Traveling overseas can be unpredictable, and international insurance for the Maldives is often able to offer protection to travelers where domestic health insurance can't extend coverage abroad.
Does Maldives Travel Health Insurance Cover COVID-19?
Coverage for expenses related to COVID-19 is offered for many plans but is not available for every plan. For the most updated information about COVID-19 coverage, be sure to read the details of your specific travel insurance plan before purchasing.
What is the Best Travel Insurance for Maldives Trips?
Many travelers to this island nation want to know about the best Maldives trip insurance. However, a travel insurance plan may look different for every traveler, depending on specific itineraries and personal concerns. For some travelers, coverage for adventurous outdoor activities in the Maldives is a must. Similarly, some may prioritize trip cancellation or Cancel For Any Reason.
To compare and identify plans that may suit your next trip and budget, start a quote with InsureMyTrip's online travel insurance quote tool. InsureMyTrip recommends travelers to consider weather, health conditions, and all activities planned for the trip when comparing travel insurance for the Maldives.
---
Top 10 Travel Destinations & Tourist Attractions in Maldives
Malé including Artificial Beach
Maafushi
Banana Reef
COMO Cocoa Island
Alimathaa
Baros
Huvahandhoo
Mirihi
Emboodhu Finolhu
Kanuhuraa
---
U.S. / Maldives Embassy and Consulate Locations
U.S. Mission to Maldvies
U.S. Virtual Mission in Maldives
210 Galle Road
Colombo 03
Sri Lanka
Phone: 94.11.249.8500
Representatives of the Maldives in USA
Permanent Mission to the UN of the Maldives
800 Second Avenue, Suite 400-E
New York, NY 10017 United States
Phone: 1.212.599.619
Disclaimer: The information contained in this article serves as a general overview of benefits and should only be used for informational purposes. Refer to your individual certificate of insurance for specific coverages, exclusions, and benefits. When in doubt, please contact one of our licensed agents for additional assistance.