Travel Insurance for Singapore
Last updated on 07/20/2023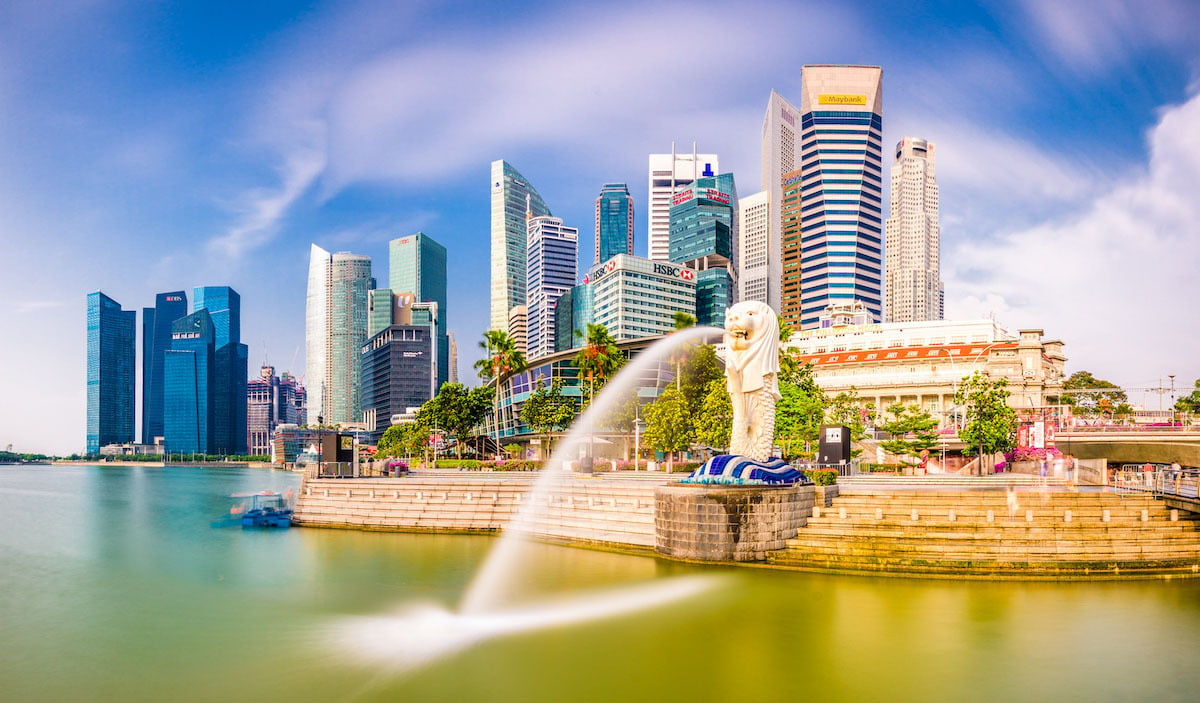 ---
---
Is Travel Insurance Mandatory for Singapore?
Singapore recently removed the travel medical insurance requirement for visitors. Previously travelers needed to secure coverage for COVID-19-related medical treatment and hospitalization with a minimum coverage amount of $30,000. Although, the coverage requirement has been lifted, we highly recommend that travelers still purchase travel insurance for Singapore trips. Not only can the right coverage protect against suprise costs associated with illness or injury, but travel mishaps like flight delays, weather disruptions, and lost or stolen baggage may also be covered.
What Does Singapore Travel Insurance Cover?
While travel health insurance ensures international visitors have health coverage while abroad, there are several other reasons to consider purchasing a Singapore travel insurance plan. For example, if you plan to fly, you could experience travel delays, damaged baggage, or even canceled flights. Inclement weather and natural disasters can also impact your travel plans. These scenarios may result in lost time and money if you do not have adequate coverage. Fortunately, we offer coverage that helps keep those traveling to Singapore protected against these types of travel hiccups.
Many travelers opt for a comprehensive travel insurance plan, which not only includes required travel medical coverage but also several benefits for travel delays, disruptions, lost luggage, and more. Combining these coverages into a single plan is a great way for travelers to maximize benefits without overpaying.
Travelers who are concerned they may need to end their trip early or cancel their travel plans entirely may want to consider a plan that includes trip cancellation benefits or the popular Cancel for Any Reason (CFAR) coverage. CFAR is optional and has eligibility requirements as well as limitations, so not all travelers will qualify. It is important to understand the difference between cancel for any reason plans and trip cancellation as well as the applicable restrictions to see which is optimal for your specific travel needs. Those interested in CFAR can easily check their eligibility with our free tool. The eligibility tool also helps travelers quickly understand the requirements and limits that apply to the Cancel for Any Reason benefit.
What is the Best Travel Insurance for Singapore Trips?
As we've outlined above, there are many options and coverage levels when it comes to purchasing a travel insurance plan for a trip abroad. Finding the "best" travel coverage for Singapore depends on your individual travel plans, itinerary, health, and many other personal factors. Comparing all available providers, benefits, and coverages is the only way to ensure you find the best travel insurance for your Singapore trip. Keep in mind that no matter which plan and options you choose, the coverage will need to meet the minimum travel medical requirements.
Can I Buy Travel Insurance for Singapore After Departure?
The short answer is yes, but the full answer is more nuanced. It's important to understand the fundamentals of when to buy travel insurance and how timing affects the types of coverage available. While it's technically possible to purchase travel insurance for Singapore after departure, you'll likely only be able to find travel medical plans. Because Singapore has minimum requirements, it's best to purchase travel protection coverage as early as possible to ensure these requirements are met.
In addition, more robust coverage, like a comprehensive plan that includes coverage for travel concerns like trip cancellation, should be purchased after making at least one payment towards the trip. In fact, some plans require the traveler to have already put money down. Other scenarios, like purchasing a plan with CFAR or obtaining a pre-existing conditions waiver are time-sensitive and have eligibility requirements tied to your initial trip payment. To summarize, once you've paid for a part of the trip (whether it's airline tickets, accommodations, or a down payment on a cruise) you have a limited amount of time to buy a plan and have access these additional benefits. In short, you must purchase travel insurance coverage before it is needed and buying earlier maximizes available benefits.
How Much Does Travel Insurance for Singapore Cost?
Many travelers heading overseas to visit the Pacific want to know how much travel insurance for Singapore will cost. The cost of a travel insurance plan depends on the ages and number of travelers in your party, the duration of the trip, and the kinds of coverage purchased. In general, travelers can expect increased premiums with increased risk. For example, a plan covering a three-month trip will typically cost more than week-long getaway to the same destination. Older travelers may also pay more for coverage due to increased risk of medical issues. In some cases, travelers may choose to insure their trip cost, which can also impact the overall cost of the plan.
Does Singapore Travel Insurance Cover Cruises?
Cruise coverage is not included by default on all travel insurance plans, however, many comprehensive plans do include coverage for cruisers. Purchasing a plan that includes cruise coverage is ideal for those planning to travel to Singapore via a cruise ship or plan to take a cruise while visiting the country. The most common coverages on cruise insurance plans typically include emergency medical, emergency medical evacuation, baggage loss or delay, identity theft, financial default, and hurricanes or other unforeseen severe weather. Some additional coverages may be available as well, which cover returning home early, shipboard service disruptions, pre-paid excursion reimbursements, and missed connections. While some cruise lines offer discount insurance directly through their booking process, these seemingly inexpensive plans usually do not provide adequate coverage for the avid cruiser. Purchasing third-party insurance through InsureMyTrip allows cruisers to compare coverage from multiple providers simultaneously, so they can find the right coverage for their individual needs.
Does Trip Insurance for Singapore Cover Extreme Sports?
Like cruise coverage, extreme sports coverage is not included on all trip insurance plans by default, but many offer the option for a hazardous sports rider. Typical travel protection plans will exclude certain action sports and high-risk activities. The hazardous sports rider removes these exclusions. If your trip to Singapore includes any high-risk activities or sports, consider opting for this upgrade to ensure you're covered.
Where Can I Buy Travel Insurance for a Singapore Trip?
InsureMyTrip makes it easy to compare plans and coverages from many providers all in one convenient place. To get a travel insurance quote for your trip to Singapore, simply enter your information and trip details into the quote form.
---
Travel Tips & Safety for Singapore
Money & Currency Exchange
Singapore's official currency is the Singapore dollar (SGD). Travelers may see prices in Singapore marked as SGD, S$, or $. Credit cards are generally accepted at tourist destinations and in other high-traffic areas, although restaurants, supermarkets, and shopping plazas may require a minimum purchase of S$20 to accept payment by card. Be advised that taxis may charge an extra 10% if you're paying by card, so it may be worthwhile to carry a small amount of cash (S$50 – 100). Cash in Singapore is exchanged in the form of coins and color-coded banknotes. During your trip, you may encounter paper money as well as plastic-like banknotes made of polymer.
It's often best practice to research current exchange rates shortly before your trip, as rates may fluctuate and money exchangers often offer varying, competitive rates. Travelers can compare exchange rates while walking through People's Park Plaza, where money exchangers are numerous.
Transportation
Singapore's combination of bus and metro (MRT, LRT) routes take locals and visitors within walking distance of nearly any point of interest in the "Garden city." There are three types of tickets for use on both bus and metro:
Standard Ticket for single trips
EZ-link card for multiple trips
Singapore Tourist Pass (STP) for 1, 2, or 3 days of unlimited travel
Public transportation in Singapore is scenic, comfortable, and fast. Of course, travelers may also rent their own car or bicycle to explore on their own time. Plenty of clean and spacious bike paths connect one Singaporean attraction to the next.
Risk & Crime
Singapore is widely considered a very safe country to visit. According to TravelSafe, Singapore scores a 90 out of 100 on the safety scale, surpassing nearly every other country on the list. While the overall risk of crime is very low, travelers should still look out for the unlikely chance of petty crime such as pickpocketing or tourist scams. In general, if you stay vigilant and keep your wits about you, you should be safe in Singapore. It's relatively common to see travelers walking or biking alone at night between attractions. As for natural disasters, Singapore may be a tropical destination, but the country is not prone to inclement weather. Flash floods, however, have been recorded between the months of October to December, so keep an eye on local weather reports before your trip.
---
Top 15 Travel Destinations & Tourist Attractions in Singapore
Gardens by the Bay
Singapore Botanic Gardens
Marina Bay Sands
Clarke Quay
National Gallery
National Museum of Singapore
Night Safari
Singapore Zoo
Buddha Tooth Relic Temple
Jewel Changi Airport
Kampong Glam
Merlion Park
National Orchid Garden
Singapore Flyer
Pulau Ubin (Granite Island)
---
U.S. / Singapore Embassy and Consulate Locations
U.S. Embassy in Singapore
U.S. Embassy Singapore
27 Napier Road
Singapore 258508
Phone: 65.6476.9100
Singaporean Embassy and Consulate in USA
Washington DC — Embassy of Singapore
3501 International Place, NW
Washington DC 20008 United States
Phone: 1.202.537.3100
San Francisco, California — Consulate General of the Republic of Singapore
595 Market Street, Suite 2450
San Francisco, CA 94105 United States
Phone: 1.415.543.4775
Miami, Florida — Honorary Consulate of the Republic of Singapore
1515 Sunset Drive. Suit No.44
Coral Gables, FL 33143 United States
Phone: 1.305.858.4225
New York, New York — Consulate of the Republic of Singapore
318 East 48th Street
New York, NY 10017 United States
Phone: 1.212.223.3331
Disclaimer: The information contained in this article serves as a general overview of benefits and should only be used for informational purposes. Refer to your individual certificate of insurance for specific coverages, exclusions, and benefits. When in doubt, please contact one of our licensed agents for additional assistance.