Travel Insurance for Vietnam
Last updated on 07/21/2023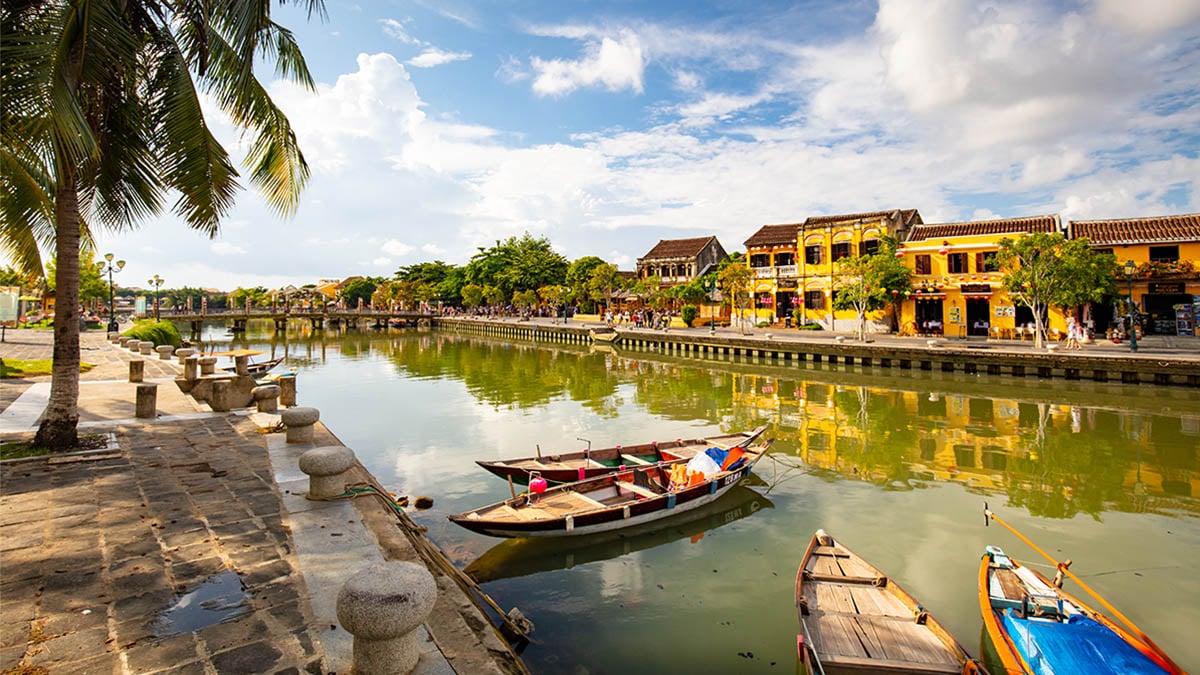 ---
---
Do I Need Travel Insurance for Vietnam?
Vietnam recently suspended its travel medical insurance requirement. Previously those entering Vietnam were required to secure insurance with a minimum of $10,000 liability to assist in the event of any COVID-19 treatment. Despite the removal of mandatory coverage, we continue to recommend that travelers purchase travel insurance for Vietnam trips. International medical coverage may help visitors to the country protect against illness and injury while abroad, but addtional coverages like trip cancellation, baggage loss, and travel delay are also available. Typically these coverages are offered as a part of a comprehensive plan. If you are concerned about airline delays or disruptions, unforeseen weather events, sudden illness or injury while overseas, trip cancellation, or other travel mishaps, purchasing trip insurance for Vietnam may be right for you.
How Much is Travel Insurance to Vietnam?
The price of Vietnam travel protection can vary depending on the age, health status, and number of travelers being covered, as well as the duration of the trip and type of coverage.
As risk involved with the trip increases, prices may also increase. For example, a trip to Vietnam that lasts one week may cost less than a two-week trip, even if the type of coverage is the same, due to the extended length of the trip. Additionally, a traveler with pre-existing health conditions can usually expect to pay higher rates than a traveler who does not have any diagnosed pre-existing conditions.
What Does Travel Health Insurance for Vietnam Cover?
Each Vietnam travel medical plan varies just as each trip and traveler varies. A travel medical insurance plan for Vietnam can be purchased as a standalone plan or as a part of a comprehensive travel insurance plan. A comprehensive travel insurance policy offers coverage for various travel-related expenses, such as cancellation, lost baggage, or delays.
Some common coverages to consider for a trip to Vietnam include:
Coverage for pre-existing conditions (obtaining a waiver for the condition before traveling)
Emergency Medical Evacuation
Certain high-risk activities like rock climbing are not covered by all travel health insurance plans. For tourists who want to partake in such activities, it's highly recommended to add a hazardous sports rider to your Vietnam travel medical plan.
Before purchasing any travel medical coverage for Vietnam, it's recommended to contact your domestic health insurance provider to understand how your health insurance policy will cover you while traveling abroad. Some domestic health insurance plans can assist with circumstances like hospital stays overseas, while some do not offer international coverage. Getting those details first can help you understand what additional insurance you may need to fill in any gaps in your protection in Vietnam, as well as avoid paying for any excess services you wouldn't need.
Should I Get Travel Insurance for a Trip to Vietnam?
Travel insurance is recommended for all visitors to Vietnam. Travelers may consider a policy that includes travel-related coverages such as emergency medical treatment, delays, and lost or damaged baggage. To find the right coverage for your next trip and budget, it's recommended to compare different travel insurance plans and narrow it down by the criteria that suits your personal situation. InsureMyTrip offers a free quote process with unbiased results to assist you in your search for the best travel insurance for Vietnam.
---
Travel Tips & Safety for Vietnam
Money & Currency Exchange
The official currency of Vietnam is the Vietnamese Dong (currency code: VND). During your trip, you can expect to see prices marked with the symbols ₫ or đ. Coins are rarely used in Vietnam, but they have been produced in values of 200₫, 500₫, 1,000₫, 2,000₫, 5,000₫. Vietnam's color-coded banknotes are made from two distinct materials: 1,000₫, 2,000₫, and 5,000₫ notes are cotton, while notes with values of 10,000₫, 20,000₫, 50,000₫, 100,000₫, 200,000₫, and 500,000₫ are made from polymer. Seem like a lot of zeros? One running anecdote between travelers to Vietnam is about becoming an "instant millionaire" when holding the Vietnamese Dong.
Credit cards are generally only accepted at hotels and some restaurants. To make purchases elsewhere or ride a taxi, you'll need to carry local currency. Exchange your home currency for Vietnamese Dong using an ATM, a money exchange desk at a hotel or airport, or a gold and jewelry shop in Vietnam. While money changing services at ATMs, hotels, and airports are convenient, the exchange rate isn't the best and many of these services charge extra fees for the exchange. Most often, you can find the best exchange rates (and avoid hidden fees) by exchanging currency at a jewelry shop in Vietnam. Gold and jewelry shops can be found along many of the main streets of Vietnamese cities.
Transportation
Public transportation in Vietnam is readily available and always lively. For long-distance travel, domestic flights are the quickest way to reach your destination, while trains offer a slower but much more scenic ride. For reference, one of Vietnam's most popular train routes between Hanoi and Ho Chi Minh City takes about 35 hours while its flight equivalent takes about 2 hours. Buses, taxis, and private rentals are great for exploring cities and rural locations alike. Buses are generally affordable and comfortable with air conditioning. Taxis and rideshare apps like Grab (Southeast Asia's most popular Uber-equivalent) are particularly useful for traveling your own routes on your own time. In addition to private cars, it's also common to hire and ride a motorcycle / motorbike in Vietnam. A motor service (xe ôm) is similar to a taxi, but instead of a car, you'll ride on the back of a motorbike. If you're confident about driving your own motorbike in Vietnam, you'll likely need to own one first. Some travelers choose to buy a motorbike in Hanoi, ride it for a while, and sell it back in Ho Chi Minh City or vice versa.
Risk & Crime
Thanks to the country's relatively low crime rate and law-abiding citizens, Vietnam is considered a safe destination for travelers. However, petty crime like scamming, pickpocketing, bag snatching is somewhat common, especially near airports, seaports, and train stations. To combat this risk, keep your valuables hidden from sight and close to your body. Better yet, lock your items away in a security box like a hotel safe. Stay aware of your surroundings when using a phone or camera near streets, as drive-by theft by motorbike riders has also been reported. As for scams, never leave your money or credit card with a stranger no matter what they say. If taking a taxi in Vietnam, use reputable companies such as Mai Linh and Vinasun to lessen the chance of coming across a false meter.
While Vietnam's tropical climate attracts plenty of visitors, this type of weather also opens the door to natural disasters like typhoons and flooding. Heavy rain falls hardest during summer in Vietnam. If your trip is between May to October, keep an eye on local weather and news stations for the most up-to-date forecasts. It's also best to bring or buy sunscreen and bug-repellent for your trip. Apply sunscreen in the morning and during the day, then bug-repellent around sunset or when applicable. Whenever possible, avoid wild creatures in the jungle and other unregulated areas. Some of the safest and most effective ways to combat the heat in Vietnam are drinking bottled water and wearing light, airy clothing.
---
Top 15 Travel Destinations & Tourist Attractions in Vietnam
Ho Chi Minh City (Saigon)
Hạ Long Bay
Hanoi
Hội An
Phong Nha-Ke Bang National Park
Phú Quốc Island
Huế
Sa Pa
Nha Trang
Đà Lạt
Mekong Delta
Hà Giang
Mũi Né
Ninh Bình
Ba Be National Park
---
U.S. / Vietnam Embassy and Consulate Locations
U.S. Embassy and Consulate in Vietnam
Hanoi, Vietnam – U.S. Embassy
7 Lang Ha Street
Hanoi, Vietnam
Phone: 84.24.3850.5000
Ho Chi Minh City, Vietnam – U.S. Consulate General
4 Le Duan Blvd., District 1
Ho Chi Minh City, Vietnam
Phone: 84.28.3520.4200
Vietnamese Embassy and Consulate in USA
Washington DC – Vietnamese Embassy
1233 20th St NW, Suite 400
Washington, DC 20036 United States
Phone: 1.202.861.0737
San Francisco, California — Vietnamese Consulate General
1700 California St, Suite 430
San Francisco, CA 94109 United States
Phone: 1.415.922.1707
Houston, Texas — Vietnamese Consulate General
5251 Westheimer Road, Suite 1100
Houston, TX 77056 United States
Phone: 1.713.850.1233
New York, New York — Vietnamese Permanent Mission to the UN
866 United Nations Plaza, Suite 435
New York, NY 10017 United States
Phone: 1.212.644.0594
Disclaimer: The information contained in this article serves as a general overview of benefits and should only be used for informational purposes. Refer to your individual certificate of insurance for specific coverages, exclusions, and benefits. When in doubt, please contact one of our licensed agents for additional assistance.