Travel Insurance for Thailand
Last updated on 07/20/2023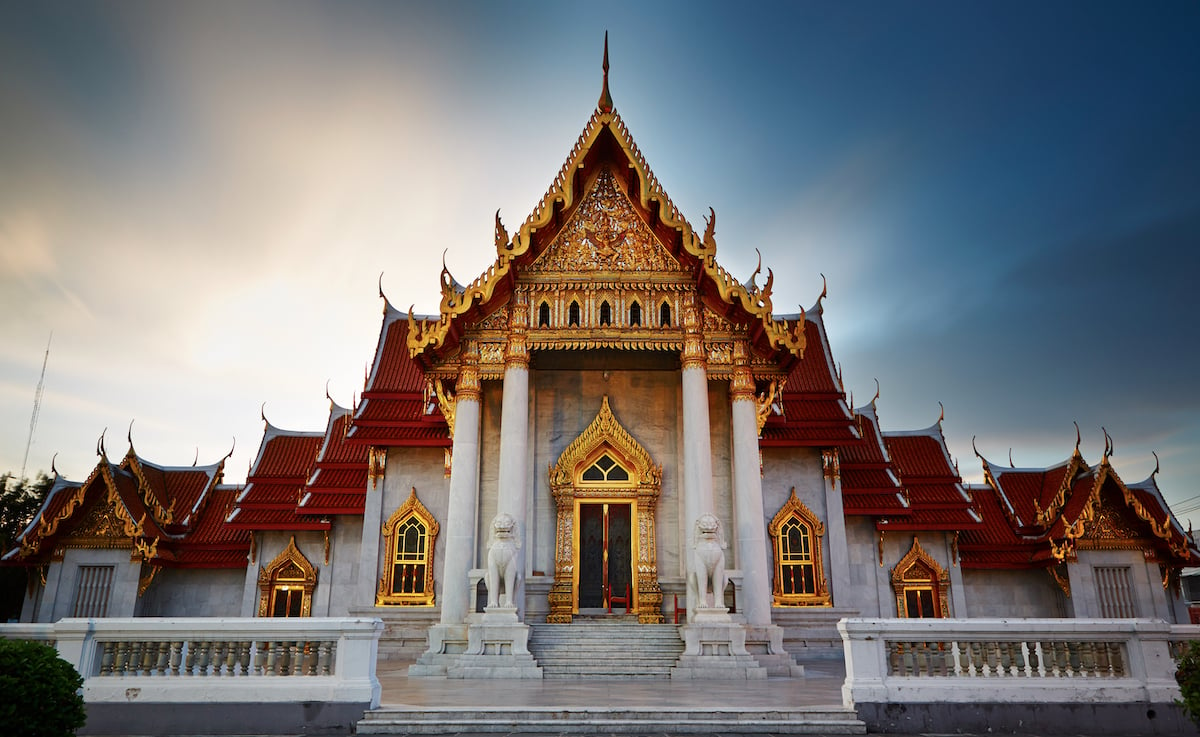 ---
---
Do I Need Travel Insurance for Thailand?
Travelers are no longer required to purchase travel medical insurance for trips to Thailand. Previously visitors to the country were required to secure coverage of at least $100,000 USD for COVID-19-related treatments and hospitalization for authorized entry. Although the requirement has been lifted, we continue to recommend that travelers purchase travel insurance for Thailand to protect against not only medical issues but also other common travel hiccups. For example, if your baggage gets lost or delayed along your trip, several comprehensive plans offer benefits to help cover essential items you need to comfortably enjoy your vacation while you wait for your bags to arrive or reimburse you for lost items. Another common reason travelers consider Thailand trip insurance is to protect against travel delays, like flight disruptions or even missed cruise connections. It is important to consider the nature of your trip and the types of activities you have planned when comparing and choosing the right insurance option.
Is Thailand a Schengen Country?
Thailand is not one of the countries in the Schengen Area. Because Thailand is not one of the Schengen Countries, travelers who are planning a Thai trip will not be required to purchase a specific insurance policy in order to get a travel visa.
Thai travelers planning a holiday to one of the countries in the Schengen Area may be required to purchase a travel insurance plan that meets the requirements of a Schengen Visa. InsureMyTrip offers several plans that are Schengen Visa compliant and are built specifically for travelers with unique needs who are traveling to the Schengen zone.
Do I Need a Visa to Travel to Thailand?
U.S. citizens who have a valid passport are not required to obtain a visa in order to enter Thailand. Travelers coming from the United States, UK or the EU all benefit from the visa exemption rule. This allows tourists from 55 countries who arrive via land or air, a 30-day stay in Thailand. This visa-free travel is easily extendable if tourists are planning a longer stay. Instead of a visa, travelers will need a passport that is valid for at least another 6 months. ASEAN passport holders are also granted a 30-day stay, but not always eligible for an extension.
If you wish to go on an extended trip, you can apply for a 60-day tourist visa in any Thai embassy. Generally, the tourist visa must be obtained before arriving in Thailand and must be used within 90 days from the date of issue. At the discretion of a Thai immigration officer, the tourist visa can be extended an additional 30 days for an additional fee. Be aware that many southeast countries such as Thailand require travelers to show proof of onward flights before they are allowed to enter the country. It is best to make sure your booking arrangements are in line before you depart, and that you have the necessary travel documents to show your itinerary.
What is The Best Travel Insurance for Thailand?
Customers often seek our advice for the best travel insurance for their trip to Thailand. Unfortunately, there is no "best" plan for everyone, but there are a few questions you can ask yourself to help determine your coverage needs. What, if any, pre-paid trip costs are you willing to lose? Are there unexpected travel expenses you would not be able to cover? Are there reasons such as poor weather near home or your destination that could cause to your cancel your trip unexpectedly? This is a good starting point to determine what level of coverage you need, though you will likely have unique concerns to consider.
How Much is Travel Insurance for Thailand Trips?
Another common question we get is "how much is travel insurance to Thailand?" The cost largely depends on your answers to the amount of coverage you need for your trip. There are travel insurance plans available for every journey and every budget. As travel insurance is not one-size-fits-all, the cost and coverage will vary based on the travelers in your party and the details of your trip itself. The more travelers in your party and the longer your trip is, the higher the rates tend to be. This is simply because with more variables there is more risk to insure. Some travelers choose to insure their full trip cost which can also raise the cost of coverage.
Luckily for those wondering how to get travel insurance, you can easily get a free quote online from InsureMyTrip. InsureMyTrip has searched through the details of over a thousand plans to provide the best plans for our customers. On our website, you can enter the specific details of your travelers and trip, compare plans, and read reviews from fellow travelers. Our mission is to help you find the plan that is right for your trip, and if you ever need further assistance, our licensed customer care team is available to assist you in your decision.
Thailand Travel Tips & Safety
Money & Currency Exchange
Thailand's official currency is the Thai Baht, which is abbreviated as THB. The baht comes in both paper notes and coins. Coins are available in 10, 5, 2, and 1 baht as well as 25 and 50 satang. There are 100 satang per baht, and they are rarely used today. Baht are also available in ฿20, ฿50, ฿100, and ฿1000 paper notes. Occasionally you may receive a ฿10 baht note as change, but they are no longer printed. Take care to treat the currency with respect, as it depicts the king and it is a criminal offense to disrespect the royal family.
Even though tourism is a major component of the Thai economy, USD and other foreign currency are not widely accepted in Thailand. Either prior to or after arrival, travelers will need to exchange for the baht. Luckily ATMs are easy to find in Thailand and will frequently accept most major credit cards. MasterCard and Visa are the most widely accepted credit cards in Thailand, and most tourist destinations will accept card payments. Be sure to contact your bank and credit card companies to let them know of your travel plans before you leave for Thailand to prevent any of your cards from being temporarily frozen. As a backup, savvy travelers will bring multiple cards from different issuers just in case they cannot access money in one of their accounts.
Transportation
Transportation across Thailand is varied depending on if you are in cities or rural areas. Thailand has a robust bus network that sprawls across the entire country, and while the buses are inexpensive, they tend to run slow. The bus Transportation Company, Baw Khaw Saw or BKS for short, is subsidized by the Thai government and links every town and city in the country. Thailand does not have a train network that covers the entire country, but travelers spending time in Bangkok will have access to the BTS Skytrain which is convenient, fast and inexpensive. The most popular mode of transportation for visitors planning on spending time in the rural portions of the country are motorcycles, bicycles, and tuk-tuks.
Driving in Thailand can be very daunting for foreigners. Though motorcycles are a popular mode of transportation, travelers should be cautious about renting a vehicle on their own. Drivers from North America should be prepared that Thai motorists drive on the left-hand side of the road. Many Thai motorists don't wear helmets and speeding is a serious problem that causes many accidents. Taxis are a cheap and readily available option for those not willing to take on the risks of the road themselves. To flag a ride hold your hand out horizontally with your fingers facing down because having your fingers pointing upwards is considered rude.
Culture
Thais are renowned as a friendly, welcoming, and fun-loving people. Thailand is the "Land of Smiles," after all! Thanks to this nickname, Thais are often seen as very laid-back but smiling can often be a social mask. Thai believe in avoiding confrontation or embarrassment, and the best way to save face is to ease any tension with a smile. Don't be offended if nearby onlookers giggle if they see you spill a drink or trip. They are simply trying to help you save face by laughing it off. Embrace the philosophy of "mai pen rai," which translates to "don't worry" or "everything is okay," to truly integrate yourself with the locals.
The national religion, Theravada Buddhism, is of great importance and impacts everyday life in Thailand. Thailand is home to tens of thousands of Buddhist temples and tourists flock to them not only for their spiritual significance but also their architectural beauty. Modesty is an essential aspect of Thai culture, and there is no exception when touring a temple. Make sure your knees and elbows are covered and remove all footwear before entering a temple. Visitors will see monks in and out of the temples along their travels. Monks are highly revered so travelers should avoid social faux pas that may unintentionally disrespect them. Female travelers need to pay special attention to their actions and never touch a monk, their belongings, or sit directly next to them.
Thai religion and spirituality place significance on many aspects of the body. The head is viewed as the most spiritual part of the body. Take care to not accidentally touch someone's head, and if you must pass between a group bow your head slightly so that it is lower than theirs. Feet are the lowest part of the body, literally and symbolically. Feet should not be pointed at another person or Buddha image. Be careful when crossing your legs, as even this motion can be seen as potentially rude.
Speaking the Language
English is widely spoken in Thailand's resort and urban areas thanks to a booming tourism industry. Travelers will find that if you go to Northern Thailand or off the beaten path to more rural locations, you will likely cross paths with locals who do not speak any English. Thai people are typically friendly and patient with tourists so a humble and pleasant demeanor while pantomiming will help you along. It never hurts to learn a few basic Thai phrases, though!
Risk & Crime
The most common accidents in Thailand are scooter or moped-related. According to the World Health Organization, Thailand is the second-deadliest country for traffic fatalities. Despite numerous government safety initiatives, motorbikes continue to be very dangerous. Foreign licenses are not accepted in Thailand and an international driving license is required if you choose to rent a vehicle on your trip. Thousands of visitors each year ride unlicensed, but this is illegal and travel insurance will not cover you in the event of an accident.
Another risk travelers face when going to Thailand is that there is the possibility of getting sick while abroad. Protecting against this risk starts at home before you even leave for your trip. For most trips to Thailand, the CDC recommends that travelers are vaccinated against childhood diseases in addition to the vaccination for Hepatitis A and Typhoid. Depending on where in Thailand you go and how long you intend to stay, you may want to consider additional immunizations.
There are areas in Thailand where there is a risk of contracting malaria. You may need to take prescription medication before during and after your trip to prevent malaria, so be sure to check your itinerary and talk with your doctor before departing for your travels. Pack plenty of insect repellent and wear long clothes when possible to avoid tick, fly, and mosquito bites.
Make sure to check the current travel advisories for Thailand before you depart.
Popular Destinations & Tourist Attractions in Thailand
Known for stunning temples, globally-adored cuisine, tropical weather and vibrant nightlife, Thailand is a country with something for everyone. We've aggregated a list of our top 10 Thai destinations to help inspire your itinerary, but you should choose locations based on the activities that interest you the most! For example, some travelers are content enjoying the beauty of the Thai Temples and relaxing on the beach, while some adrenaline junkies may be looking for the best limestone cliff to climb. Keep in mind Thailand's rainy season lasts nearly half a year running from June to October. Though you may not get to everything on your to-do list, you can save a lot of money and bump into fewer tourists by traveling during the rainy season.
Top 10 Travel Destinations in Thailand
Bangkok
Chiang Mai
Phuket
Phi Phi Islands
Mae Hong Son
Koh Phangan
Nakhon Ratchasima
Koh Chang
Udon Thani
Pattaya City
U.S. / Thailand Embassy and Consulate Locations
U.S. Embassy and Consulate in Thailand
U.S. Embassy Bangkok
95 Wireless Road
Bangkok 10330, Thailand
Phone: 66.2.205.4000
U.S. Consulate General Chiang Mai
387 Witchayanond Road
Chiang Mai 50300, Thailand
Phone: 66.53.107.700
Thailand Embassy and Consulate in USA
Washington DC — Embassy of Thailand
1024 Wisconsin Avenue, N.W., Suite 401
Washington DC 20007-3681 United States
Phone: 1.202.944.3600
Los Angeles, California — Royal Thai Consulate-General
611 North Larchmont Blvd., 2nd Floor
Los Angeles CA 90004 United States
Phone: 1.323.962.9574
Chicago, Illinois — Royal Thai Consulate-General
700 North Rush Street
Chicago, IL 60611-2504 United States
Phone: 1.312.664.3129
New York, New York — Royal Thai Consulate General
351 East 52nd Street
(between 1st Ave and 2nd Ave)
New York, NY 10022 United States
Phone: 1.212.754.2536
Disclaimer: The information contained in this article serves as a general overview of benefits and should only be used for informational purposes. Refer to your individual certificate of insurance for specific coverages, exclusions and benefits. When in doubt, please contact one of our licensed agents for additional assistance.