Quarantine, Isolation, & Shelter-in-Place: What's the Difference?
Last updated on 04/22/2022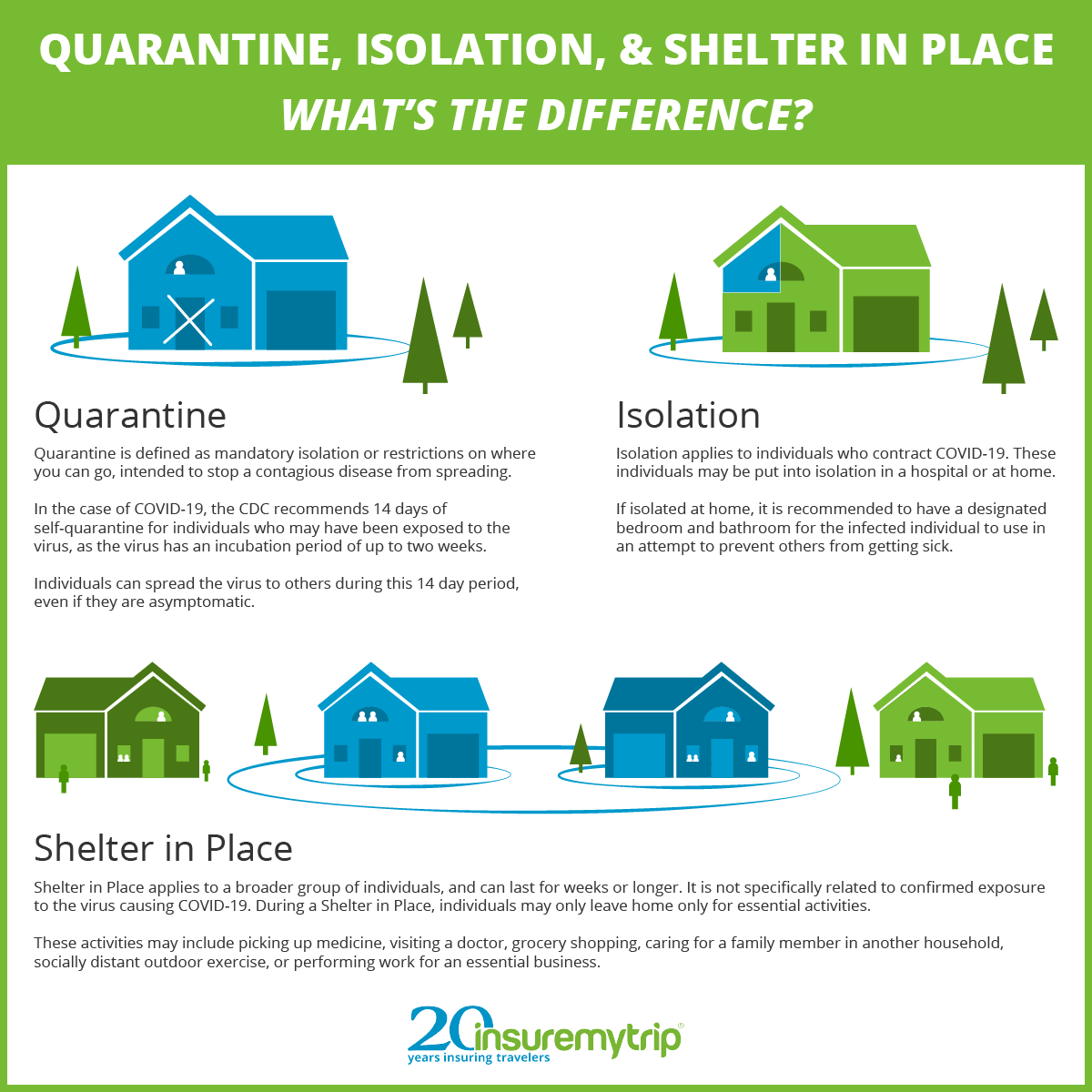 In an attempt to slow the rise in COVID-19 cases, many destinations - both domestic and international - have implemented mandatory quarantine periods for travelers upon arriving from specific destinations. This has caused a great deal of confusion among travels about which destinations require this, who it applies to, and if travel insurance can help those who have had trip travel impacted by this order.
What is the Difference Between Quarantine, Isolation, and Shelter in Place?
The terms self-quarantine, isolation, and shelter-in-place have been commonly used in regards to the COVID-19 pandemic, but it is important to understand the differences between these.*
Quarantine:
Quarantine is defined as mandatory isolation or restrictions on where you can go, intended to stop a contagious disease from spreading. In the case of COVID-19, it applies to individuals who may have been exposed to the virus that causes COVID-19 and have been asked to stay at home under strict guidelines. The Centers for Disease Control and Prevention (CDC) recommends 14 days of self-quarantine as the virus has an incubation period of up to two weeks and individuals can spread the virus to others during this time, even if they are asymptomatic.
Isolation:
Isolation applies to individuals who contract COVID-19. These individuals may be put into isolation in a hospital or at home. If isolated at home, it is recommended to have a designated bedroom and bathroom for the infected individual to use in an attempt to prevent others from getting sick.
Shelter in Place:
Shelter in place applies to a broader group of individuals, and can last for weeks or longer. It is not specifically related to confirmed exposure to the virus causing COVID-19. During this time, individuals may only leave home only for essential activities. These activities may include picking up medicine, visiting a doctor, grocery shopping, caring for a family member in another household, socially distant outdoor exercise, or performing work for an essential business.
What Destinations Require Quarantine Upon Arrival?
The COVID-19 pandemic is an evolving situation with continuous updates and changes to guidelines and policies.
In terms of domestic travel restrictions, the team at InsureMyTrip has aggregated recent data from reliable sources and condensed it into maps, which are continuously updated, to reflect the latest restrictions and guidelines for each state. This map is to be for informational and educational purposes only and is intended to offer travelers guidance regarding domestic travel. Due to the developing situation and lack of uniform reporting methods between states, some information may not be current. Please check the official state website of any state you plan to travel to/through for the most accurate information at the time of travel.
For information on international travel restrictions, we recommend referring to the U.S. Department of State website for specific country information and current guidelines.
Does Travel Insurance Cover Mandatory Quarantine?
Mandatory quarantine may be covered under Trip Cancellation, Trip Interruption, and/or Travel Delay coverages. Coverage may be provided in the event a traveler is forced into quarantine, typically by a physician's order. Only select travel insurance plans will offer this so be sure to review your policy carefully before purchasing.
Cancellation due to shelter in place, stay-at-home orders, or a state-mandated quarantine are not covered unless Cancel for Any Reason (CFAR) has been purchased.
What if My Destination Requires Quarantine Upon Arrival and My Visit is for Less Time than the Minimum Quarantine Time?
Let's say you have a weeklong vacation planned in Hawaii. If Hawaii requires out-of-state visitors to quarantine for 14 days and your planned vacation is only for 7 days, you may spend your entire vacation in quarantine. In this instance, a policy with optional Cancel For Any Reason protection is recommended as fear of quarantine is not a covered reason to cancel a trip on any standard comprehensive travel insurance plan. Travelers will want to be sure to insure flights and any other prepaid, non-refundable expenses that they may be paying for prior to departure. There are some eligibility requirements for Cancel For Any Reason protection, such as insuring 100% of prepaid, non-refundable trip costs, purchasing your coverage within 10-21 days after making your initial trip payment/deposit, and you must cancel your trip no less than 2 days prior to departure. Cancel For Any Reason can reimburse a portion, typically up to 50%-75%, of your trip cost depending on the plan purchased. A policy with Cancel For Any Reason selected can cost an additional 40%-60% more than a standard policy, is not available in all states, and eligibility requirements may differ by company.
*DISCLAIMER: This article is provided for general information and educational purposes only. It is intended only to offer travelers general guidance when comparing travel insurance plans and coverages. Please review any plan carefully before purchasing to identify any exclusions before purchase. For further clarification, please speak with our licensed representatives at 800-487-4722.