Travel Insurance for Argentina
Last updated on 07/18/2023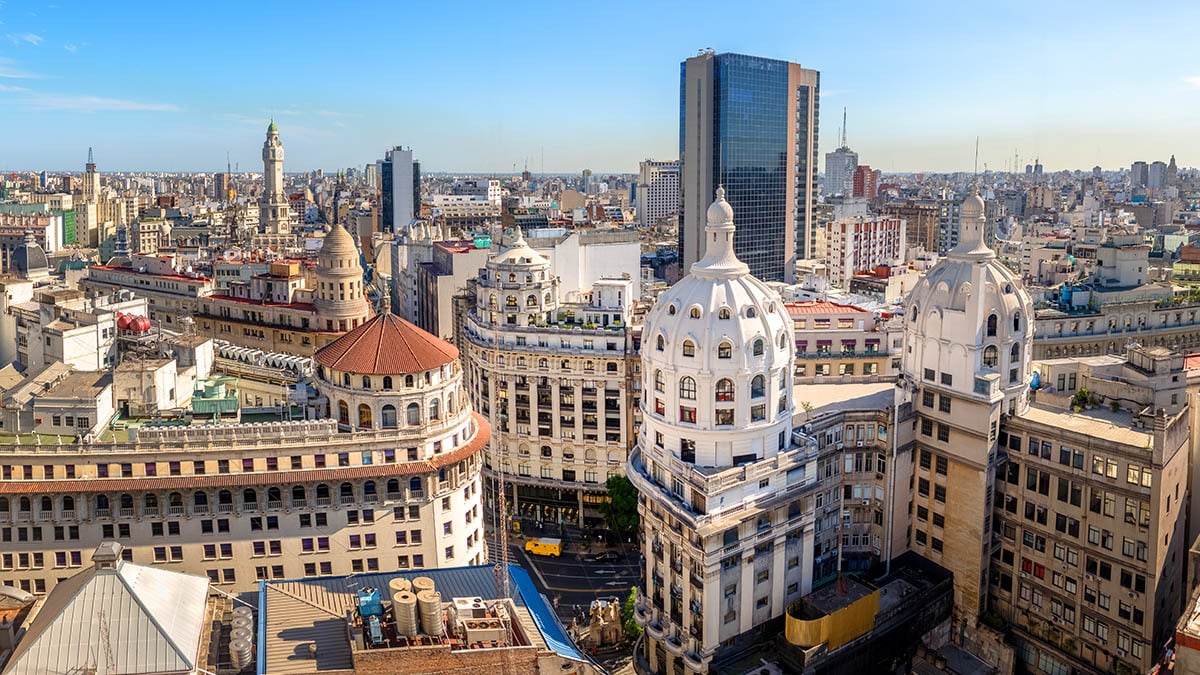 ---
---
Does Argentina Require Travel Insurance?
Visitors to Argentina are no longer required to secure travel medical insurance, however, we strongly recommend that travelers purchase coverage for trips to Argentina.
While travel health coverage for Argentina may assist travelers with situations related to COVID-19 and other medical mishaps, there are many other aspects of international travel that involve some degree of unpredictability. A more robust travel insurance policy is highly recommended for international trips to this scenic South American country to help protect travelers against the unexpected.
Argentina trip insurance policies can include a variety of different coverages, including but not limited to assistance with transportation delays, cancellations, medical emergencies, and other travel-related disruptions. These benefits can be a great resource to count on in undesirable situations, reducing the financial burden on a traveler if things go awry.
What Does Argentina Travel Medical Insurance Cover?
Though some elements of a travel health plan are variable based on the specific details of the policy, visits to foreign doctors and emergency health care treatment are often covered by travel medical insurance for Argentina.
Additional coverage for travel-related concerns such as loss of luggage, weather-related disruptions, and delays in transportation services may be available in a comprehensive plan. Comprehensive travel insurance plans for Argentina can provide the most benefits to overseas travelers, offering protection in a variety of unforeseen situations.
Some common coverages to consider for Argentina travel health insurance include:
It's recommended to contact your domestic health care provider prior to purchasing any travel medical coverage for Argentina. Some domestic health insurers may offer assistance with medical expenses incurred abroad, while others do not extend their coverage to other countries. Understanding these limitations will help you choose the right coverage for your next trip to Argentina while avoiding paying for excess coverage you wouldn't need.
For coverage related to COVID-19, review your policy carefully as some providers have exclusions in the event you contract the virus while traveling.
Does Travel Insurance for Argentina Cover COVID-19?
Argentina no longer requires travel insurance for visitors. Previously travelers needed coverage for COVID-19-related hospitalization, quarantine, and transportation of individuals who may have contracted the virus.
Comprehensive travel insurance plans may also be able to include the following benefits:
Emergency medical coverage: Doctor visits and/or hospital stays in Argentina.
Trip interruption: For travelers who become too sick to continue their trip and must return home.
Emergency Medical Evacuation: A traveler's transportation to the nearest appropriate hospital or back to their home country following an illness or injury.
Cancel For Any Reason (CFAR): This benefit provides assistance to travelers who need to cancel their trip due to coronavirus or other reasons that may not be covered by most travel insurance plans.
Although some travel insurance plans have restrictions regarding benefits for COVID-19, there are many providers who have expanded or updated their existing coverage to include more benefits related to COVID-19 over the course of the pandemic.
What is the Best Travel Insurance for Trips to Argentina?
Every trip and traveler is different, so there is no one-size-fits-all best Argentina travel insurance. Your coverages should aim to address most or all of your unique concerns when traveling abroad.
Comprehensive travel insurance plans may offer the most benefits, including coverage for medical emergencies, travel delays, lost or damaged baggage, or other disruptions during your trip.
Compare different providers and coverage options to find the right travel insurance for your next trip to Argentina. To view the plans that best match your criteria, enter your trip details in InsureMyTrip's free quote form to find the right plan for you.
---
Travel Tips & Safety for Argentina
Money & Currency Exchange
Visitors to Argentina are likely to encounter Argentina's official currency, the Argentine peso (ARG $). Argentine pesos are produced as both coins and banknotes. If planning to exchange your money into the local cash in Argentina, be sure to check the current global exchange rates for an idea of what to expect and how to identify a good deal. In many cases, banks and hotel ATMs offer different exchange rates than money changers out in public.
It's recommended to carry a small amount of cash in Argentine pesos if planning to take a taxi, tip a tour guide, or spend at small shops that don't take payment by credit cards. That being said, most businesses in cities will accept major cards like Visa and MasterCard. When possible, bring a credit card with a chip installed for security purposes. You may be asked whether you want to pay in your home currency or in Argentine pesos, and most often the better deal comes with choosing to pay in Argentine pesos.
Transportation
Visitors have no shortage of sights to see in beautiful Argentina. Fortunately, Argentina offers plenty of ways to travel domestically by air, land, and water. Major destinations are connected by numerous airports if you want to get around quickly. For frequent Argentine fliers, the Aerolineas Argentinas Visit Argentina Pass offers discounts for domestic air travel in conjunction with your international Aerolíneas Argentinas flight. Or experience Argentina's picturesque views of everything from snowcapped mountains to the South Atlantic Ocean by riding modern, comfortable buses. These long-distance buses may offer hot meal services, movies, and plush, reclinable seats for your journey. Do bring a sweater or blanket on board as some long-distance buses run the AC on high.
Buenos Aires, known as "the Paris of Latin America," can also be accessed by ferry. Ferry services generally offer two distinct speeds — one fast, taking about 2 hours and 15 minutes to reach Buenos Aires from Montevideo or Colonia del Sacramento, and the other, slower ferry taking about 4 hours and 45 minutes on the same route. These ferries offer onboard services like cafes, shops, and money exchange services, so the time passes quickly.
More rural areas in Argentina may not offer bus, flight, or ferry services, but are just as worth exploring. Travelers commonly rent a car in Argentina to visit remote areas such as the vineyards of Mendoza.
Risk & Crime
One of the major questions travelers ask about Argentina is, "How safe is Argentina to visit?" While no country is completely risk-free, Argentina is considered one of the safest places in South America for travelers. However, due to inflation in recent years Argentina is showing an increase in petty theft and scams involving counterfeit bills. Taking regular precautions during your trip, such as concealing your valuables, dressing modestly, and staying in well-lit, crowded places will do you well in Argentina.
The diverse landscapes of Argentina have experienced a history of natural disasters, most notably seasonal flooding plus volcanic eruptions near the border with Chile. Keep an eye on weather forecasts before you travel, especially when going to areas prone to flooding or heavy rainfall, or near mountains. Additionally, volcanic activity may be hard to predict, so know what to expect when traveling to areas near a volcano.
When in doubt, you can always refer to our travel advisories page for the latest updates on safety in Argentina.
---
Top 15 Travel Destinations & Tourist Attractions in Argentina
Iguazú Falls
Buenos Aires
Puerto Madryn & Península Valdés
Mendoza
Bariloche
Glaciar Perito Moreno
Mar del Plata
Ushuaia
El Chalten
Cordoba
Quebrada de Humahuaca
San Ignacio Mini Ruins
Salta
Parque Nacional Iberá
Cerro Aconcagua
---
U.S. / Argentina Embassy and Consulate Locations
U.S. Embassy in Argentina
U.S. Embassy Buenos Aires
Av. Colombia 4300
(C1425GMN) Buenos Aires, Argentina
Phone: 54.11.5777.4533
Argentine Embassy and Consulate in USA
Washington DC — Argentine Embassy
1600 New Hampshire Ave., NW
Washington DC 20009 United States
Phone: 1.202.238.6400
Los Angeles, California — Consulate General of Argentina
5055 Wilshire Boulevard, Suite 210
Los Angeles, CA 90036 United States
Phone: 1.323.954.9155
Miami, Florida — Argentine Consulate
1101 Brickell Ave., North Tower, Suite 900
Miami, FL 33131 United States
Phone: 1.305.373.1889
Atlanta, Georgia — Argentine Consulate General
245 Peachtree Center Ave. Suite 2450
Atlanta, GA 30303 United States
Phone: 1.404.880.0805
Chicago, Illinois — Argentinian Consulate General
205 N Michigan Ave, Ste 4208 / 4209
Chicago, IL 60601 United States
Phone: 1.312.819.2610
New York, New York — Argentina Consulate General
12 West 56 Street
New York, NY 10019 United States
Phone: 1.212.603.0400
Houston, Texas — Argentinian Consulate General
2200 West Loop S, Ste 1025
Houston, TX 77027 United States
Phone: 1.713.993.0315
New York, New York — Permanent Mission of the Argentine Republic to the United Nations
One U.N. Plaza, 25th floor
New York, NY 10017 United States
Phone: 1.212.688.6300
Disclaimer: The information contained in this article serves as a general overview of benefits and should only be used for informational purposes. Refer to your individual certificate of insurance for specific coverages, exclusions, and benefits. When in doubt, please contact one of our licensed agents for additional assistance.