Travel Insurance for the Bahamas
Last updated on 07/18/2023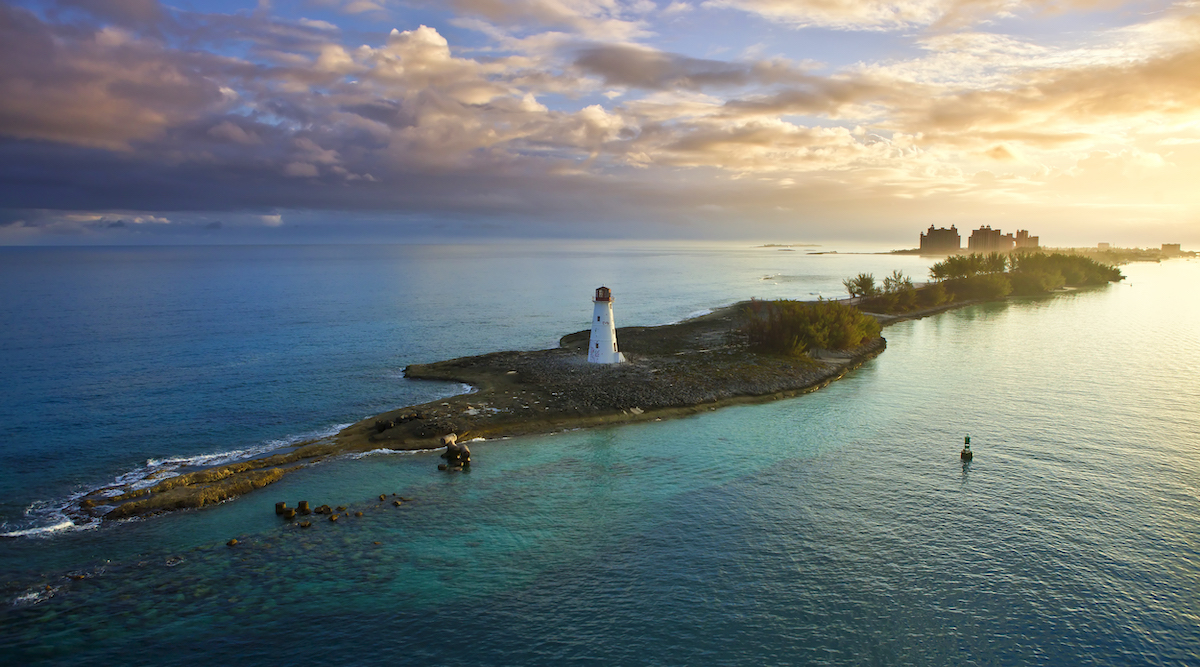 ---
---
Do I Need Travel Insurance for the Bahamas?
"Bermuda, Bahama, come on pretty mama..." It's no surprise the 1988 Beach Boys hit "Kokomo" features the Bahamas so prominently. Even today, the island getaway remains one of the most popular vacation destinations among travelers.
In light of recent hurricane activity in the area and COVID-19 pandemic, our customers are increasingly asking if travel insurance is required for trips to the Bahamas. Recently, the country removed the travel health insurance requirement for incoming visitors. While insurance is no longer mandatory for travelers, we highly recommend purchasing travel insurance coverage for health-related expenses, as well as travel delays, baggage loss, and other travel mishaps.
Concerns about illness, injuries, and medical issues have historically been the top reasons those traveling to the Bahamas ask about insurance. However, the destruction caused by Hurricane Dorian has changed the way people are thinking about coverage for the islands. Weather is now the number one concern driving Bahamas trip insurance inquiries. Unforeseen weather events can wreak havoc on travel plans by causing delays, cancellations, and even total destruction of your accommodations in some cases. Choosing an insurance plan that will cover these types of events is your best defense.
As mentioned above, many travelers to the Bahamas buy coverage to supplement or replace their domestic health insurance while they're away. Most domestic health insurance providers do not provide coverage while you are out of the country. For this reason, those taking a trip to the Bahamas frequently purchase travel medical plans. This way, they can stay protected against hefty out-of-pocket costs as a result of unforeseen illnesses or injuries.
While healthcare and weather concerns are the main reasons travelers purchase trip insurance for the Bahamas, there are additional reasons worth considering. For example, the Bahamas is a popular destination among cruisers, so you might consider choosing a plan that incorporates cruise coverage if you plan to set sail. Other travelers may be flying internationally to reach the islands. In these cases, flight insurance can help travelers with unexpected issues, including delays, interruptions, and missed connections.
Many comprehensive travel insurance plans include specialized coverages, like baggage delay or loss, emergency medical evacuation, or dental care while abroad. It's important to think about which coverages make sense for your Bahamian vacation or business trip before choosing a plan.
How Much is Travel Insurance for the Bahamas?
One of the most common questions we get from customers planning a visit to the Bahamas is "how much travel insurance will cost?" The cost of a Bahamas trip insurance plan varies due to several factors. First, the number of travelers in the group may affect the rate. In general, policies that cover more than one traveler have an increased cost. Second, traveler ages can play a role in determining pricing, as older travelers typically carry more risk as a result of medical concerns. This increased risk can translate to a higher cost, especially if one or more travelers in the group have any pre-existing conditions. Another important factor is the duration of your trip. Traveling for a longer period of time usually means there are more opportunities for travel hiccups. So, a plan that covers a week-long trip or vacation will be considerably cheaper than a plan that covers long-term travel. One of the most significant factors for determining the cost of travel insurance is the kind of coverage the plan offers. Typically, the price of a plan will increase for each coverage it includes.
Do I Need a Passport for the Bahamas?
Passports are required for nearly all travelers entering the Bahamas. In rare cases, passports are not required, and other documents can be substituted, but travelers are highly encouraged to secure a valid passport when visiting the Bahamas.
Although it is best practice to bring valid passports for every traveler when visiting the Bahamas, there are a few exceptions to the requirements. For example, if you are a U.S. citizen traveling to the island nation on a closed-loop cruise, meaning the cruise starts and ends at the same U.S. port, you may be able to use a driver's license and birth certificate in lieu of a passport. Additionally, kids under the age of 16 may use a birth certificate, certificate of citizenship, or naturalization certificate, but only if they will be traveling to and from the Bahamas by sea. These exceptions will depend on the specific requirements of the cruise line. Be sure to check with your cruise company for the most accurate information. No matter which cruise company you choose, children and adults are both required to have a valid passport if they will be arriving to or leaving the country by air.
We strongly recommend securing a valid passport because, without one, you will not be able to fly back if a family or medical emergency requires you to leave unexpectedly. This is also true if you miss the boat at a particular port and need to fly to the next destination to reboard the cruise ship. For these reasons, it's best practice to maintain valid passports for everyone in your travel party no matter your citizenship.
Do I Need a Visa for the Bahamas?
Tourist visas are not required for U.S. and Canadian citizens traveling to the Bahamas if the trip duration is less than 90 days. Business travelers and tourists who intend to stay longer than 90 days are advised to contact the closest Bahamas embassy or consulate to apply for a visa.
Non-citizens residing in the U.S. are not required to get a visa if the trip length is less than 30 days, but they will need to bring their Alien Registration Card (Green Card) and passport for entry. Non-citizen, permanent residents of Canada are not required to get a visa if the trip will last less than 90 days, but will need to travel with their Permanent Resident Card and valid passport from their country of origin.
---
Travel Tips & Safety for the Bahamas
Money & Currency Exchange
The Bahamian dollar (BSD) is the official currency of the Bahamas and exchanges at a 1:1 rate with the United States dollar (USD). Similarly, banknotes and coins are issued in many of the same denominations as USD, including $1, $2, $5, $10, $20, $50, and $100 bills as well as 1, 5, 25, and 50-cent pieces. There are also $1 and $20 Bahamian coins.
While the Bahamas issues its own paper notes and coins, U.S. dollars are also accepted at many restaurants, hotels, and stores. This is especially true in tourist hotspots, like cruise ports and resort destinations. There is no restriction on the amount of foreign currency that can be brought into the Bahamas, so bringing some cash with you is a great option since you'll avoid exchange fees and have money for tipping. However, it's a good idea to bring some other forms of payments too. This way, you can mitigate the risk of loss and theft.
Credit and debit cards offer another convenient way for travelers to access funds while visiting the Bahamas, but there are some considerations to make before you go. First, you'll want to ask the issuing bank if your card's PIN will work in the Bahamas, especially in the Out Islands. Some cards require four-digit PINs rather than six-digit PINs for overseas withdrawals. Similarly, these locations often require chipped cards to help thwart fraudulent activity. Additionally, you should check with your bank about any fees that may be imposed when making purchases or withdrawing money abroad. Fees for international transactions can really add up depending on how they are assessed. In some cases, your issuing bank will charge a fee on top of the fee charged by the bank who owns the ATM you're using.
You should find out how accessible ATMs are in the areas you'll be traveling to. For example, Paradise Island and New Providence Island have plenty of ATMs, but they can be harder to find on Grand Bahama Island, and there are very few ATMs located in the Out Islands. You should plan to bring some extra cash if you plan to travel to these more remote islands. Lastly, make sure to bring more than one card and that they are issued by different banks so you'll have a backup plan in case one account is frozen.
Transportation
Like many island nations, the Bahamas is accessed by air or sea, but there are several options for getting around the islands once you've arrived. Transportation options include taxis, rental cars, and buses, as well as charter boats and planes. As a general rule, highly populated areas offer more modes of transportation.
Taxis
By far, the most popular mode of transportation in the Bahamas is the taxi. We encourage tourists to use only official taxis, which are easily identified by their colorful yellow license plates. Taxis are often found near hotels and airports for easy accessibility, but you can also call for a ride when you need to. In general, taxis are cash only so plan accordingly. Meter rates can vary somewhat but are regulated by law. Sometimes surcharges apply if there are more than two passengers or extra luggage.
Travel by Car
Renting a car can be a great option for those interested in taking the "road less traveled," but keep in mind that UK driving rules apply in the Bahamas. This means you'll need to drive on the left side of the road. You'll also want to watch for roundabouts, which can be a bit startling for unprepared drivers. It's a good idea to take a look at the local laws regarding the road before renting, especially if you'll have small children who require car seats. For even more peace of mind, consider rental car insurance in case anything happens. Even if you don't plan to rent a car, pedestrians should keep the traffic patterns in mind and look both ways before crossing the street.
Buses
Public transportation buses, referred to by locals as "jitneys," are available on most of the major islands. This includes Paradise Island, New Providence Island, and Grand Bahama Island. The bus schedule typically runs from around 7:00 a.m. to 7:00 p.m. Jitney rates vary based on the route. Riders should note that exact change is usually required. Most jitney stops are clearly marked, so it's easy to board in any of the service areas.
Boats & Charter Planes
If you're looking to explore the Bahamian coastline and Out Islands, you'll likely need to charter a boat. There are plenty of options and rates will vary based on boat size, number of passengers, and the route. Plane and helicopter tours are also available, although these options tend to be more expensive than boats. However you plan to tour the islands, the breathtaking views are sure to make for some fantastic vacation memories.
Culture
Like many nations in the Caribbean, the Bahamas has a laid-back culture that is both welcoming and hospitable. Bahamians are often described by tourists as easy-going, which is part of the reason the country remains a top travel destination. The population is diverse and is primarily comprised of descendants of indigenous people and British settlers, although the slow-paced "island life" has drawn transplants from all around the world in more recent years.
The nation's proximity to the United States explains the many western values found throughout the culture. For example, Bahamians are deeply religious and primarily Christian, but the country's constitution guarantees the freedom to celebrate any religion. Additionally, sports, art, music, and dance drive much of the country's traditions and culture.
Speaking the Language
Another reason the Bahamas remains a popular destination among western tourists is the fact that the official language is English. This can make travel to the region much easier than some other destinations. Travelers shouldn't expect typical American or British English, though. Instead, Bahamians have their own flavor of English. In fact, many people speak an English-based creole language referred to as "Bahamian dialect" sometimes called "Bahamianese" or simply "dialect." The extent to which locals speak dialect is usually based on how the areas were settled and the subsequent populations living in those regions. It's a good idea to brush up on some of the differences in pronunciation as well as colloquial terms that come up frequently. Overall, western travelers can expect that with some sharp listening skills and a little preparation, communication will not be a challenge.
Crime Risk & Traveler Safety
As is true for traveling to any destination, visitors to the Bahamas should exercise caution and employ general safety tips to avoid problems with theft, scams, and violence. Most travelers do not experience any issues when traveling in and around the Bahamas, but it's a good idea to review any travel advisories for the areas you intend to visit before you go.
In general, you should do your best to avoid looking like a tourist, don't answer your hotel room door unless you know who it is, and avoid carrying large amounts of cash or valuables on your person. In the unlikely event that you are targeted for theft, do not physically resist as this could make matters worse. If you have any doubts, consider a travel protection plan to recoup losses due to theft.
Foul weather is much more likely to affect your trip than crime, which was demonstrated recently by Hurricane Dorian and the damage the storm caused. The Bahamas lie in an area known as "Hurricane Alley," so if you plan to travel to the country between the beginning of June and the end of November you should be aware that tropical storms and hurricane activity is much more likely. Make sure to plan ahead and keep an eye on weather patterns in the days leading up to your trip. This way you can make arrangements if the weather disrupts your plans.
---
Popular Destinations & Tourist Attractions in the Bahamas
The topography of the Bahamas is similar to many islands in the region in that the land is primarily low and flat. Even the country's peak elevation is only about 200 feet high at Mt. Alvernia on Cat Island. As a result, tourists tend to gravitate toward the low-lying coastal areas and immaculate beaches. That said, the terrain also features lakes and mangrove swamps, which are home to unique wildlife and flora. Whether you plan to stay at a resort, explore the cities, or hang at the beach with the famous swimming pigs, you're sure to find some great locations to do so. Every itinerary is different, but we've put together a list of popular tourist attractions and destinations so you can get started planning your perfect Bahamas trip.
Top 10 Travel Destinations in the Bahamas
Andros Island
Grand Bahama
Long Island
Bimini
Harbour Island & Eleuthera
Nassau
The Abacos
Atlantis Resort (Paradise Island)
Cat Island
Exuma Cays Land & Sea Park
---
U.S. / Bahamas Embassy and Consulate Locations
U.S. Embassy in The Bahamas
U.S. Embassy Nassau
42 Queen St.
Nassau, The Bahamas
Phone: 242.322.1181
Bahamas Embassy and Consulate in USA
Washington DC — Embassy of The Bahamas
2220 Massachusetts Ave, NW
Washington DC 20008 United States
Phone: 1.202.319.2660, 1.202.319.2667
Miami, Florida — Consulate General of The Bahamas
100 N. Biscayne Blvd, #900
Miami, FL 33132 United States
Phone: 1.305.373.6295
Atlanta, Georgia — Consulate General of The Bahamas
2970 Clairmont Road NE, Suite 290
Atlanta, GA 30329 United States
Phone: 1.404.214.0492
New York, New York — Consulate General of The Bahamas
231 East 46th Street
New York, NY 10017 United States
Phone: 1.212.421.6420
Disclaimer: The information contained in this article serves as a general overview of benefits and should only be used for informational purposes. Refer to your individual certificate of insurance for specific coverages, exclusions and benefits. When in doubt, please contact one of our licensed agents for additional assistance.