Travel Insurance for Brazil
Last updated on 08/24/2022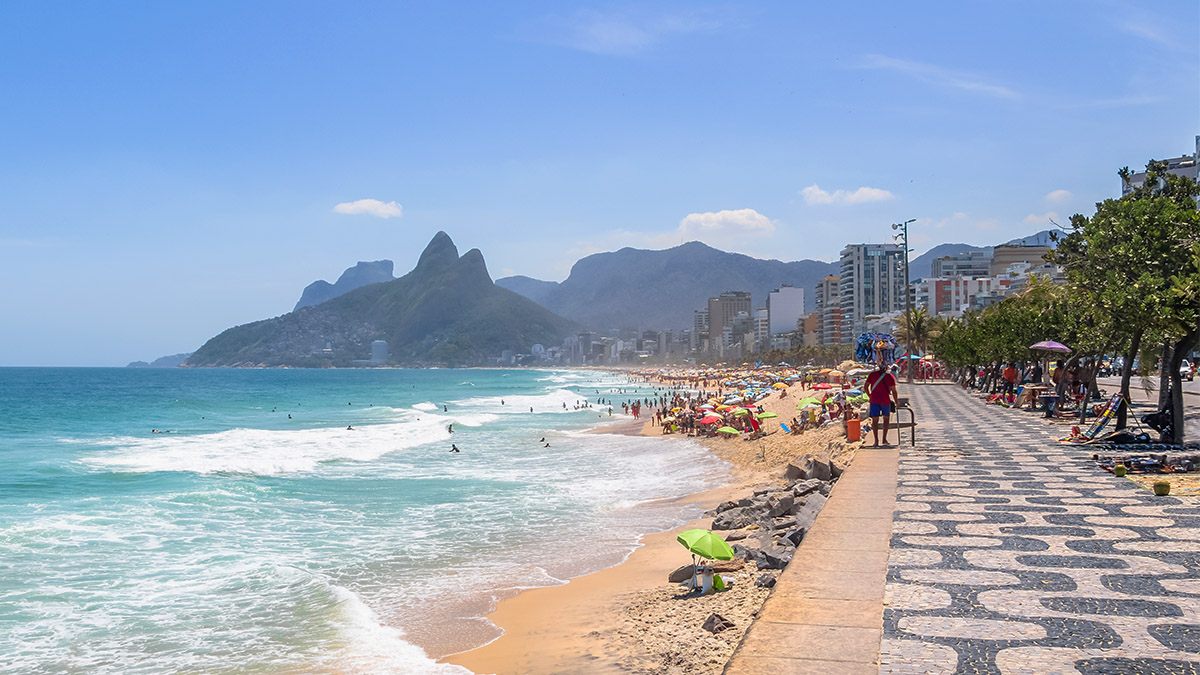 Do I Need Travel Insurance for Brazil?
No, Brazil does not require proof of travel insurance to enter the country. However, due to the unpredictability of touring abroad, we highly recommend purchasing a travel insurance policy for your trip to Brazil. Travelers visiting this beautiful South American country may encounter unforeseen situations such as lost or damaged luggage, delays at an airport, or accidents requiring medical attention. Depending on the details and benefits of your plan, travel insurance may offer coverage to help protect your trip from the unexpected.
Perhaps the most recommended coverage for Brazil is a comprehensive travel insurance plan. Comprehensive plans are best for travelers who want to receive benefits for healthcare if they get sick or hurt while in Brazil as well as their choice of additional protection, which may include coverage for:
Weather-related delays
Emergency Medical Evacuation
Trip cancellation
Disruptions in transportation services
Some plans may also reimburse you for the cost of meals, hotel rooms, or pet boarding fees that come up as the result of a delay in transportation services.
For travelers who want to be protected in the event of emergency medical care while in Brazil, travel medical insurance may fill in any gaps where domestic health insurance doesn't extend coverage abroad. Travel health insurance can be purchased as a standalone plan or as part of a comprehensive trip insurance plan for Brazil.
Overall, while Brazil trip insurance is not required, it is recommended to purchase a policy to protect your trip against unexpected expenses.
How Much Does Brazil Travel Insurance Cost?
Brazil travel insurance rates depend on the travelers being covered, type of coverage purchased, and the length of the trip. For example, a standalone travel health insurance plan for a party of two travelers will most likely cost less than a comprehensive plan for a party of five travelers.
Prices for travel health insurance for trips to Brazil can further vary depending on factors like pre-existing medical conditions, liability amounts, and more. A good rule of thumb to remember is that as risk involved with the trip increases, the cost of travel insurance will also increase. However, if you find yourself really needing help in an emergency situation, having a plan with a higher coverage limit may be worth the additional cost as it may lessen your overall expenses.
You can always refer to our free travel insurance quote tool for a quick overview of what it might look like to cover your next trip to Brazil.
What is the Best Travel Insurance for Brazil Trips?
The best travel insurance plan for Brazil is ultimately the plan that most suits your budget, personal needs, and trip details. Due to the wide variety of coverage options available, there is no one-size-fits-all best trip protection.
However, it can be said that the most beneficial plans would likely be comprehensive plans which include Brazil travel health insurance, assistance with lost baggage and delays with airlines, and in some cases, trip cancellation.
Though trip cancellation has no specific eligibility requirements, this coverage may only apply to certain unforeseen and covered reasons. When travelers are uncertain about their trip for any reason or desire protection to cancel their trip for reasons not covered by trip cancellation, Cancel For Any Reason (CFAR) may be the right coverage to include. Keep in mind that some coverages — such as CFAR — have certain eligibility requirements, so not all travelers will qualify for all plans.
Comparing different coverage levels, benefits, and providers is the ideal way to find the right plan for your next trip to Brazil.
To find the right Brazil travel insurance plan for you, enter your trip details in InsureMyTrip's quote form and review at the recommended plans best suited for your unique travel.
---
Travel Tips & Safety for Brazil
Currency & Exchanging Money
The Brazilian Real (pronounced "hey-al") is Brazil's official currency. Travelers may encounter Reais (plural of Real, pronounced "hey-ice") in the form of coins, paper banknotes, or plastic-like polymer banknotes. These plastic and polymer banknotes vary in size depending on their monetary value. Paying with credit card is a viable option for visitors to Brazil, as most large establishments within cities will accept card payments. Smaller shops, cafes, or businesses outside a city may only take Brazilian Real cash, so it may be worthwhile it to pick up and carry a small amount of cash during your trip. It's advisable to always keep your cash close to your body and try to avoid showing it off in public, especially at night.
You'll get the most out of your money if you compare rates offered by various money exchange services, as each money exchanger may offer something different. For example, currency exchange services offered by hotels and airports tend to be of less desirable rates, though they are often more convenient to use due to their location. Banks and ATMs are a great option during business hours. Be sure to bring clean, crisp bills if you are exchanging your local banknotes for Brazilian Reais.
Transportation
Transportation within Brazil spans across air, land, and water. Getting around this huge country can be made most convenient with domestic flights, some of which cost around the same price as a long-distance travel bus. Long-distance buses provide a unique travel experience complete with scenic views, restroom facilities, wifi, and reclinable seats. Local buses within cities are another affordable option, though it may prove difficult to find a map outlining each route. When in doubt, it's fine to ask the driver or a local around the bus stop for details.
As for taxis and water taxis (to get around from beach to beach), most will have meters, but in some cases you'll have to agree on a price with the driver before the ride. The cities Rio de Janeiro and São Paulo offer a quick and affordable Metro system from 5am to midnight (24 hours during Rio Carnival). Many travelers, especially those outside a major city, choose instead to rent a car during their stay for the freedom to go anywhere without paying cab fare or waiting on a bus.
Risk & Crime
Like any country, certain regions in Brazil are riskier to visit than others. While in Brazil it's advisable to avoid the favelas, land borders with other countries, and certain parts of major cities. For the most part, sticking to touristy areas and taking precautions with your valuables will lessen your likelihood of becoming a crime target in Brazil. Always stay in bright, crowded spaces during your trip and when you're done for the day, leave all public areas such as beaches before sundown. Additionally, be sure that your taxi is marked and sports a state-issued license plate before entering the vehicle. To stay up-to-date on travel safety in Brazil, you can refer to our travel advisories page any time.
---
Top 15 Travel Destinations & Tourist Attractions in Brazil
Rio de Janeiro
São Paulo
Foz do Iguaçu
Salvador
Curitiba
Pantanal
Brasília
Amazon River & Rainforest
Recife
Manaus
Olinda
Lençóis Maranhenses National Park
Fortaleza
Belo Horizonte
Bonito
---
U.S. / Brazil Embassy and Consulate Locations
U.S. Embassy and Consulates in Brazil
Brasília, DF — U.S. Embassy Brasília
SES - Av. das Nações, Quadra 801, Lote 03
70403-900 - Brasília, DF
Phone: 55.61.3312.7000
Belo Horizonte, Brazil — US Embassy Branch Office
Av. do Contorno, 4520, 2nd floor
Belo Horizonte - MG, 30110-027, Brazil
Phone: 55.31.3338.4000
Porto Alegre, Brazil — US Consulate General
Av. Assis Brasil
1889 Passo d'Areia
Porto Alegre - RS, 91010-004 Brazil
Phone: 55.51.3345.6000
Rio de Janeiro, Brazil — US Consulate General
Avenida Presidente Wilson
147 - Centro
Rio de Janeiro, RJ 21941 Brazil
Phone: 21.3823.2000
Recife, Brazil — US Consulate General
Rua Gonçalves Maia
163 Boa Vista CEP
Recife - PE, 50070-060 Brazil
Phone: 81.3416.3050
After-hours Emergency Line: 81.99916.9470 (Note: This line is not for visa inquiries)
Sao Paulo, Brazil — US Consulate General
Rua Henri Dunant
500 Chácara Santo Antônio
São Paulo- SP, 04709-110 Brazil
Phone: 55.11.3250.5000
Brazilian Embassy and Consulate in USA
Washington DC — Brazilian Embassy
3006 Massachusetts Avenue, NW
Washington DC 20008 United States
Phone: 1.202.238.2700
Los Angeles, California — Brazilian Consulate-General
8484 Wilshire Boulevard, Suites 711/730
Beverly Hills, CA 90211-3216 United States
Phone: 1.323.651.2664
San Francisco, California — Brazilian Consulate-General
300 Montgomery Street, Suite 900/918
San Francisco, CA 94104 United States
Phone: 1.415.981.8170
Hartford, Connecticut — Consulate of Brazil
One Constitution Plaza, First Floor
Hartford, CT 06103 United States
Phone: 1.860.760.3100
Miami, Florida — Brazilian Consulate General
80 SW 8th Street, Suite 2600
Miami, FL 33130 United States
Phone: 1.305.285.6200
Atlanta, Georgia — Brazilian Consulate General
3500 Lenox Road, Suite 800
Atlanta, GA 30326 United States
Phone: 1.404.949.2400
Chicago, Illinois — Brazilian Consulate General
401 North Michigan Avenue, Suite 1850
Chicago, IL 60611 United States
Phone: 1.312.464.0244
Boston, Massachusetts — Consulate General of Brazil
175 Purchase St
Boston, MA 02110 United States
Phone: 1.617.542.4000
New York, New York — Brazilian Consulate General
1185 Avenue Of The Americas (Sixth Avenue), 21st Floor
New York, NY 10036-2601 United States
Phone: 1.917.777.7777
Houston, Texas — Consulate General of Brazil
Park Tower North, Suite 1150
1233 West Loop South
Houston, TX 77027 United States
Phone: 1.713.961.3063
Washington DC — Brazilian Consulate General
030 15th Street NW
Washington DC 20005 United States
Phone: 1.202.461.3000
New York, New York — Brazilian Permanent Mission to the UN
747 Third Ave, 9th floor
New York, NY 10017 United States
Phone: 1.212.372.2600
Disclaimer: The information contained in this article serves as a general overview of benefits and should only be used for informational purposes. Refer to your individual certificate of insurance for specific coverages, exclusions, and benefits. When in doubt, please contact one of our licensed agents for additional assistance.