Travel Insurance for Colombia
Last updated on 09/26/2022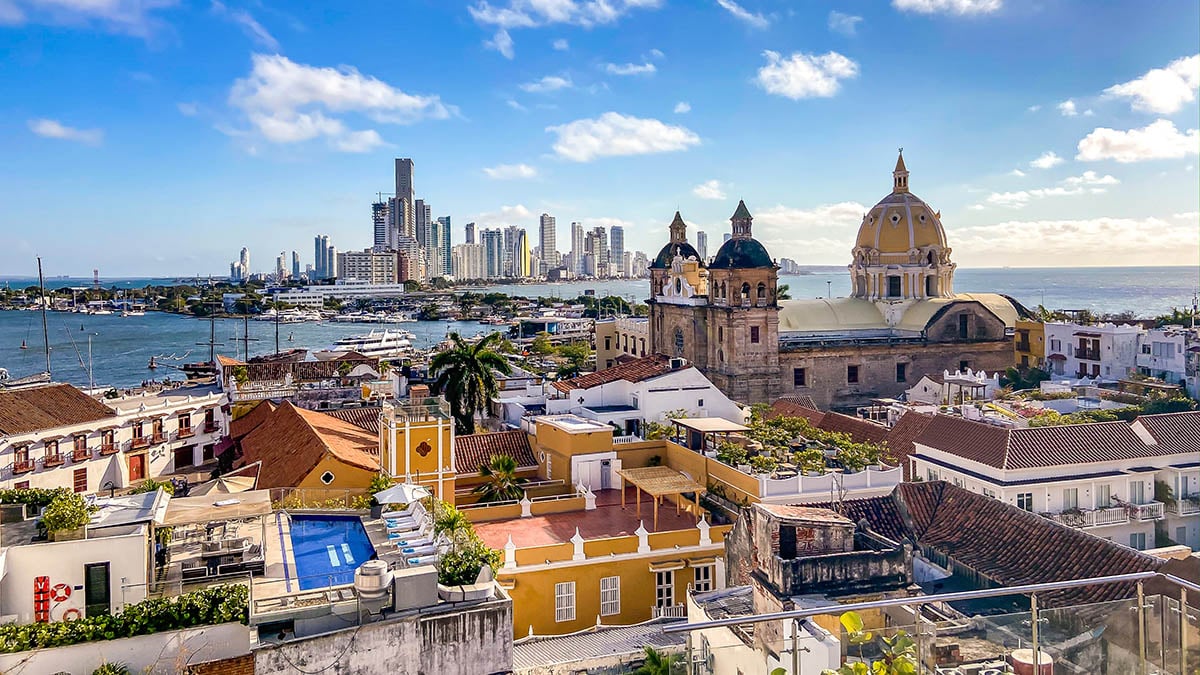 Do I Need Travel Insurance for Colombia?
Colombia is beloved by visitors for its diversity in population and nature alike. This South American country offers excellent scenery, vibrant cities, and a welcoming atmosphere, so it's no wonder travelers keep coming back. Though Colombia does not require travel insurance for entry, it is highly recommended to protect your trip from unnecessary financial burden. Travel insurance for Colombia may reimburse travelers or pay for a range of expenses if things go awry, from flight delays to emergency medical events.
Perhaps the most common reason travelers choose travel insurance for Colombia is to be covered by medical benefits while abroad. Many travelers have domestic health insurance from their home country, but most domestic health insurers can only offer assistance in a citizen's home country. International insurance for Colombia can keep a traveler protected in case medical treatment becomes necessary during the trip.
How Much Does Colombia Travel Insurance Cost?
Every trip is different, and the details of a trip will influence the price of travel insurance for Colombia. For example, the number of travelers being covered by the plan and their ages typically affect the overall cost of a plan. Covering more travelers or older travelers, especially those with pre-existing health conditions, may be a little more expensive. Similarly, the duration of a trip to Colombia plays a part in the total cost, as shorter trips usually cost less to protect. Adding more coverages or higher coverage limits can also increase the cost of Colombia trip insurance but may prove to be well worth it in the event of a covered emergency. Travelers may also choose to insure their total trip cost in case of a cancellation.
What Does Travel Health Insurance for Colombia Cover?
Travel medical insurance provides various coverages to help travelers who get ill or injured during a trip. Depending on the plan, travel health insurance for Colombia can cover emergency evacuation, medical and dental treatment, trip interruption due to illness or injury, and more. These medical coverages can be purchased as a freestanding plan or as part of a comprehensive travel insurance plan to include travel-related benefits like transportation delays, lost baggage, or trip cancellation.
Additional coverages can often be added to Colombia travel medical plans to address a variety of personal concerns. For example, travelers who may be concerned about the possibility of cancelling a trip may consider a coverage like trip cancellation or Cancel For Any Reason.
Activities like diving, boating, and climbing may be on a Colombian itinerary. However, injuries from sports and other recreations considered "high-risk" are not covered by all travel insurance plans. Travel Insurance for adventure activities in Colombia may include a hazardous sports rider to keep travelers protected while making memories.
What is the Best Travel Insurance for Colombia Trips?
Colombia travel protection is most always unique to the travelers and trip being covered. For that reason, the "best" Colombia travel insurance may be a plan that most fits a traveler's personal concerns, itinerary, and budget when planning a stay overseas. InsureMyTrip recommends travelers to compare between travel insurance providers and coverage levels to identify plans that suit your next Colombia trip.
---
Top 10 Travel Destinations & Tourist Attractions in Colombia
Bogotá
Medellín
Cartagena
Parque Nacional Natural Tayrona (Tayrona National Natural Park)
San Gil
Leticia
La Guajira Peninsula
Ciudad Perdida (The Lost City)
Providencia
Villa de Leyva
---
U.S. / Colombia Embassy and Consulate Locations
U.S. Embassy and Consulate in Colombia
U.S. Embassy in Bogotá
Carrera 45 No. 24B-27
Bogotá, D.C. Colombia
Phone: 57.1.275.2000
The U.S. Consular Agency in Barranquilla
Calle 77B # 57-141, Oficina 511
Centro Empresarial Las Americas
Barranquilla, Colombia
Phone: 57.5.353.2001
Colombian Embassy and Consulate in USA
Washington DC — Colombian Embassy
2118 Leroy Place NW
Washington DC 20008 United States
Phone: 1.202.387.8338
Los Angeles, California — Consulate General of Colombia
8383 Wilshire Boulevar, Suite 420
Beverly Hills, CA 90211 United States
Phone: 1.323.653.4299
San Francisco, California — Consulate of Colombia
595 Market St, Suite 400
San Francisco, CA, 94104 United States
Phone: 1.415.495.7195 / 1.415.495.7196
Miami, Florida — Colombian Consulate General
280 Aragón Avenue
Coral Gables, FL 33134 United States
Phone: 1.305.448.5558
Atlanta, Georgia — Colombian Consulate General
1117 Perimeter Ctr W N401
Atlanta, GA 30338 United States
Phone: 1.888.764.3326
Chicago, Illinois — Colombian Consulate General
500 North Michigan Avenue, Suite 2040
Chicago, IL 60611 United States
Phone: 1.312.923.1196
Boston, Massachusetts — Consulate General of Colombia
31 St James Ave, Suite 960
Boston, MA 02116 United States
Phone: 1.617.536.6222
New York, New York — Colombian Consulate General
10 East 46th Street
New York, NY 10017 United States
Phone: 1.212.798.9000
Houston, Texas — Consulate General of Colombia
2400 Augusta Drive, Suite 400
Houston, TX 77057 United States
Phone: 1.713.527.8919
San Juan, Puerto Rico — Consulado General De Colombia
Edificio Mercantil Plaza, Suite 814
2 Av. Ponce de León, Hato Rey
San Juan, PR 00918
Phone: 1.787.754.6885
Disclaimer: The information contained in this article serves as a general overview of benefits and should only be used for informational purposes. Refer to your individual certificate of insurance for specific coverages, exclusions, and benefits. When in doubt, please contact one of our licensed agents for additional assistance.