Travel Insurance for Czech Republic
Last updated on 09/19/2023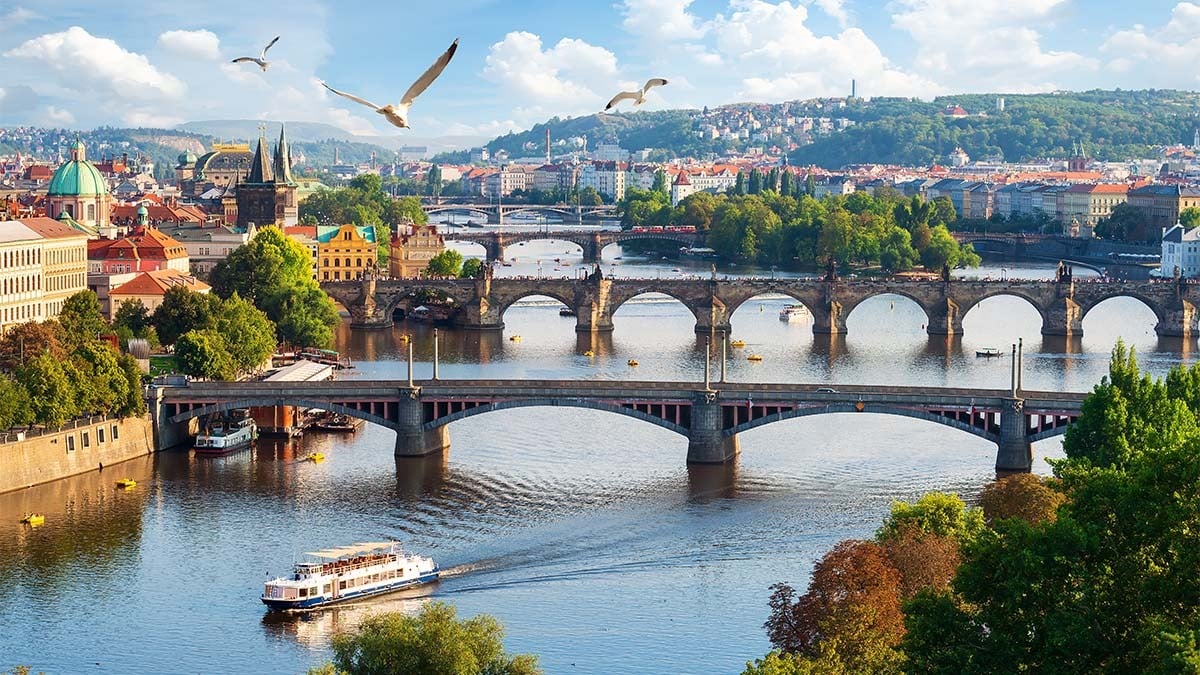 ---
---
Do I Need Travel Insurance for Czech Republic?
Many travelers love Czech Republic (also known as Czechia) for the charming city of Prague, excellent food, and one of the highest density of castles in the world. When planning a trip to this elegant destination, many travelers wonder if travel insurance is mandatory to visit Czech Republic. While optional for U.S. citizens, Czech Republic requires all visiting citizens from certain countries to get specific travel insurance and a Schengen Visa.
Travel insurance is recommended for more than just fulfilling entry requirements. Travel protection for the Czech Republic travel protection can assist travelers who encounter travel delays or cancellations, emergency medical events, damage to rental properties, and more, depending on the details of your plan.
Perhaps the number one reason visitors to Czech Republic purchase travel insurance is for international health benefits. With the help of travel medical insurance, travelers may be protected from sudden financial strain and situations like the unexpected interruption of a trip due to illness or injury. Most domestic health insurance providers will not pay for medical expenses from other countries, so it is recommended that travelers purchase travel medical insurance for Czech Republic to fill in any gaps in health coverage while traveling.
Travelers flying with an airline may encounter flight delays or baggage issues like the loss, theft, or delay of personal items. Some travel insurance coverage may reimburse travelers for the value of lost or stolen personal items or assist travelers who must purchase essential items while waiting for delayed luggage. Some coverage can help travelers pay for accommodations like hotels during travel delays.
How Much Does Czech Republic Travel Insurance Cost?
Each trip to Czech Republic is different, and travel insurance rates are usually determined by the unique details of the trip and needs of the travelers. For example, the duration of the trip can affect travel insurance prices. Travelers taking a longer trip will often see increased rates when compared to a shorter trip with the same coverage levels.
Additional factors that generally alter the price of Czech Republic trip insurance are the number of travelers, their ages, and the type of coverage included in the plan. Coverage for a greater number of travelers or for older travelers often comes with an increased cost.
Sometimes the total cost of a trip to Czech Republic can be insured by travel insurance, and upgrades like this will also affect the final price of a plan.
What Does Travel Medical Insurance for Czech Republic Cover?
Czech Republic travel health insurance can be purchased on its own or as part of a comprehensive travel insurance plan that covers other travel-related concerns. Either way, travel medical insurance generally covers medical treatment, dental treatment, and hospital fees for travelers who unexpectedly become sick or injured during their stay abroad. Extreme illness or injury sometimes requires assistance from emergency medical evacuation or repatriation coverage to transfer a traveler back to their home country or a nearby facility that can properly accommodate the situation.
Depending on the plan, travel medical insurance for Czech Republic may also include coverage for pre-existing conditions, trip interruption, and more. Some benefits like pre-existing conditions are time-sensitive or have certain guidelines to apply, so be sure to review your plan before purchasing.
Beer and breweries are plentiful in the city of Brno and throughout the country, and travelers planning to get drunk in Czech Republic are encouraged to understand how alcohol consumption affects travel insurance. In some cases, preventable injury while intoxicated may not be covered by your travel insurance.
Visitors who must meet Czech Republic's Schengen entry requirements should also include certain coverage levels in their plan.
COVID-19 Coverage
Medical expenses related to COVID-19 in Czechia / Czech Republic can be covered by some travel insurance. Plans providing coverage for COVID-19 treatment typically comes down to the provider, and these details may vary. For the most updated information, travelers can start a travel insurance quote online and review the current differences between providers and varying levels of coverage.
Travelers who are concerned about COVID-19 may consider ending their trip early or canceling it before departure. In these cases, we recommend the trip cancellation or Cancel For Any Reason benefits.
What is the Best Travel Insurance for Czech Republic Trips?
Every traveler has their own priorities, so international insurance for Czech Republic may look different for every trip. When looking for the right travel insurance, travelers may consider factors like their party's health status, personal concerns, activities planned for the trip.
InsureMyTrip offers a free travel insurance quote for travelers looking for Czechia travel insurance. This tool allows travelers to filter travel insurance plans by the details of their trip to compare unbiased results and reviews from other travelers.
---
Travel Tips & Safety for Czech Republic
Money & Currency Exchange
While the Czech Republic is due to adopt the euro at some time in the future, the official currency remains the Czech koruna (Kč and CZK), or crown. The Czech koruna is divided into 100 subunits called hellers (abbreviated as h), but these have since been withdrawn from circulation leaving the smallest unit of physical currency as the 1 Kč. Banknotes are issued in values of 100 Kč, 200 Kč, 500 Kč, 1,000 Kč, 2,000 Kč, and 5,000 Kč although the 5,000 Kč note is rarely used. Coins come in denominations of 1 Kč, 2 Kč, 5 Kč, 10 Kč, 20 Kč, and 50 Kč.
While some larger hotels and tourist attractions may accept USD or other common foreign currencies, using the official currency of the country generally results in a better exchange rate. As a result, we recommend that travelers exchange domestic currency for Czech koruna either before you arrive or at an exchange office or ATM in the Czech Republic. The savviest travelers research the most favorable exchange rates to maximize their buying power while in the country. Travelers may also be able to use debit or credit cards for purchases, but it's important to check with your issuing bank for any foreign transaction fees or other charges that apply. If you withdraw local currency from an ATM, be aware of your surroundings and use machines found in busier areas to avoid being a target of petty theft.
---
Top 15 Travel Destinations & Tourist Attractions in Czech Republic
Český Krumlov
Prague
Karlovy Vary
Kutná Hora
Olomouc
Brno
Krkonoše National Park
České Budějovice
Liberec
Karlštejn Castle
Moravian Karst
Šumava National Park
Ostrava
Telč
Plzeň
---
U.S. / Czech Republic Embassy and Consulate Locations
U.S. Embassy in Czech Republic
U.S. Embassy Prague
Tržiště 15
118 01 Praha 1 - Malá Strana, Czech Republic
Phone: 420.257.022.000
Czech Embassy and Consulate in USA
Washington DC — Embassy of the Czech Republic
3900 Spring of Freedom St. NW
Washington DC 20008 United States
Phone: 1.202.274.9100
Los Angeles, California — Consulate General of the Czech Republic
10990 Wilshire Blvd., Suite 1100
Los Angeles, CA 90024 United States
Phone: 1.310.473.0889
Chicago, Illinois — Consulate General of the Czech Republic
205 N Michigan Avenue, Suite 1680
Chicago, IL 60601 United States
Phone: 1.312.861.1037
New York, New York — Consulate General of the Czech Republic
321 E 73rd St
New York, NY 10021 United States
Phone: 1.646.422.3344
Miami, Florida — Czech Honorary Consulate
13325 Arch Creek Rd
Miami, FL 33181 United States
Phone: 1.586.303.7646
New Orleans, Louisiana — Honorary Consulate of the Czech Republic
939 Sixth Street
New Orleans, LA 70115 United States
Phone: 1.504.722.7490
Minneapolis, Minnesota — Czech Honorary Consulate
385 Michigan Street
Minneapolis, MN 55102 United States
Phone: 1.651.238.0447
Kansas City, Missouri — Czech Honorary Consulate
105 West 113th Street
Kansas City, MO 64114 United States
Phone: 1.816.942.2794
Philadelphia, Pennsylvania — Czech Honorary Consulate
540 Maison Place
Philadelphia, PA 19010 United States
Phone: 1.215.459.1240
New York, New York — Permanent Mission of the Czech Republic to the United Nations
420 Lexington Ave., Suite 240
New York, NY 10170 United States
Phone: 1.646.786.7631
Disclaimer: The information contained in this article serves as a general overview of benefits and should only be used for informational purposes. Refer to your individual certificate of insurance for specific coverages, exclusions, and benefits. When in doubt, please contact one of our licensed agents for additional assistance.