Travel Insurance for Switzerland
Last updated on 06/07/2023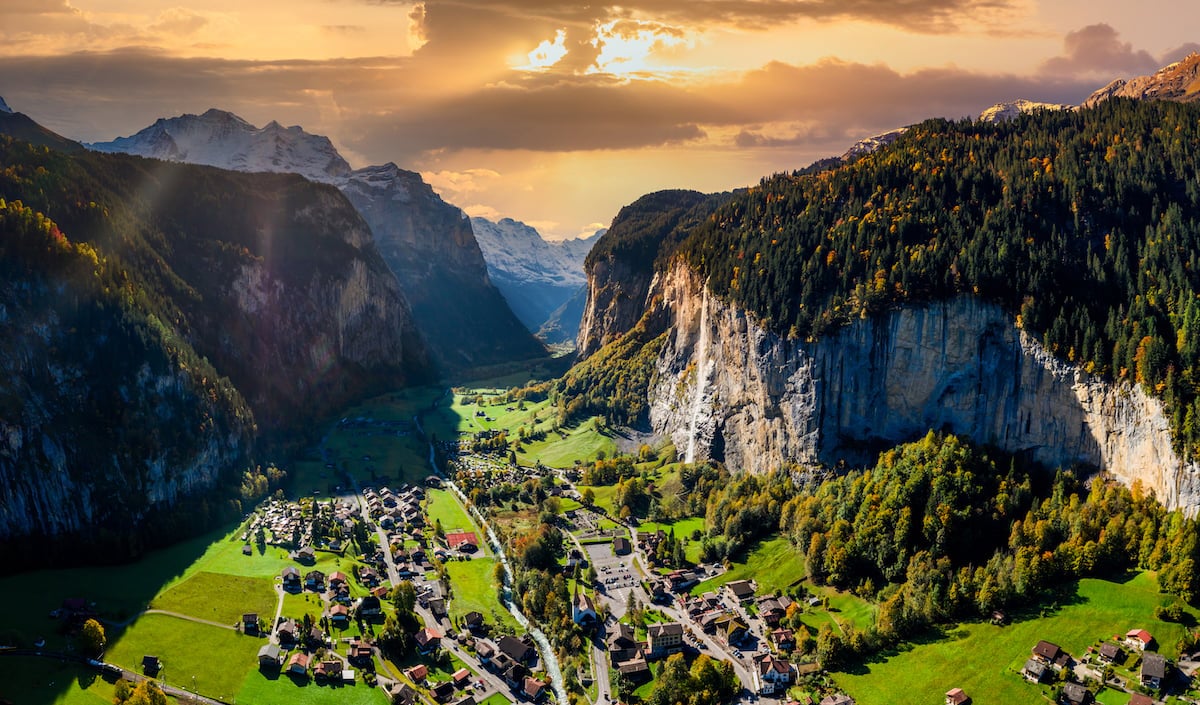 ---
---
Do I Need Travel Insurance for Switzerland?
Depending on your citizenship, travel insurance may be required for your trip to Switzerland. While it is not mandatory for U.S. citizens, citizens from some countries must purchase compliant travel insurance. Even if buying coverage isn't mandatory, we highly recommend protecting yourself against unexpected mishaps, delays, and health issues.
There are many reasons to consider purchasing travel insurance for a Switzerland trip, but one of the most common concerns among travelers is getting injured or becoming ill unexpectedly while abroad. Travel health plans offer coverage for unforeseen medical issues. These travel medical plans are also some of the most affordable travel insurance plans available, which makes them very popular among travelers of all ages.
Vacationers and business travelers may also worry about unforeseen travel delays and disruptions. This is especially true when travelers are flying to Switzerland or taking a cruise while in the country. Unexpected mechanical issues or inclement weather can delay arrival or disrupt connections, so it's a good idea to find coverage for these scenarios, especially if you have a multi-leg tour planned. Additional issues may also crop up, including baggage delay, loss, or theft. Travelers with these concerns may be interested in a comprehensive plan, which usually includes travel medical as well as several benefits for travel delays and disruptions.
For travelers who want the most coverage and are worried about having to end their trips early or cancel them outright, we offer trip cancellation and cancel for any reason (CFAR) options. Read about the difference between trip cancellation and cancel for any reason plans as well as the restrictions to see which makes more sense for your travel needs. Comparing different coverage providers, benefits, and levels is the only way to ensure you find the best travel insurance for your Switzerland trip.
How Much is Travel Insurance to Switzerland?
Whether this is your first trip or you've been many times, you're probably wondering how much travel insurance for Switzerland will cost. The cost of travel insurance is based on several factors, including the ages and number of travelers in your party, the trip duration, and the types of coverage purchased. As a general guideline, travelers can expect higher premiums as risk increases. For example, coverage for multi-month trips will cost more than week-long getaways. Furthermore, older travelers, especially those with health issues or pre-existing conditions may pay more for coverage. In some situations, travelers are also able to insure their trip cost, which can affect the overall cost of the plan.
Is Switzerland a Schengen Country?
Yes, Switzerland is a Schengen country. It is one of the 26 countries in the Schengen Area. The Schengen countries have specific requirements for the insurance their embassies will accept in order to issue travel visas.
U.S. citizens departing for Switzerland are not required to obtain a Schengen Visa. However, if you are a U.S. resident but not a U.S. citizen, the Schengen rule may apply to you. Beginning January 1, 2021, U.S. citizens must apply for an ETIAS before traveling to Europe.
Read the complete list of countries whose citizens are required to obtain a Schengen visa for Switzerland. If you will require a Schengen visa for your trip to Switzerland, you should consider purchasing a Schengen Visa travel insurance plan.
Do I Need a Passport to Go to Switzerland?
Travelers arriving in Switzerland are required to present a valid passport with at least six months until expiration from the time they depart the Schengen area. The passport must also have at least one blank page.
Visas are generally not required for most travelers staying 90 days or less for the purposes of sightseeing, business, or transit. Planning ahead is key because travel documents can take some time to process. Be sure to research the specific requirements you'll need to meet and the necessary documents well in advance of your trip. Otherwise, you could be faced with increased fees for rushed processing or be denied entry altogether.
---
Travel Tips & Safety for Switzerland
Money & Currency Exchange
The official currency of Switzerland is the Swiss franc. The franc is often denoted using its financial code: CHF. Each franc divides into 100 subunits called "Rappen," although "centimes" (singular: "centime") is used by French speakers and "centesimi" (singular: "centisimo") is used by Italian speakers. The Swiss economy relies heavily on international banking, which is part of the reason there are so many different names used for 1/100 of a franc.
The Swiss National Bank is responsible for printing banknotes, which include the following denominations: 10, 20, 50, 100, 200, and 1,000 francs. The Swissmint issues coins in the following denominations: 5, 10, and 20 centimes, ​1/2, 1, 2, and 5 francs.
Exchanging foreign currency for Swiss francs can be done in several ways, including banks, exchange counters, and ATMs. Most travelers opt for ATMs due to their wide availability and ease of use. However, people traveling from abroad should always alert their banks prior to departing for their trips. The reason is that banks may place holds or freezes on your account if they suspect the activity may be fraudulent. Additionally, you'll want to talk to your bank about any fees that are assessed for using your account internationally, including withdrawals and exchanges via ATMs. While it's a good idea to carry some local cash on you while visiting Switzerland, credit cards can be a great resource as well. We recommend that travelers bring more than one card and make sure they're issued from different banks to protect against loss, theft, or other account problems.
The cost of living in Switzerland is well above the world average, so don't be surprised when you find out that you can't eat out for under $20 or that water isn't free. The higher cost of goods and services is yet another reason that careful planning and budgeting are crucial to the success of your trip to Switzerland.
Transportation
When it comes to traveling to and around Switzerland, there are a variety of modes of transportation available. Most people arriving to Switzerland fly internationally into the Zürich or Geneva airport. In some cases, travelers take a train or cruise from a nearby country. No matter how you arrive, it's unlikely you'll need to do much flying once you're there. This is due to the country's relatively small size and extremely well-connected transportation system. The robust network of trains, ferries, buses, and rental services is regarded as one of the most reliable in Europe.
Trains are the most convenient and most common mode of transportation. This rail system connects all major Swiss cities, most towns, and even many of the smaller, more remote villages. The major rail lines transport travelers to smaller local stations, which can then take them even further to remote communities high in the Alps. For a truly unforgettable experience, consider taking the famous Glacier Express. This specialized rail line is equipped with extra-wide, panoramic windows that offer the views Switzerland is most famous for.
If you're traveling locally within a metropolitan area, bike rental and walking are great options to take in the sights while getting some exercise. Taxis are available but are generally considered to be less cost-effective than shuttles and bus lines. However, ridesharing has become popular in recent years and is providing a more affordable alternative to cabs. Renting a car is another option for both long and short trips, but make sure to purchase travel insurance that covers car rental if you choose this mode of transportation.
Culture
Despite its close proximity to some of the most popular European travel destinations, Switzerland has its own identity. There's no doubt that neighboring France, Italy, Germany, Austria, and Liechtenstein influence the culture and customs of the country but to write Switzerland off as just another of these European countries is both ill-informed and an offensive cultural faux pas. The Swiss are a proud yet reserved people who take privacy very seriously. When visiting Switzerland and meeting the locals, it's best to avoid making small talk with strangers including staff in stores and restaurants. Similarly because the Swiss do not have the same social expectations as many other western countries, travelers should not take offense to the lack of "warmth" they might be used to in other places.
The calm, reserved nature of the Swiss is mirrored by their impeccable work ethic and punctuality. Switzerland's history is deeply rooted in Protestantism and more specifically Calvinism. Does this mean all Swiss are all deeply religious? No, but it does mean that they are traditionally early risers who take work seriously. Switzerland is renowned for its chocolate, wine, cheese, and banking. Without their unique work ethic, the quality and craftsmanship in these industries would not be the same. The Swiss are also more reserved when it comes to cutting loose. For example, you won't find the same raucous nightlife as you do in other European countries. Clubs are really only located near universities where the student body supports the business, and even these clubs are a different flavor than the ones found elsewhere in the world. It's much more likely that you'll find locals congregating lakeside with food and wine while watching the swans.
Speaking the Language
Many people are surprised to learn that Swiss is not actually a language. Rather, Switzerland has four official languages, which are German, French, Italian, and Romanish. It's important for travelers to remember that while French, Italian, and German are widely spoken, Swiss dialects can be quite different from what is traditionally spoken in France, Italy, and Germany. It's a good idea to do some research about where you'll be headed in Switzerland to brush up on local vernacular as well as dialects specific to those areas. Despite the fact English is not one of the country's official languages, the Swiss are accomplished English speakers and may even transition to English at the faintest sign of an American accent.
Risk & Crime
You might be wondering "how safe is it to travel to Switzerland?" Switzerland is regarded as one of the safest countries in the world. The country's low crime rates make it an attractive destination even for solo travelers. That said, no country is without some safety risks. It's still very important that tourists stay vigilant and aware of their surroundings, especially in highly populated urban areas where foreign visitors may be targeted for theft and scams. Do not carry large amounts of money or keep valuables on your person. Many travelers invest in a money belt to help mitigate losses in the unlikely event they are subject to theft. Avoid walking around unfamiliar areas in cities after dark, especially alone. In general, tourists report a very low number of crimes during their visits. For the latest information on Switzerland, check the travel advisory resource page.
While Switzerland's crime risk is quite low for visitors, natural disasters can still pose safety hazards. The proximity to the Alps and rural countryside make Switzerland popular for skiing, trekking, and other outdoor activities. If you plan to head to alpine country, make sure you are prepared and aware of areas prone to avalanches, landslides, flash flooding, and thunderstorms. Keep your distance from wildlife as well. Even swans have been known to break bones!
---
Popular Destinations in Switzerland
Switzerland is just under 16,000 square miles in size and only takes about 5 hours to cross by rail, but that doesn't mean there is any shortage of things to see and do. Pristine lakes, rolling hills, and steep mountain ranges like the Alps and Jura make up the nation's unique topography. Vibrant cities like Zürich, Geneva, and Bern are home to thriving industries, ancient history, and cultural landmarks. Fortunately for those visiting Switzerland, the robust public transit system extends from highly populated cities to the most remote of mountain villages, so getting to most any point of interest on your itinerary is easy. It's a good idea to plan your itinerary ahead of time and account for travel time. This way, you'll be able to make the most of your trip to Switzerland. While it's not exhaustive, we've put together a "best-of" list of popular destinations to visit in Switzerland to help inspire your itinerary.
Top 15 Travel Destinations for Switzerland
Zürich
Lucerne
Bern
Zermatt including Matterhorn
Jungfraujoch
Lugano
St. Moritz
Geneva
Montreux including Chateau de Chillon
Interlaken
Swiss National Park
Lausanne
The Rhine Falls
Appenzell
Swiss Grand Canyon
---
U.S. / Switzerland Embassy and Consulate Locations
U.S. Embassy in Switzerland & Liechtenstein
U.S. Embassy Bern
Sulgeneckstrasse 19
CH-3007 Bern, Switzerland
Phone: 031.357.7011
Swiss Embassy and Consulate in USA
Washington DC — Embassy of Switzerland
2201 Wisconsin Ave. N.W., Suite 300
Washington DC 20007 United States
Phone: 1.202.745.7900
San Francisco, California — Consulate General of Switzerland
Pier 17, Suite 600
San Francisco, CA 94111 United States
Phone: 1.415.788.2272
Atlanta, Georgia — Consulate General of Switzerland
1349 W Peachtree Street NW, Suite 1000
Atlanta, GA 30309 United States
Phone: 1.404.870.2000
Chicago, Illinois — Consulate General of Switzerland
875 North Michigan Avenue, #3880
Chicago, IL 60611 United States
Phone: 1.312.944.8290
Boston, Massachusetts — Consulate of Switzerland
Swissnex in Boston
420 Broadway
Cambridge, MA 02138 United States
Phone: 1.617.876.3076
New York, New York — Consulate General of Switzerland
633 Third Avenue, 30th Floor
New York, NY 10017 United States
Phone: 1.212.599.5700
Disclaimer: The information contained in this article serves as a general overview of benefits and should only be used for informational purposes. Refer to your individual certificate of insurance for specific coverages, exclusions, and benefits. When in doubt, please contact one of our licensed agents for additional assistance.