Civil Unrest and the Choice to Travel
Last updated on 03/27/2023
Travel, by definition, involves many choices on the part of the traveler. You choose where to go, how to get there, where to stay, what to do, what to eat, and much more when you decide to see the world. Seeing exciting sights, exploring a new city, or trying local foods are part of the joy of travel that must be balanced against the possibility of unexpected events. Some risk is always involved with any travel, and though the chance for events to go wrong is present in everyday life at home, travel can present some less familiar risks. Travel insurance can help you feel more confident as you navigate those risks. It's important to know how different types of plans determine what a covered event is and what is not so that you are prepared with the right plan for you. Civil unrest in the destination country is one risk that often confuses travelers who are choosing a trip insurance policy. We'll explain how insurance providers view this risk so you can make an informed decision about what policy to choose. Let's start with discussing personal responsibility vs. insurance company responsibility.
Personal Responsibility vs. Insurance Company Responsibility, Where is the Line?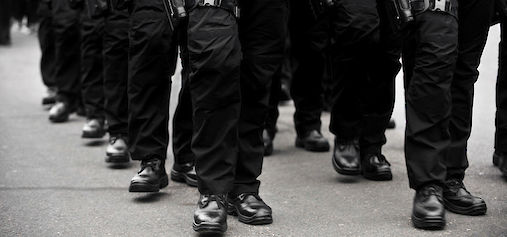 One thing that is often confusing to travelers is the distinction between where the insurance company's responsibility ends and personal responsibility begins. For example, many people don't know that most travel insurance policies will not cover injuries or losses that occur when the insured person is intoxicated. The industry term is "alcohol exclusion," and it exists because drinking to excess is a well-known risk that should be avoided by a responsible traveler. Since policies are written to exclude this risk specifically, the insurance provider has no responsibility to cover someone who isn't exercising reasonable caution. Similarly, travel insurance doesn't always apply as people may expect it to in cases of political and civil unrest around the world. Let's take a look at how insurance providers handle these events.
Is Civil Unrest a Covered Event with a Comprehensive Policy?
A common misconception is that if you purchase a comprehensive travel insurance policy, you could cancel a planned trip because of civil unrest occurring at your destination and be reimbursed by the travel insurance company. Not necessarily! Most comprehensive travel insurance policies have an exclusion for cancellation of a trip prior to departure due to civil unrest. The reason for denying trip cancellation coverage has to do with another industry term, "known peril" or to put it plainly, something that a traveler would reasonably know about before buying a policy. Other known perils can include named tropical storms or a previously announced carrier strike. The key here is whether the event was unforeseen or whether it was known at the time the policy was purchased. So who determines whether travel to a particular country is a "known peril"? The U.S. State Department Travel Advisory System is the accepted source for information about travel risks. Let's take a closer look.
U.S. State Department Travel Advisory System
The U.S. State Department issues Travel Advisories that include information about whether a country is experiencing political or civil disruptions as well as other noted risks. These advisories also make specific recommendations to avoid or reconsider travel to some countries, along with detailed information about why travel is a higher risk at the time of the advisory. Since it is considered reasonable that the person traveling will research the country or area that they are visiting, choosing to travel to a location that is experiencing unrest is a matter of personal choice in the eyes of an insurance provider. If you decide to book a trip to Sudan, for example, you are probably already aware that there is a heightened risk of civil unrest occurring in that country. So what should you do if the benefits of traveling to a country with increased risks outweigh the possible adverse events in your estimation? You may still want to be able to cancel your trip if something causes you to reconsider before your departure. Some comprehensive policies have an option to add a Cancel for Any Reason (CFAR) benefit that will give you this option.
Cancel for Any Reason Coverage
If you are planning to travel to an area of the world that is known to experience civil unrest, you may want to consider purchasing a travel insurance policy that includes Cancel for Any Reason coverage. When a plan includes CFAR you can cancel your plans within a specific time frame before your scheduled departure, typically up to 48 hours prior, and be reimbursed up to the limits of the plan. Most CFAR plans offer a 75% reimbursement of trip costs. You do take greater personal responsibility for your safety with CFAR because you will have more flexibility to change your mind about traveling.
How is Civil Unrest Different From Terrorism?
One other aspect that can be confusing to travelers is the difference between civil unrest and terrorism. Although both types of events can be scary and violent, insurance providers use plan definitions to determine whether an event is related to civil unrest or terrorism and therefore whether it is covered under the policy's terms. It's important to read the policy to understand these definitions fully.
In general, each event is evaluated by the insurance provider on whether it fits the plan definition of terrorism or civil unrest. Often, this determination depends on whether the United States government declares the event in question to have been an act of terrorism. A clear distinction must be made between terrorism and "civil disorder or riot." Exactly how this is defined will be outlined in the policy documents. Insurance providers also usually specify that the incident must not have been an act of war, whether declared or undeclared.
Traveling During a Coup: Tips to Stay Safe
The world is a beautiful place, and we hope to encourage all people to see every hidden corner of it. Sometimes, the most beautiful locations can also be tumultuous and scary at times. This doesn't mean we don't travel there! It merely means we must be vigilant and ready for the unexpected.
Stay Vigilant
When you travel to an area known for political instability and turmoil, be aware of your surroundings at all times. Keep an eye for exits if you are at a crowded event. Never venture out alone at night. Learn the cultures of the area you are traveling to and be respectful to the locals.
Enroll with the Consulate
The United States State Department asks all overseas travelers to enroll in the STEP program. STEP (Smart Traveler Enrollment Program) "is a free service to allow U.S. citizens and nationals traveling abroad to enroll their trip with the nearest U.S. Embassy or Consulate." As part of the program, you'll receive alerts and warnings as they are released, help the embassy or consulate to contact you if needed while traveling and allow family and friends an easier way to know you are safe in case of an emergency.
Always Keep Your Passport Handy
You may not have your luggage you at all times but always keep your passport with you. This will allow you more fluid movement in and out of countries as well as the U.S. Embassy and Consulate if an emergency should arise. In some cases, you may find your United States License/I.D. may not be a valid form of identification where you are visiting. All nations will recognize a passport.
Disclaimer: The information contained in this article serves as a general overview of benefits and should only be used for informational purposes. Refer to your individual certificate of insurance for specific coverages, exclusions and benefits. When in doubt, please contact one of our licensed agents for additional assistance.