Travel Insurance for Saudi Arabia
Last updated on 06/22/2023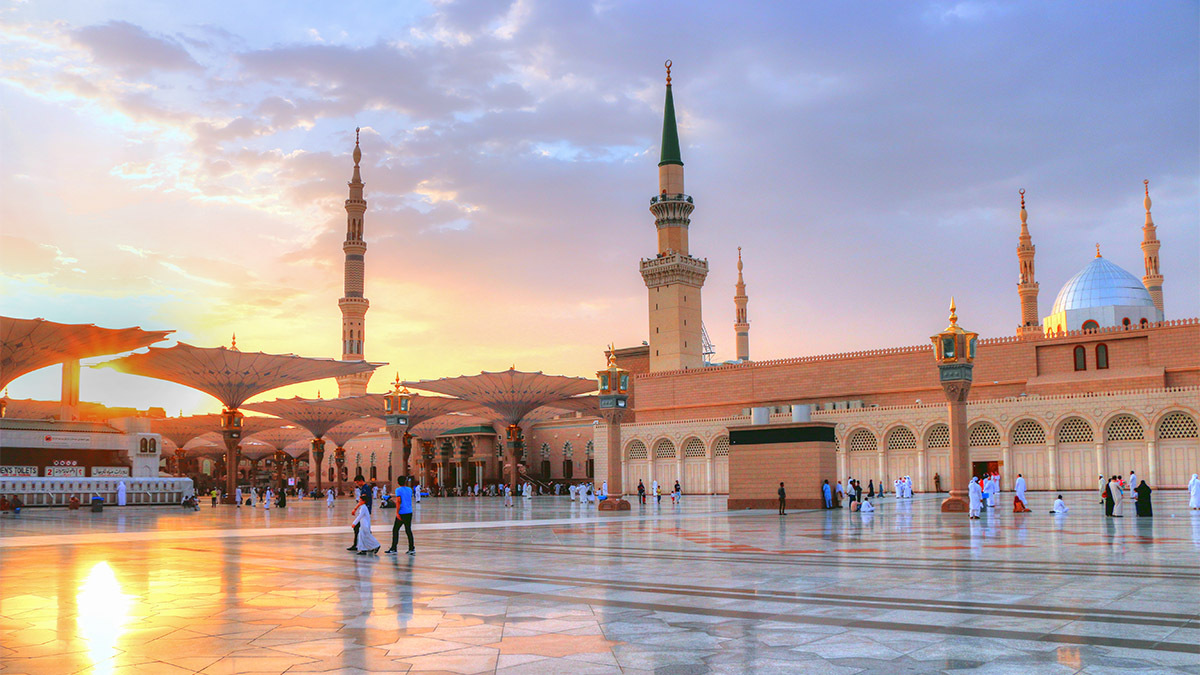 ---
---
Is Travel Insurance Mandatory for Saudi Arabia?
Yes, as of March 5, 2022, all visitors to Saudi Arabia must be covered by travel medical insurance that includes coverage for COVID-19 treatment.
Though health coverage relating to COVID-19 is the only required travel insurance coverage to enter the country, Saudi Arabia travel protection plans can offer assistance to travelers faced with many unforeseen events during their trip. Depending on the plan, covered events may include medical emergencies, disruptions in transportation services, cancellations, and much more.
How Much Does Travel Insurance for Saudi Arabia Cost?
The cost of a Saudi Arabia travel insurance policy may vary, as travel insurance prices generally depend on how many travelers are covered, the ages of the travelers, duration of the trip, and the type of coverage included in the plan.
When a trip involves more risk or uncertainty, travel insurance rates may increase. For example, coverage for a solo traveler may cost less than coverage for a large group of travelers with the same benefits.
Do I Need International Medical Insurance to Travel to Saudi Arabia?
Yes, Saudi Arabia does require all visitors to have international health insurance that covers treatment related to COVID-19. Due to COVID-19's status as a "known event," not all plans may include this mandatory coverage for the coronavirus. It's vital to review your plan details carefully before purchasing to ensure that the necessary coverage to enter Saudi Arabia is included.
Additional benefits for your Saudi Arabia trip insurance are not mandatory for entry to the country but are highly recommended for all visitors.
What Does Travel Health Insurance for Saudi Arabia Cover?
Most Saudi Arabia travel medical plans will offer a minimum of assistance with emergency medical treatment, dental care, evacuation, and 24-hour traveler assistance.
Travel insurance can assist in various scenarios faced by international travelers, offering protection from many cases of sudden financial strain while overseas. Depending on the plan, covered situations may include:
Illness in Saudi Arabia
Accidental injury
Treatment for pre-existing conditions
Trip interruption
Coverage for situations related to transportation and other elements may be included in your travel insurance by purchasing a comprehensive travel insurance plan. Comprehensive plans for Saudi Arabia can include coverage for issues from weather-related disruptions to loss, delay, and damage of baggage, and much more.
Some domestic health insurance providers are unable to provide assistance for expenses incurred in another country. For this reason, all travelers are recommended to contact the company providing their domestic health insurance for information about any international limitations. Identifying these gaps in coverage abroad help a traveler identify what benefits from international insurance for Saudi Arabia would be most beneficial for their trip.
What is the Best Travel Insurance for Saudi Arabia Trips?
Travelers may understandably be looking for the best travel insurance for Saudi Arabia, but the truth is that every traveler's version of the most advantageous travel insurance will be as variable as every trip to Saudi Arabia.
Saudi Arabia's travel insurance requirements do call for medical coverage that includes a minimum of COVID-19 treatment.
Comparing providers and levels of coverage can be a great way to find a plan that is compatible with your budget and addresses most or all of your unique concerns when traveling to Saudi Arabia. InsureMyTrip's free quote form allows travelers to narrow plans down by the traveler's trip details and criteria to review the closest matches available online.
---
Travel Tips & Safety for Saudi Arabia
Money & Currency Exchange
Saudi Arabia's official currency is the Saudi riyal (currency code: SAR / ر.س). You're likely to see prices in the country marked by the symbols ﷼ or SR. One Saudi riyal can be divided into 100 halala.
Money in Saudi Arabia circulates in the form of both banknotes and coins, with banknotes available in denominations of 1, 5, 10, 20, 50, 100, 200, and 500 riyals. Coins in Saudi Arabia are valued at 1 and 2 riyals and 1, 5, 10, 25, and 50 halala. While most businesses in major cities accept both cash and card, in more remote locations shops and even hotels may ask for cash only. Visa and Mastercard are the most widely accepted foreign cards in Saudi Arabia, and you may occasionally be able to pay with American Express and Discover cards at large businesses. As for taxis, you'll still need cash to get a ride. It's often worth it to negotiate a reasonable price instead of using a taxi's meter in Saudi Arabia. Negotiating prices in casual shopping areas is a common practice in Saudi Arabia and may be especially important as a foreigner, as some shops will quote much higher prices to foreigners but can usually be talked down to regular prices if you're firm and respectful.
If you want to exchange your local currency for Saudi riyal for taxi fare, shopping, or something else, you can do so at an ATM or money exchange service. Though ATMs and exchange services at hotels and airports are convenient, they offer relatively poor exchange rates. You'll usually find the best rates at a money-exchange bureau.
Transportation
Saudi Arabian locals and visitors typically rely on private cars and taxis to get around the country. Most roads in Saudi Arabia are well-maintained and constantly improving, even featuring nonreflective elements to combat extreme summer heat. Rental cars are available but generally limited to men aged 25 or over. When taking a taxi or rideshare, men are expected to sit in the passenger seat and women in the back. Rideshare apps like Uber and Careem are quite popular in Saudi Arabia, making it easier than ever to find a ride and pay a fixed rate without negotiations. While efficient public transportation systems are still a work in progress, the country is making rapid improvements toward its rail systems and the Riyadh Metro. Buses do run within some major cities but vary in quality and often don't operate on a set time schedule. Saudi Arabia Public Transport Company's intercity bus routes connect these major cities and offer comfortable VIP buses with plush seats, meal service, and fewer stops then the standard intercity bus.
Risk & Crime
Saudi Arabia is mostly safe for travelers. Provided you adhere to Saudi Arabia's strict laws and avoid areas near the Yemen border, you can usually expect your trip to go smoothly. Crime rate is low — you'll likely just have to look out for pickpockets if traveling to Mecca as part of a pilgrimage. Locals and travelers alike are expected to dress modestly, so pack long, light, and loose clothing for your trip. Wearing the customary Abaya will help women fit in with locals, but it isn't mandatory. For men, the similar traditional garment would be the thobe or thwab, but avoid wearing all black, as black is usually reserved for the women's traditional garment.
Hot summers are the norm, so if you're planning a summer trip to Saudi Arabia, be sure to stay hydrated and wear light clothing to avoid discomfort from the heat. As for weather-related risks, Saudi Arabia is susceptible to drought as well as flooding due to heavy rainfall from November to February. Earthquakes are somewhat common, but usually don't pose a significant threat. Large magnitude earthquakes may rarely occur. Due to the country's desert landscape and high winds, sand and dust storms are also somewhat frequent. Keep an eye on local weather and news sources before your trip for the most up-to-date reports.
---
Top 10 Travel Destinations & Tourist Attractions in Saudi Arabia
Jeddah, including Al-Balad, King Fahd's Fountain & Rea Sea Mall
Al Jubail, including Al Fanateer Seafront and Marina & Al Nakheel Beach
Medina, including Al-Masjid an-Nabawi & Mount Uhud
Riyadh, including Al Masmak Fort, Kingdom Centre Tower & Deerah Souq
Mecca, including Masjid al-Haram, Kaaba & Jabal al-Nour
Taif
Tabuk
AlUla & Hegre (Al-Hijr)
Abha
Dammam, including Al Rashid Mall & Half Moon Bay
---
U.S. / Saudi Arabia Embassy and Consulate Locations
U.S. Embassy and Consulate in Saudi Arabia
U.S. Embassy Riyadh
Riyadh 11564 Saudi Arabia
Phone: 00966.11.835.4000
U.S. Consulate General Dhahran
P.O. Box 38955
Dhahran Airport 31942 Saudi Arabia
Phone: 96613.330.3200
U.S. Consulate General Jeddah
Al Safa Street
8161 Al Muhammadiyah District, Saudi Arabia
Phone: 96612.220.5000
Saudi Embassy and Consulate in USA
Washington DC — Embassy of Saudi Arabia
601 New Hampshire Avenue, NW
Washington DC 20037 United States
Phone: 1.202.337.4088
Los Angeles, California — Consulate General of Saudi Arabia
2045 Sawtelle Blvd.
Los Angeles, CA 90025 United States
Phone: 1.310.479.6000
New York, New York — Consulate General of Saudi Arabia
866 Second Ave., 5th Floor
New York, NY 10017 United States
Phone: 1.212.752.2740
Houston, Texas — Consulate General of Saudi Arabia
5718 Westheimer, Ste 1500
Houston, TX 77057 United States
Phone: 1.713.785.5577
New York, New York — Permanent Mission of Saudi Arabia to the United Nations
809 UN Plaza, 10th Floor
New York, NY 10017 United States
Phone: 1.212.697.4831
Disclaimer: The information contained in this article serves as a general overview of benefits and should only be used for informational purposes. Refer to your individual certificate of insurance for specific coverages, exclusions, and benefits. When in doubt, please contact one of our licensed agents for additional assistance.