Travel Insurance for UAE
Last updated on 07/21/2023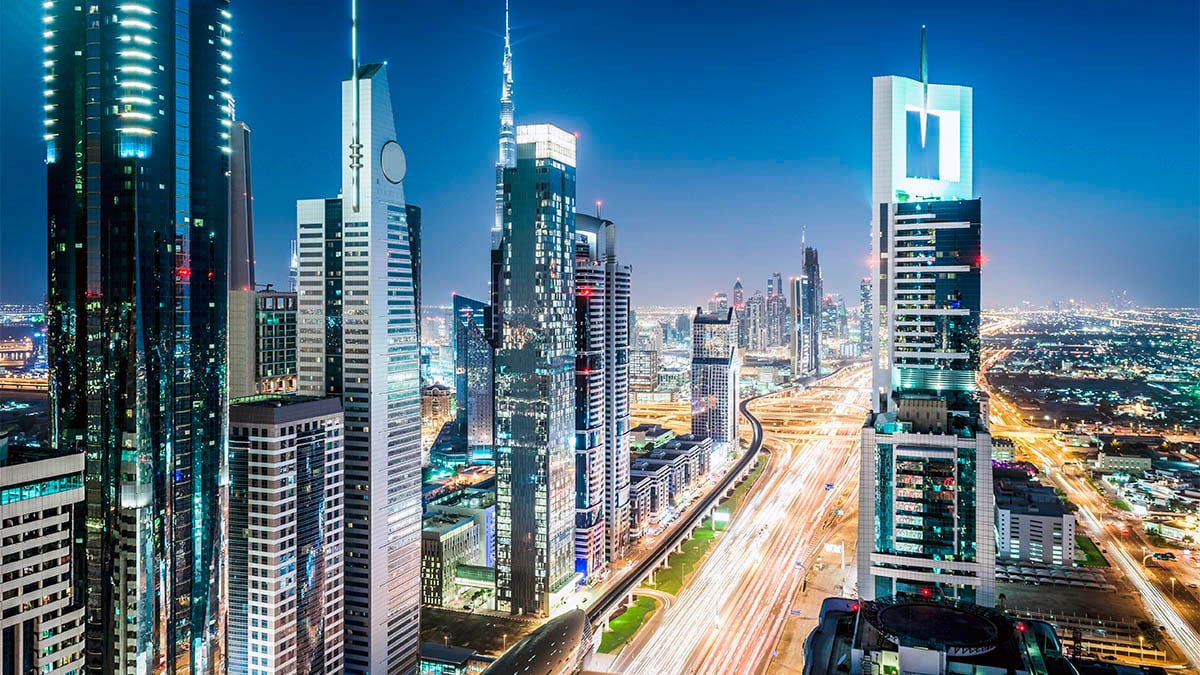 ---
---
Is Travel Insurance Mandatory for UAE?
The United Arab Emirates (UAE) previously required travelers visiting Dubai to purchase mandatory travel medical insurance in the event of COVID-19 treatment. Negative test results or proof of vaccination was also previously required. These requirements have since been lifted, however, we still strongly recommend purchasing travel insurance for UAE trips to help protect against injury, illness, and other common travel mishaps. Flight delays, weather events, lost baggage, and trip cancellation are just some of the concerns those heading to the United Arab Emirates may have. Purchasing the right coverage may help alleviate surprise costs if your travel plans go awry. Consider protecting your invested time and money to make sure your UAE trip goes as smoothly as possible.
Mandatory travel health insurance was previously required as part of the visa process. Now the requirement has been removed, and U.S citizens may obtain a visa upon arrival to Dubai, which will be valid for 30 days after entry by default. In some cases, it is possible to extend this visa up to a total of 60 days.
How Much Does United Arab Emirates Travel Insurance Cost?
Travel insurance for UAE does not have one set price, as each plan includes different coverages depending on the needs of the traveling party. Typically, factors that will influence the final price of travel insurance for United Arab Emirates are:
Duration of the trip
Type of coverage (what benefits are included in the plan)
Age of travelers
Number of travelers
UAE travel insurance prices will depend upon these factors which help providers determine the risk associated with each trip. As a rule of thumb, as risk involved with the trip increases, travel insurance prices will also increase. For this reason, travelers can typically expect to see different rates for shorter trips vs. longer trips, and similarly, for solo travelers vs. larger groups of travelers.
While a thorough travel insurance policy with more benefits may cost more, travelers may find the increased rates to be well worth it in the event of an unforeseen situation requiring emergency help.
Comprehensive travel insurance plans for UAE provide the most benefits and are designed to help travelers protect their prepaid, nonrefundable trip costs from the unexpected.
What Does UAE Travel Health Insurance Cover?
Visitor health insurance for UAE is designed to provide travelers with assistance for medical expenses incurred abroad. Travel medical plans often offer additional benefits that may be helpful in the event of an unforeseen illness or injury while traveling, such as Emergency Medical Evacuation. This coverage is designed to reimburse you for medical bills accrued if you suffer a covered illness or injury while traveling and need to be transported between treatment facilities.
If the illness or injury becomes severe enough, and you can't be treated properly at the hospital you are initially taken to, the travel insurance company and the attending physician may consider evacuation to a better equipped medical facility.
Typically, travel health insurance for UAE may include:
Dental coverage
24-hour traveler assistance
Health insurance is important for international trips as many domestic health insurers will not extend their benefits to cover treatment in another country. Before purchasing a travel insurance plan for your UAE trip, we recommend you contact your domestic medical insurance provider and identify what, if any, cracks in your current coverage may exist regarding healthcare abroad. Your travel insurance plan should aim to fill in any existing gaps to keep you protected while in UAE.
What is the Best Travel Insurance for UAE Trips?
The best UAE trip insurance varies from individual traveler to traveler. Activities involved in the stay plus specific concerns of the traveling party will influence which travel insurance is most beneficial for each trip.
However, a comprehensive travel insurance plan will provide the most benefits for an international traveler. Comprehensive plans for United Arab Emirates will include travel medical coverage along with additional travel-related coverages, including but not limited to:
Baggage loss, delays, and damage
Delays due to mechanical issues
Weather-related disruptions
Trip cancellation
Dubai attracts visitors from all over the world for a variety of activities and excursions – some of which are pre-paid and nonrefundable. For this reason, visitors may want to consider adding the optional Cancel For Any Reason (CFAR) benefit to their comprehensive plan, as CFAR offers the most cancellation flexibility. This benefit is time-sensitive and does have some eligibility requirements, so not all travelers will qualify.
No matter what the best UAE travel protection looks like for you, comparing different providers and plans is the recommended way to find your ideal plan. Enter your trip details in InsureMyTrip's free travel insurance quote form to view unbiased results. From there, consider narrowing your results down further to identify which plans address your specific wants, needs, and – if applicable – your budget.
---
Travel Tips & Safety for UAE
Money & Currency Exchange
UAE's official currency is the United Arab Emirates dirham (AED). Be prepared to see prices denoted by the symbols د.إ, Dhs, or DH while in Dubai and the rest of the UAE. When it comes to paying for goods in this modern country, travelers have several options. Most businesses in the United Arab Emirates accept payment by card, but for taxis and tipping it's a good idea to keep some cash on hand. Tipping is not compulsory in UAE, but it's common to tip at least 5 or 10 dirhams to those who have gone out of their way for you or performed a service well, such as a driver, hotel staff, or aesthetician.
To exchange your currency for United Arab Emirates dirham, ATMs are a truly convenient option. However, money traders or money exchange services may offer a better deal than ATMs. Money trading is a competitive space, so the savviest travelers look around for the best deals before making a trade. Cash in UAE circulates as both banknotes and coins, with the color-coded banknotes available in denominations of 5, 10, 20, 50, 100, 200, 500, and 1000. Each dirham is divided into 100 fils, and UAE's coins are valued at 1, 25, or 50 fils.
Transportation
Like the USA, the UAE is a car-centric country with well-managed roads. While a large portion of both locals and visitors drive private cars in the country, the UAE also provides a number of safe, clean, and efficient public transportation options. Buses run within and between all emirates for convenient travel from one city to another and are often equipped with disability-friendly features such as tactile floor paths for the visually-impaired, CCTV for the hearing-impaired, and designated spaces for wheelchairs. Some buses have private sections for women and families only. As for taxis, they are plentiful and in some parts of the UAE, women may also request women-only taxis driven by female chauffeurs.
Dubai, Abu Dhabi, and Sharjah are equipped with the most modern facilities when compared to other emirates. Dubai in particular offers the Dubai Metro, Dubai Tram, and water buses / ferries in addition to buses and taxis. Special cards, such as Dubai's Nol card, are used to quickly pay fares for public transportation. You can pick up public transportation cards from stations in Dubai, Abu Dhabi, and Sharjah but keep in mind that these cards can generally only be used in the emirate where they are purchased, as all three of these emirates have their own card system for public transportation.
Risk & Crime
The United Arab Emirates is generally considered a very safe country to visit. The crime rate in UAE is low, so most travelers will only have to be wary of uncommon situations such as pickpocketing. Strict laws dissuade locals and tourists alike from committing extreme or violent crime. However, these strict laws do extend to a very conservative degree — public displays of affection and some adult-oriented products are against the law in UAE, as well as anything relating to LGBTQ activity. Additionally, due to conflict with neighboring countries, do your best to avoid the regions of the Gulf and Arabian Peninsula. What typically exposes travelers to the most risk while traveling to UAE is weather. Hot summers are the norm in this desert country, so it's best to stay hydrated and indoors from June through December. Air conditioning and pools are common, so summer trips are still viable if you're careful. Some parts of UAE experience sandstorms and thunderstorms from time to time. For more information, refer to local weather reports before your trip and read the U.S. State Department's travel advisory for UAE.
---
Top 10 Travel Destinations & Tourist Attractions in UAE
Dubai
Al Ain
Abu Dhabi
Sharjah
Ajman
Jebel Ali
Fujairah
Hajar Mountains
Hatta
Ras al Khaimah
---
U.S. / UAE Embassy and Consulate Locations
U.S. Embassy in United Arab Emirates
Abu Dhabi, United Arab Emirates – U.S. Embassy
P.O. Box 4009
Abu Dhabi, UAE
Phone: 971.2.414.2200
Dubai, United Arab Emirates – U.S. Consulate
Corner of Al Seef Rd. and Sheikh Khalifa bin Zayed Rd
Dubai, UAE
Phone: 971.4.309.4000
United Arab Emirates Embassy and Consulate in USA
Washington DC – United Arab Emirates Embassy
3522 International Court NW, Suite 400
Washington, DC 20008 United States
Phone: 1.202.243.2400
Los Angeles, California — United Arab Emirates Consulate
1999 Ave of the Stars, Suite 1250
Los Angeles, CA 90067 United States
Phone: 1.310.551.6534
Boston, Massachusetts — United Arab Emirates Consulate
One International PL, Suite 2901
Boston, MA 02110 United States
Phone: 1.617.505.3300
New York, New York — United Arab Emirates Consulate
535 5th Ave, 32nd Floor
New York, NY 10017 United States
Phone: 1.212.419.7670
Houston, Texas — United Arab Emirates Consulate
7505 S. Main St. STE #510
Houston, TX 77030 United States
Phone: 1.832.956.6666
New York, New York — United Arab Emirates Permanent Mission to the UN
3 Dag Hammarskjold Plaza, 7th Floor
305 East 47th Street
New York, NY 10017 United States
Phone: 1.212.371.0480
Disclaimer: The information contained in this article serves as a general overview of benefits and should only be used for informational purposes. Refer to your individual certificate of insurance for specific coverages, exclusions, and benefits. When in doubt, please contact one of our licensed agents for additional assistance.