Danube River Cruises - Best Lines & Destinations
Last updated on 08/11/2023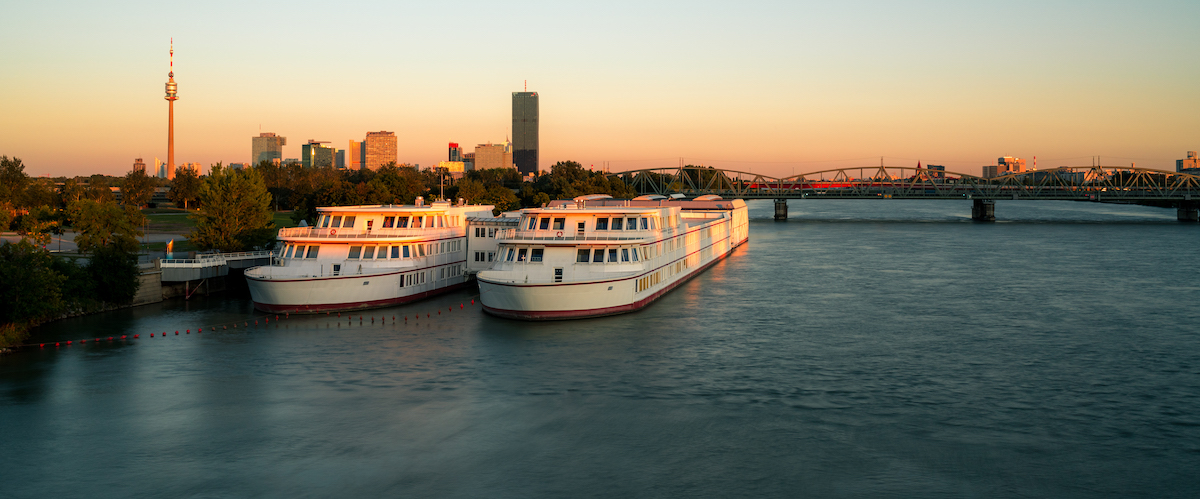 The Danube River snakes its way through 10 countries — starting off in Germany and ending in the Ukraine. It is the longest river in the European Union (at nearly 1800 miles long) and — no surprise — also one of the most popular waterways for river cruising with many popular ports and attractions to discover along the riverbanks. Not sure if a trip down the Danube is right for you? Here's some tips on where to go, what to do, and top Danube River cruise lines to check out.
Popular Danube River Cruise Ports & Destinations
Danube River cruises tend to debark in Hungary, Germany or Austria with popular stops in cities like Budapest, Vienna, Bratislava, and Nuremberg. Along the way, river cruisers can spot old-country villages, historic castles & medieval fortresses, museums, performance halls, and classic churches. Delectable cuisine and beverages, including local wine and beer offer the perfect complement to complete the Danube River experience.
Danube River Cruise Lines & Companies
For those interested in a river cruise down the Danube, there are several options available. Price, attractions, and the people in your travel party are just a few considerations to take into account when deciding on the best Danube River cruise line for your trip. Some of the most popular companies that service the Danube river include Tauck Tours, Viking River Cruises, Avalon Waterways, Emerald Waterways, and Adventures by Disney.
Tauck Tours
Travelers that book a cruise with Tauck Tours can enjoy wine tastings at private vineyards, visits to medieval towns, and entertainment during visits to cities like Bucharest, Budapest, Prague and Vienna. Tauck Danube cruise durations range from 8 to 25 days long and cost anywhere from around $3,000 - 12,500+. Duration, attractions, events, and amenities as well as seasonality influence the price points of the packages. Some of the highlights from Tauck include but are not limited to:
Private Imperial Evening at a palace in Vienna featuring a gala dinner and Viennese performers
Private aperitif and dinner in Prague at Lobkowicz Palace, Prague Castle
A private tour of Prague's Baroque libraries, Strahov Monastery
A private underground dinner in Wieliczka Salt Mine outside of Krakow
Early-opening visit to Pergamon Museum in Berlin
Wine-tasting event at the village of Weissenkirchen, in Austrian wine country
Interactive onboard workshops, seminars and performances by Tauck's "maestros"
A visit to the Opera House in Bratislava with special guests
Sitting in on an orchestra rehearsal in Vienna
Music and talk with a professor at Mozarteum University in Salzburg
Viking River Cruises
Viking River Cruises offers river cruisers another great option. Cruises range from 8 to 23 days. Price points start as low as $2000 and run up to around $8000 depending on the package's amenities, stops, and events. Viking River Cruises accommodates all types of travelers, from couples looking for a romantic getaway to seniors who want to take in a performance of Overammergau, The Passion Play. Some highlights for Viking River Cruises along the Danube include:
Enchanting Passau, set where three rivers meet
Lush vineyards of the Wachau Valley
The baroque splendor of Melk Abbey
Vienna's elegant architecture
The splendid Benedictine Abbey of Göttweig
Scenic beauty of the picturesque Danube Bend
Budapest's stunning Chain Bridge and Parliament Building
Soaring cliffs of the scenic Iron Gate
Romania's rural culture and rich folklore
Belgrade's impressive Kalemegdan Fortress
Avalon Waterways
Another cruise line, Avalon Waterways, offers more personalized service and options. Some of the shortest itineraries are just 4 days long, while the longest can last as many as 24 days. Avalon also provides a number of different accommodation and extension options as well. The wide range of durations, accommodations, and price points allows cruisers more flexibility in finding the best Danube River cruise for their vacations. Some of the river cruise highlights include:
Guided visit of the Benedictine Abbey in Melk
Hike to Bratislava Castle with your Adventure Host
Scenic cruising through the Wachau Valley
Free time in Dürnstein
Guided sightseeing visit to St. Martin's Cathedral
Guided walk in Regensburg, see Altes Rathaus (Old Town Hall) and Porta Pretoria
Free time in Linz
Guided walk in Passau
Guided tour of Budapest, see Heroes' Square
Nuremberg Rally Grounds tour
Emerald Waterways
Emerald Waterways allows travelers to choose from a range of contemporary Danube river cruises and experiences. For example, the 8-day Danube Explorer river cruise provides cruisers an intimate look at the beautiful cobblestone streets of Passau, Bavaria as well as glimpses of history through a 900-year old Benedictine Abbey located in Melk, Austria, while also providing options for active travelers including bike and walking tours. There are fewer options than other companies, but travelers can still select from 8-day cruises costing around $3000 to 11-day excursions up to $5000+. Emerald assures adventurers that no two days on a Danube river cruise are ever alike, so take a look at some of the highlights to find your ideal itinerary:
Guided tour of Ceský Krumlov
Guided tour of Melk Abbey
Guided tour of Vienna
Tour of hidden gem Novi Sad
Historical architecture of Melk sightseeing
Hike to Veste Oberhaus
Bike tour on Danube island
Afternoon tea with Mary Berry in Vienna
Guided hike to Bratislava Castle
Guided hike to Dürnstein Castle
Adventures by Disney
Everyone knows Disney and now families can book a Danube river cruise designed just for them. Disney offers an 8-day cruise with excursions like bike rides from Melk to Krems and a visit to city Sound of Music made famous, Salzburg. While there are fewer options through Disney, the packages are ideal for family travel. Ships and riverboats are sailed by AmaWaterways and prices start at around $4800. Here are some of the highlights for Disney Danube River cruises:
Visit Budapest Central Market Hall & Lazar Equestrian Park
Panoramic Tour of Budapest
Budapest Walking Food Tour
Bratislava Walking Tour
Lunch at Schloss Hof
Panoramic City Tour of Vienna
Tour Schönbrunn Palace
Private Marionette Show
Strudel-Making at Schönbrunn Palace
Bike Ride to Klosterneuburg Abbey
Mozart & Strauss Concert
Explore the Melk Benedictine Abbey
Tour of Dürnstein & Hike to the Castle
Tour Salzburg, Explore Mondsee
Explore the Salt Mines, The Sound of Music Sing-Along
Walking Tour of Passau with a Marzipan-Making Activity
Danube River Cruise Insurance
No matter which cruise line or itinerary you choose for you Danube river adventure, you should consider purchasing insurance to protect against unforeseen hiccups along the way. While plans and policies vary, river cruise insurance can cover many of the prepaid, non-refundable costs associated with your trip. This can include situations like lost/stolen baggage, connection delays, and other travel mishaps. River cruise insurance is especially important for travelers going on walking excursions or bike tours, since accidents can happen and you'll want to be prepared just in case. Get a quote today and compare prices, coverages, and options with our unbiased recommendation engine.