Travel Insurance for Your Disney Adventure
Last updated on 03/04/2022

The Disney Parks are unique destinations that draw millions of people each year from around the world to experience "The Happiest Place on Earth." In the United States, there is one Disney theme park located on each coast - Walt Disney World in Orlando, FL and Disneyland in Anaheim, CA. The Disney Cruise Line fleet includes five unique ships which offer both domestic and international cruises. With visitors traveling from all over the world, the investment in a Disney trip is often substantial and worth protecting from unexpected events.
With the uncertainty in travel due to the COVID-19 pandemic, concerned travelers are looking for coverage that offers maximum protection for their trip and flexibility for cancellations.
For many travelers, a comprehensive travel insurance policy may provide the best overall protection. However, like any travel insurance purchase, it depends on your unique travel details and which coverage options are important to you.
For travelers concerned with trip cancellation, Cancel for Any Reason is the coverage option available for new travel insurance policies to cover trip cancellation due to coronavirus fears. This time-sensitive benefit is optional on most plans and has other eligibility requirements, so not all travelers will qualify.
How Much is Travel Insurance for My Disney Vacation?
Travel insurance is not one-size-fits-all, so the price and conditions of a plan will vary. Common travel insurance factors include the number of travelers, age of the travelers, length of coverage, and type of coverage being purchased. We recommend answering a few questions about your trip as the best way to identify the options available to you and the associated cost.
What Does Travel Insurance Cover for My Trip to Disney?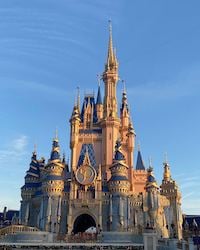 Depending on the type of plan you purchase, coverage options will vary. Comprehensive travel insurance plans are popular for Disney trips, and while many may include specialty coverages that set them apart from the rest, all comprehensive plans have a core set of coverages. It's these core aspects of the plans that protect travelers from their driveway, to their destination, and then back home. These common core coverages include medical coverage, emergency evacuation, baggage coverage, trip cancellation, and trip interruption coverage.
These core coverages in comprehensive plans are not the only coverages you should consider. The entire plan is important. Some comprehensive plans offer additional coverage, such as rental car damage or financial default. Many plans have optional benefits you can add-on for additional premium like Cancel for Any Reason or a pre-existing condition waiver – but these can be time-sensitive to the date of your first trip payment.
For those planning to take a Disney Cruise, cruise insurance is a specialized type of comprehensive plan specific to the unique multi-leg nature of traveling by cruise ship.
For travelers concerned specifically with trip cancellation, Cancel for Any Reason is the coverage option available for new travel insurance policies to cover trip cancellation due to coronavirus fears. This optional benefit is time-sensitive and has other eligibility requirements, so not all travelers will qualify.
Does Travel Insurance Cover Flights to Disney?
Comprehensive plans allow travelers to insure all of the prepaid, non-refundable portions of their entire trip, including their flight.
In the event of flight delays, comprehensive travel insurance plans often include a concierge service to help you arrange a hotel room for your family, so you aren't using a jacket as a blanket in Terminal 5. Keep in mind that the travel delay coverage on your plan, unless otherwise stated, is per person. Any delay must exceed the time frame set by the plan to be covered. This time frame is often somewhere in the 3-12 hour range. Also, if you are delayed, remember to save all your receipts for food, lodging, and travel to and from the airport related to the delay. You won't be reimbursed for an otherwise covered expense if you're not able to show documentation.
While specific flight insurance plans are often available as an add-on when booking an airline ticket, this "light" coverage may leave you with some coverage gaps due to the relatively lower maximum value and narrower range of covered events.
Does Travel Insurance Cover Hurricanes in Disney?
It is no secret that hurricanes are common for the state of Florida, particularly during hurricane season, which runs from June 1 - November 30. The number one concern of summer travelers researching travel insurance is how their trip will be affected by hurricanes or other severe weather events.
For concerned travelers, it is important to know that purchasing your travel insurance plan prior to a storm being named should provide you coverage for travel concerns that arise due to that storm. If a hurricane or tropical storm that affects your trip is predicted before you purchase a plan, your coverage may be extremely limited.
Oftentimes Disney does allow travelers to cancel or change the date of your tickets or vacation package in the case of a hurricane affecting the park. That means that if you're able to reschedule the trip or get a refund, you would not be reimbursed for those costs through comprehensive coverage. Only non-refundable costs are covered. However, your flight or other travel arrangements may not be refundable and would be covered under a comprehensive plan as long as you purchased your plan before the hurricane was a named storm.
Is Travel Insurance for My Disney Trip Refundable?
Travel insurance is non-refundable after the review period listed on the policy (usually 10-14 days from the purchase of the plan).
Does Travel Insurance Cover Disney Park Tickets?
If the theme park tickets are prepaid and non-refundable prior to departure, you can include the cost of the tickets with your trip cost that you are insuring.
In most cases, Disney Park tickets and packages are nontransferable and nonrefundable. However, while travelers cannot cancel or get a refund for a ticket or package, some cases allow the unexpired theme park tickets to be used for a future vacation. That means that if you're able to reschedule the trip and transfer your tickets to a future date, you would not be reimbursed for those costs through comprehensive coverage.
When Can I Add Travel Insurance for My Disney Vacation?
Travelers must purchase their travel insurance before it is needed, but generally speaking, sooner is better. For the most coverage options, we recommend you start comparing travel insurance plans soon after making at least one payment towards your trip.
If you need coverage for a pre-existing medical condition or are interested in optional Cancel for Any Reason coverage, you should be aware that both of these have time-sensitive eligibility requirements tied to your initial trip payment (among other requirements). In other words, once you've paid for a part of the trip (whether it's airfare, accommodations, or a down payment) you have a limited amount of time - typically between 10 to 30 days depending on the plan and provider - to buy a plan to access these benefits.
To identify the best travel insurance plan for your Disney trip, you will want to have a good grasp of your total expected trip cost. This will allow you to get the most accurate quote for the right travel insurance plan. However, you can purchase your policy as soon as you've made any non-refundable payment related to the trip and then add other costs on as you book them. It's as easy as calling our Customer Care team and paying any difference in premium.
Does Disney Offer Travel Insurance?
The Disney Parks do offer a Travel Protection Plan through their booking website. However, to find the best and most robust insurance for your unique trip, it's advisable to look at travel insurance reviews and then buy travel insurance for your trip from a third-party source. Often the types of travel insurance plans offered with vacation packages tend to be limited in their coverage and may not include the essential benefits you need for your individual comfort and safety. It is advisable to review the policy and coverages carefully, comparing the benefits to other recommended travel insurance plans. You can easily do this by answering a few questions about your trip in our quote generator, or calling our Customer Care team.
Does My Primary Health Insurance Cover Me in Florida or California?
Your out-of-network benefits may be very different when you're traveling away from your home network.
Once you are clear on your health insurance coverage, you can determine how useful travel medical coverage as either a standalone plan or part of a comprehensive plan might be. With most comprehensive plans, you'll need to place any medical claim with your health insurance first. Then you can file a claim with the travel insurance company for medical bills your health insurance company would not cover, up to the plan limit.
Travel medical coverage excludes coverage for any illness related to a pre-existing condition unless you purchase a plan with a pre-existing condition waiver. Each travel insurance company uses a particular time frame when considering pre-existing conditions, known as a look-back period, which is typically between 60 and 180 days before purchasing the plan. In the event of a claim, the insurance provider will review your medical records to determine whether the illness was due to a pre-existing condition.
We suggest calling your health insurance provider and asking how your health insurance benefits work when you are traveling out of your home network.
Disney Cruise Line
Traveling on one of the Disney Cruise Line ships is a unique experience, whether you are a seasoned cruiser, avid Disney fan, or traveler looking for a "magical" new experience. However, with these experiences come a number of specific considerations, particularly when it comes to insuring your cruise.
Do I Need Travel Insurance for My Disney Cruise?
Like many cruise lines returning to normal service, Disney Cruise Lines has outlined new requirements and recommendations for passengers. As of August 2021, unvaccinated guests 12 years of age and older who depart on a cruise out of Florida through the end of 2021 will have to show proof of travel insurance with at least $10,000 per person in medical expense coverage and $30,000 in coverage for emergency medical evacuation with no COVID-19 exclusions. Guests who do not show proof of vaccination will also be required to get a COVID-19 PCR test between 5 days and 24 hours of embarking on a ship, and undergo a rapid PCR test at the terminal.
When looking specifically at the requirements for Disney Cruise Lines, InsureMyTrip offers cruise travel insurance plans that meet and/or exceed such requirements.
Fully vaccinated passengers who volunteer their vaccination status will be exempt from all testing and travel insurance requirements.
However, no matter your vaccination status, cruise insurance is especially important for all travelers to consider because of the unique multi-leg nature of traveling by cruise ship.
Depending on the plan, cruise travel insurance may protect you from unexpected mishaps like if you miss a leg of your trip or need an emergency evacuation from the sea. When traveling abroad by ship, cruise trip insurance can cover you for unexpected medical issues.
However, it's important to be cautious about where you get travel insurance for a cruise. Typically, to find the best and most robust cruise insurance it's most advisable to look at cruise insurance reviews and then buy travel insurance for your cruise from a third-party source — not from the cruise line itself. These types of travel insurance plans tend to be limited in their coverage and may not include the essential benefits you need for your individual comfort and safety. They may be written in a way that is more likely to benefit the cruise line operator rather than the cruiser.
Dining on a Disney Cruise
The Disney dining experience is famous and most onboard experiences are included in the cost of your cruise. Passengers have the option of upgrading to specialty dining options which vary depending upon the ship and specific offerings of that cruise.
If you have been on cruises before you know that you may have to sit with other parties while dining. If you prefer to eat alone, Disney may be able to accommodate your request. While this is not guaranteed, it is advisable to contact Disney Cruise Line prior to your departure so they may note your reservation, and check with the main dining room again once onboard the ship. However, many passengers have found the shared dining space to be a rewarding and interesting experience that allows you to meet new people and enjoy the company of others.
What Is There to Do on a Disney Cruise?
Disney is perhaps even more famous for its entertainment options than its food, and the Disney Cruise Line absolutely delivers with its robust entertainment options. Each night, passengers receive a schedule for the following day's activities. There are usually a few different activity lists - one list for families, one for adults, one for each of the kids' clubs.
Some activities include the classic entertainment options of bingo, poolside games, mixology classes, how to make paper airplanes, Broadway shows, movies in the theater, and so many more. Just like the Disney parks, one of the highlights is the opportunity to meet and greet Disney characters. This is an exciting part of the day, especially for the children. Lines may form, they may be long, but the character interaction is often well worth the wait.
What Should I Bring on a Disney Cruise?
Family memories are often best captured by your handheld camera. You never know who you may bump into while walking around the ship. Along with the beautiful ships, the incredible scenery, there are some real characters walking around you may want to snap a quick photo with. Photopass services are often available during large meet and greet events, and the photos can be purchased during or after the cruise. For a fun interactive way to capture these photos, consider pacing a polaroid camera - you can quickly take a photo, print it, and have it autographed right on the spot.
For the young, and young-at-heart, who particularly enjoy character interactions, an autograph book with a pen is another recommended item. If you forget to pack one, they can usually be easily purchased on the ship.
Other items to consider include important travel documents, sunscreen, bug spray, aloe, dollar bills for the marketplaces in port and for help with your luggage at the airport, an empty carry-on for souvenirs, towel clips for your chair at the pool so your towel doesn't fly away with the wind while at sea, formal wear if your cruise has a formal night, an underwater camera and of course a couple of bandanas for pirate night.
Should You Take a Disney Cruise?
The magic of Disney is legendary for families, couples, friends, and more.
Disney may be considered by some to be aimed at children, but Disney service also caters to adults. In fact, each Disney Cruise Line ship features an adults-only area and spa. For those adults traveling without children, this area may be especially enjoyable since families often account for the majority of the passengers. The adult-only areas are usually not crowded for this reason and can be an incredibly peaceful escape.
If you enjoy cruising with a little extra magic, this experience may be the vacation of a lifetime for all members of your party, regardless of age.
Disclaimer: The information contained in this article serves as a general overview of benefits and should only be used for informational purposes. Refer to your individual certificate of insurance for specific coverages, exclusions and benefits. When in doubt, please contact one of our licensed agents for additional assistance.