Travel Insurance for Austria
Last updated on 07/13/2023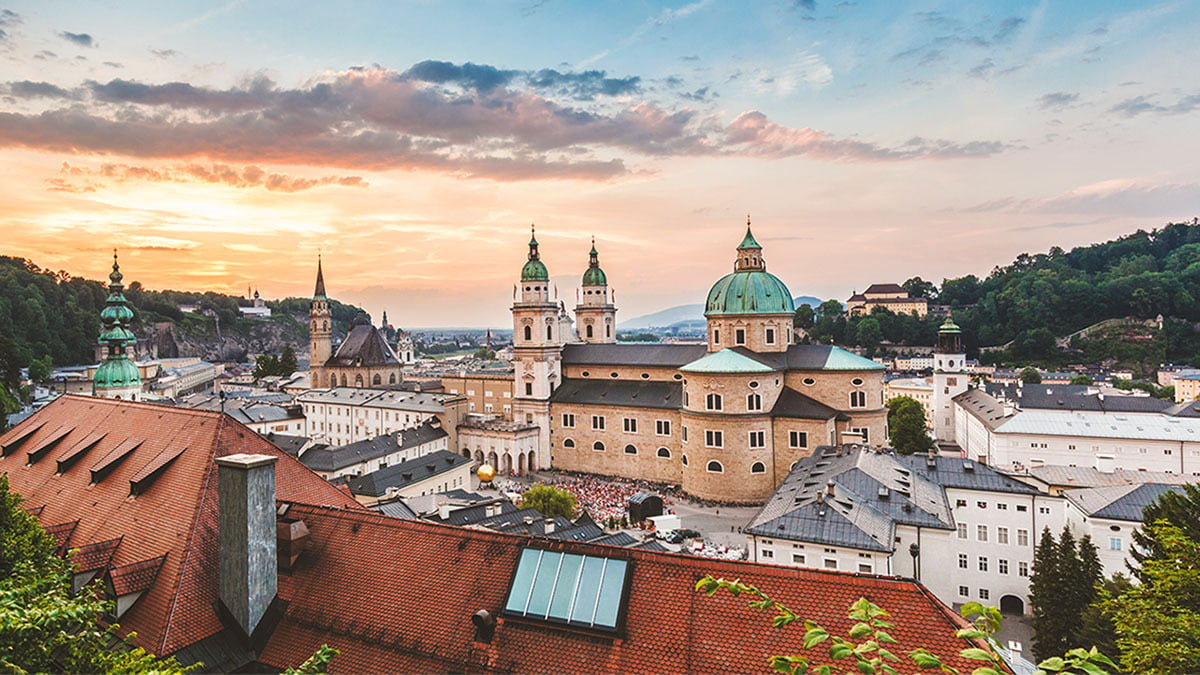 ---
---
Do I Need Travel Insurance for Austria?
Travel insurance for Austria is not mandatory for U.S. citizens, but residents of certain countries must show proof of specific travel insurance to enter the country. Though only some travelers must show travel insurance for entry, coverage is recommended for all visitors to Austria. Unforeseen situations like travel delays, medical events, lost baggage, and more can be covered by travel insurance plans.
For example, travelers flying to Austria might consider coverage for flight delays or cancellations, as well as the mishandling of luggage. In some cases, these benefits can reimburse travelers for a range of expenses incurred as the result of service disruptions or lost luggage.
Medical treatment during a trip can be costly if paid for out-of-pocket. Designed to help travelers in emergencies, Austria trip insurance may include health-related benefits to fit most travelers' health concerns. Travelers should be advised that most domestic health insurance companies will not pay for treatment abroad. Companies that do provide some coverage in Austria may impose limitations. A travel medical plan for Austria can help travelers bridge this gap to stay protected from costs associated with getting sick or hurt while abroad.
Schengen Travel Insurance for Austria
Austria is part of Europe's Schengen Area, so travelers from some countries will need to obtain a travel insurance plan to fill the Schengen Visa requirements. Applicable travelers should pay special attention to ensure that the necessary coverage exists. InsureMyTrip offers plans specifically designed to meet Schengen travel insurance and visa requirements for visitors to Austria.
What Does Austria Travel Health Insurance Cover?
Travel health insurance for Austria can cover emergency medical and dental treatment, hospital fees, evacuation, and more, depending on the plan. Travelers may also consider coverages to address their personal health concerns like pre-existing medical conditions or coverage that offers reimbursement in case a trip is interrupted by covered illness or injury.
Travel insurance for activities like alpine skiing in Austria may be important for adventurous travelers. Austria is home to the Austrian Alps, a favorite destination for families and sportspeople alike for climbing and skiing. However, not all travel insurance plans will cover injuries from activities deemed "high risk" by default. For this reason, sporty travelers may want to include a hazardous sports rider in their Austria travel protection plan.
COVID-19 Travel Insurance for Austria
COVID-19 is considered a named event, so some travel insurance providers may be unable to cover expenses related to COVID-19 in Austria. However, other providers have extended their medical coverage to include COVID-19. This coverage will vary by plan, so be sure to review your travel health insurance for Austria carefully before purchasing. If you need additional information, please contact our Customer Care team for assistance.
Cancel For Any Reason (CFAR) is recommended for travelers concerned about cancellation due to COVID-19 or other reasons not covered by other travel insurance benefits. CFAR can be used even if your international insurance for Austria doesn't explicitly cover COVID-19-related expenses, but this benefit may not be available to all travelers because of certain eligibility requirements.
How Much Does Austria Travel Insurance Cost?
Most travelers heading to Austria want to know about the price of travel insurance. Since each trip is different, each policy looks a little different. The cost of Austria travel insurance depends on certain trip details like the length of the trip, the covered travelers and their ages, and the benefits included in the plan. In general, higher coverage limits, more travelers, or longer trips may cost a little more.
What is the Best Travel Insurance for Austria?
Travelers are encouraged to think about their own itineraries, concerns, and budgets when choosing a travel insurance plans for Austria. Students, business travelers, and tourists on holiday might each have different concerns, so the "best" Austria travel insurance plan may vary for everyone. To start comparing providers and plans that match your trip details, start a free travel insurance quote here. You'll be able to check through coverages and unbiased reviews from your fellow travelers all in one place.
---
Travel Tips & Safety for Austria
Money & Currency Exchange
Like much of Europe, Austria's official currency is the Euro (currency code: EUR). And like the U.S. dollar, one Euro can be divided into 100 cents. When shopping in the "Eurozone," travelers can expect to see prices denoted by the symbol €. Austria and the rest of the Eurozone use a combination of banknotes and coins. Euro banknotes are available in denominations of €5, €10, €20, €50, €100, €200, and €500, although the €200 and €500 notes are rarely used. Coins in values of 1c, 2c, 5c, 10c, 20c, 50c, €1, and €2 are also available and are often quite useful. You may need coins in Austria to operate shopping trolleys, lockers in museums and other tourist sites, public restrooms, and to tip restroom attendants or other service providers. Cash (in Euros only) is widely accepted, but so are most major credit cards. If you pay with card and are prompted to choose between paying in the local currency or in your home currency, you'll typically get the better deal by choosing to pay in the local currency, in this case the Euro.
ATMs, airports, and many hotels can exchange your clean, undamaged home currency for the Euro. Though the location may be more convenient at an airport or hotel, exchange venues found around towns or cities often offer a better deal. The savviest travelers keep an eye on current global exchange rates in the weeks or days prior to their trip and shop around for the best rates before making an exchange. One tip to minimize any fees during your exchange is to find your ideal rate and make few exchanges in large amounts instead of many exchanges in smaller amounts.
Transportation
Austria has a well-developed transportation system, which includes several options for getting around the country. Austria's public transportation network is highly regarded for its efficiency. One of the most preferred modes of public transport is the train because the rail system is not only reliable but also connects to most major cities and towns. There is also an extensive network of trams and buses that can take you to various parts of the cities or more remote areas of the country. Taxis are another convenient way to get around in Austrian cities. However, travelers should note that taxis can be expensive, especially when traveling long distances.
While public transportation is a great option for more populated areas, some visitors prefer to travel more independently or head off the beaten path. In this case, car rental can be a great option. Rental car services are readily available at the country's major airports, train stations, and in most cities. If you do plan to drive yourself, be aware that driving in some of Austria's cities can be a challenge due to narrow streets and heavy traffic.
If you plan to stick around the cities or will only be traveling shorter distances, biking and walking are excellent options. Many cities are designed with pedestrians in mind, and dedicated pedestrian zones make walking enjoyable and safe. Additionally, many towns and villages have beautiful walking trails that showcase the country's beautiful natural scenery. Biking is also an excellent way to check out Austria's stunning countryside. Austria features a vast network of bike trails, particularly along rivers and lakes. Many cities also have bike-sharing programs that allow you to rent a bike for a short time.
International and regional airports are found throughout the country, which is convenient for traveling longer distances. Many tourists visiting Austria also travel to other nearby European countries, so air travel provides a quick way to get around the country and beyond. However, airline tickets are typically more expensive than most other modes of transportation. If money is no obstacle, consider booking a helicopter tour. These tours take you up over some of the major cities, like Vienna, as well as more remote areas, including the Austrian Alps.
Risk & Crime
Austria is considered one of the safest countries in the world to visit, ranking as the 3rd safest country for travelers, according to TravelSafe. Crime risk is very low in Austria, but travelers should still watch out for petty theft, like pickpocketing. To combat the risk of pickpocketing, keep your personal items close to your body and hidden from public view whenever possible. Public spaces in Austria are generally clean and predictable, so travelers typically don't need to worry about special health risks when walking around. Most likely, the greatest risk travelers may experience in Austria is related to natural and weather events. Earthquakes and avalanches have been known to occur in Austria, sometimes with little or no warning. However, these instances are uncommon and no destination is 100% free of weather-related risks, so don't let the possibility of a weather event dissuade you from taking your Austrian trip.
---
Top 10 Travel Destinations & Tourist Attractions in Austria
Vienna
Salzkammergut including Hallstatt
Graz
Salzburg
Wachau Valley including Dürnstein
Innsbruck
Zell am See
Grossglockner High Alpine Road
Bad Gastein
St Anton am Arlberg
---
U.S. / Austria Embassy and Consulate Locations
U.S. Embassy and Consulate in Austria
U.S. Embassy in Vienna, 9th district
Boltzmanngasse 16
1090 Vienna, Austria
Phone: 43.1.31339.0
U.S. Consulate in Vienna, 1st district
Parkring 12a
1010 Vienna, Austria
Phone: 43.1.31.339.7535
Austrian Embassy and Consulate in USA
Washington DC — Austrian Embassy
3524 International Court N.W.
Washington DC 20008 United States
Phone: 1.202.895.6700
Anchorage, Alaska — Austrian Honorary Consulate
c/o Hotel Captain Cook, 4th at K Street
Anchorage, AK 99510-2280 United States
Phone: 1.907.276.6000
Los Angeles, California — Austrian Consulate General
11859 Wilshire Boulevard, Suite 501
Los Angeles, CA 90025 United States
Phone: 1.310.444.9310
San Francisco, California — Austrian Consulate General
580, California Street, Suite 1500
San Francisco, CA 94104 United States
Phone: 1.415.765.9576
Denver, Colorado — Austrian Honorary Consulate
100 Filmore Street
Denver, CO 80206 United States
Phone: 1.303.385.8540
Miami, Florida — Austrian Honorary Consulate
2445 Hollywood Blvd
Hollywood, FL 33022-2480 United States
Phone: 1.954.925.1100
Orlando, Florida — Austrian Honorary Consulate
5782A South Semoran Blvd.
Orlando, FL 32822 United States
Phone: 1.407.245.8352
Atlanta, Georgia — Austrian Honorary Consulate
3333 Riverwood Parkway, SE Suite 200
Atlanta, GA 30339 United States
Phone: 1.404.264.9858
Honolulu, Hawaii — Austrian Honorary Consulate
Prof. Johann Urschitz
1549 Wilhelmina Rise
Honolulu, Hawaii 96816 United States
Phone: 1.808.206.4394
Chicago, Illinois — Austrian Consulate General
Wrigley Building, Suite 707
400 North Michigan Avenue
Chicago, IL 60611 United States
Phone: 1.312.222.1515
New Orleans, Louisiana — Austrian Honorary Consulate
755 Magazine Street
New Orleans, LA 70130 United States
Phone: 1.504.581.5141
Boston, Massachusetts — Austrian Honorary Consulate
15 School Street, 5th floor
Boston, MA 02108 United States
Phone: 1.617.227.3131
Detroit, Michigan — Austrian Honorary Consulate
300 East Long Lake Road, Suite 365
Bloomfield Hills, MI 48304 United States
Phone: 1.248.645.1444
Minneapolis, Minnesota — Consulate General of Austria
15600 37th Ave N
Minneapolis, MN 55446 United States
Phone: 1.763.543.0109
Kansas City, Missouri — Austrian Honorary Consulate
7th Floor, Harzfeld Building
1111 Main Street
Kansas City, MO 64105 United States
Phone: 1.816.474.3000
St. Louis, Missouri — Austrian Honorary Consulate
100 Ungerböck Park
O'Fallon, MO 63368 64105 United States
Phone: 1.636.300.5606
New York, New York — Austrian Consulate General
31 East 69th Street
New York, NY 10021 United States
Phone: 1.212.737.6400
Las Vegas, Nevada — Austrian Honorary Consulate
8215 S. Eastern Ave., Suite 205
Las Vegas, NV 89123 United States
Phone: 1.702.706.5180
Charlotte, North Carolina — Austrian Honorary Consulate
250 North Main Street
Charlotte/Mt. Holly, NC 28120 United States
Phone: 1.704.827.7246
Columbus, Ohio — Austrian Honorary Consulate
1533 Lake Shore Drive (Daimler Building)
Columbus, OH 43204 United States
Phone: 1.614.224.5464
Portland, Oregon — Austrian Honorary Consulate
Stoel Rives LLP
760 SW 9th Avenue, Suite 3000
OR 97205 United States
Phone: 1.503.552.9733
Pittsburgh, Pennsylvania — Austrian Honorary Consulate
c/o Andritz Ruthner Inc.,
125 Technology Drive
Canonsburgh, PA 15317 United States
Phone: 1.724.745.7599
Houston, Texas — Austrian Honorary Consulate
11000 Brittmoore Park Drive
Houston, TX 77041 United States
Phone: 1.713.647.6667 / 1.832.615.1515
Salt Lake City, Utah — Austrian Honorary Consulate
240 Edison Street
Salt Lake City, UT 84111 United States
Phone: 1.801.364.1045
Richmond, Virginia — Austrian Honorary Consulate
11904 Brookmeade Court
Glen Allen (Richmond), VA 23059 United States
Phone: 1.804.364.8614
Seattle, Washington — Austrian Honorary Consulate
Mrs. Eva Kammel
16045 36th Ave NE
Lake Forest Park, WA 98155 United States
Phone: 1.425.395.4382
San Juan, Puerto Rico — Austrian Honorary Consulate
525 F. D. Roosevelt Ave.
Plaza Las Américas Tower, Local 24B
San Juan, PR 00918
Phone: 1.787.767.1381
Disclaimer: The information contained in this article serves as a general overview of benefits and should only be used for informational purposes. Refer to your individual certificate of insurance for specific coverages, exclusions, and benefits. When in doubt, please contact one of our licensed agents for additional assistance.