What to Do at the Grand Canyon
Last updated on 03/18/2021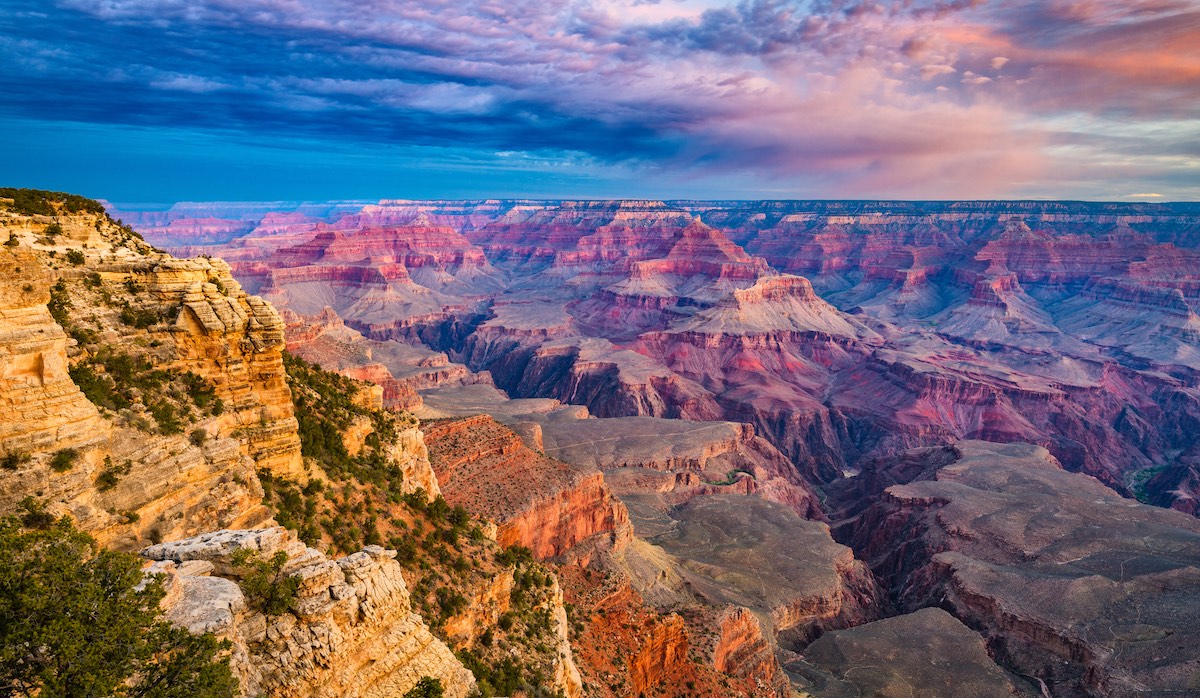 The Grand Canyon is one of the most popular tourist spots in the United States and is the second most visited of any U.S. national park. Each year, around 6 million people travel to the geographic wonder. If you're planning a family trip or a solo adventure, you may be wondering what there is to do at the Grand Canyon. We've compiled some helpful travel tips, FAQs, and most importantly a list of some of the best things to do at the Grand Canyon. While each traveler's experience will be unique, this list will help you make the most of a visit to the Grand Canyon.
Best Things to Do at the Grand Canyon
Choosing you accommodations, transportation method, and even planning the right activities depends on who is in your travel group. If you're an avid solo backpacker, there are endless options for hiking. But if you're traveling as a family with small children, a day's long hike through the backcountry may not be the best choice. For this reason, the activities and recommendations highlighted are intended for travelers of a variety of ages and abilities.
Stay in a Hotel in Tusayan
Staying inside a national park isn't for everyone, especially those who like in-room wi-fi and air conditioning. Tusayan, Arizona is less than 10 minutes from the South Rim park entrance and has all the amenities on a three-block strip, including fast-food & sit-down restaurants, hotels, shops, and fuel stations (even Tesla charging stations). As you can imagine the easy access to the park makes Tusayan a popular choice for all types of travelers, but you'll want to book well in advance as the hotels fill up fast. If Tusayan hotels are full, you can look in Williams and Flagstaff for additional options. Just know that each is further away--a little over an hour from the park entrances.
Still want to stay inside the park? If you're traveling to the North Rim, there are two lodging options inside the park. The Grand Canyon Lodge features motel rooms and cabins, and the North Rim Campground features traditional and RV camping (no hook-ups but dump station within the campground). Travelers should note that some of these options are not available during the winter months. The most adventurous travelers may be interested in Phantom Ranch. The ranch is located on the canyon floor, which means it's only accessible by hike or mule ride.
Grand Canyon West also offers in-park lodging, but again, these options tend to book quickly and well in advance. It's best to reserve your accommodations well ahead of your trip and plan for seasonality.
Use the Park Shuttle
The park shuttle is fantastic. There are several pick-up stops in Tusayan and a shuttle schedule features pick-ups/drop-offs about every 15-20 minutes. It can be nice to have your own car or a rental, but you'll really appreciate the shuttle when you cruise into the park and bypass the long line of cars waiting to enter. Grand Canyon West is closed to private vehicles but operates a convenient shuttle around the park. Additionally, certain parts of the South Rim are only accessible by bus. A shuttle service also makes the 4.5-hour trip between the South and North Rims, which is especially useful to rim-to-rim hikers. The North Rim is ideal for those in their own cars or rentals, since it is fully open to private vehicles.
Take a Ride on the Grand Canyon Railway
Another great way to get to the South Rim is by the Grand Canyon Railway. The train runs from the town of Williams, Arizona, into the heart of the park. Traveling by rail is ideal for those looking to spend about a half-day of exploring the park before returning in the afternoon.
Watch the Park Orientation Film
Kids, history buffs, and everyone in between are sure to enjoy the park's informative orientation film. It's such a great way to get background knowledge about the national park's formation and history. The 22-minute film, Grand Canyon: A Journey of Wonder, is played at the Grand Canyon Visitor Center on the hour and half hour throughout the day.
Walk Along the Rim Trail
The Rim Trail is incredible. An easy, paved walk, it's ideal for children and it's very much wheelchair and stroller accessible. The 3/4 mile section between Mather Point (adjacent to the Grand Canyon Visitor Center) and Yavapai Point is especially breathtaking. Visitors will find it difficult to take their eyes of the canyon as they walk along the rim.
Attend a Ranger-Led Program
On your first visit to the Grand Canyon, it's a must to attend a ranger program. You, your kids, or anyone in your travel party can learn about fossils, geology, native birds, and animals. There are even ranger-led walks and night sky programs. Pick up a park newspaper when you arrive to check out the schedule for the day or days you'll be visiting the park.
Get Your Parks Passport Stamped
First, buy a Passport to Your National Parks online, at the visitor center, or bookstore. Then once you're inside the park, you can purchase the official sticker for Grand Canyon National Park and add it to your passport book. Make sure to keep your eyes open for cancellation stamps as well. There are at least five stamps, including stamps at Yavapai Geology Museum and Desert View. A stamped park passport book is the ideal keepsake for travelers of any age.
Take Lots of Photos
With the emergence of digital photography, there's no need to savor your snaps! Plan ahead and make sure you have plenty of blank space on your photo card. That way, you can take as many photos as you like. The Grand Canyon is so vast that it's impossible to capture every detail in a single photo. If you have experience with panoramic photography, the Grand Canyon is the ideal subject. All of your photos will look great next to your stamped park passport book too!
Become a Junior Ranger
While not for everyone, those traveling with kids will definitely want to take advantage of the Junior Ranger program. It's a great way to keep kids engaged as they earn badges and patches. You can pick up an activity booklet at any visitor center inside the park. Once you complete the activities and attend a ranger-led program, you're ready to be sworn in on the spot by a park ranger.
Bring Sandwiches and Eat Along the Rim
Another great way to enjoy the Grand Canyon is to bring your own sandwiches or any other picnic fixings with you and enjoy your lunch at the edge of the rim. Families will enjoy quality time as they bond over the trip while solo travelers can relax in a moment of solidarity. Benches line the rim, so it's easy to take a rest or grab a bite when you need to.
Don't Forget to Enjoy the Journey to the Grand Canyon
While the Grand Canyon is a stunning destination on its own, there are additional must-see experiences that you'll want make time for on the way. Activities and popular stops vary depending on which park entrance you're headed for, but some fun examples include half-day rafting trips at Glen Canyon Dam and slot canyon tours at Antelope Canyon. You can also take in the views from Horseshoe Bend in nearby Page, Arizona. If you're on the other side of the South Rim, plan to make stops along historic Route 66 in Seligman and Chloride.
How to Travel to the Grand Canyon
Most people who visit to the Grand Canyon fly into Phoenix or Las Vegas. There's also a regional airport in Flagstaff, which is only about an hour from the South Rim. Travelers should note that while this flight service is convenient, airline tickets typically cost a bit more than they would for larger airports. Additionally, Salt Lake City is a popular landing spot for those visiting the North Rim. Just know that no matter which airport you choose, you'll likely need to rent a car to take you the rest of the way. Public transportation options are limited in this region of the country.
Common Travel Times to the Grand Canyon
Getting to the Grand Canyon isn't as easy as flying direct for most travelers, so we took a look at some of the most popular routes and travel times. The below times are approximate and assume non-stop travel one way. However, if you're like us, you'll want to make some planned and unplanned stops along the way to make the most of your Grand Canyon trip.
From Flagstaff: Approx. 1 hour 30 minutes
From Sedona: Approx. 2 hours 15 minutes
From Phoenix: Approx. 4 hours
From Las Vegas: Approx. 5 hours
From Salt Lake City: Approx. 8 hours
Best Time to Visit Grand Canyon National Park
One of the most common questions travelers ask is "when is the best time to go to the grand canyon?" The best time to visit the Grand Canyon is typically March - May or September - November. During these months, the daytime temperatures are cooler and there are fewer visitors to the park. The peak season is during the summer, but lodging is limited due to the large crowds. Savvy travelers often take advantage of promotional deals run during this time, so it's a great way to reduce the cost of your trip. While the South Rim is open all year, many parts of the park including the North Rim are closed after the first snowfall of the year.
Travel Insurance for Grand Canyon Trips
No matter how you get there and what you do at the Grand Canyon, make sure to protect your investment with travel insurance. Depending on the travel protection plan purchased, insuring your Grand Canyon trip can help cover flight delays, baggage loss, medical mishaps, and even medical evacuation in extreme cases. While we hope that every traveler has the best experience at the Grand Canyon, we recommend purchasing travel coverage for the trip just in case.