Travel Insurance for Cambodia
Last updated on 08/02/2022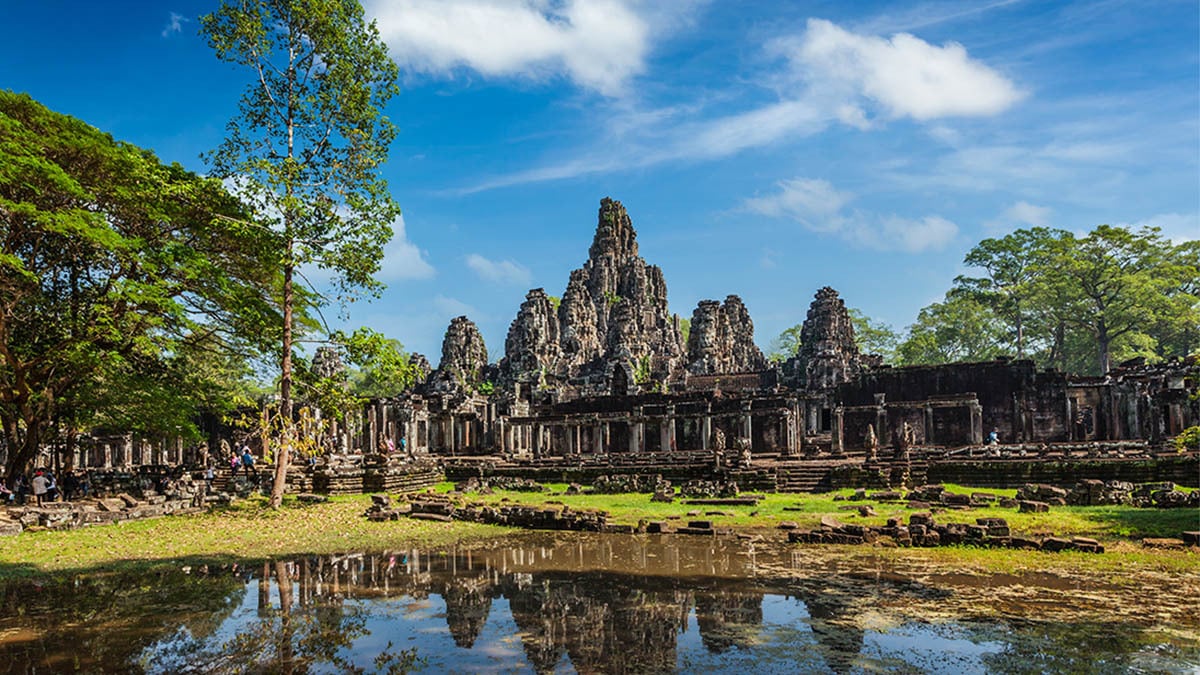 Do I Need Travel Insurance for Cambodia?
As of April 25, 2022, travelers are not required to have travel insurance to enter Cambodia. All visitors to Cambodia must either show proof of full vaccination against COVID-19 or take a COVID-19 test upon arrival, quarantine for 7 days, and take an additional COVID-19 test at the end of the 7-day quarantine.
International travel can be unpredictable, so it's best to be prepared for obstacles during your trip before they happen. Travelers flying with an airline may consider travel insurance to cover disruptions like travel delays or missed connections on the way to and from Cambodia. Similarly, those planning to take a cruise may get assistance from Cambodia cruise insurance in the event of shipboard disruptions or cases in which it becomes necessary to return home early.
Travel insurance can help to protect travelers for business and pleasure from various unforeseen events. Whether you're concerned about healthcare coverage, reimbursement for lost baggage, or even travel insurance for nomads, there are Cambodia travel protection plans to fit many types of budgets, needs, and schedules.
How Much Does Cambodia Travel Insurance Cost?
Travelers planning a trip to Cambodia often want to know about the price of travel insurance. As travel insurance plans vary to adapt to the specific trip and travelers being covered, there is no single price for all Cambodia trip insurance. Some factors such as the duration of the trip and ages of the covered travelers most always play a role in calculating the overall price of a plan. In general, travelers can expect rates to increase as risk involved with the trip increases. Sometimes travelers want to insure the total nonrefundable cost of their trip, which can cost more but may prove to be worth it in the event of a trip cancellation.
What Does Travel Health Insurance for Cambodia Cover?
Travel health insurance for Cambodia usually includes coverage for emergency medical treatment, dental care, medical evacuation, and 24-hour traveler assistance hotlines. These benefits may also be purchased in conjunction with travel-related benefits such as travel delays, trip cancellation, and more in a comprehensive travel insurance plan.
Most travelers have their own concerns when buying coverage for a trip to Cambodia. Some common travel medical benefits to consider for Cambodia may include:
Trip interruption
Pre-existing conditions
These benefits do vary by plan, and some coverages – such as coverage for pre-existing conditions – may have certain eligibility requirements. Please be sure to review your travel insurance policy before purchasing.
Many travelers have health insurance from their home country. However, most domestic health insurance companies will not cover medical expenses overseas. For this reason, it is important to get information about what, if any, limitations exist in your domestic plan's international coverage. Travel medical insurance for Cambodia can provide coverage if a traveler must seek emergency treatment for illness or injury at a Cambodian medical facility.
What is the Best Travel Insurance for Cambodia Trips?
Every trip abroad is different, so the best international insurance for a trip to Cambodia can depend on the needs of the traveling party. This may include budget, personal health concerns, and trip details like planned activities during the trip. Fortunately, travelers can easily compare different travel insurance plans and providers to find coverage that may suit their next trip to Cambodia.
U.S. / Cambodia Embassy and Consulate Locations
U.S. Embassy in Cambodia
U.S. Embassy Phnom Penh
#1, Street 96
Sangkat Wat Phnom
Khan Daun Penh, Phnom Penh
Phone: 855.23.728.000
Cambodian Embassy and Consulate in USA
Washington DC — Cambodian Embassy
4530 16th Street, NW
Washington DC 20011 United States
Phone: 1.202.726.7742
Los Angeles, California — Cambodian Honorary Consulate
3448 E. Anaheim Street
Long Beach, CA 90804 United States
Phone: 1.562.494.3000
Seattle, Washington — Cambodian Consulate General
1818 Westlake Avenue N., Suite 315
Seattle, WA 98109 United States
Phone: 1.206.217.0830
New York, New York — Cambodian Permanent Mission to the UN
327 East 58th Street
New York, NY 10022 United States
Phone: 1.212.336.0777
Disclaimer: The information contained in this article serves as a general overview of benefits and should only be used for informational purposes. Refer to your individual certificate of insurance for specific coverages, exclusions, and benefits. When in doubt, please contact one of our licensed agents for additional assistance.